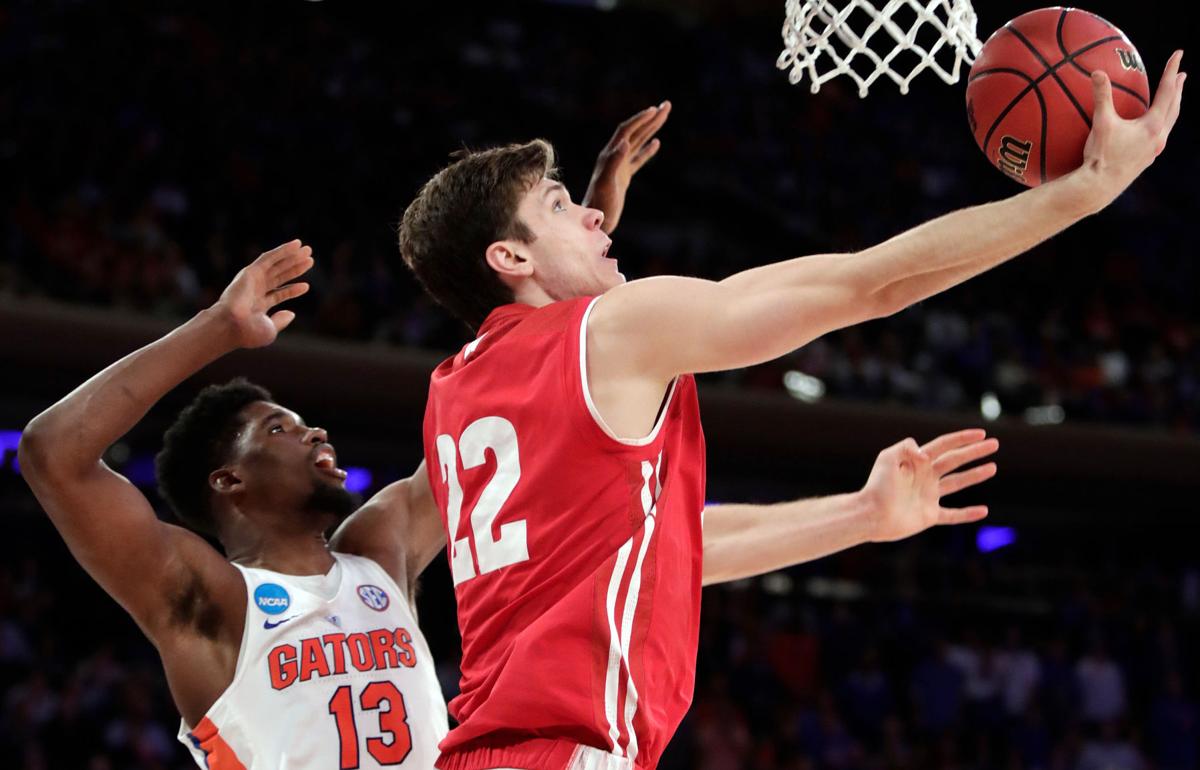 Shortly before a workout earlier this week, one of the doors to the University of Wisconsin men's basketball locker room opened and most of the team came pouring out into a Kohl Center hallway.
When he saw his teammates coming, junior center Ethan Happ politely wrapped up an interview so he could join the mass of big bodies headed to the weight room.
Happ could have gotten away with a delayed arrival for the team lift, but that wasn't an option. What kind of message would it send if the team's best player was even a few minutes late?
Among the questions that need to be answered as the Badgers go through a crucial offseason — and there are many — is how Happ will adapt to being the face of the program.
It's a big role, both on and off the court, but it's one Happ embraces.
"It's fun," Happ said, "It's kind of a lead-by-example type of thing. That's kind of how Wisconsin is, there are not a lot of rah-rah guys. You really have to push yourself, in the weight room, on the court, you have to be the hardest worker, that way you have everyone following your lead."
Happ is the only returning starter from a team that went 27-10 and saw its season end with a devastating overtime loss to Florida in the Sweet 16.
Gone are Nigel Hayes, Bronson Koenig, Zak Showalter, Vitto Brown and Jordan Hill, a group that was part of 13 NCAA tournament victories over the course of four seasons.
The 2017-18 roster has potential but is mostly inexperienced. The only proven commodity is Happ, who earned first-team All-Big Ten honors and All-America mentions as a sophomore while leading UW in rebounding (9.0), assists (2.8), steals (1.8) and blocks (1.2) while tying for second in scoring (14.0).
Happ has played 2,009 minutes his career. The next closest is junior swingman Khalil Iverson at 979.
The Badgers are in the midst of an eight-week summer session that gives the coaching staff two hours of on-court instruction time each week. That doesn't count 10 additional practices the team can hold as it prepares for a trip to Australia and New Zealand that will go from Aug. 14-24 and include five exhibition games.
There are questions to be answered every offseason, but the list is longer than usual this time around.
• Will the members of UW's 2015 recruiting class — Iverson, guard Brevin Pritzl and forwards Alex Illikainen, Charlie Thomas and Andy Van Vliet — take a big step as the group moves from Year 2 to Year 3 in the program?
• Is sophomore point guard D'Mitrik Trice, a solid contributor off the bench his first season, ready to take over as the team's starting point guard?
• Can Trice's classmate, forward Aleem Ford, be counted on as a key piece in the frontcourt after redshirting last season?
• How quickly can UW's highly regarded 2017 recruiting class — guards Kobe King and Brad Davison, along with forward Nathan Reuvers — adapt to a step up in competition after decorated prep careers?
"The exciting part about this group is you never know what to expect every day when you walk in," UW coach Greg Gard said this week. "You know it's going to be something new and you haven't quite figured everybody out. But you've been pleasantly surprised every day. Each day when we walk off the floor there's something else we've learned about them and, by and large, it's been very positive."
Happ, meanwhile, is working to expand his game. One of the main things on his to-do list — and this will come as no surprise — is improving his shot.
As productive as he's been during his first two seasons with the Badgers, Happ has done most of his damage around the rim. He's working on adding a consistent mid-range and outside shot to his repertoire along with becoming reliable from the free throw line, where he made only 50 percent of his attempts in 2016-17.
Happ said he's worked with somebody on his shot, though he declined to identify that person.
"Hand placement was a thing, and where it starts was a thing," Happ said on what he's changed. "I just got some sound advice from someone and just having one person in my ear the whole time is the best thing rather than having a bunch of different people."
When Gard says he loves the eagerness and mindset of this group, he's including the team's only returning star.
"He can do a lot of things just by setting the example," Gard said of Happ, who will attend the Under Armour All-American Camp in Philadelphia later this month. "He's done that with how hard he's gone and how he's changed his body and how he's approached every day."
Be the first to know
Get local news delivered to your inbox!