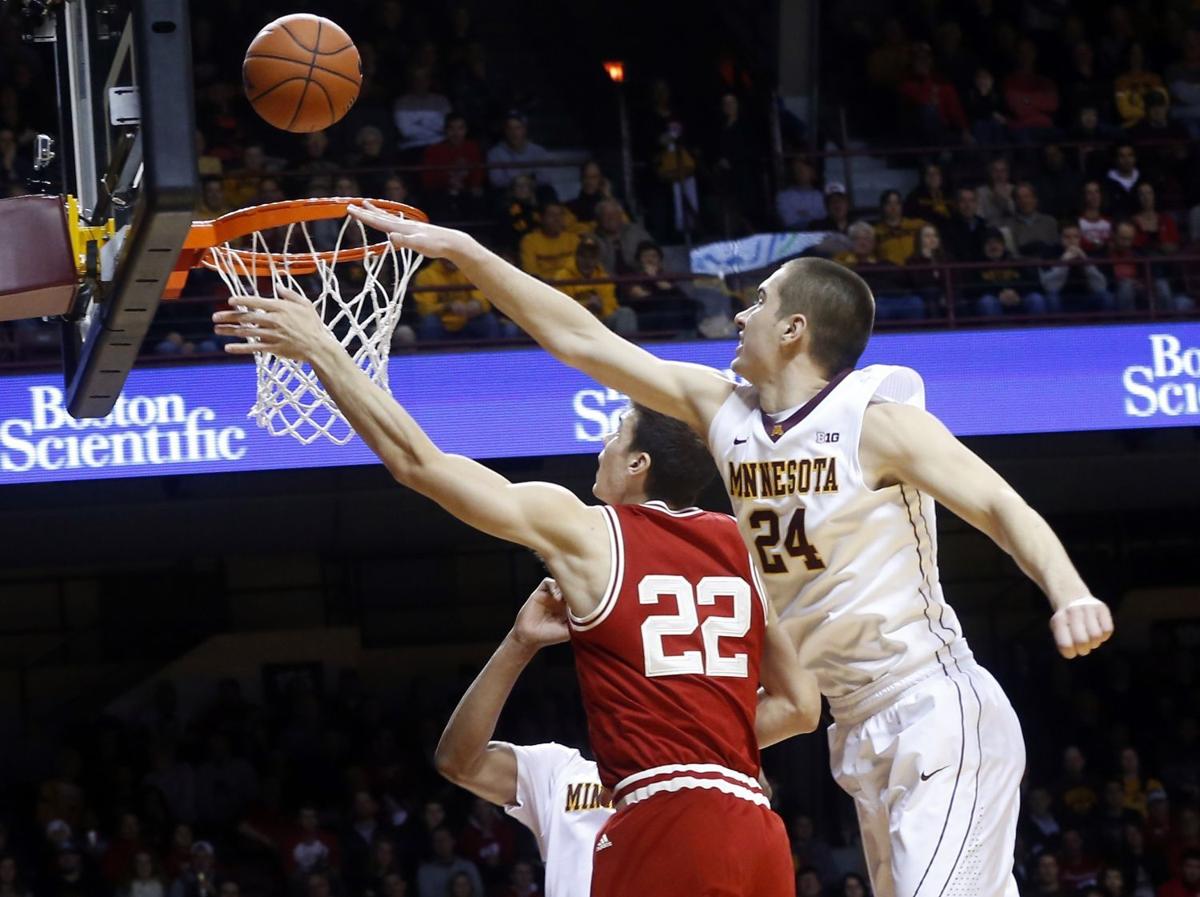 MINNEAPOLIS — One major goal went up in smoke the previous night, but the University of Wisconsin men's basketball team arrived at Williams Arena with plenty of items still remaining on its to-do list.
An impressive accomplishment was crossed off Wednesday night when junior point guard Bronson Koenig scored 14 points to help the Badgers coast to a 62-49 victory over Minnesota on Wednesday night.
The win assured UW of finishing in the top four in the Big Ten standings for the 15th consecutive season, a feat that took some of the sting out of being eliminated from the Big Ten title race Tuesday night when Indiana won at Iowa to clinch the championship outright.
Junior forward Vitto Brown and redshirt freshman Ethan Happ each added 12 points as the Badgers remained in a tie for second place in the Big Ten by beating the Golden Gophers for the ninth time in the teams' last 11 meetings.
UW finished in the top four in the Big Ten in each of Bo Ryan's first 14 seasons, but that streak appeared to be in jeopardy after he retired on Dec. 15 and the Badgers got off to a shaky start under interim coach Greg Gard.
UW was 1-4 in the Big Ten following a loss at Northwestern on Jan. 12, but the Badgers have dug themselves out of that hole with 11 wins in their last 12 games.
Happ said it meant a lot to the Badgers (20-10, 12-5 Big Ten) to keep alive the top-four streak.
"Yeah, there's no doubt about it," said Happ, who had 10 rebounds to record his ninth double-double of the season. "Coach Ryan built a legacy here, and we were in danger early in the season of not living up to that. That was definitely in the back of my mind and I'm sure the team felt the same way."
Gard didn't make a deal to his players about keeping the streak alive, but he again said how proud he was of them for how they've handled the transition. UW is 13-5 since Gard took over for Ryan.
"It's a credit to our players to how they've responded," Gard said. "For those guys to be able to rally and grow and mature as they have is a huge credit to them."
Freshman guard Stephon Sharp scored 16 points and freshman forward Jordan Murphy added 15 for the Gophers (8-21, 2-15), whose roster has been depleted by a dismissal and three suspensions.
This was Minnesota's second consecutive game playing without three key players — starting guards Nate Mason and Dupree McBrayer, and backup guard Kevin Dorsey — who are suspended the rest of the season.
UW never trailed and led by as many as 20 points in the first half. Koenig had 12 points and five assists by the break to help the Badgers build a 40-24 cushion.
The Badgers scored on 10 consecutive possessions during a 23-7 run in the first half.
Koenig, Brown and junior forward Nigel Hayes each hit a 3-pointer during the charge, which gave UW a 38-18 lead with 3 minutes, 24 seconds left until halftime.
The Badgers took their largest lead of the game — 21 points — on a dunk by freshman swingman Khalil Iverson with 14:54 remaining in the game.
It was a chance for Iverson to atone for an embarrassing mistake earlier in the half.
Iverson had a breakaway with 17 minutes remaining in the game but lost the ball while going up for a windmill dunk. Gard immediately pulled him from the game, though Iverson was reinserted with 15:47 left after a lecture from his coach.
"If it goes in, great. I don't know what he was trying, if he had a new one for us that he was trying to work on," Gard said. "And he's got a little sore wrist, so I said, 'Hey, if you can't grip the ball exactly how you want, just do a normal one and let's get two points and go to the other end. I said, 'Save the new one for when you practice and show me. I have to clear it before he can use it.
"But he understood. I think it was a good teaching moment for him … and a good teaching moment for everybody else, too."
Shortly after getting back in the game, Iverson took a pass from Happ and finished with a dunk after double-pumping to give the Badgers a 51-30 lead.
But UW went 11 consecutive possessions without a field goal, and Minnesota used an 11-1 run to get back in the game.
"We didn't finish around the rim very well, especially late in the second half," Happ said. "We got a little bit sloppy and we didn't do a good job adjusting the refs and how they were calling the game. It's no fault of the refs … we just need to adjust once we figured out how they were calling it."
Minnesota pulled within 11 points with less than 8 minutes remaining, but Brown made a 3-pointer from the top of the key to end a drought of nearly 9 minutes without a field goal. That shot gave the Badgers a 56-41 lead with 5:55 left, effectively ending the Gophers' chances of an upset.
UW will take today off before getting ready a game at Purdue on Sunday, a matchup with a lot on the line.
Even though they've wrapped up a top-four finish, the Badgers could still finish as low as the No. 6 seed in the Big Ten tournament. A victory over the Boilermakers would give UW a bye for the first two rounds.
The Big Ten title is no longer in reach, but the Badgers still have more carrots dangling in front of them.