When the national anthem is played before the University of Wisconsin men's basketball team opens the season on Friday night, senior forward Nigel Hayes once again plans to stand a few steps behind his teammates as a sign of protest.
Hayes did so during the Red-White scrimmage on Oct. 23 and was joined by junior guard Jordan Hill in the protest a week later prior to an exhibition game against UW-Platteville.
When asked about it Wednesday, Hayes acknowledged he was doing it to bring awareness to the treatment of African-Americans in the country. During previous interviews before any games were played this season, Hayes had offered support for San Francisco 49ers quarterback Colin Kaepernick's decision to kneel during the national anthem.
The Badgers open the 2016-17 campaign against Central Arkansas at the Kohl Center on Friday night, and Hayes said his protest will last until he sees changes.
"Once we get some better economic rights for blacks, better laws, (get) better taken care of, things become more fair, more equal, I'll gladly step" alongside his teammates, Hayes said. "I'd love to be in a country where my people are treated equally."
Gard said Wednesday that he had been informed of the anthem protest by Hayes prior to Hayes doing it.
That message was posted nine days after an incident during the UW-Nebraska football at Camp Randall Stadium on Oct. 29 in which a fan wore a costume that included a mask of President Barack Obama with a noose tied around his neck. The fan agreed to remove the noose and wasn't ejected from the stadium.
Hayes has said his goal is to generate conversation and awareness. He was asked if he's concerned that the national anthem protest or willingness to engage in debates on social topics will lead to his popularity suffering with fans.
"That's irrelevant," Hayes said. "Winning takes care of everything. You don't have to like people. You can hate me all you want. … It's fine with me. We get boos on the road games anyway, so there's a difference between a loud boo and a low boo. As long as we win games, that's all that matters."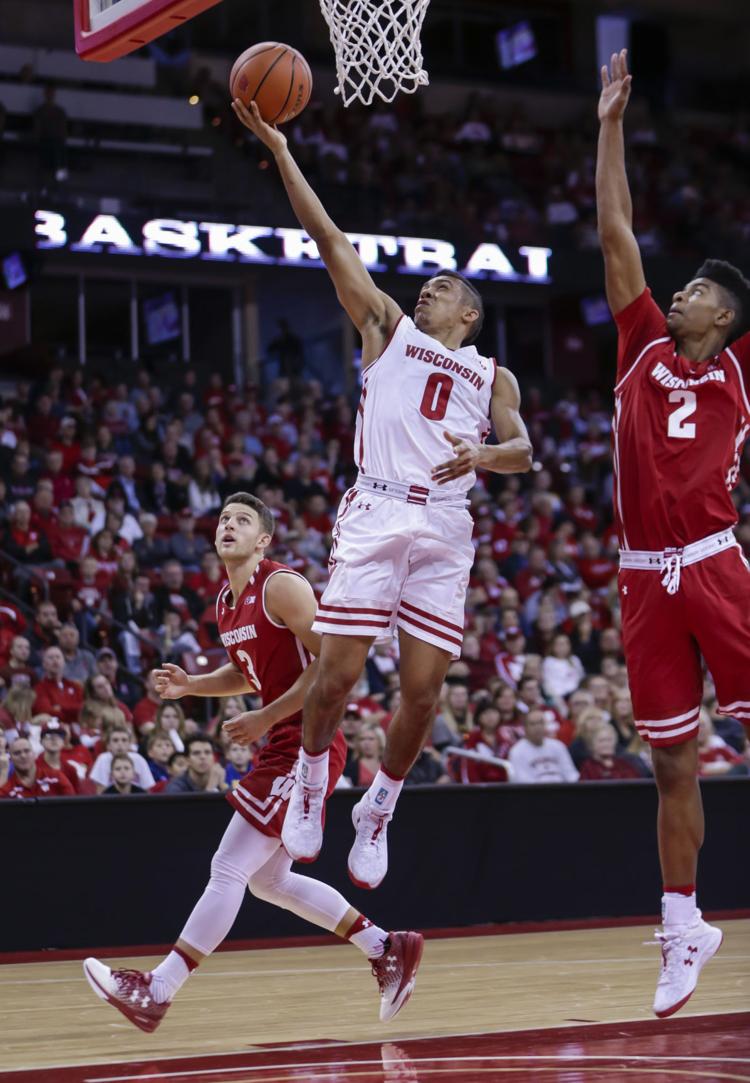 2017 class unveiled
The highly regarded class consists of Brad Davison, a 6-foot-3 guard from Osseo, Minnesota; Kobe King, a 6-4 guard from La Crosse; and forward Nathan Reuvers, a 6-10 forward from Lakeville, Minnesota.
Davison averaged 21.2 points, 6.4 rebounds and 7.3 assists last season for Maple Grove High School, which went 25-5 and advanced to the state tournament. He's also a standout on the football field and has thrown for 2,135 yards and 21 touchdowns while running for 877 yards and 14 touchdowns this season.
"Brad brings a tremendous toughness and competitive spirit to both ends of the floor," Gard said in a statement. "He has the ability to play both the point guard as well as the off-guard position. His experiences as a high school quarterback will serve him well as he makes the transition to a collegiate basketball player."
King enters his senior season as the second-leading scorer in La Crosse Central High School history with 1,304 career points. He averaged 25.5 points and 10.0 rebounds last season as a junior.
"Kobe committed to Wisconsin very early in the process and because of his loyalty to this university and his excitement to be a Badger, he never wavered from that commitment," Gard said. "He has really developed into a player that can score at three levels: attacking the basket, mid-range jump shots and from behind the 3-point arc. In addition, his athleticism should allow him to develop into a very good defender."
Reuvers averaged 19.8 points and 8.2 rebounds last season while helping Lakeville North reach the finals of the Minnesota Class 4A state tournament.
"Nate's commitment to academic excellence is extremely impressive, even on a national level," Gard said. "On the court, he has a tremendously diverse skill set that should ultimately allow him to be effective in the post, off the dribble and from the perimeter as a shooter as well."
Ford undecided on redshirt season
Freshman forward Aleem Ford said he has yet to decide whether or not he will redshirt this season.
Ford has spoken with Gard and assistant coach Lamont Paris and plans to speak with teammates, including some who have used redshirt seasons and some who haven't.
It appears Gard will start the season with a 10-player rotation that includes five returning frontcourt players. That group includes senior forward Hayes and Vitto Brown, along with sophomore forward Ethan Happ, Alex Illikainen and Charlie Thomas.
As impressive as Ford has looked at times, it could be difficult for him to carve out a role on an experienced team.
"I could use it as a good thing and just learn from the older guys," Ford said. "If I do redshirt, competing with them in practice and just getting stronger could benefit me in the years coming up."