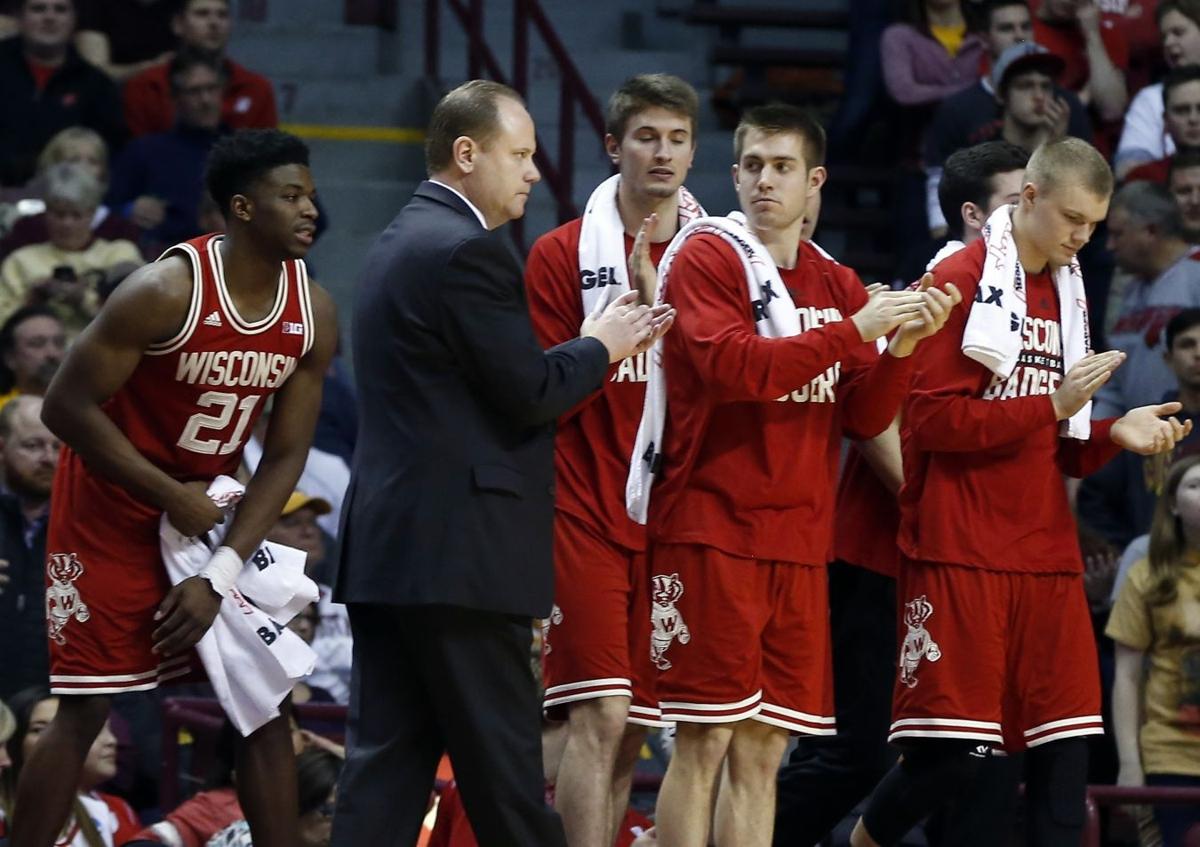 After every University of Wisconsin men's basketball game, the State Journal will look at where the Badgers are in the NCAA tournament projections and the results of fellow bubble teams around the country.
UW's 62-49 victory over Minnesota won't do anything to improve the Badgers' standing with the NCAA tournament committee. But they avoided another potentially crippling loss to a sub-200 RPI team. One that also had three players suspended. 
In the ESPN Daily RPI, the Badgers stayed at No. 32 on Thursday. Their strength of schedule is down to No. 7 in the country.
AROUND THE BRACKET
Now it's a matter of how far up the seed list UW can climb.
Here's how similarly seeded teams in Lunardi's March 2 bracket have fared this week (Hint: The Badgers got a bit of help):
Notre Dame lost by 18 at home to No. 7 Miami. Texas Tech lost big at No. 10 West Virginia. Baylor almost came back to beat Oklahoma on the road. Almost. Saint Joseph's lost a close one at St. Bonaventure. Dayton escaped a feisty (but barely over .500) Richmond squad on the road. Seton Hall lost a close road game at Butler. USC easily handled Oregon State at home.
Crucial games for some of those teams later on this week (If you're a Badgers fan, you're rooting for the teams not in bold):
California: at Arizona State (March 5)
Arizona: Stanford (March 5)
Texas Tech: Kansas State (March 5)
Baylor: West Virginia (March 5)
Colorado: at Utah (March 5)
LATEST PREDICTIONS
In the latest projection by CBS Sports' Jerry Palm released on Wednesday night, he had the Badgers as an 8-seed and off the bubble for the first time in his projections. That's a one seed improvement after the win over Minnesota, more likely a cause of Notre Dame's big loss at home.
ESPN's Joe Lunardi has the Badgers now up to a No. 6 seed in his latest NCAA tournament projection, which was released on Friday morning.
Both Lunardi and Palm flipped Wisconsin with Notre Dame on the seed line after the Fighting Irish lost big to Miami at home. 
LOOKING AHEAD
What's on the line with a victory against Purdue? Most likely the Badgers' first top-25 ranking in the Associated Press poll since November. Oh, and another move up in the projected field. 
Win on Sunday and the Badgers would finish the regular season with a 12-1 record over their last 13 games, the best mark in the country. They would hand Purdue only its second home loss of the season and have three road victories over top-25 RPI teams. 
UW RESUME
Good wins (RPI 1-50): at Maryland (10), Michigan State (16), Indiana (22), at Iowa (27), VCU (43). Syracuse is ranked No. 52. 
Bad losses (RPI 150+): UW-Milwaukee (165), Western Illinois (255).
BADGERS REMAINING SCHEDULE
March 9-13 Big Ten tournament
Wisconsin at Minnesota highlights: Khalil Iverson misses, then makes dunk: Khalil Iverson cuts the baseline and dunks vs. Minnesota: Khalil Iverson misses the dunk vs. Minnesota: Ethan Happ spins to the basket vs. Minnesota: