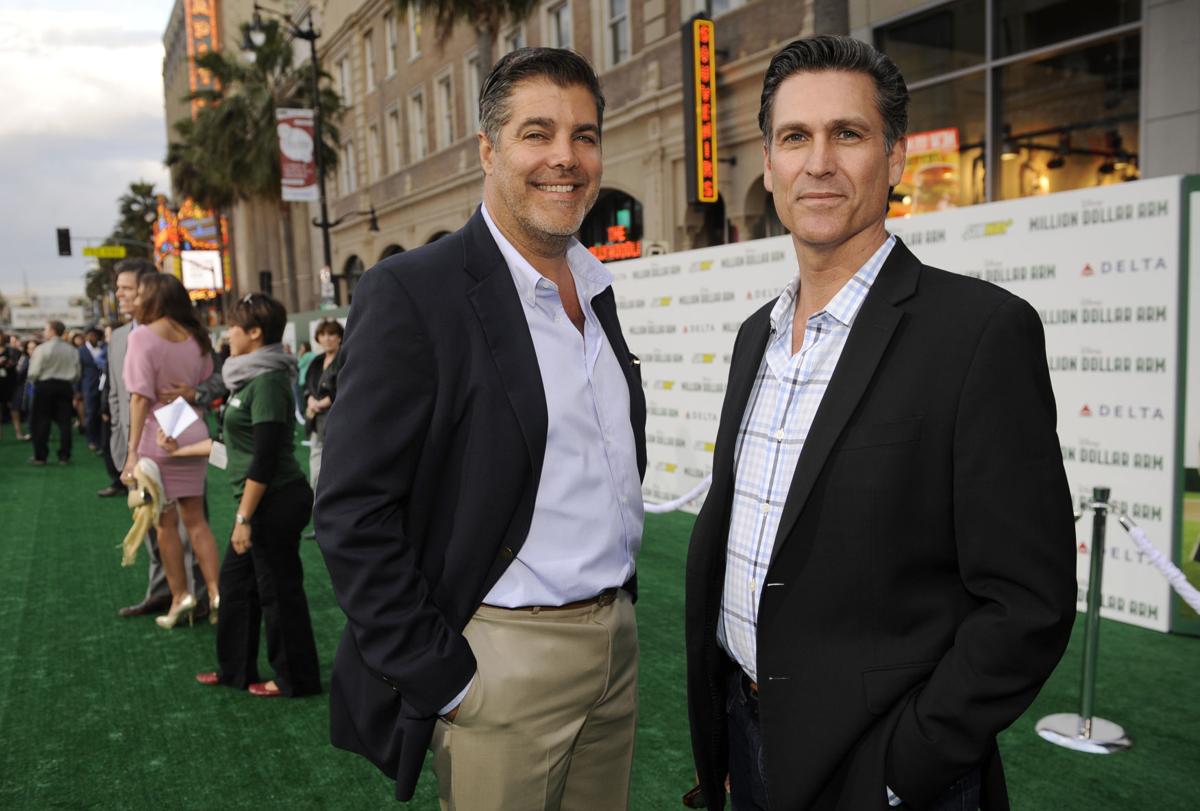 Brushing away the cobwebs of time, Mark Ciardi sat in his Los Angeles office and reflected on a brief, shining moment from 30 years ago, when he was a small part of something huge.
It was when the Milwaukee Brewers opened the 1987 season with their historic 13-game winning streak, captivating their fans perhaps as much as when they made their only World Series appearance 4½ years earlier. Ciardi was along for the ride as a 25-year-old rookie pitcher who would start and finish his major league career that memorable April with middling success but maximum memories.
After his time as a pitcher fizzled because of an arm injury that year, Ciardi would find his true identity in such a defining way as founder and CEO of Apex Entertainment, an independent film company in Los Angeles. The member of the Academy of Motion Picture Arts and Sciences has produced a string of acclaimed films including "Wish List," "Fallen," "McFarland, USA," "Million Dollar Arm," and "Secretariat."
"A couple years ago, I decided to go off on my own and raise some private equity," said Ciardi, who started his film career with Mayhem Pictures, which he co-founded. "Now I'm doing independent films. It's been a real enjoyable career in film, I really love it and I think the movies I've done have had a certain level of quality. And audiences have responded to them."
But as successful as Ciardi has been in the world of creating celluloid heroes, it's a fair assumption that no production he has been involved in created more of a response than those 1987 Brewers.
It came as quite a surprise after 1986, when lovable George Bamberger was not able to duplicate the success he had in his first term as Brewers manager from 1978-80. Even with future Hall of Famers Robin Yount and Paul Molitor still in their prime, the second incarnation of "Bambi's Bomber's" struggled to a 71-81 record under Bamberger before Tom Trebelhorn finished out the 1986 season for him.
And then came 1987, when everything seemed to go right with a collection of youngsters including pitcher Juan Nieves, catcher B.J. Surhoff, shortstop Dale Sveum, third baseman Ernie Riles, left fielder Rob Deer and right fielder Glenn Braggs. Oh, yes, and a right-handed control pitcher named Mark Ciardi. He was No. 34 in your program.
"It was exciting because it was kind of that year where they were changing over from some of the older guys to some of the newer guys," Ciardi said. "I made the team as the fifth starter and it was a great moment in my life. You're there in spring training and you don't get that slip in your locker. You're still there with the other guys and you think, 'I might pull this off.' "
It was the stuff of fantasy he would one day make films about, only it was in real time in April 1987.
What a month. Nieves pitched the only no-hitter to date in Brewers history April 15 in a 10-0 victory over the Baltimore Orioles. Sveum hit a walkoff home run off the Texas Rangers' Mitch Williams April 19 — a 16-year-old Craig Counsell, the Brewers' current manager, was sitting behind the Brewers' dugout that warm Easter Sunday — to propel Milwaukee to a 6-4 victory after it trailed 4-1.
And between those two milestones, Ciardi enjoyed his 15 minutes of pre-Hollywood fame. It was April 14 against the Baltimore Orioles at Memorial Stadium. Ciradi had allowed five runs in four innings of relief against the defending American League champion Boston Red Sox five days earlier and this time, Trebelhorn was giving the kid his first start. The Brewers were 8-0. And Ciardi was going to be dealing with a lineup that featured Cal Ripken Jr. and Eddie Murray.
"It was great because I played at the University of Maryland and I had a lot of friends and family in the area," Ciardi said. "When I was warming up, all my pitches were high. I just couldn't control my command. I remember I struck out the first guy (Alan Wiggins) and that was the highlight."
It wasn't especially pretty before Ciardi gave way to Chuck Crim in the sixth inning. He allowed three earned runs in five innings, with four walks and two strikeouts, but it was enough to give the Brewers a 7-4 victory. The Brewers could do no wrong.
And then came Ciardi's next start, the second of three he would make in his career. The Brewers were at Comiskey Park in Chicago on April 21. Their season-opening winning streak was at an American League record 13.
But except for Molitor's 39-game hitting streak later that season, the magic was over for a team that wouldn't even make the playoffs that season.
Ciardi was reached for seven hits and five runs in 2⅓ innings. And the Brewers went on to a 7-1 loss to the 5-8 White Sox.
"Unfortunately, I didn't pitch well in that game and we ended up losing," Ciardi said. "
He would make one more major league start before getting sent to the minors. Arm problems followed and, by 1988, he was out of baseball.
Ciardi is not on the 1987 Brewers team picture because he was unable to make the photo session. He doesn't believe he's been back to Milwaukee since that 1987 season.
But for one moment, he was a little part of a cherished memory.
"You realize a dream and then, all of a sudden, it's over," he said.
But the best was yet to come for Ciardi.