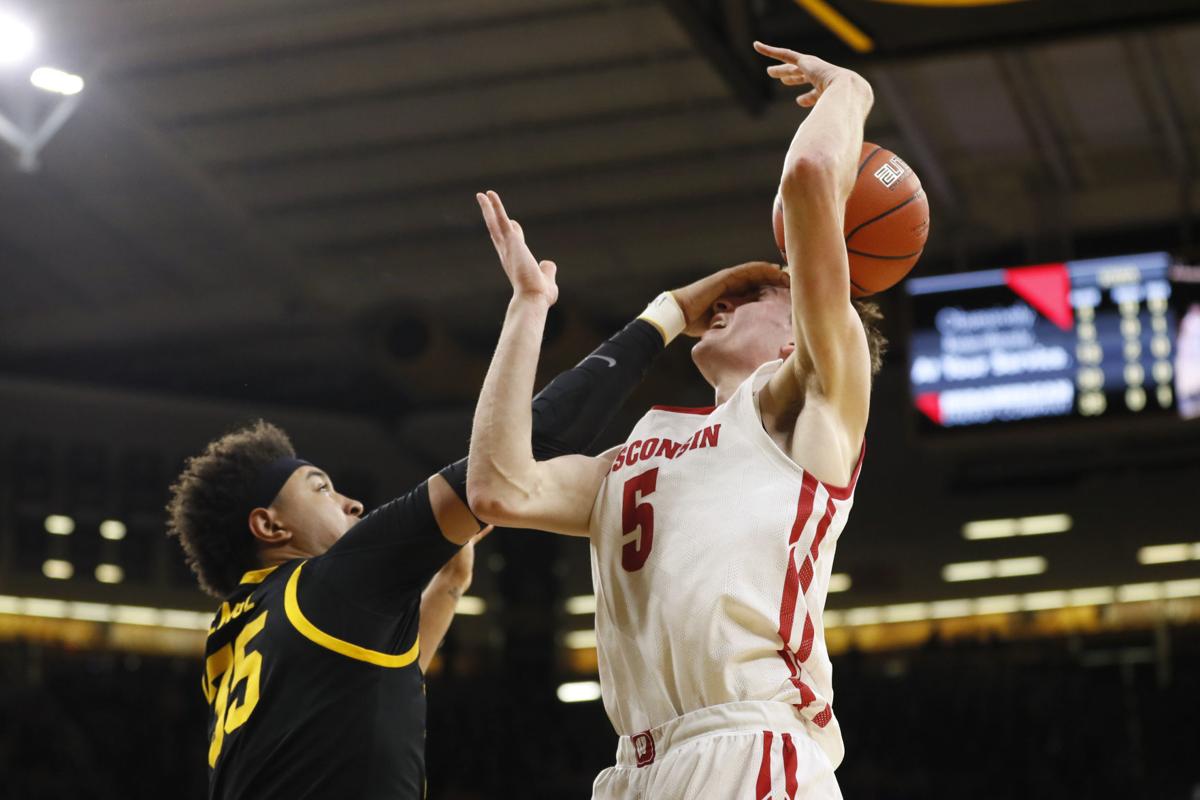 IOWA CITY, Iowa — Things were looking up for the University of Wisconsin men's basketball team late last week.
Not only were the Badgers in good shape in the NCAA tournament picture, they hit the road with a chance to pull within a half-game of first place in the Big Ten.
Two losses — and the potential departure of its most dynamic player — have left a dark cloud hovering over the program.
The latest defeat came Monday night at Carver-Hawkeye Arena, where UW wasted a 12-point lead in the second half and dropped a 68-62 decision to No. 18 Iowa.
The gut-wrenching setback came on the heels of news earlier in the day that sophomore wing Kobe King didn't make the trip due to what was referred to as a "personal matter."
It's possible King has played his last game for the Badgers (12-9, 5-5 Big Ten). According to a source, the former La Crosse Central standout and Wisconsin Mr. Basketball is unhappy and contemplating a transfer.
When asked to shed light on the King situation after the game, UW coach Greg Gard didn't have much to add. "There's really no timeline on anything," Gard said.
Not only were the Badgers down a player against Iowa, they had to battle major foul trouble while dealing with Hawkeyes junior center Luka Garza. Arguably the frontrunner for Big Ten Player of the Year honors, Garza produced 21 points and 18 rebounds and drew 12 of the season-high 28 fouls whistled on UW.
You have free articles remaining.
Gard lamented the fact that the Badgers weren't physical enough in a 70-51 loss at Purdue on Friday. Three days later, they had seven players finish with at least three fouls.
"It's part of what Iowa does to you," Gard said. "We knew it was going to be physical. You try to play physical without fouling."
Redshirt freshman guard CJ Fredrick added 17 points for Iowa (15-5, 6-3), which trailed by 57-45 after a 3-pointer by UW junior guard D'Mitrik Trice with 7:14 remaining but erased that deficit with a 21-2 run.
After building its 12-point lead, UW managed only two points over its next 10 possessions. Included in that drought were three turnovers and a missed free throw on the front end of a bonus situation.
"We've got to do a better job of closing out games," said Trice, who led the Badgers with 16 points, nine rebounds and six assists. "That's what it came down to."
Iowa finished 25 of 32 from the free throw line. Fourteen of those made free throws came in the final 7:00.
The Hawkeyes also grabbed 13 offensive rebounds against the Badgers, who allowed 16 in the loss at Purdue.
"For the most part, I thought our guys did a really good job, especially in the post," Trice said. "I feel like there were a few fouls that probably shouldn't really be fouls, especially playing in the Big Ten and it being physical on both ends of the floor."
After a 12-0 run helped Iowa erase its deficit, senior wing Brevin Pritzl made a layup after a spin move to put UW back in front with 1:49 left.
But freshman guard Joe Toussaint converted a three-point play on the ensuing possession to put Iowa in front for good. After UW junior forward Nate Reuvers missed a turn-around jumper, Iowa's Joe Wieskamp scored at the rim to give the Hawkeyes a 62-59 lead with 35.5 seconds left.