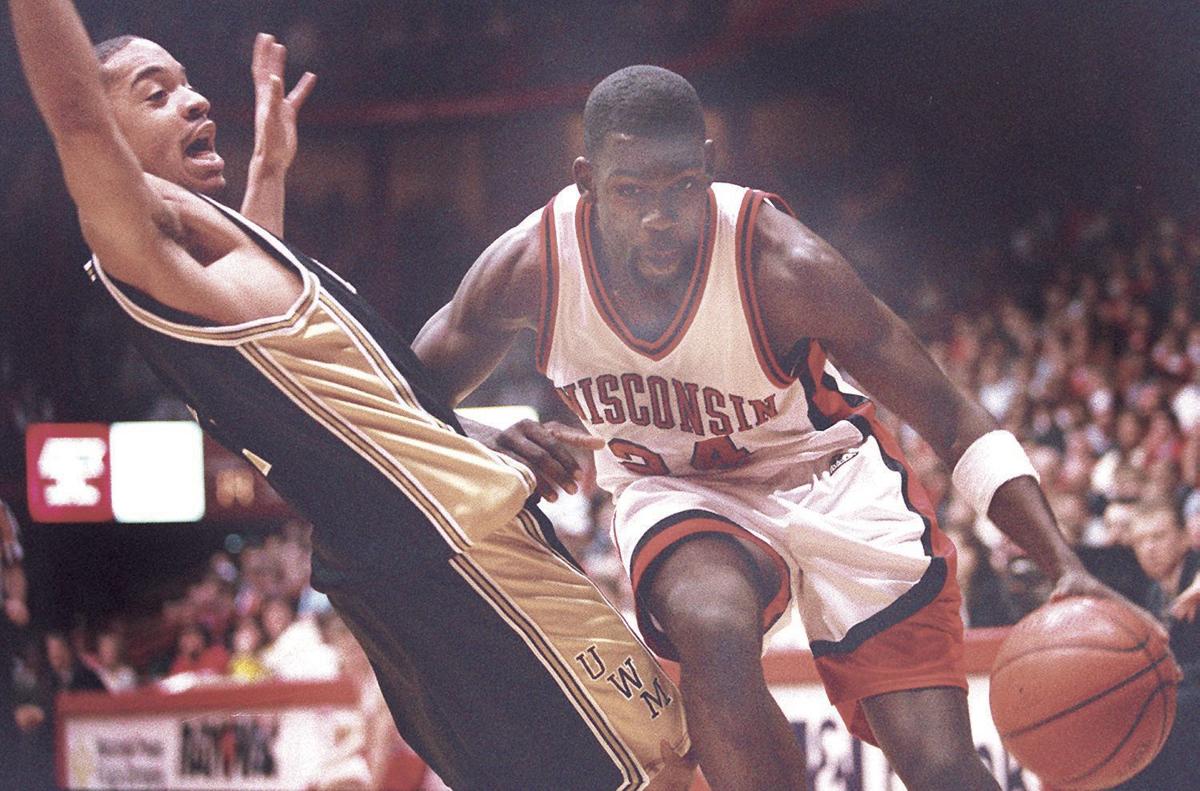 Two decades ago, the rafters at the Kohl Center could best be described as barren.
If you looked up during a University of Wisconsin men's basketball game, all you saw was ceiling.
Sure, there was that NCAA championship banner from 1941 hanging on one end. But it didn't have much company in a program that essentially dropped off the map for the next 50 years.
If you gaze into the rafters today, however, there are memories galore for fans who have witnessed UW's basketball renaissance since the mid-1990s. You'll find NCAA tournament banners, including recognition of three Final Fours since 2000. You'll find banners commemorating Big Ten Conference regular-season and tournament championships. You'll find retired numbers or, as they are now called at UW, retired jerseys.
It's an impressive sight, especially since the bulk of the collection wasn't considered possible prior to UW's breakthrough NCAA tournament appearance in 1994. The rafters have been filling up since then, including the shared Big Ten regular-season title won by this year's tough-minded Badgers team. Indeed, there is only one thing missing from the array of banners and jerseys high above the Kohl Center floor:
Perhaps the most amazing thing about UW basketball is that the program didn't retire its first jersey until 2017. The next most amazing thing is that Finley, who left school as UW's all-time leading scorer and played 15 years in the NBA, is still waiting for his number to be raised.
The 6-foot-7 wing from Proviso East High School in suburban Chicago was a junior in 1994 when he teamed with point guard Tracy Webster and center Rashard Griffith to help UW break its 47-year NCAA tournament drought. The statistics he compiled, the honors he received and the team achievements he sparked demonstrate how influential Finley was to UW's program during his four seasons in Madison.
More than that, though, Finley passed the eyeball test. All you had to do was watch him to know what a special player he was. His combination of length, athleticism, versatility and skill, combined with a team-first attitude he learned while playing on one of the great teams in Illinois prep history, made him unique among UW players.
Quite frankly, it is inexcusable that Finley, who was inducted into the UW Athletic Hall of Fame in 2004, doesn't already have his jersey hanging next to those of the late Albert "Ab" Nicholas and current NBA player Frank Kaminsky.
Nicholas was a two-time first-team All-Big Ten guard in the early 1950s who made an even greater contribution as a program benefactor. His jersey was retired and the Kohl Center court was named for him in 2017. Kaminsky, of course, was the 7-footer who led UW to back-to-back Final Fours in 2014 and '15 and was the consensus national player of the year as a senior. His jersey was retired in 2018.
Both are more than worthy of having their jerseys retired. But while UW athletic director Barry Alvarez called the decision to honor Kaminsky a "no-brainer" two years ago, he could have said the same for Finley. The truth is, no one should even have to make a case for Finley's inclusion. He long ago made a case for himself.
Capable of shooting the 3 or driving for highlight-reel dunks, he scored 2,147 points at UW, which eclipsed Danny Jones' school record and still ranks second, 70 points behind Alando Tucker. No offense to Tucker, whose No. 42 should also make it to the rafters someday, but he played in 19 more games than Finley.
Finley was the only player in UW history to average 20 or more points in three different seasons and his 18.7 career scoring average ranks second only to Clarence Sherrod's 19.6.
Finley tied Ken Barnes' school record with a 42-point game at Eastern Michigan, a mark that stood until Kaminsky scored 43 in a game 19 years later.
Finley was a three-time honorable mention pick on the AP All-American team and a first-team All-Big Ten pick twice and a second-team pick once, notable because UW's history of losing made such honors few and far between for the Badgers over the previous four decades.
Jersey retirements should be for a player's college exploits, but Finley's long and prosperous NBA career validated the talent he showed at UW.
The 21st overall draft pick in the 1995 draft, Finley scored 17,306 points (15.7 average) in his 15 seasons, twice played in the All-Star Game and won a title with San Antonio in 2007. His best season was 1999-2000, when he averaged career-bests in points (22.6), rebounds (6.3) and assists (5.3) while leading the NBA in minutes played.
How does Finley's 17,306 NBA points compare to other UW players? Devin Harris is next best with 10,597, followed by Wes Matthews with 3,654 and Kaminsky with 3,110.
The only knock on Finley's UW career is that he shot poorly his senior season. After hovering between 45% and 47% in his first three seasons, he shot only 37.9% in his final year. Of course, that was also the only season he played without Webster as his point guard and it turned out to be a blip on his personal radar screen. In Finley's first seven NBA seasons, he never shot lower than 44.4%.
Since his retirement, Finley has received his UW degree (2014) and made a name for himself as the vice president of basketball operations for the Dallas Mavericks, a film producer and a philanthropist. But his undeniable talent and influence first showed up when he led UW out of the college basketball wilderness all those years ago.
Finley's place in UW history is secure. His place in the Kohl Center rafters should be, too.
Tom Oates is a columnist for the Wisconsin State Journal in Madison.
Be the first to know
Get local news delivered to your inbox!