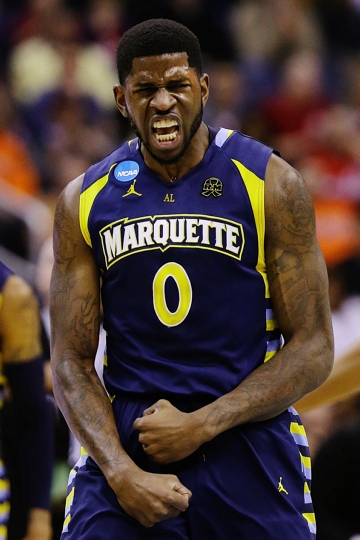 Jamil Wilson is finally done zig-zagging across the United States.
He is finally done meeting with a host of virtual strangers who meticulously checked out his body and probed his mind, asking the most personal questions.
For the last several weeks, Wilson, the former Horlick High School and Marquette University basketball standout, has been on an NBA audition tour.
Wilson has met with officials from approximately 12 teams, trying his best to convince them he would be a good fit and warrants being selected in Thursday night's draft.
"Things are going pretty good, nothing I can't handle," Wilson said in a telephone interview from a downtown Dallas hotel before working out for the Dallas Mavericks Monday. "I've been in some very nice facilities, saw some former players who are now affiliated with their programs and have met the highest level of coaches.
"Actually, it's been a great experience."
Virtually all 30 NBA teams are quite familiar with Wilson's basketball talents. They have his seen his body of work, going back to his freshman season at the University of Oregon and his three seasons at Marquette.
They know Wilson is an exceptional athlete and versatile player, capable of playing multiple positions. Yet, these teams aren't about to leave any stone unturned. The NBA is a huge business and huge money is at stake.
They want to be sure they are investing in a player who is physically and mentally ready for the highly-competitive and demanding world of the NBA.
That's especially the case in this year's draft, which is loaded with talented prospects. Some draft experts have billed this the best draft class in years.
Wilson realizes there aren't any guarantees he'll be one of the 60 players chosen Thursday night, but he's hoping his workouts were impressive enough to be his ticket into the league.
Besides Dallas, Wilson worked out for Phoenix, Utah, Minnesota, Washington, Toronto, San Antonio, Indiana and Detroit. Wilson felt he performed well at each workout. At the very least, officials of those teams got a chance to see Wilson's exceptional athleticism and extraordinary leaping ability.
Steve McCaskill, Wilson's agent from Relativity Sports, said Wilson had an eye-opening 41-inch vertical leap in one of his workouts. Wilson also said he went higher than the highest mark during vertical jumping tests for Phoenix.
As for some of his other numbers, Wilson said he was measured at 6 feet, 8½ inches in shoes, weighed 222 pounds and had a 7-foot wingspan.
His NBA workout itinerary would have been more hectic if not for an injury.
"I sprained my ankle pretty bad during a workout in Utah," Wilson said. "It swelled up pretty good. It was the same one I injured in the Providence game.
"But I took care of it. I went back to Florida (where he has been training at the IMG Academy in Bradenton, Fla.) and got my ankle stronger and body stronger."
The injury forced Wilson to cancel two scheduled workouts, one with the Detroit Pistons and the other with the Milwaukee Bucks. The latter one, Wilson conceded, was disappointing.
"Oh, yeah, it was frustrating," Wilson said. "That's a team I grew up watching and rooting for as a kid. The Bucks were the only real NBA team that I watched; it came on a local channel at my dad's (James) house.
"I grew up watching Glenn Robinson and guys like that. It was a bummer, but everything happens for a reason."
Wilson then paused and quipped, "I played in the same building (the Bradley Center) where they play, so I think they might know who I am."
Wilson started all 32 games for Marquette last season and his stats reflected his all-around abilities: He ranked first in rebounds at 5.9 a game and was second on the team in points per game (11.7), assists (82) and blocked shots (16).
Being drafted, Wilson acknowledges, would be a dream come true. He recalled a conversation he had with his father after his freshman year at Horlick. The elder Wilson, a former standout at UW-Whitewater who is a member of the Warhawks' sports hall of fame, recognized Jamil's basketball skills and told him he had a chance to be a special player.
"My dad said, 'If you really dedicate yourself to basketball, you can do anything you want,' " Wilson said. "My dad said that little orange ball can take you as far as you let it."
Wilson hopes it takes him to the NBA. He has given it his best shot. Now he can only wait to see if his name is called on draft night.
He'll be watching the nationally-television event at his father's house in Racine with other members of his family.
"Right now, I'm not nervous; I'm more anxious," Wilson said. "This is something I've waited for basically my whole life. I'm anxious to see what happens and where I'll be."