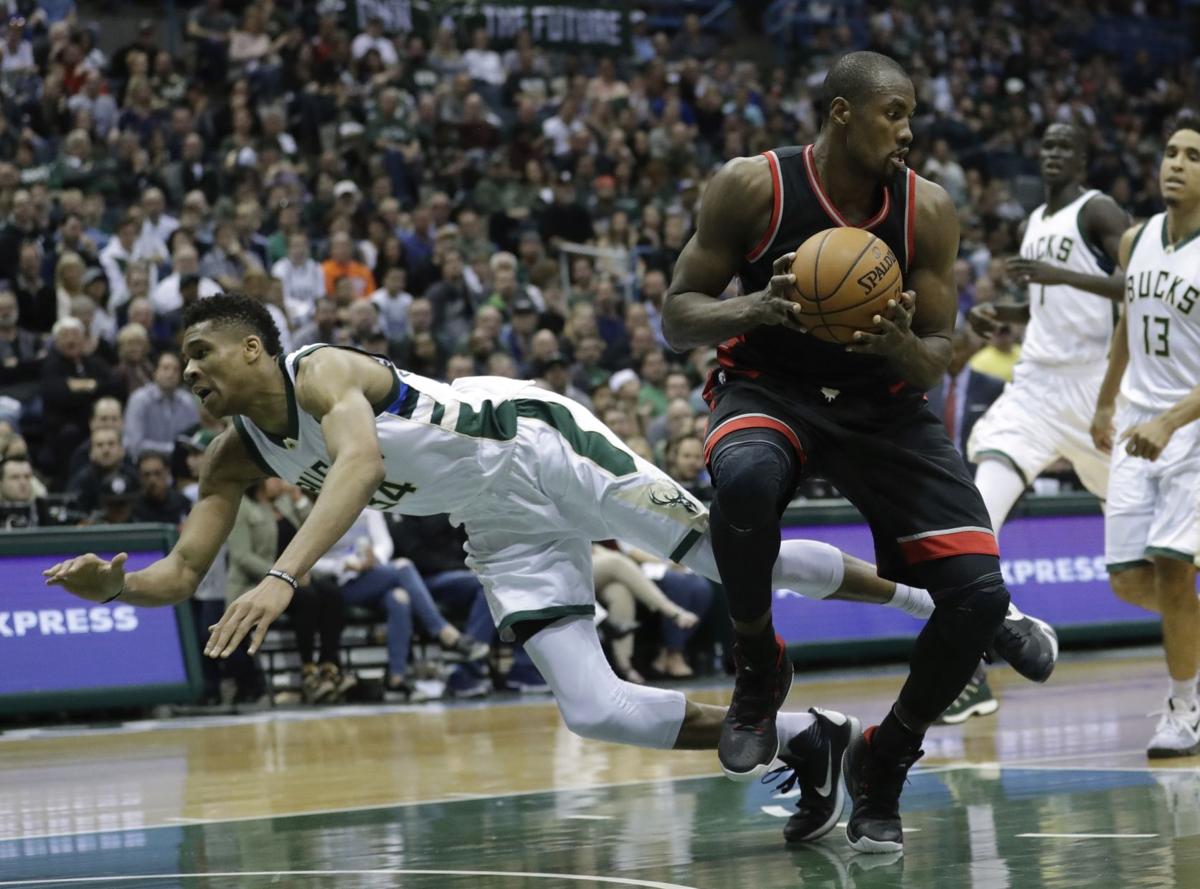 MILWAUKEE — Competing in an NBA playoff series is like running a mini-marathon.
The landscape is ever-changing and a team's mindset must reflect that from game to game.
For a young team like the Milwaukee Bucks that is still finding its way, coping with the mental highs and lows of a best-of-seven series is a learning experience. In winning two of the first three games against the favored Toronto Raptors, the Bucks handled the game-to-game challenges in remarkable fashion. Whether it was their mental approach or schematic adjustments, they looked like they had figured out this playoff business quickly.
Well, right up until Saturday afternoon.
Facing a veteran Toronto team that had its back against the playoff wall, the Bucks were overwhelmed by the Raptors' intensity and physicality in Game 4 at the Bradley Center. With the Raptors defense making their offense look sluggish and out of sorts from start to finish, the Bucks dropped an 87-76 decision that evened the series at 2 and cost them the home-court advantage they had stolen with a victory in the opener. It was a harsh, but perhaps necessary playoff lesson for Milwaukee.
Playing defense with as much clutching and grabbing at the referees would allow, the Raptors frustrated the Bucks, who had no answer for the playoff-level intensity of their opponent. The Raptors held the Bucks to 5-for-21 shooting from 3-point range and forced them into 20 turnovers, a combination punch that helped Toronto both get off to a solid start and dominate the second half.
"It was just them playing physical," Bucks forward Michael Beasley said. "I'm not 100 percent sure that we were ready for them to hit first."
Other than their youth, the Bucks had no excuse for being unprepared. Especially after they showed in the first three games that they understood the importance of every game in a playoff series.
Photos: Bucks offense can't get on track in Game 4 loss to Raptors
The Bucks were ready to compete in the opener at Toronto, when they outscored the Raptors 51-32 in the second half to win going away. They suffered no letdown in their Game 2 loss, coming back from several double-digit deficits to give themselves a chance to win at the end. And with coach Jason Kidd reminding them home-court advantage guaranteed nothing, they routed the Raptors in Game 3 at the Bradley Center.
The next stage in the Bucks' playoff development was learning how to deal with a desperate team, which the Raptors most definitely were after their 27-point loss in Game 3. If the Bucks didn't know that, then they weren't listening to what the embarrassed Raptors were saying after Thursday night's rout.
Kidd had warned them repeatedly to be ready for Toronto's best shot Saturday. Prior to the game, he outlined what the Bucks needed to do to cope with a desperate playoff opponent.
"We've got to act like if we're down," Kidd said. "We've got to be hungry. We haven't done anything and (we) understand that and we understand they're going to be desperate. This is Game 4. If they win and go back home, they did their job. So for us, we've got to protect (home-court advantage). It's Game 4, we've got to be desperate. We've got to hit first. We've got to hit for 48 minutes and understand they're going to try to hit us and we've got to respond in a positive way."
The Bucks seemed to match the Raptors' intensity Saturday, especially on defense, but their inability to score consistently against Toronto's ramped-up defense led to frustration, which led to players trying to do too much, which led to turnovers and forced shots, which led to them being outscored by 11 points in the second half.
"They turned up their aggression defensively and we had some careless turnovers to go with their aggression," Bucks guard Jason Terry said. "But give them all the credit in the world, they made an adjustment. They got the win and now it's our time to adjust."
It would be easy to write the game off as a learning experience if the stakes weren't so high. But for the first time in the series, the Bucks showed their age.
Even forward Giannis Antetokounmpo, who had dominated the first three games, showed some cracks. In the second half, he was 0-for-7 from the field and committed three turnovers. For the game, he was 6-for-19 with seven turnovers.
"I thought he was looking to try to pick the team up," Kidd said. "He could see that guys weren't making shots, so he thought he could do it. That's what the great players do. Unfortunately, he couldn't make a shot either. We talked about staying in character. This is a great game for our group to understand we've got to stay in character and keep moving the ball."
Antetokounmpo was by no means the only offender. Khris Middleton was 4-for-13 with four turnovers and rookie Malcolm Brogdon was 1-for-4 with four turnovers. Tony Snell sank five 3-pointers, but those were the only 3s the Bucks hit in 21 attempts.
"We knew they were going to reach and they reached all night," Kidd said. "We've got to be tougher with the ball and understand it was a physical game."
Maybe by the time Game 5 rolls around the Bucks will.