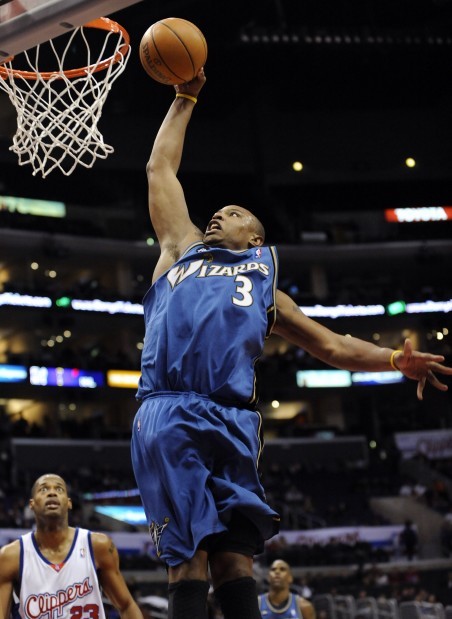 Just three weeks ago, Caron Butler and his family moved into their beautiful new home in the Phoenix suburb of Scottsdale, Ariz.
Thursday, they were packing their belongings and moving out.
Not that Butler had any qualms about the move.
The Racine native is returning home to Wisconsin. The 33-year-old Butler was traded Thursday by the Phoenix Suns to the Milwaukee Bucks.
In return for Butler, a two-time NBA All-Star, the Bucks sent Phoenix backup point guard Ish Smith and backup center Viacheslav Kravtsov.
"I'm very excited. Ecstatic. Can't wait," Butler said in a telephone interview from Scottsdale. "I never thought in a million years this was going to happen. I'm thoroughly excited."
Bucks general manager John Hammond was equally delighted to acquire the former Park High School standout and expects the 11-year pro to make an immediate contribution to his new team.
"We're very excited to welcome Caron back home," Hammond said in a press release. "He is an accomplished veteran player who started 78 games last season for a 56-win team in Los Angeles.
"Caron gives us depth at the small forward position and will be a mentor for our younger players."
The 6-foot-7 Butler is expected to start at small forward for the Bucks, especially with veteran Carlos Delfino's status up in the air.
Delfino, whom the Bucks signed as a free agent in July, is recovering from surgery for a broken bone in his right foot and may not be ready for the start of the regular season.
Last season on a Clippers team that featured stars Chris Paul and Blake Griffin, Butler averaged 10.4 points and 2.9 rebounds in 24.1 minutes a game. His career scoring and rebounding averages are 15.5 and 5.4, respectively.
Butler also provided the Clippers with a potent perimeter shooter, connecting on 38.8 percent of his attempts from beyond the arc.
But Butler, who was traded by the Clippers to the Suns last month, is more than an offensive threat, according to Bob Ociepka.
Ociepka, once an assistant coach for the Bucks, was an assistant for the Clippers last season. He said Butler proved to a capable defender.
"Caron's not known as a defensive player, but he did a good job for us," Ociepka said in a telephone interview from Chicago on Thursday. "I was in charge of the defense (for the Clippers) and I put together some clips for teaching purposes. He was in a number of them.
"He guarded some of the best small forwards in the game like (Kevin) Durant and did well. And Durant isn't an easy guy to guard.
"Caron definitely has the ability to be a good defender."
Butler also figures to bring some intangibles to the Bucks, including maturity and stability. The Bucks had all sorts of internal issues last season and lacked a true leader.
Butler is considered in NBA circles as a leader, someone younger players can gravitate to for advice.
The Bucks have a slew of young players on their 2013-14 roster, including Giannis Antetokounmpo their first-round draft selection in the 2013 NBA draft. Antetokounmpo is 18 years old and also plays small forward.
Ociepka said Butler set a commendable example for his teammates.
"The thing I appreciated about Caron is his professionalism," Ociepka said. "He always handled his role in a professional manner. He was always willing to do what was asked of him.
"And he always really worked hard. He was in the gym all the time. He was the first guy on the bike, the first guy on the elliptical. He was always doing something to improve himself.
"I think getting him was a good move for the Bucks."
Butler would agree. He believes he can make a positive impact on a team that is striving to make the NBA playoffs for the second straight season.
"I think we're going to be good, I really think we are," Butler said. "Adding myself to a team that has a dynamic scorer in O.J. Mayo, to a team that has a talented young point guard in (Brandon) Knight and has good big men like (Larry) Sanders and (Ersan) Ilyasova and other guys like Gary Neal ... we can be really good.
"I think this will be the ideal situation for me and my family."