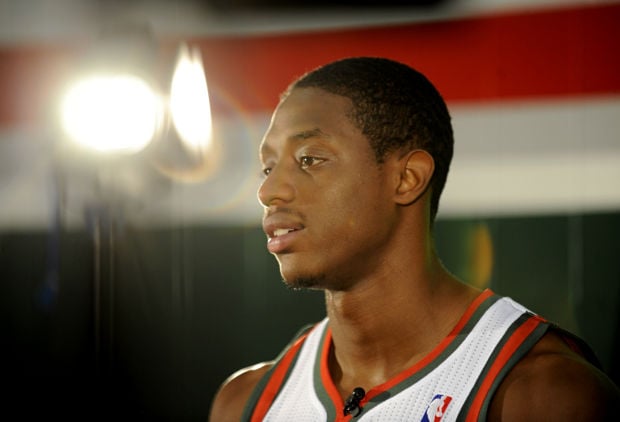 MILWAUKEE — Brandon Knight isn't oblivious to his critics.
The new Milwaukee Bucks point guard fully realizes there is a perception about his game, one that he insists isn't accurate.
That perception is Knight isn't a true point guard, that his mentality is to shoot first and maybe pass second.
The critics support their case by pointing to the statistics. Knight counters by saying the statistics are skewed.
Knight averaged a mere four assists a game while playing for the Detroit Pistons last season. That tied him for 38th place in the NBA. Not good.
But Knight insists that stat is rather deceiving.
"I'm not trying to blame anybody," Knight said while carefully choosing his words. "But the team we had ... It was a tough situation.
"When you have shooters, it's easy to get assists because they're going to knock down open shots. We had, maybe, one (Kyle Singler) knock-down shooter.
"And I didn't have any bigs who could stop and pop. The only one we had was Charlie Villanueva and he didn't play much. And, when he did play, he was with the second unit so I wasn't playing much with him."
But that wasn't the sole reason, Knight says, for his subpar assist numbers last season. He points out that, contrary to public perception, he wasn't strictly a point guard. He also spent a considerable amount of time at the shooting guard spot.
"In the first half of the season, I was playing the point guard position; in the second half, I played off the ball," said the 21-year-old Knight, whom the Bucks acquired July 30 from the Pistons in a trade for disgruntled Brandon Jennings. "So, of course, my assists are going to go down. A lot of people outside looking in ... they look at the stats. But a lot of them didn't know that.
"When I started off the season, I was averaging about 5.5 assists and then, when I was moved, it dropped down to 4. I was handling the ball just here and there."
With the Bucks, Knight will be handling the ball almost exclusively. Said new Bucks coach Larry Drew emphatically and succinctly, "Brandon is a point guard."
While the 6-foot-3 Knight expects his assists to go up this season, he expects his intensity on the floor to increase as well.
Some NBA officials contend the polite, soft-spoken Knight is just too nice on the floor and needs to be more assertive and impose his will on games.
"Yeah, that's something I got to change and I'm going to change it," said Knight, who started 75 games and averaged 13.3 points last season. "I'm going to have a different mentality. I'm going to be more aggressive."
Caron Butler, the Racine native who figures to spend a lot of time on the court this season with Knight, likes what he has seen so far of the former University of Kentucky star who was the eighth overall selection in the 2011 NBA draft.
Butler has been impressed with Knight's work ethic and believes the young Buck has the capabilities of becoming a prime-time player.
"He's very talented," Butler said of Knight. "He can shoot the ball, he can penetrate the lane, he can run an offense.
"He just has to continue to stay aggressive and keep a mean streak. He definitely has it in him to be a very good player."