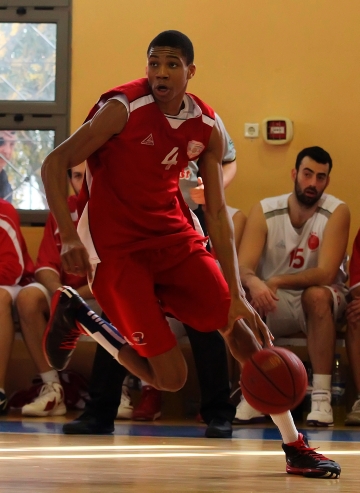 MILWAUKEE – Giannis Antetokounmpo won't be the only member of his family to be playing in the Milwaukee area this fall.
Antetokounmpo, the Milwaukee Bucks' rookie forward, said one of his younger brothers, Kostas, will be enrolling soon at Whitefish Bay Dominican High School. Kostas is a 6-foot-5 swingman who some observers claim could become as good as Giannis.
Giannis disagrees; He thinks Kostas could be even better than him.
"I think he's going to be the best of our family,'' Giannis said before Saturday night's Bucks game against Toronto at the BMO Harris Bradley Center. "He's the best shooter in the family and he's athletic like all of the Antetokounmpos.
"He's been playing the game a long time. He knows how to play.''
The younger Antetokounmpo, who is 15, will be a teammate of Dominican center Diamond Stone, who is regarded by some college recruiters as the best player in the junior class in the country.
Another Antetokounmpo, Thanasis, was the selected by the Delaware 76ers as the ninth overall pick in the just-completed D-League draft. Thananasis, who played with Giannis for Filathlitikos in the Greek League last year, is considered a legitimate NBA prospect.
Asked if he would like Thanasis to be drafted by the Bucks so they could be teammates again, Giannis laughed and said, "No. No. Keep him far away, far, far away.''
Giannis laughed again and said, "He plays my position.''
* Larry Sanders, who has struggled through three games this season, didn't play at all in the fourth quarter of Saturday night's game against the Toronto Raptors.
Afterward, Sanders said expressed his frustration about not being reinserted into the game. Sanders said he and Drew talked about his role this season and said he may have another chat for clarification.
Be the first to know
Get local news delivered to your inbox!