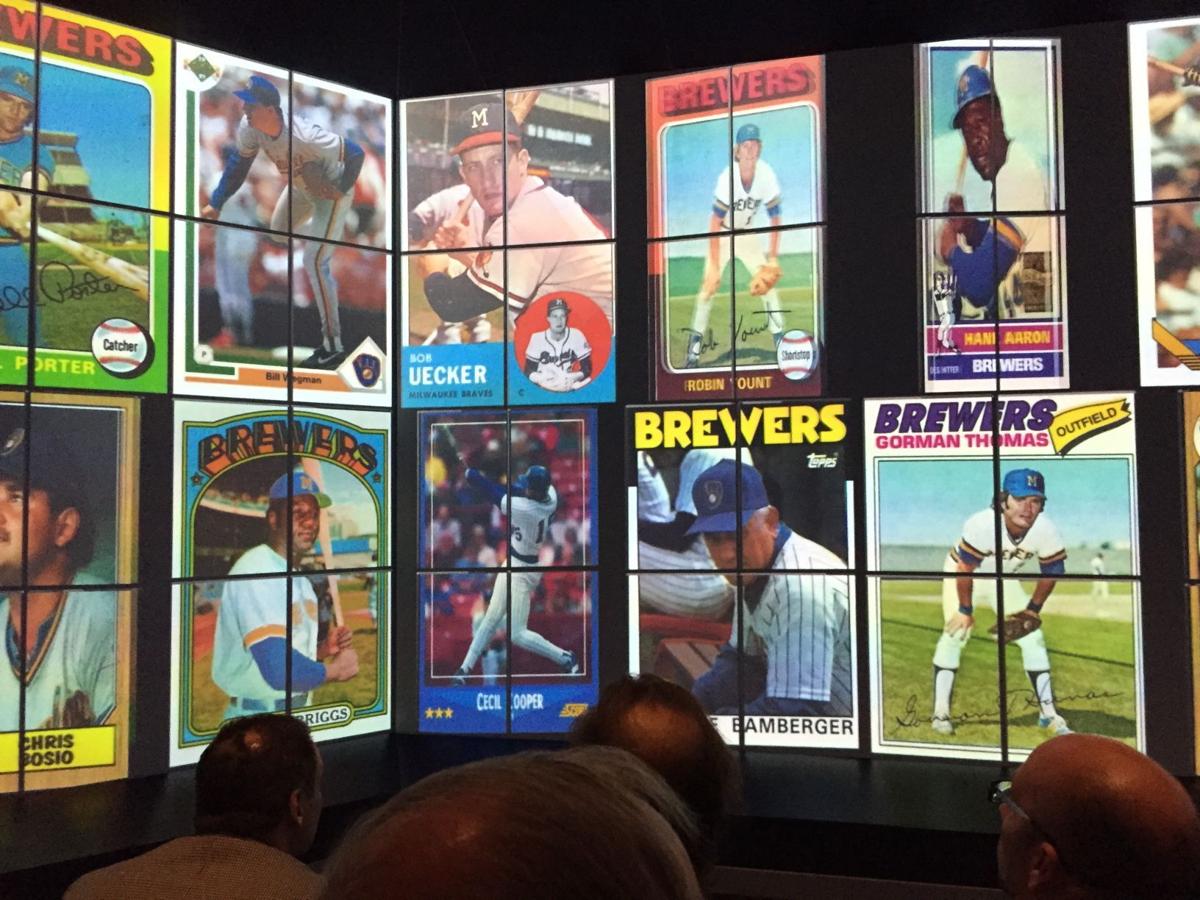 The Milwaukee Brewers believe it's a story worth telling for years to come.
The Selig Experience at Miller Park, billed as a state-of-the-art exhibit to honor the former Brewers owner and recently-retired Major League Baseball commissioner, opened to rave reviews during a private unveiling Thursday and to the public Friday.
The multi-media exhibit located on the loge level in the left-field corner of Miller Park isn't just a tribute to 80-year-old Allan H. "Bud" Selig, baseball's commissioner emeritus.
It's also a history lesson.
Pretty appropriate for a guy who upon graduating from the University of Wisconsin in 1956 thought he was coming back to his hometown of Milwaukee to become a history teacher.
The exhibit, designed by BRC Imagination Arts of Burbank, Calif., features a multi-media presentation that tells the story of Selig's lifetime love affair with baseball, starting with his early involvement as a fan, to his role in bringing the Brewers to Milwaukee, to him becoming Major League Baseball's ninth commissioner.
"It is an amazing tribute to an amazing man and his career, particularly that part of his career that was spent here in Milwaukee," said Rob Manfred, who succeeded Selig as commissioner on Jan. 25.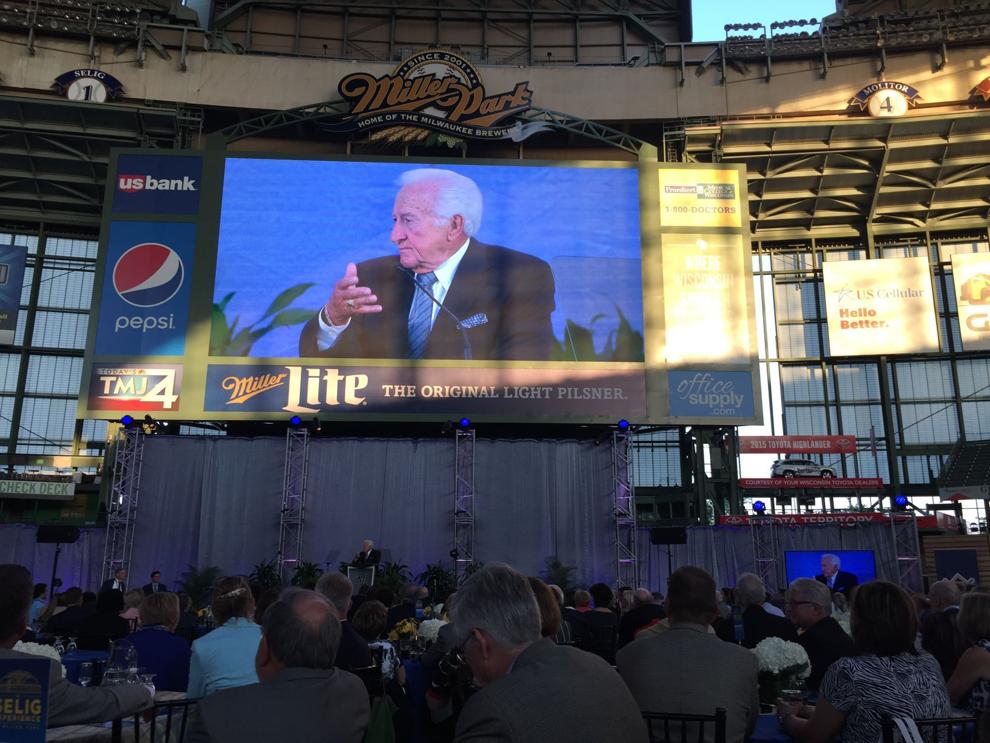 As Selig himself said, the Selig Experience is as much a history of the Brewers and their fans as it is a history of Selig and his lifelong love affair with the game.
"There are a lot of lessons to be learned from this," Selig said Thursday night at a press conference at Miller Park after the official unveiling of the exhibit.
"I hope the fans will really understand the franchise. What it means, what it took to get it here and what it took to move it forward.
"There's a wonderful history here with wonderful lessons. That's what I hope comes from this."
Perhaps nobody appreciates history more than Selig, who majored in American history and political science at UW.
"To go through all the things we went through, starting in 1964, what an experience it's been," Selig said.
The 1,500-square-foot exhibition, born out of a suggestion by Brewers general manager Doug Melvin to recreate Selig's famously-messy office from old County Stadium at Miller Park, also is a lesson in following your dreams.
Who would have ever imagined that a young boy born in Milwaukee to parents who emigrated from eastern Europe, whose first exposure to baseball was seeing the minor league Milwaukee Brewers play at old Borchert Field in the late 1930s, would grow up to become commission?
Barely into his 30s, Selig headed the ownership group that fought for 5 ½ years to bring major league baseball back to Milwaukee after the Braves moved to Atlanta following the 1965 season. Despite numerous setbacks in his attempts to land a franchise and against what Selig called "incredible odds," Selig's group bought the bankrupt Seattle Pilots franchise in early 1970 and moved them to Milwaukee less than a week before the season opened.
The rest, as they say, is history.
That famously-messy office? It's been recreated in amazing detail, right down to the piles of newspapers on the floor by Selig's desk and a Tiparillo cigar still smoldering in an ashtray.
Brad Shelton of BRC Imagination Arts, the creative director for the project, wouldn't reveal the secret behind the "smoking" Tiparillo.
But Shelton did say that Selig's story made the project easy.
"All the talent in the world, all the most incredible technology in the world is meaningless without a great story," Shelton said. "And, man, did we have a great story."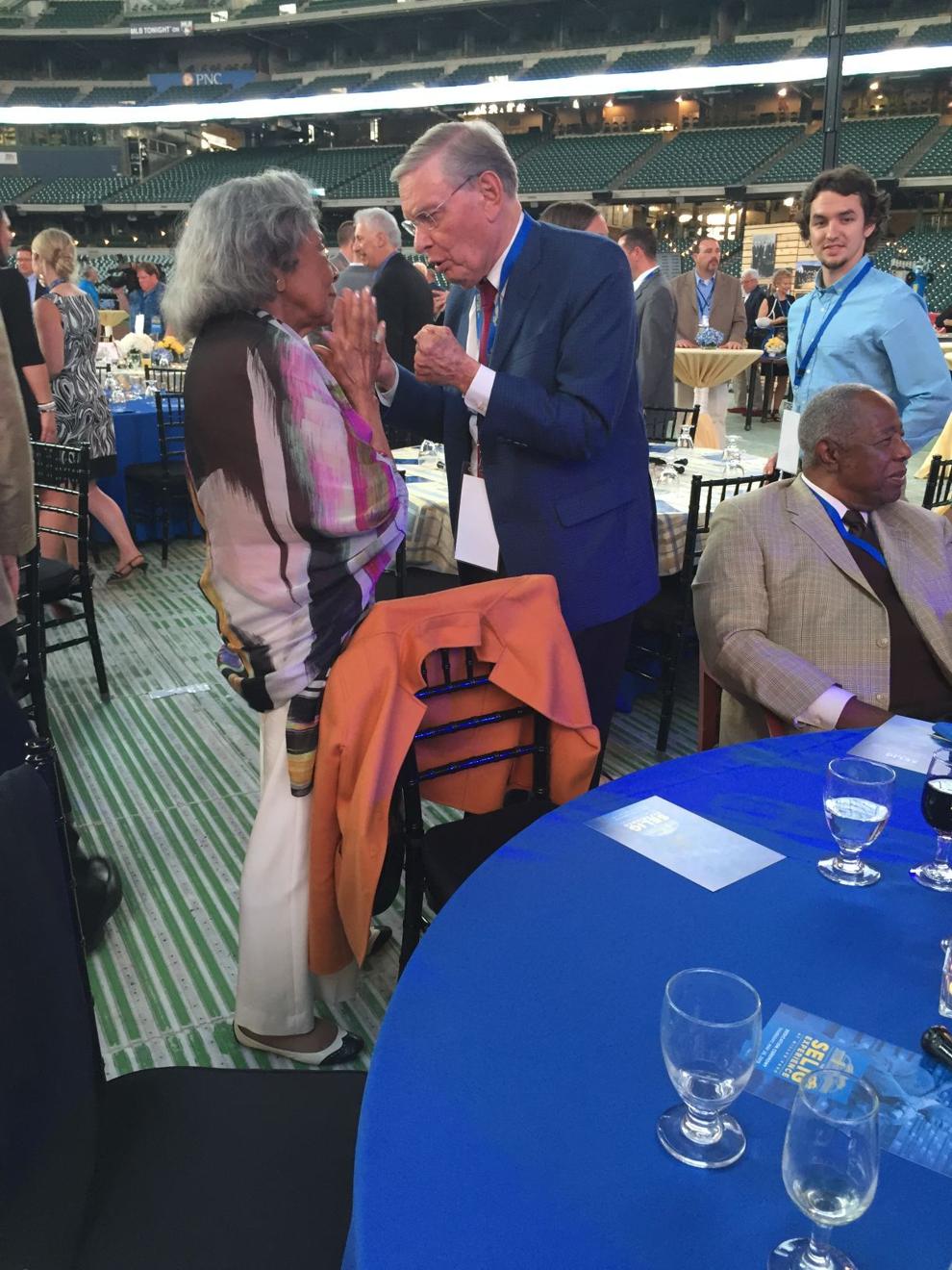 Why the Selig Experience?
"It started out as a way to honor a man without whom we wouldn't be here (at Miller Park)," said Attanasio, the Brewers' CEO and principal owner since 2005. "This is something that families can share and that can connect generations of fans."
Perhaps the most talked-about feature of the exhibit will be the amazingly lifelike hologram of Selig in his office. As Attanasio joked, "It was like going to a scary movie."
After passing the replica of Selig's office, visitors enter a memorabilia-lined room that features a quote from Selig on one of the walls. It reads:
"No matter what happens to me in my career, getting a team will always be my proudest achievement because it was against unbelievable odds."
"All I ever wanted was to share this game with the greatest fans in the world -- the people of Wisconsin," Selig says in a clip during the presentation.
Selig previously was honored with a bronze statue outside Miller Park in 2010 and is on the Brewers Wall of Honor along the left-field Miller Park wall and on the Ring of Honor inside Miller Park – the team retired No. 1 in his honor as the team's No. 1 fan.
But this latest tribute surpassed anything Selig could have envisioned.
"When I look back at all of this, I say to you all, 'Boy, have I been lucky,' " Selig said. "To think that a kid growing up would not only realize his dream, but realize it in such an incredible fashion.
"What you see here is a little boy's dreams that came true."