PHILADELPHIA — Closer Hector Neris needed 40 pitches to make sure the Philadelphia Phillies' bullpen didn't blow another one.
Vince Velasquez threw six sharp innings, J.T. Realmuto hit a two-run homer and the Phillies held on to beat the Milwaukee Brewers 4-3 Monday night.
Velasquez (1-0) allowed one run and four hits, striking out six in his longest outing this season. Neris struck out Lorenzo Cain with the bases loaded in the ninth to preserve the win.
"It's a gutsy performance by Hector," Phillies manager Joe Girardi said. "I mean, I don't ever like to let a pitcher go that many pitches. He looked over and said, 'I got this.' That was his last hitter no matter what. So, obviously he did a heck of a job."
Brewers starter Adrian Houser (2-3) gave up four runs — two earned — and four hits in six innings.
Cain blasted a solo homer onto the concourse behind the left-center field stands to give the Brewers a 1-0 lead in the first in his first at-bat off the injury list. But NL Central-leading Milwaukee couldn't do anything else until Philadelphia went to the bullpen.
Sam Coonrod struck out the side in the seventh but the Brewers loaded the bases the next two innings. Connor Brogdon walked two and yielded an infield single to Christian Yelich in the eighth.
After Travis Shaw's sacrifice fly cut it to 4-2, Neris entered. Avisail Garcia's grounder drove in another run.
Neris then picked Garcia off first to end the inning and threw 36 pitches in the ninth to earn his sixth save in seven chances.
Daniel Vogelbach lined a double to start the ninth and Pablo Reyes ran for him. Neris struck out Luis Urias and Luke Maile swinging. Pinch-hitter Billy McKinney walked and Kolten Wong reached on an infield single to load the bases. Cain went down on a checked-swing to end the game.
"You have to win this game, especially when your closer does something like that," Girardi said.
Realmuto crushed his third homer into the second deck in left to give the Phillies a 2-1 lead in the first.
Roman Quinn drove an RBI triple the opposite way in the second and scored on Velasquez's infield grounder to make it 4-1. Both runs were unearned because of a throwing error on shortstop Luis Urias that allowed Odubel Herrera to reach second safely following his grounder.
Houser settled in nicely after the second and retired 13 in a row and 14 of his last 15 hitters.
"I didn't have my best stuff," Houser said. "I had two pitches going. I had to battle out there. My mechanics started to get going."
Phillies left fielder Matt Joyce was ejected by plate umpire Hunter Wendelstedt for arguing a called third strike to end the seventh.
From the infirmary
Milwaukee activated 2018 NL MVP Christian Yelich as well as fellow outfielder  Cain from the injured list and put both in the starting lineup for Monday night's game at Philadelphia.
The Brewers made room for the two former All-Stars by sending slumping first baseman Keston Hiura and outfielder Tyrone Taylor to the alternate training site.
"We haven't been activating players lately, so just to activate some players is a change of how last week went, that's for sure," Brewers manager Craig Counsell said.
"We've done a decent job winning some games without some important players, so these guys don't have to do everything," Counsell said. "Just contribute to wins."
Yelich is batting .333 with a .459 on-base percentage and no homers and one RBI in just nine games. Cain, who played only five games last year before opting out, is hitting .154 with two homers and four RBIs in seven games.
"We'll be safe with both these guys and ease them both into it," Counsell said. "I'd expect days off for both of them as we go here, especially on this road trip, just kind of seeing where they're at and getting their legs underneath them."
Counsell said Hiura and Taylor both eventually would end up with the Brewers' Triple-A affiliate in Nashville, Tennessee.
Hiura opened the season as the Brewers' starting first baseman but was batting just .152 with one homer and five RBIs in 26 games. He had struck out in 32 of his 89 plate appearances.
After posting a .938 OPS in 84 games as a rookie in 2019, Hiura batted .212 with 13 homers, 32 RBIs and an NL-high 85 strikeouts last season. This year, he continued to struggle and had stopped hitting with power.
Hiura noted on Instagram last month that his mother was diagnosed in February with B-cell follicular lymphoma, a form of non-Hodgkin lymphoma.
"At this point, it's just best for Keston, I think, to kind of get in a different environment, maybe take a little time off here before he starts playing in games again and then just get started in a new environment," Counsell said.
"It's important for us that I think and still really believe Keston can be our primary first baseman and has the ability to be a force in the middle of our lineup. We weren't there and it felt like we were almost getting a little farther from that than closer to that at some point," he said.
Counsell said Daniel Vogelbach would get much of the work at first base for now and that outfielder Billy McKinney also could make some appearances there.
Hiura had played second base in 2019-20 but moved to first base this year when the Brewers signed Kolten Wong, a Gold Glove second baseman the last two seasons. Counsell said the decision to send Hiura down was dictated entirely by the 24-year-old's struggles at the plate rather than anything he did at his new position.
"I really think this is going to benefit Keston," Counsell said. "I think it can be a short-term thing, and I think he can be back and be a productive offensive player fairly quickly."
In another move, the Brewers lost right-handed reliever Phil Bickford when the Los Angeles Dodgers claimed him off waivers. The Brewers had designated Bickford for assignment on Wednesday.
Phillies right fielder Bryce Harper wasn't in the lineup because of a sore left wrist. Manager Joe Girardi said he's hopeful the slugger will avoid the injury list.
Up next
Left-hander Eric Lauer (1-0, 0.00 ERA) is scheduled to start for Milwaukee against Philadelphia right-hander Aaron Nola (2-1, 3.11) on Tuesday night.
Early returns: 5 things we've learned about the Brewers over the first month of the season
DEPTH MATTERS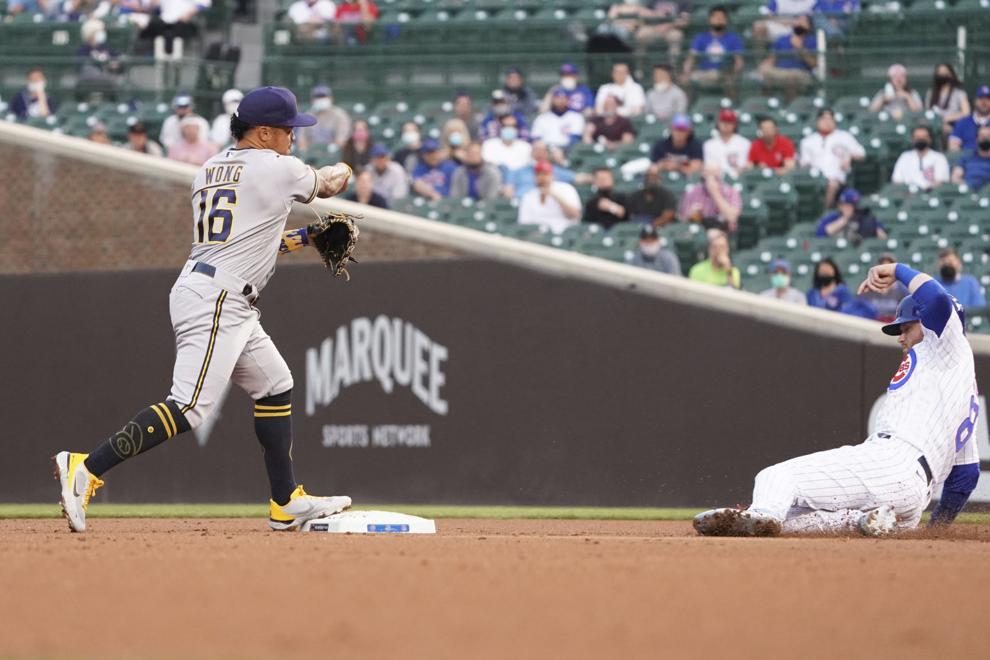 Each and every year, president of baseball operations David Stearns and manager Craig Counsell are peppered with questions about a perceived surplus or logjam at one position or another and each and every time they're asked, both remind the intrepid reporters asking those questions that it is a long season, injuries happen and depth is a key to success for any team.
In the future, Stearns and Counsell can respond to those questions by referencing April 2021.
Since April 10, when second baseman Kolten Wong (above) went on the injured list with a strained oblique, the Brewers have put 10 players on the IL — including starting outfielders Lorenzo Cain and Christian Yelich, both of their starting catchers and two starting pitchers.
As a result, all but one of the players on Milwaukee's 40-man roster have been used so far this season.
"We talk about depth all the time," Stearns said. "We didn't anticipate needing to go through this many layers of depth this early. It's given a number of guys some really great opportunities and through all of their credits, they've taken advantage of them."
STARTERS ARE REALLY, REALLY GOOD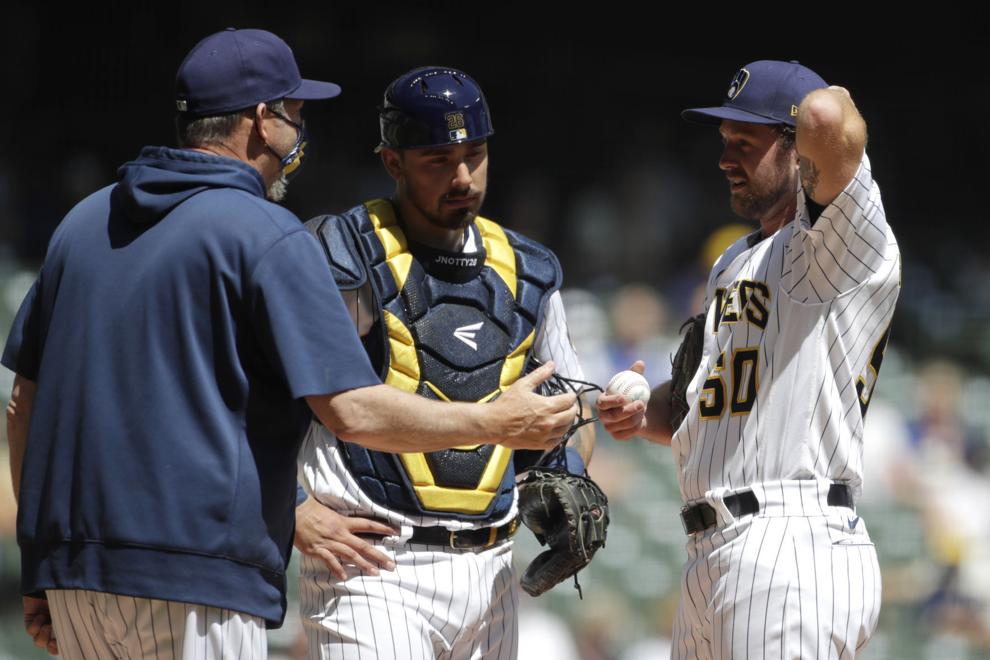 Anyone who's watched the team this year already knows this, but Milwaukee's rotation has been so good so far that it's worth repeating. Prior to Sunday, when Alec Bettinger's MLB debut (above) turned into a nightmare with a five-run first inning, the Brewers' starters combined for a 2.57 ERA, second only to the San Francisco Giants in all of baseball. After Bettinger's 11-run performance, Milwaukee's rotation still owns a 3.18, the fifth-best mark in the NL and sixth in MLB.
"Every guy that's in this in this rotation is bringing something and it's fun to watch just from a pitching standpoint," closer Josh Hader said. "It's impressive to see how they attack these lineups, especially going around lineups three times in a row. I know as a starter that's not an easy thing to do and they make it look easy."
OFFENSE IS REALLY, REALLY BAD — BUT EFFECTIVE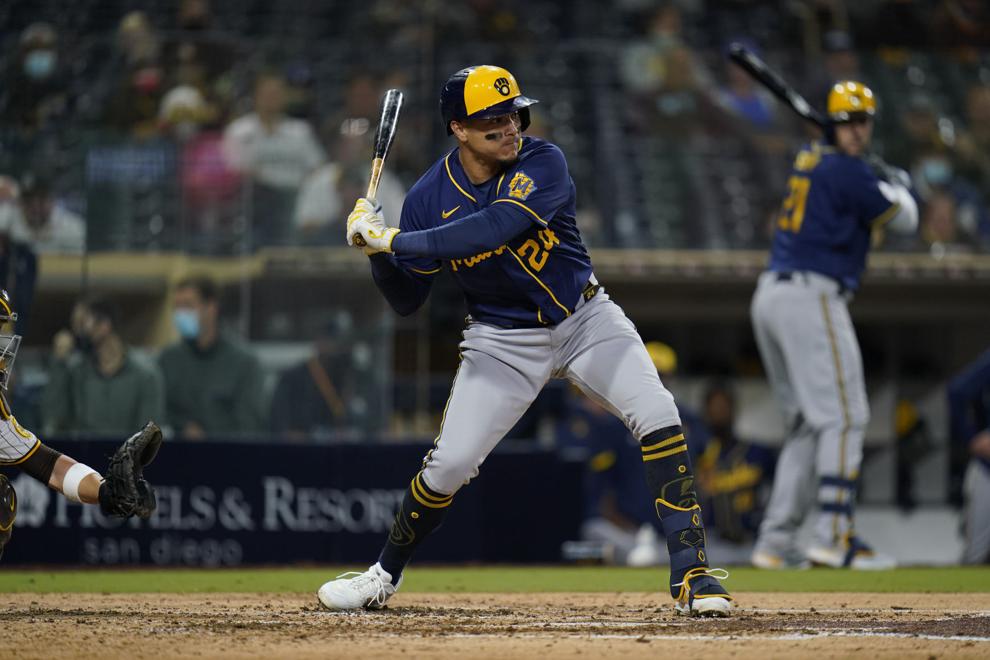 On the other end of the spectrum, Milwaukee's offense is still a concern. The Brewers are last in the National League with a .217 batting average and .301 on-base percentage. Their 35 home runs are good for sixth in the NL and help boost their slugging percentage to .373 (11th/NL), while their .674 OPS ranks 13th.
Among qualified players (3.1 plate appearances per team games played), Avisail Garcia (above) is Milwaukee's leading hitter with a .222 average, just ahead of Travis Shaw, who's batting .220 but is among the league leaders in RBIs (21) and has a team-leading five home runs so far.
Still, the Brewers' bats have come through in big moments more often than not, and thanks to the pitchers' efforts, the offense hasn't had to put together too many big innings in order to dig out of a hole.
"We just keep doing it every night, finding ways to get it done," Shaw said. "Seems like however many runs we need, we score that exact amount every single night, whether it's one, whether it's five, six, whatever it is, we'll get it. We've been getting just enough to win."
THINGS AREN'T AS BAD AS THEY SEEM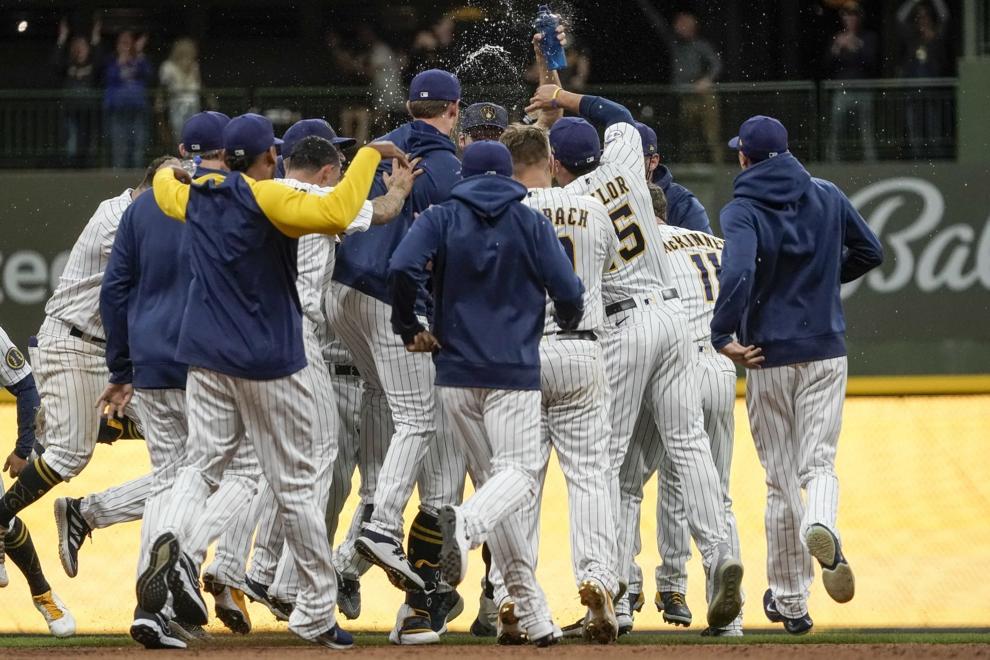 Even with the injuries, the slumps, roster shuffles and their blow-up loss Sunday, the Brewers still woke up Monday atop the National League Central Division, a game up on second-place St. Louis and 3 1/2 ahead of the third-place Reds.
"You take three out of four from the Dodgers and you have to consider that a good series, for sure," Counsell said. "Guys continue to step up. It's going to take more than 26 (players) — I think we've made that pretty clear — and I think we're in that mode right now. It's a good place to be. We continue to pitch very well and I think that's going to continue to serve us well."
THIS TEAM COULD BE FOR REAL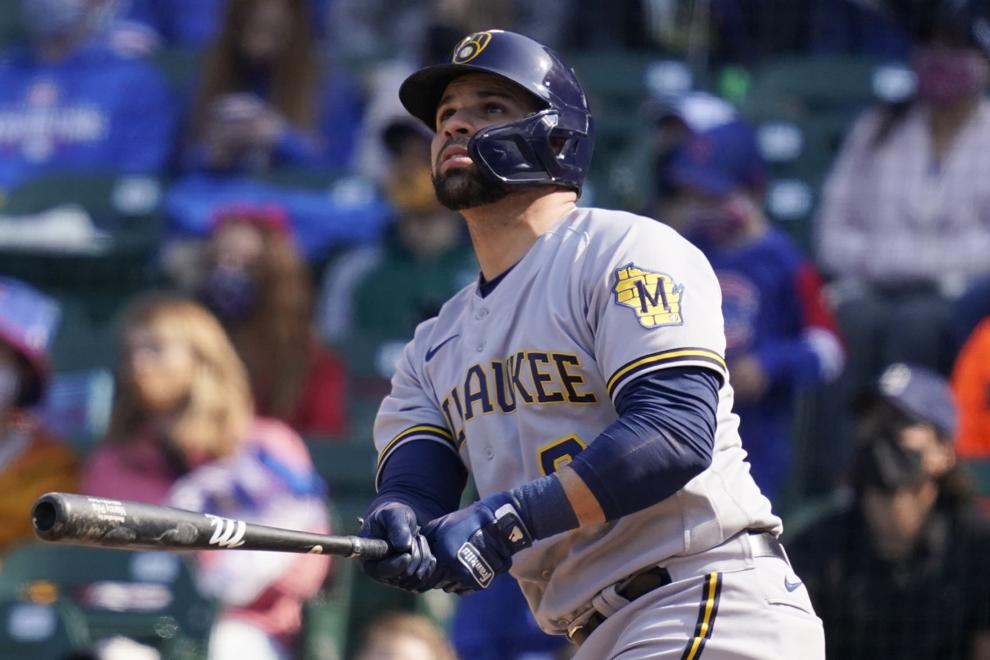 No doubt, there is still way too much baseball left. A lot can happen between now and September and there's plenty of teams in franchise history that saw strong April starts wiped out by May swoons, but that the Brewers have been able to navigate this challenging stretch without losing ground while taking care of business against their divisional rivals is encouraging.
Cain and Yelich are expected to return at some point during the road trip. Manny Piña (above) is eligible to return this weekend and Corbin Burnes could return at some point this month, too.
And just as five more months of games leaves plenty of time for the Brewers to tumble out of first, the schedule also provides plenty of time for those who slumped out of the gate to snap out of their funks and get on a hot streak.
"We're really being tested right here in April, but we've come through better than I think anybody could expect," Shaw said. "Our pitching's been unbelievable. Offensively, we've struggled but I don't think that'll be the case all year. But right now, our pitching is carrying this team and offensively we're getting healthier and hopefully we'll get swinging the bats a little better here as we get into May."