OK, Milwaukee Brewers fans, repeat after me: In Stearns we trust.
Now, keep on saying it. Maybe all season.
Brewers general manager David Stearns has certainly earned a great deal of trust after assembling rosters talented enough to average 90 wins over the past three seasons and reach the playoffs the past two. Analytics-driven and unafraid to make bold moves, Stearns' batting average, while not 1.000, has been been at an All-Star level.
But when the Brewers open spring training this week in Arizona, they won't look much like the power-hitting, bullpen-heavy teams that were one game away from the World Series in 2018 and lost to the eventual World Series champion Washington Nationals in the National League wild card game in 2019.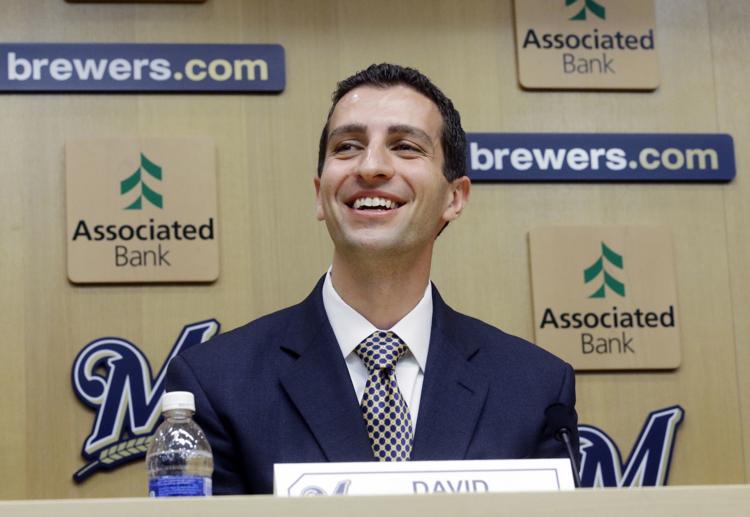 Five of the nine players who started on Opening Day last season are gone, including the heart of the batting order — Travis Shaw, Jesus Aguilar, Mike Moustakas and Yasmani Grandal. Of the 25 players who were active for that playoff loss four months ago, only 12 remain.
One normally doesn't see that much roster turnover on a contending team and the Brewers' less-is-more approach — both in terms of high-end talent and payroll — during the offseason has left many thinking they won't have enough talent to make the postseason for a third consecutive year. Having so many new faces on the roster also caught the attention of the few players who remain.
"It's definitely crazy," closer Josh Hader said recently, "but they have a plan. It's a good plan for sure."
That remains to be seen, which is why, barring more moves before the start of the season, it will require a leap of faith for Brewers fans to expect a franchise-record third consecutive playoff berth. People are having difficulty wrapping their heads around the team allowing big-time run producers such as Moustakas and Grandal to walk in free agency while dropping the payroll from $125 million to $90 million and yet still being able to compete in the NL Central Division. If nothing else, this will be Stearns' biggest test.
You have free articles remaining.
"We are happy with our team," he said. "We think we have a very competitive team with the group we have right now, and we're always looking to get better."
Most projections aren't quite that rosy, putting the Brewers second, third or even fourth in the division. In addition to the run production supplied by Moustakas and Grandal, the Brewers also will be without slugger Eric Thames and pitchers Zach Davies, Chase Anderson, Jordan Lyles and Drew Pomeranz, all of whom made significant late-season contributions.
Since Stearns didn't swing a blockbuster trade or make an eye-popping free agent signing, the Brewers are banking on the general manager finding some gems among the mostly low-budget players he has acquired. The group includes players hoping for bounce-back seasons, players looking to fulfill their minor-league promise, a player (Josh Lindblom) who spent most of the past five seasons pitching in Korea and approximately half the world's supply of utility infielders. About the only sure things are free agent outfielder Avisail Garcia and catcher Omar Narvaez, who was acquired in a trade.
Team owner Mark Attanasio, who has always been willing to spend money when the time was right, said, "Trust the process," when asked about the growing fan skepticism this winter. Of course, that's a variation of, "In Stearns we trust."
"The process has proven to be eminently trustworthy for the past several seasons," Attanasio said. "We believe we're going to win a lot of games and obviously we have flexibility to add players in-season. By the way, I'm one of those 'fans'. If you make a bad signing, (fans say), 'Why did you do that?' We're trying to be competitive every year and I think we're on the path to do that, now and for several years."
Stearns had taken different approaches to roster-building the past three offseasons, which shows admirable flexibility but also carries an element of risk. In 2018, he remade the outfield with the acquisitions of Christian Yelich and Lorenzo Cain. Last year, he lengthened the batting order by importing Moustakas and Grandal.
Just as he took advantage of his opportunities then, Stearns tried to do the same after evaluating the landscape this offseason. When the free agent market, which had been depressed for two years, suddenly exploded, the Brewers were priced out of the market and took a different approach, trying to throw numbers instead of money at open positions, going for versatility and depth over big-ticket talent.
As a result, the Brewers could have time-share agreements in left field and at first base, third base and catcher. They also have questions at shortstop and at the bottom of the starting rotation and bullpen.
As usual, the Brewers will rely on manager Craig Counsell to milk the most out of the roster. But they'll need a lot of things to go right for them to contend again this year.
"We talk a lot about analytics," Attanasio said. "Our analytics group every year does a runs-created/runs-prevented analysis to give us a sense of how many wins we could have. I'm not just glibly saying this as an owner, to sell tickets, but we're going to be competitive. Our models — which had been quite accurate the last several years, including 2017 when we really surprised everybody — say we're a really competitive team. Injuries obviously could change that, but we think we're going to be a competitive team."