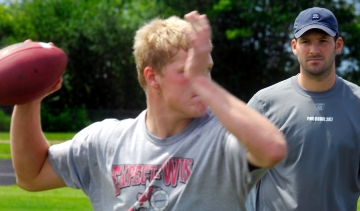 BURLINGTON - As down to earth as Tony Romo was Wednesday morning, a certain awe factor had to be overcome by his young audience when the face of "America's Team" appeared front and center.
This was the cover of an issue of Sports Illustrated materializing in the flesh before their very eyes. This was perhaps the greatest sports celebrity ever to come out of Wisconsin stepping out of their television sets after playing before more than 100,000 fans at Cowboys Stadium and forging a personal connection with his youthful audience.
"People definitely have to get over the awe factor," said offensive tackle Ben Burling, a senior-to-be for the Burlington High School football team. "It takes certain kids a longer time."
When that ice was melted, those who attended the seventh Tony Romo Football Camp at Burlington's football field were able to tune into the message from the Dallas Cowboys' three-time Pro Bowl quarterback. It was a message from the heart personalized for the various players with whom he interacted during the first day of his two-day camp.
Just ask Burling, linebacker Matt Owens and defensive end Jared Herter, all of whom will be cashing the checks of encouragement Romo wrote for them as they prepare for their senior seasons at Burlington.
There is only so much one can learn during two sessions of a football camp, the proceeds of which will go to Burlington's program. But a few well-chosen words can have such a lasting impact.
"He puts the emotional part into it," Burling said. "He puts it into our heads that we do matter. Our names (of the offensive line) don't make the paper, but we're still the heart and soul of the team, he tells us.
"He keeps us going. We do the drills and, when he shows up, we start to realize that we're doing the drills for a purpose."
Owens and Herter each took different messages from Romo, Burlington's quarterback during the 1996 and '97 seasons.
"No one can set the standards except you," Owens said when asked what particularly connected with him from Romo. "You pretty much have to be early each day and constantly be working. Some people try harder than others and some people just give up."
If Romo was able to convince Burling that anonymous offensive linemen are the heart and soul of a team, he was equally successful in getting Herter to believe how invaluable defensive ends are.
"He said defensive ends are like the motor of the team," Herter said. "I never thought I was that important. The energy is the big thing and if we keep our energy up, we'll win a lot of football games."
Combined with lessons on the finer points of the game from Romo and a staff of 45 others, which included former UW-Whitewater coach Bob Berezowitz, Racine Raiders receiver Sam D'Alie and former Burlington standouts Reid Oldenburg, Ross Wiemer and Maz Zinnen, it was quite an education these young athletes received.
Few of those attending the camp will likely ever approach the success of Romo, but that's not the point. The point is maximizing one's potential and this camp offers the tools.
"This camp is for everybody," Romo said. "These kids hang on your word and they want to improve. These kids come here ready to work, they come here with some ability and there's a level they can get to if they stay committed to the approach.
"I was in their position one time and I would have done anything to get some of these lessons that they're getting taught from the coaches."
What does Romo try to stress more than anything?
"Football is a great tool to use toward life in a lot of ways," Romo said. "I mean adversity, the emotional up and down swings, the ability to overcome things, the ability to work together as a team and achieve a common goal - a lot of things you can take through life."
For Burlington coach Hans Block, who works long hours setting up the facilities prior to Romo's arrival, Romo's time is the greatest gift he can give his alma mater.
"Just to come here and work with him and spend time with him is unbelievable," Block said. "People ask me how the camp is going and, 'Does Tony ever give you money?' I say, 'He gives us something better than money. He gives an opportunity for 700 kids to come through, have a great experience, learn about football and learn about important aspects of life.'