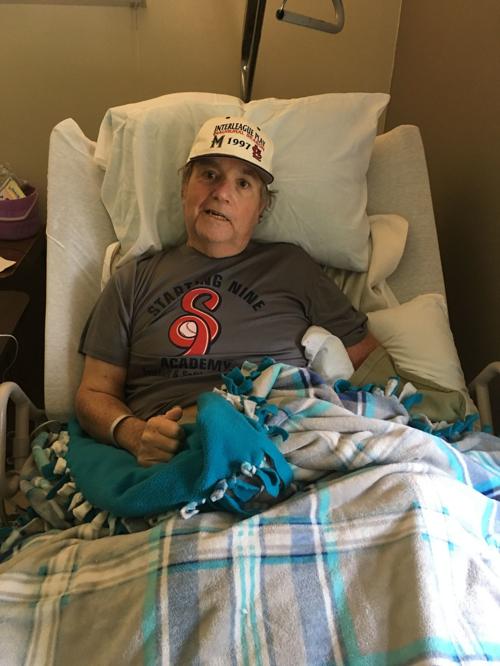 UNION GROVE — Walking toward Room No. 23 at the Oak Ridge Care Center last Wednesday, I braced myself for what I might see.
Bob Mallwitz, the longtime Racine Lutheran-Prairie baseball coach who had been a walking one-liner for all the years I knew him, was behind that door. Once so full of life, Mallwitz suffered a stroke at his home last Aug. 11 and was not found until two days later.
In the spirit of the late great Ernie Banks, he was a gregarious man who longed to play two for all the years he coached. It was something to take a call from Bob when he was reporting a game because his one-liners flowed and his sentiments gushed.
"I'm going to be bawling the day these kids graduate," is something he said frequently during those calls when talking about the players who were more like his extended family.
And, suddenly last August, a rain delay with no end in sight settled over Mallwitz.
I visited Bob at Ascension All Saints Hospital a week after his stroke and he didn't look good. That once assured, playful voice had been weakened. His left side was paralyzed. Having struggled to eat his lunch that day, there were food stains spattered on his hospital gown.
Searching for words, I tried to comfort Bob by assuring him that everything was going to be OK while hoping he didn't detect my forced conviction.
And then I left, wondering if I was ever going to see this man again.
Nine months passed and I knocked on the door of Room 23. Hearing a faint voice inside, I took a breath and then turned the door knob.
"I just had therapy," Mallwitz said. "But they said there was nothing they could do about my looks."
Now, that was the Bob Mallwitz I knew for more than 20 years and darned if he didn't look so much better than that ugly August day.
His left side is still paralyzed and he has resigned himself to that perhaps never changing.
But he dropped from 306 pounds last August to 230 pounds, "all without Jenny Craig," he said. "I'm down to what I weighed in the second grade."
He shaved off the mustache in January that he had worn for more than 40 years. "I shaved it because of how bad 2018 was," he said, turning serious for a moment.
When I asked if I could take a photo of him for this column, he grabbed one of the baseball hats he had nearby and pulled it on.
Bob Mallwitz in a baseball hat once again. Now that was something to see.
There is a window facing north in Mallwitz's room and I was thinking about how sad it must be for the 67-year-old Mallwitz to be relegated to watching the seasons — and the years — pass by outside.
But the more I sat with Mallwitz, the more I came to believe that there was no reason to be melancholic. Mallwitz sure isn't.
Visitors frequently sit with him, including the coaches and retired police officers he used to work with during his career. And, of course, there's daughter, Billie, son, Rob, and other family members. He and his wife, Connie, divorced in 1996, but she's been a visitor, too.
Everyone seems to love Bob.
"Maybe on a Sunday, it's a little quiet, but the week is always full of visitors," Mallwitz said. "According to a nurse, I get the most visitors."
Speaking of those nurses, Mallwitz put one over on them a few weeks ago. Longing for the fresh air he almost never gets to take in anymore, Mallwitz got into his motorized wheelchair and snuck out of the building.
"That was the AWOL day," he said. "For about an hour, I drove down Eighth Street a couple Thursdays ago, but I got busted."
It was one of only three times he has left Oak Ridge since being admitted there last August. The other two occasions were when he was inducted into the Racine Lutheran Hall of Fame last January and when friends took him to a Milwaukee Wave game during the winter.
"This is Cell No. 23," Mallwitz said. "That's what I call it."
Actually, that's just another one of Bob's one-liners. This has become a home to him.
There are photos of him family on the wall. There is a plaque from his Hall of Fame induction. There is a television to watch the Brewers and his beloved cop shows. There are his baseball caps nearby his bed.
There are plenty of friends. And there are far more memories.
No, Bob's glass isn't half empty. Like always, it's half full.
"The plusses far outweigh the negatives," he said. "I've had a good life. I still have a good life. I just can't do things I used to be able to do, that's all."
Peter Jackel is a reporter for The Journal Times. You can reach Peter by calling 262-631-1703 or by emailing him at peter.jackel@journaltimes.com
Be the first to know
Get local news delivered to your inbox!