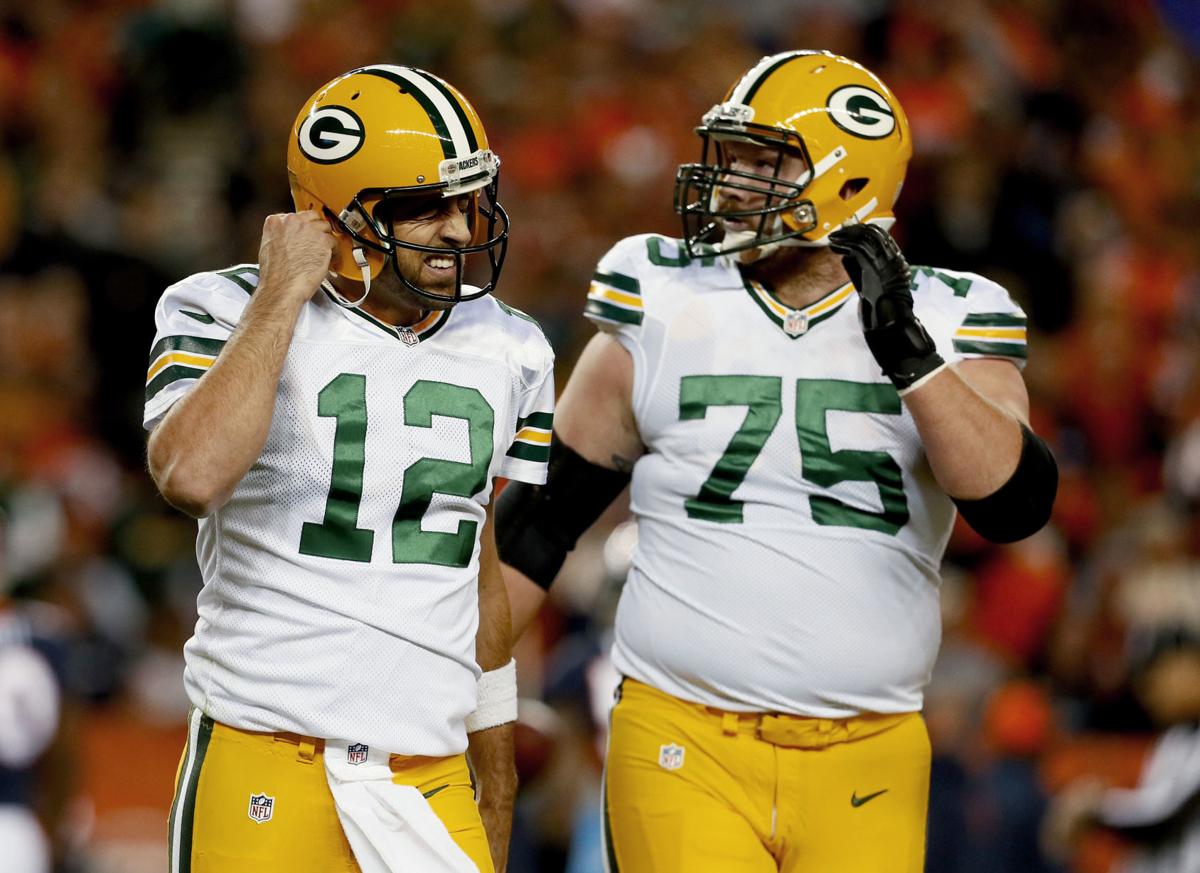 GREEN BAY — Bryan Bulaga will not be taking up surfing.
As excited as he and his wife, Abbie, and the couple's two children are about their impending California adventure – whenever that actually begins – and his new job as the Los Angeles Chargers' starting right tackle, he has no intention of riding the waves of the Pacific Ocean or learning how to keep his 6-foot-5, 314-pound frame balanced atop a JS or O'Neill board.
"There's no way. No way," the now ex-Green Bay Packers tackle said with a laugh during an interview this week.
"I'll still golf, but I don't know about the surfing. I don't think those two things would mix well – me, and surfing."
Bulaga does believe he and the Chargers will be an excellent fit, however, even though he's a tried-and-true Midwestern guy who grew up outside of Chicago, went to college at Iowa and spent his first 10 NFL seasons in Green Bay. And he's excited about a new challenge with a new team – but with a familiar offensive line coach – after the Packers made it clear to him that they were going to go in a different direction at his position.
Bulaga said the Chargers reached out to his agent, Tom Condon, right when the March 16 free-agent negotiating window opened and were "very persistent and adamant" in their pursuit of him, which ended in an agreement on a three-year, $30 million deal that included a $10 million signing bonus and $19.25 million in guaranteed money.
That same day, Bulaga said the Packers reached out and let him know that they appreciated all he'd done during his decade with the team – from helping the Packers win Super Bowl XLV as the youngest player ever to start a Super Bowl, to overcoming a myriad of injuries to anchor the line, to becoming an elder statesman and mentor as other veterans moved on – but had decided not to bring him back.
The Packers then quickly moved to sign ex-University of Wisconsin lineman Ricky Wagner, who'd been cut by the Detroit Lions, to a far less pricey two-year, $11 million deal ($3.5 million signing bonus) to serve as Bulaga's replacement in the lineup.
"There was some communication on the first day of the tampering period. I think from that point, we both kind of knew we were going to be going separate ways," Bulaga recounted. "I don't want anything to come off negative towards Green Bay because it really wasn't that at all. It was moreso that, 'Hey, this is our situation, and this is kind of the direction we're going to go. The organization made a decision and that's what they went with. Obviously, the move they made Monday early during the tampering period showed which direction they were going to go.
"I think we had a pretty good idea this could be the direction it was going to go early on. I wasn't shell-shocked or totally caught off guard. I wasn't blindsided by it. I wish everyone there well. I hope they have a great year this year. I still have a lot of really good friends that I want to see do well and succeed and have good success."
Bulaga, who had an inkling he wasn't in the Packers' plans when Condon didn't hear from the club after the team's season-ending loss to the San Francisco 49ers in the NFC Championship Game Jan. 19, and didn't talk with chief contract negotiator Russ Ball during last month's NFL scouting combine in Indianapolis, either.
"That's the way this thing goes. Business decisions get made," Bulaga said. "That's life in the NFL."
For Bulaga, the transition to a new team will be helped by reuniting with offensive line coach James Campen, who joined Chargers head coach Anthony Lynn's staff earlier this offseason after spending the 2019 season with the Cleveland Browns. Campen was Bulaga's line coach in Green Bay from his rookie season in 2010 through the 2018 season before new head coach Matt LaFleur opted to hire Adam Stenavich and part ways with Campen.
Not only was Campen vital to Bulaga's development, but he also understands what the now 31-year-old needs in terms of his practice schedule to stay healthy and sharp with limited work during the week.
"Personally, for me, from a football standpoint, and in my career, that was a big sell to me," Bulaga said of playing for Campen again. "Because of the relationship I have with Coach Campen and being under his tutelage for nine years, and the relationship that we've built, and him understanding the type of player and the type of guy I am. But also, where I'm at (in my career), the maintenance we need to do and what I'll need day-in and day-out in practice.
"That was a big sell to me. Obviously, going to an unfamiliar place and having a familiar face there was a big deal for me. Abbie is really good friends with Coach Campen's wife, so it's a good situation, for sure."
Bulaga said experiencing the transition from ex-head coach Mike McCarthy and his staff to LaFleur and a new offensive system – including a different run-blocking system that relied more heavily on zone schemes – will benefit him as he starts over with a new team.
"I'm excited about it – getting to know a whole new set of guys and building new relationships, experiencing that," Bulaga said. "I've had the same locker for 10 years in Green Bay. It's been the same thing for the last 10 years, so being able to get into a new locker room and get to know new people, yeah, it's a little nerve-wracking. You want to make sure you fit into the culture that coach Lynn has built out there. But also, for me, just making sure I perform at the highest level I can. When you do that, you'll fit into the culture fine.
"Everyone likes to win. That's the whole point of this thing. With Coach Campen in his first year there too, him and I will be getting to know the pulse of that o-line room together. It's a matter of getting there and getting to know these guys and trying to get on the same page as them as quickly as possible. I kind of felt that way this last year with Coach LaFleur coming in and bringing in a new scheme. Yeah, the guys were the same, but it was a whole new experience learning a new offense and getting comfortable with that. I do have a little experience and the transition in Green Bay to bring out to L.A."
With Bulaga moving on and veteran defensive back Tramon Williams still unsigned, it's possible the Packers will enter the 2020 season with only two holdovers from their Super Bowl XLV-winning 2010 team: Quarterback Aaron Rodgers, and kicker Mason Crosby. Bulaga mentioned them, as well as left tackle David Bakhtiari, center Corey Linsley, fellow offensive linemen Billy Turner, Elgton Jenkins and Lucas Patrick, and a host of support staffers (equipment staffer Tim Odea, athletic trainers Bryan Engel and Nate Weir) as those he'll miss from his time in Green Bay.
At the same time, he's eager to get started with the Chargers – despite the uncertainty created by the COVID-19 pandemic that has him staying at his offseason home in Florida for the foreseeable future.
"There's absolutely no hard feelings. I had a great 10 years in Green Bay. I loved my time there. Met a lot of great people. A lot of great friendships I'll have for a lifetime," Bulaga said. "That's the way it goes. My wife and I are pretty excited about this new chapter. Heading out west – whenever we get to head out west – we're excited about it. This is going to be something totally different than what we're used to. A definite change of pace but it's something we're definitely looking forward to and I'm ready to experience what the West Coast has to offer.
"But those guys that you're with day in and day out and they're pretty much family because you see them more than you see your family, those are the types of things you miss. Those relationships, it's not that I'm going to replace them, I'm just going to build some new ones. I won't forget my guys in Green Bay."
Be the first to know
Get local news delivered to your inbox!