Goat rams through door, naps in bathroom and more of this week's weirdest news
Goat rams through sliding glass door, naps inside bathroom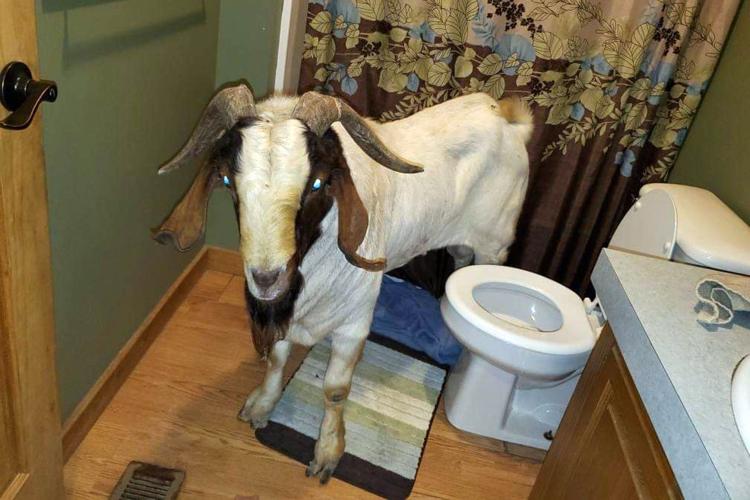 CLEVELAND (AP) — An Ohio homeowner never envisioned becoming semi-famous because of a goat butting its way into her home and taking a nap in her bathroom.
"This is the most random story in the world," Jennifer Keathley said Tuesday, breaking out into laughter.
The break-in happened Friday when an escaped male goat from a farm several miles (kilometers) away repeatedly butted against a sliding glass door, breaking into the Keathley family home in Ashland County's Sullivan Township.
Keathley's 18-year-old son, Logan, discovered the billy goat in the bathroom when he returned home Friday afternoon from school to find the family's agitated German Shepherd in the driveway, broken glass on the back porch and the house reeking.
Some of the break-in was recorded on the Keathley's home surveillance camera.
Two Ashland County Sheriff's deputies unsuccessfully tried to coax the goat, named Big Boy, out of the home with carrots, a dog bone and grass. They eventually grabbed him by the horns and dragged him outside where they secured him in a dog cage.
Keathley put a message out for a missing goat on a community Facebook page and received a reply with the owner's name and number. The apologetic owner arrived that evening and, with Keathley's husband's help, loaded him onto a livestock trailer for his ride home.
The Keathleys learned their home insurance policy covers damage from bears and deer but not goats. She said she's been in touch with the company. Despite applications of carpet deodorant and urine neutralizer, she said the odor from Big Boy's urine still lingers.
Asked about her newfound fame, Keithley said: "There's all these awful stories in the world, people need this."
—By MARK GILLISPIE, Associated Press
Beer all over Mormon church parking lot after truck crashes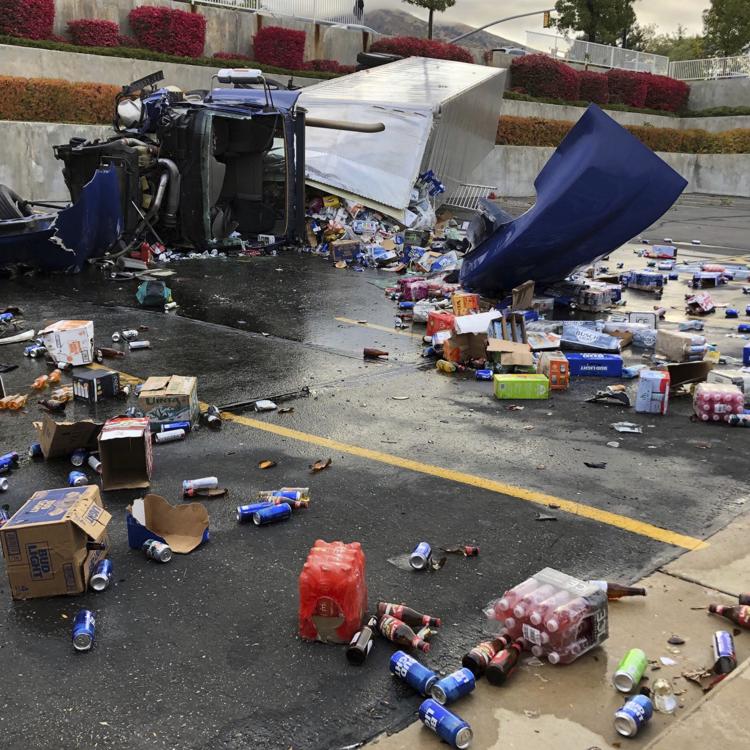 SALT LAKE CITY (AP) — Cans of beer have littered the parking lot of a church of The Church of Jesus Christ of Latter-day Saints in a Salt Lake City suburb after a semi-trailer crashed that was carrying cases of brew banned by the faith.
Sandy Police Stg. Jason Nielsen said the semitrailer veered and fell from a road and into the church's parking lot after it was hit by a pickup truck that ran a red light on Thursday. Beer cans were strewn across the empty church parking lot.
One of the faith's key rules is a ban on members drinking alcohol.
Nielsen says the semitrailer driver was left with injuries that were not life-threatening.
The pickup truck driver wasn't hurt. Authorities haven't determined if he will be cited.
The church building wasn't damaged.
38,000 pounds of bagels are toast after semi goes up in flames on I-65, police say
JASPER COUNTY — A semitrailer carrying 38,000 pounds of frozen bagels went up in flames Sunday evening on Interstate 65, police said.
An off-duty state trooper saw the semi traveling about six miles south of the Rensselaer exit at 5:40 p.m., with heavy smoke coming from the rear axle. 
The trooper, who was driving in the opposite direction, quickly turned around to stop the semi. At this point, flames were visible near its brakes and spreading toward the actual trailer. 
The driver — Quiner Louis, 31, of Boynton Beach, Florida — failed to release the brakes causing them to spark, with the rear tires exploding due to the heat of the fire. Louis then disconnected the trailer that contained the once-frozen bagels, which were strewn across I-65. He didn't report any injuries.
Local fire departments were able to extinguish the blaze. The right lane was closed until 1 a.m. for removal of the trailer and cleaning of the road.
Florida man accused of forcing small alligator to drink beer
PALM CITY, Fla. (AP) — Authorities say they've arrested a Florida man who provoked a small alligator into biting his arm and poured beer into the animal's mouth.
News outlets report 27-year-old Timothy Kepke and 22-year-old Noah Osborne were charged last week with unlawfully taking an alligator.
Florida Fish and Wildlife Conservation Commission officers began investigating in August following a complaint of Osborne catching the alligator in Palm City and handing to Kepke. Kepke appears in a video to let the reptile bite his forearm. The video also shows Kepke feeding the alligator beer as it struggles.
When officers interviewed Kepke last month, he reportedly acknowledged that he was in the video and said the gator was alive when they released it.
The men were released on bond. Jail records didn't list attorneys for them.
Florida woman hides in store's ceiling to avoid shoplifting arrest
PORT CHARLOTTE, Fla. (AP) — A Florida woman faces multiple charges after authorities say she climbed into the ceiling of a Big Lots store to avoid a shoplifting arrest.
A Charlotte County Sheriff's Office news release says 37-year-old Kristina Perkins went into the store's restroom on Friday and removed some tiles so she could climb into the ceiling.
Deputies removed tiles from several spots in a five-hour effort to catch Perkins. The news release says she ignored commands to come down and instead moved to other sections of the ceiling. A deputy stayed behind when the search was called off and saw Perkins climbing down from the ceiling.
She was arrested on charges of criminal mischief, petit theft and resisting law enforcement. A lawyer wasn't listed on jail records.
'Aggressive' turkeys corner man in his garage for more than 30 minutes, police say
SCHERERVILLE — A man called police for help after three turkeys cornered him in his garage for more than 30 minutes Sunday morning.
The man told officers he had been exiting his garage about 8:15 a.m. when the trio of wild turkeys came toward him in an "aggressive manner" just outside his home in the 1400 block of Austin Avenue.
Police then contacted Lake County DNR for assistance, so its conservation officers could "thin the herd immediately."
Squirrels cram more than 200 walnuts under SUV's hood
PITTSBURGH — A Pittsburgh area couple found out where all their walnuts have gone.
It turns out squirrels stored more than 200 of them under the hood of the couple's SUV.
Chris Persic tells KDKA-TV his wife called to say the vehicle smelled like it was burning. When she popped the hood, she found walnuts and grass piled over the engine.
They took the SUV to a mechanic, who found half a trash can of walnuts under the engine.
Persic says there was not any extensive damage.
But a squirrel may have chewed through or pulled out the fuel injector hose on his new truck.
The Persics have gotten a quote on removing a black walnut tree from their property.
Family on SC vacation pulls 44 pounds of cocaine from ocean
FRIPP ISLAND, S.C. (AP) — A family visiting South Carolina fished a big package from the ocean, took it to their rental home and opened it up, finding about 44 pounds (20 kilograms) of cocaine.
Beaufort County Sheriff's Maj. Bob Bromage told news outlets Monday that the family was walking along Fripp Island when they spotted the trash bag-wrapped package floating in the water. They dragged it onto the beach and lugged it to their rental in a golf cart, later slicing it open to discover bricks of white powder. At that point, they figured they'd better call police.
Authorities assessed the cocaine's value at more than $600,000. Officials are working to determine its origin.
Bromage said narcotics don't frequently wash up in the county. He thinks Hurricane Dorian may have pushed it ashore.
'Is this your turd?': Missouri city's cleanup flags dog poop
SPRINGFIELD, Mo. (AP) — Officials in a southwest Missouri city are planting small flags in piles of abandoned dog poop as part of a campaign to get residents to clean up after their pets downtown.
The Police Department in Springfield, Missouri, posted photos of the flags in use on its Facebook page Wednesday.
The flags contain messages such as, "Is this your turd? 'Cuz that's absurd" and "This is a nudge to pick up the fudge."
The campaign started this week and the department noted on Facebook that leaving behind a pet's mess in many cases violates a city ordinance.
The flags are made of bamboo and recycled paper.
The city said it picks up nearly 25 pounds (11.34 kilograms) of poop a week from downtown parks and parking lots, costing $7,500 annually.
California crooks steal duffel bag full of snakes
SAN JOSE, Calif. (AP) — Call it serpent surprise. Or a snake mistake.
A California reptile lover says thieves who made off with his duffel bag probably thought they were taking swag.
But it was full of snakes.
Brian Gundy, who breeds and sells reptiles through his business, For Goodness Snakes, had given a presentation at Martin Luther King Library in downtown San Jose on Saturday and left his gear in a parking garage to retrieve his car.
When he returned, he found a duffel bag containing three pythons and a lizard was gone.
Gundy tells KRON-TV two snakes were later found in a dumpster but he's worried about the safety of the other reptiles.
He's filed a police report and hopes garage surveillance video and help from the public will help catch the thieves.
Un-bear-able! Cubs get locked in van, honk horn to get out
GATLINBURG, Tenn. (AP) — Two bear cubs were rescued after they locked themselves in a van and then honked the horn for help.
News reports say security technician Jeff Stokely had parked his van outside a customer's home in Gatlinburg, Tennessee, and went to work. Soon he heard a horn honking and realized it was his van. He went back to the van and was surprised when he saw two small bear cubs locked inside and repeatedly hitting the horn.
Stokely says the cubs must have climbed in through the driver side door and then locked themselves by hitting the lock button.
Stokely took video and photos of the cubs before opening a door to let them out.
He says he didn't see Mama Bear nearby.