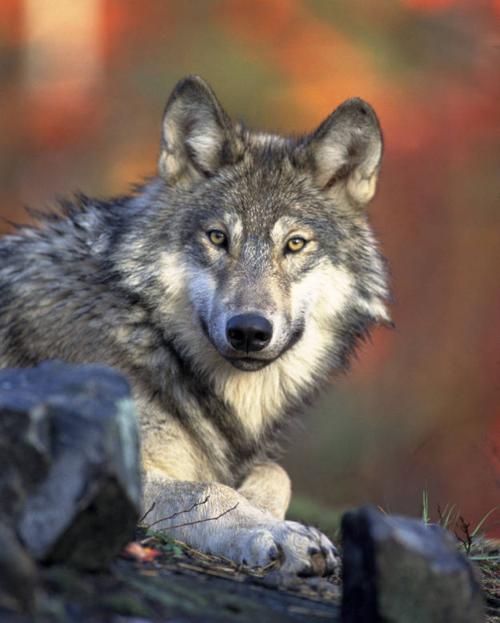 Wisconsin's population of endangered gray wolves grew for a second straight year in 2016, raising the possibility that the state could make another record payout under its unusual program that compensates hunters whose dogs are killed by wolves.
The Department of Natural Resources on Thursday estimated the state is home to between 925 and 952 wolves, a roughly 6 percent increase from the estimated 866 to 897 last year, which was 16 percent more than the previous year.
Leaders of hunting groups say a record number of dogs killed in 2016 shows the wolf population has gotten out of hand. But conservationists worry that the animal could still face extinction, and they blame hunting dog deaths on state policies and what they call risky practices of bear hunters.
The DNR's top wolf expert maintains that the 41 dogs killed in 2016 and the resulting $99,400 in tax-funded payouts may be a statistical blip.
Meanwhile, the Legislature is poised to more quickly pay dog owners the $2,500 allowed per dog.
Under a budget provision approved by the Joint Finance Committee on May 31, the DNR would write a check as soon as it had confirmation a dog was killed by a wolf. Current policy is to wait until the start of a new calendar year. The delay had been designed to determine if enough funding was available for full payments or if they would be prorated.
The nearly $100,000 paid for hunting dogs killed by wolves in 2016 far outstripped the previous high of $56,000 for 23 dogs killed in 2013. Few if any other states compensate for hunting dogs killed by wolves.
DNR large carnivore specialist Dave MacFarland said in-depth studies of where wolf numbers are increasing and where dogs were killed would be needed to determine a connection. Similarly, it would take more study to know how state hunting policies and practices played into the equation.
Critics of the state payment policy say it encourages hunters to run bear hounds through wolf packs. In 2016, reports of wolves killing other animals increased more slowly or decreased.
State Sen. Tom Tiffany, R-Hazelhurst, said there is a correlation between wolf numbers and numbers of hunting dogs, cattle and other animals killed by the predators. Congress needs to remove the wolf's protected status, Tiffany said.
"You have to have the ability to manage a wildlife species," Tiffany said.
But Melissa Smith, executive director of Friends of the Wisconsin Wolf, said there isn't a definitive link between the number of farm animals killed by wolves and the wolf population. That's because there are years when there aren't many deer and wolves seek another food source, she said, including farm animals.
The $200,000 a year the state pays owners of animals killed by wolves could be better spent helping more farmers use nonlethal means like fencing and noise-making devices to prevent predator attacks on livestock and keep bears and other animals away from crops, Smith said.
Smith noted that experts have predicted the wolf population is likely to stabilize at about 1,000.
Bear hunters release dogs to track and chase their prey up trees, where they can be shot. The state removed license fees for its dog training season — when hunters run dogs in the months before the actual hunt starts.
Training occurs when wolves are raising pups and are more aggressive about protecting territory and their young.
Each year, hunters place millions of gallons of food byproducts in the woods as bear bait, which can attract wolves and contribute to wolf-dog conflicts. Some states limit baiting to 30 days a year, but Wisconsin permits 145 days.
Wisconsin Association of Sporting Dogs president Pat Quaintance didn't respond to requests for comment.
Over the last 10 years, Wisconsin more than doubled the number of bear hunting licenses it issued.
Hunters had helped eradicate wolves in Wisconsin by the 1970s before federal and state laws protected them as an endangered species. It was removed from the endangered list in 2011 and Wisconsin quickly authorized a wolf hunt.