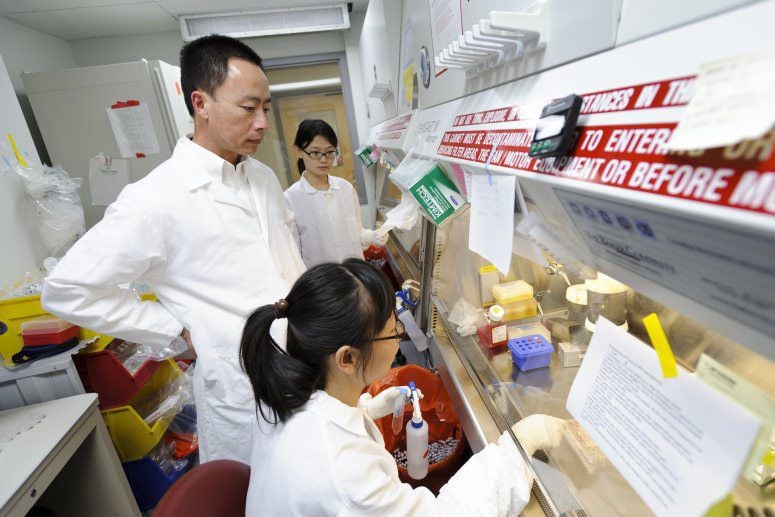 Spending on research at UW-Madison declined by more than $100 million between 2012 and 2015, leading the university to fall from the top five of the National Science Foundation's ranking of research institutions for the first time in more than four decades.
Marsha Mailick, UW-Madison's vice chancellor for research and graduate education, said years of funding cuts have made it harder for the university to recruit top researchers, and have led some to leave Wisconsin and "take their grant funding with them."
"We are extremely proud of our faculty, staff and students but if Wisconsin is to remain at the pinnacle of American research universities, the state will need to reinvest to be sure we have the faculty positions and conditions necessary to attract and retain the best researchers," Mailick said.
UW-Madison's research spending ranked third nationally in the 2012 fiscal year, when expenditures totaled $1.17 billion, according to the National Science Foundation's Higher Education Research and Development Survey. The university then trailed only Johns Hopkins University and the University of Michigan.
By 2015, the latest year for which data was available, UW's spending had fallen to $1.07 billion. The University of Washington pulled ahead of UW-Madison in the 2013 survey, and the University of California-San Francisco and University of California-San Diego passed UW last year, dropping the university to sixth.
UW-Madison last ranked outside the survey's top five in 1972.
Walker downplays ranking
The survey measures research spending from a variety of sources, including the local, state and federal government, as well as private funding and money from sources such as the UW Foundation and Wisconsin Alumni Research Foundation.
Tom Evenson, a spokesman for Gov. Scott Walker, downplayed the NSF ranking Tuesday, noting that UW-Madison recently rose in a U.S. News and World Report ranking of top public universities and saying the institution "remains a 'research powerhouse.'"
Walker has said that his budget proposal will increase funding for the UW System, but that the funding will be tied to the System's performance in still-unspecified categories.
The governor's focus, Evenson said, "is to invest in the university in a way that enhances career-oriented instruction to help students and employers looking for jobs and workers in high-demand fields."
Although most research spending is not tied directly to state funding, Mailick said that funding affects how much money UW-Madison has to recruit and retain faculty members, hire research staff and improve "research infrastructure," such as equipment and information technology systems.
Decline could continue
A UW-Madison official said Tuesday that research spending figures for the 2016 fiscal year were still being compiled.
But the decline in spending and UW-Madison's ranking among top research institutions could continue in coming years.
The 2015 fiscal year ended before lawmakers signed the 2015-17 state budget, which cut funding for the UW System by $250 million and weakened faculty tenure protections — changes that infuriated professors and, UW officials say, emboldened other universities to try to recruit away top faculty. The number of outside offers for UW-Madison professors surged during the 2015-16 academic year, as did faculty departures.
"UW-Madison's budget has been cut in five of the last six legislative sessions, under both political parties," Mailick said. "That's kept us from hiring new faculty as aggressively as other schools, and it's led to the loss of some really valuable top teachers and researchers.
"Having the resources to add new faculty would be a real shot of adrenalin and lead to sustained growth."