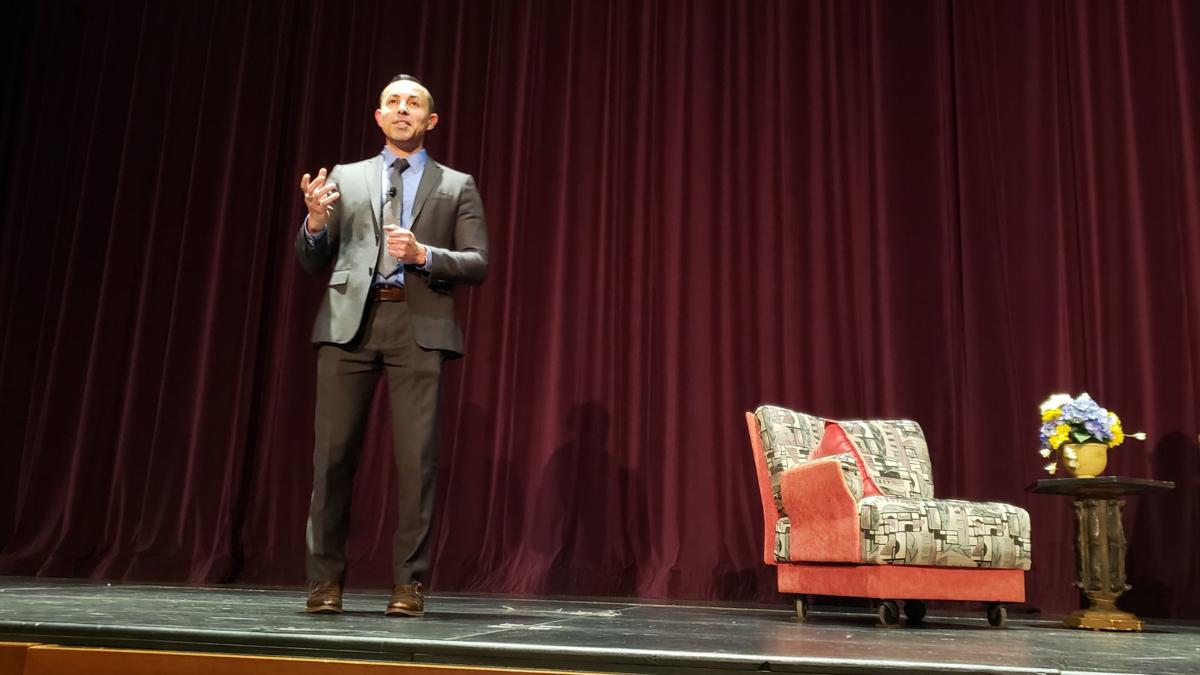 Matthew Gutierrez, superintendent of Seguin, Texas, schools, will be the next leader of the Madison School District.
The School Board announced Friday it chose Gutierrez from three finalists to become Madison superintendent.
Gutierrez, who is Latino, will be Madison's first superintendent of color. It will be his first job outside Texas in a 18-year career.
"We believe we have selected the right leader for our district, someone with a strong reputation of being a very collaborative leader, with an excellent track record of academic success," board President Gloria Reyes said at a news conference Friday.
Gutierrez plans to finish out the school year in Texas before starting in Madison on June 1. He will succeed Jennifer Cheatham, who resigned in August after six years as superintendent. Jane Belmore has led the district in the interim.
In an interview Friday, Gutierrez, 39, said he was grateful to even be considered for the job and is excited to move to Madison.
Gutierrez said he plans to conduct a "listening tour" this summer to better understand the community and the district. He said he is already looking at dates before June 1 to come to Wisconsin and learn more about Madison.
As part of the listening tour, Gutierrez wants to hear from teachers about what programs and initiatives the district should focus on to prevent teachers from feeling overburdened.
"So many of the decisions that we make in central office directly impact teachers," he said. "Sometimes we forget because we've been out of the classroom for 10 years, 20 years, 30 years, that we continue to pile things onto teachers."
Gutierrez said his base salary will be $250,000, slightly higher than Cheatham's annual salary of $246,374. He has been superintendent of the Seguin Independent School District, which is outside of San Antonio, since 2017.
The Madison School Board is expected to officially approve Gutierrez's contract in February.
Areas of focus
Because he's not yet in "the thick of everything," Gutierrez said, he can't provide specific recommendations or changes.
But during his first 100 days he wants to focus on four priorities: human capital, academics, equity and the budget.
Gutierrez wants to look at more ways for staff to grow professionally and at new approaches to recruiting "top-level talent," specifically teachers of color.
"We need to have more educators who can look like our diverse student population," he said. Students of color make up 58 percent of the district's enroll, while about 87 percent of teachers are white.
Gutierrez also said he wants to understand the root issues that contribute to the district's persistent racial academic achievement gaps, which he said can inform recommendations on how to close the gaps.
He added he's not just focused on getting students to proficiency but on making sure they can keep growing academically to higher levels.
Gutierrez also wants to examine the social-emotional learning standards in place and the Behavior Education Plan — the district's disciplinary policy that has drawn criticism for its perceived leniency on misbehavior.
For the 2021-22 budget — next school year's spending plan will be close to finalization by the time Gutierrez starts — he said he would like to use a "zero-base budgeting" approach to make sure the district is being fiscally responsible.
He described it as a department starting with a blank budget, adding the current spending back in incrementally and determining whether the expenditures match the district's goals. Gutierrez said it's a tedious process but a good way to weed out unnecessary spending.
Candidate selection
In selecting Gutierrez, the board passed on Eric Thomas, former chief turnaround officer for the Georgia State Board of Education, and Marguerite Vanden Wyngaard, former superintendent of the Albany, New York, school district.
Reyes said the choice was an "incredibly difficult decision" for the board because there was a trio of "extremely talented candidates."
She said through background checks and conversations with people who know each candidate personally and professionally, Gutierrez emerged as the best fit for Madison.
Reyes said School Board members unanimously chose Gutierrez during a closed session meeting Jan. 17. The announcement didn't happen for a week, Reyes said, because the decision was considered preliminary until a contract with Gutierrez was finalized Friday.
In all, 31 people applied for the job.
Vanden Wyngaard, an assistant education professor at the College of Saint Rose in Albany, resigned in 2016 midway through her fourth year as Albany superintendent. She suggested in her resignation letter it was due to a lack of trust and unity between herself and the city's School Board, the Times Union newspaper reported.
Reyes said the departures of Thomas and Vanden Wyngaard were not a consideration in the board's decision.
"We knew a lot of this information coming in," Reyes said. "The board has more information than our community has during a process like this. ... We felt that they were both strong candidates."
What set Gutierrez apart was his interest in student input and voice, Reyes said, which she said he demonstrated speaking with students during his Jan. 15 visit to Madison.
Gutierrez said he plans to meet with a student advisory team monthly to hear what challenges they're facing.
"We're in the business of kids," he said. "It's important that we seek out their voice that is sometimes missing."
Despite Seguin schools enrolling only about 7,500 students — Madison educates 27,000 — Gutierrez said he would be prepared to lead a larger district, citing in part his experience as an assistant superintendent in the 53,000-student Plano Independent School District in the Dallas area.
"I think it would be a seamless transition, because I've been in large systems," he said last week. "It's really the same work. The difference is you're having to connect with more people."
Reyes also said she's confident Gutierrez has the experience to lead a larger district.
Career background
A lifelong Texan, Gutierrez, who is unmarried with no children, earned a Ph.D. in educational leadership from Texas Tech University in 2016.
Asked why he would want to come to Madison, Gutierrez said he has always had it in his mind to eventually leave Texas to gain experience elsewhere.
In an email last week, Cinde Thomas-Jimenez, president of the Seguin Board of Trustees, said Gutierrez came into the job "following a period of conflict within the district and community" and did a "great job in healing those wounds through his proactive approach."
She said Gutierrez has been working well with the board and led the development of a new strategic plan for Seguin schools.
Because he is only halfway through a third school year in Seguin, Thomas-Jimenez said "the jury is still out on academic accomplishments," but she said the district is in a better place and the board is optimistic the schools will improve on Texas state assessments.
Before getting the Seguin job in 2017, Gutierrez spent a year as an assistant superintendent in the Plano school district. He has also been a classroom teacher, assistant principal, principal and interim superintendent, and held several jobs in human resources.
Last week, Gutierrez said he personally understands the challenges faced by students living in poverty, saying he was classified as "economically disadvantaged" as a child growing up in central Texas, and his family had difficultly keeping the refrigerator stocked.
"We have a young man who grew up in poverty … but was able to overcome the many barriers to become the superintendent of a school district in Texas," Reyes said. "That is what we want our students to see."