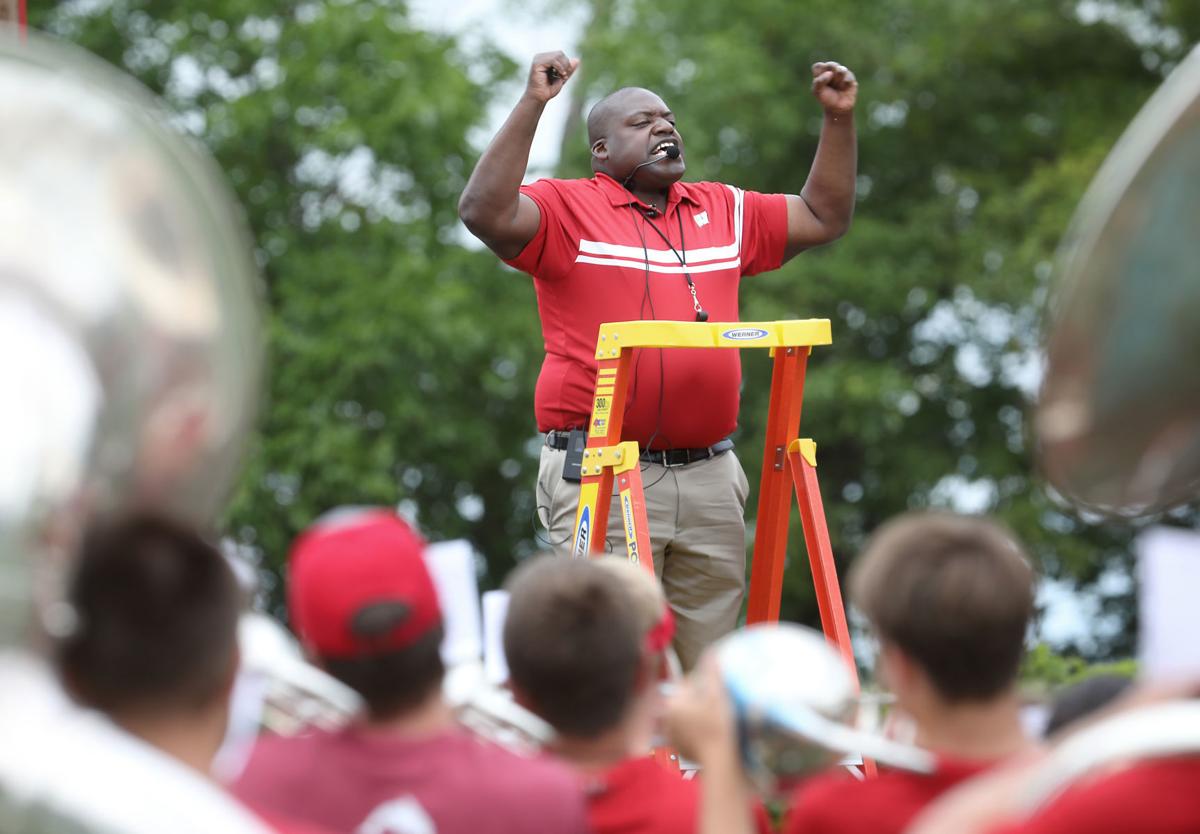 MADISON — Expect a little Beyonce, Jonas Brothers and Adele during the UW Marching Band's first halftime show under new band director Corey Pompey.
Music selection is among the biggest differences band members notice between their new leader, Pompey, and Mike Leckrone, who led the band for 50 years until he retired last spring.
Pompey's first time directing at Camp Randall is on Saturday when the Wisconsin Badgers host Central Michigan in the first home football game of the season.
"I had to think before I signed my name on that dotted line," he said. "I had to come to grips with the fact that I would be following Mike Leckrone. And that took me a while."
He said the honest answer to how he will fill Leckrone's legendary shoes is that he won't.
"There's only one Mike Leckrone and I would be doing the band a disservice and myself a disservice if I tried to emulate him," he said. "So the best thing I can do is be myself."
'Beautiful sounds'
Pompey said he intends to carry out many of the band's traditions, including the band's signature "Stop at the Top" step and the Fifth Quarter. But he said he plans to introduce some different tunes for the 15-minute aftershow in future years.
Asked if he would follow his predecessor's dramatic entrances for the UW Varsity Bands spring concerts, Pompey said he was fairly confident he would not be swinging from ceilings, citing a fear of heights, but reassured reporters that the concert will have high production value. He did not rule out costumes.
Band members said Pompey focuses more on music and sound whereas Leckrone emphasized marching and steps. At 37, Pompey also selects more modern music.
"I don't think Mike would ever play Beyonce," sophomore Lauren Burkhardt said.
And his practices include more praise than Leckrone provided.
"Beautiful sounds on the first day of school," Pompey told the roughly 300 band members after they finished playing a song.
William Roberts, a trumpet-playing senior, described Leckrone's practices as "militaristic" and said Pompey tends to qualify his criticism with encouragement.
"Tubas, I love you, but we're going to have to work on that," Pompey told the students after they ran through another tune.
You have free articles remaining.
One thing band members haven't entirely sorted out is what to call him. Students knew Leckrone simply as "Mike," but say they sense their new director prefers "Dr. Pompey" to Corey.
Roberts said Pompey is "laid back but passionate," and understanding of the band's traditions.
Some students still dress up in costumes for rehearsal. A group of trumpet players sported kilts Wednesday.
Others have certain chants or calls at different points during practice, which Pompey said he is still learning.
"You do it how you do it and hopefully I'll be smart enough to figure this out," he told his students at one point during the nearly two-hour practice.
Following a legend
Pompey — pronounced like the ancient Roman city Pompeii — started July 20 and is still getting settled, but he said he already finds himself whistling "On Wisconsin" while driving in the car.
Practices began mid-August. He is teaching a conducting course this semester.
One thing he is not looking forward to: Wisconsin winters.
Pompey spent his college years and early career as a music teacher in the South. He most recently spent a year as director of athletic bands for the University of Nevada-Reno.
His first exposure to the UW Marching Band and Leckrone came in a Dallas stadium where the Badgers played the University of Alabama.
"I remember thinking 'that band looks different,'" he said, adding that he had friends who attended UW-Madison and raved about Mike Leckrone the Legend.
Leckrone's game-day ritual involved walking a specific route to Camp Randall and carrying trinkets in his pockets. Pompey doesn't consider himself superstitious, but said he relies on a specific whistle brand, the Acme Thunderer.
Pompey said he has spoken with Leckrone and hopes to further discuss the program's history and how he built up the band.
The 82-year-old will not be sitting in the stands at Camp Randall come Saturday. Leckrone left Tuesday for a two-week European tour with the Wisconsin Alumni Association.
Leckrone wasn't involved in the search for his successor and has said he plans to give the new director breathing room to set his own tone for the program.
Absent from their conversations, Pompey said, was any sort of advice: "He simply said, 'Do what you know how to do.'"