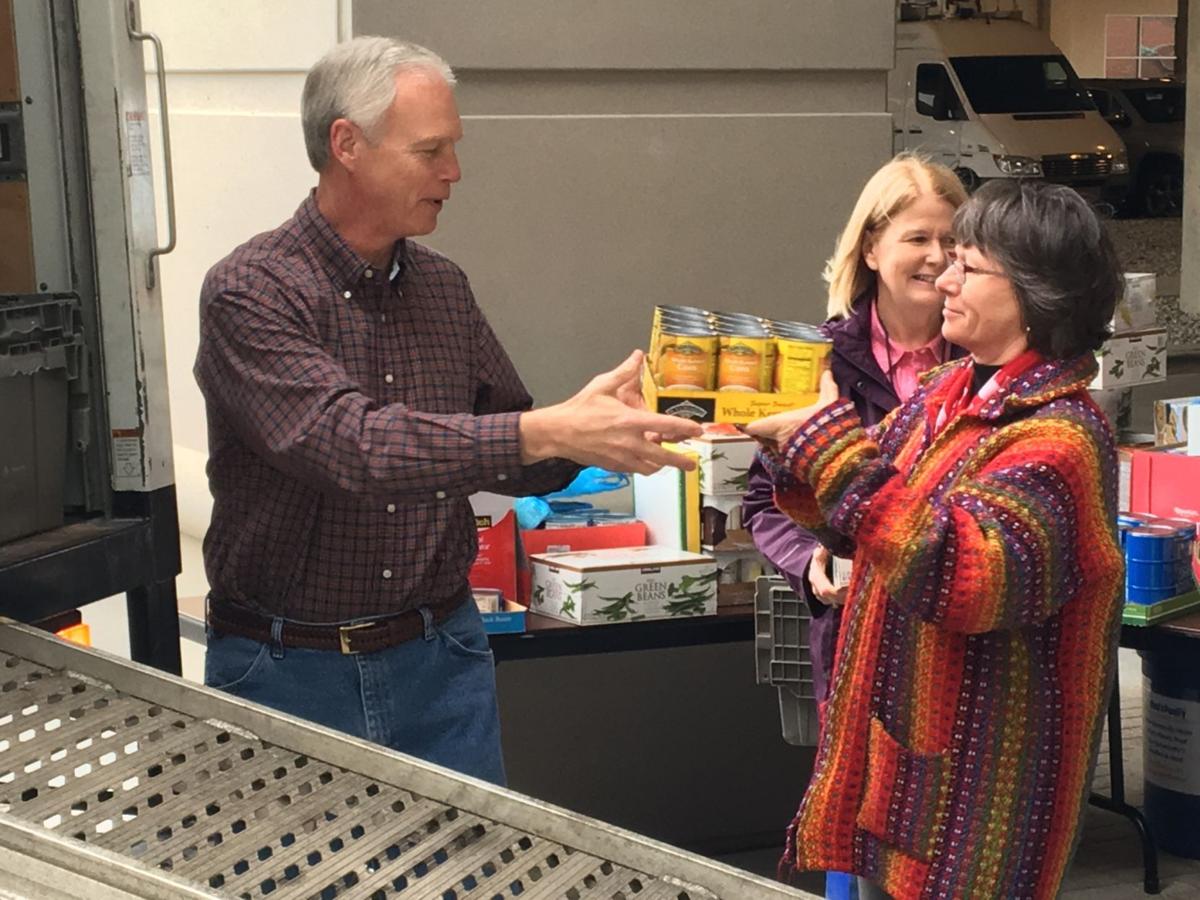 GREEN BAY — The key to uniting Republicans behind presumptive presidential nominee Donald Trump will be to focus on areas of agreement, rather than disagreement, U.S. Sen. Ron Johnson said Friday.
"There's going to be differences, there's no doubt about that," Johnson said in an interview with the Wisconsin State Journal. "If you can concentrate on the things we agree on, you'll never even get to the areas of disagreement."
Johnson spoke with the State Journal at the KI Convention Center after helping kick off the state GOP's annual convention with a charity food drive supporting Paul's Pantry. Johnson faces a challenging re-election campaign against Russ Feingold, whom he unseated in 2010.
The challenge may be exacerbated by the brash billionaire at the top of the November ballot who is deeply unpopular among independents and women.
In a conference call with reporters Friday morning, State Democratic Party Chairwoman Martha Laning linked the state party to Trump, whom she called "a bigot who insults hard-working Americans" and seeks "to divide Americans with offensive language."
"Donald Trump is a dangerous candidate who should not be a serious contender for the highest office in the nation," Laning said. "We've seen the Democratic candidates carry themselves in an actual presidential manner."
Some Republicans attending the state convention said that in their view Trump may not be the perfect candidate, but he's preferable to likely Democratic nominee Hillary Clinton, who is already hiring staff in Wisconsin.
"If we're 80 percent there, we're there," said Charlotte Rasmussen, president of the Wisconsin Federation of Republican Women. "We don't want to stay home, we want to elect a Republican president. There's too many things at stake."
You have free articles remaining.
Steve Nielsen, 66, a retired VA Hospital IT worker from Hudson who voted for Texas Sen. Ted Cruz in the primary, said the wounds from the recent primary are still too fresh for Republicans to wholeheartedly back Trump at this weekend's convention. He plans on voting for the Republican nominee, but he has concerns about Trump being a more recent convert to the conservative positions on abortion and gun rights.
"I don't believe he's a particularly moral man, but he's in business and he's proven he's able to assemble talent," Nielsen said. "It's a sad comment in America that these are going to be our two choices for president."
Johnson said he wouldn't offer Trump's campaign any advice on whether it should spend time in Wisconsin, where he was soundly defeated in the April 5 primary partly because of a strong #NeverTrump movement that backed Cruz. Republican presidential candidates haven't won Wisconsin since Ronald Reagan in 1984.
Johnson said based on his travels around the state the mood of Republicans in Wisconsin is "obviously unified." He said different opinions about Trump expressed by various Republican elected officials in recent weeks — some have embraced him while others have said they aren't ready to support him — are typical of the contentious primary process.
"You've got a new nominee who in many respects is fleshing out his ideas in many of these pretty complex policy areas," Johnson said. "I'm sympathetic with that as a business person. We need to give them the time and space and continue to have those conversations."
Johnson said he thinks there will be agreement on the major policy goals with Trump — growing the economy, strengthening the military and securing the border. But on exactly how to solve some of those problems, "there's going to be areas of disagreement," he said.
For example, he disagrees with Trump's support for deporting 11 million immigrants living in the country illegally, but said he agrees there's a need to eliminate incentives for people to enter the country illegally in the first place. He also disagrees with Trump's idea of temporarily banning Muslims from entering the country, but thinks more can be done to ensure Syrian refugees are properly vetted before entering the country.
"That's what we're going to try to do is find the unity around different policies to achieve those shared goals," Johnson said.
Johnson, who has said he'll back the party's nominee while distancing himself from some of Trump's policies, said he likely won't mention Trump in his convention speech on Saturday.
"We're talking about Wisconsin," he said.