Wisconsin regulators have authorized Madison Gas and Electric to build a 20-megawatt solar farm in Fitchburg and allowed the utility to expand a program to sell clean energy to industrial and governmental customers.
The Public Service Commission voted unanimously Thursday to approve plans for the O'Brien Solar Fields, a 160-acre site near Seminole Highway and Lacy Road.
Construction is expected to begin this year on the $31.7 million project, which could begin operation as early as next summer.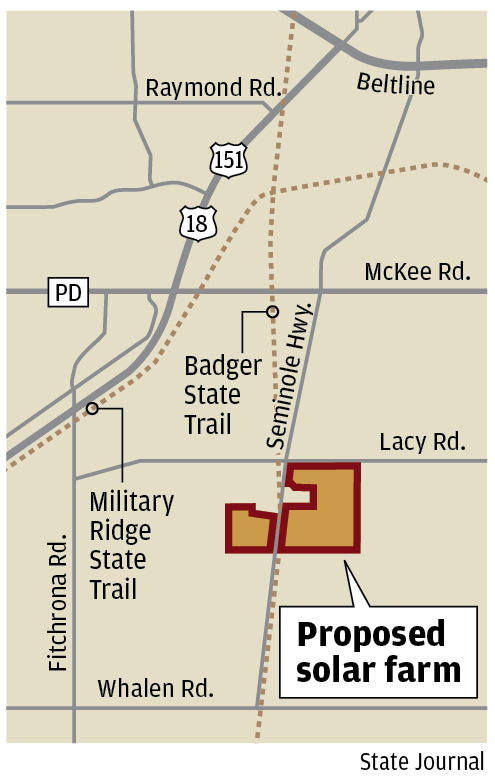 MGE has contracts with the state of Wisconsin, UW-Madison, city of Fitchburg and local businesses Placon Corp., Promega Corp., Tribe 9 Foods and Willy Street Co-op to buy the project's energy output.
While each contract is unique, customers will pay initial rates of about 6 to 7 cents per kilowatt hour for solar energy, with some variability, and will receive renewable energy credits for their share of the generation.
MGE projects revenue from the contracts will cover the cost of the project over 30 years while generating a 10.3% return on equity. PSC staff found a worst-case scenario, in which two 15-year contracts are not renewed, would produce the return to about 8.3%
The PSC also authorized MGE to double its 25-megawatt "renewable energy rider," which allows MGE to build clean energy projects supported by commercial and industrial customers who sign long-term contracts for the energy.
Projects built under the program do not affect rates for non-participating customers.
"These self-selected customers are willing to pay for these resources," said Commissioner Tyler Huebner. "This is a way to allow the utility to build new resources while holding down costs for non-participating customers."
PSC Chair Rebecca Valcq and Commissioner Ellen Nowak said they were initially skeptical of renewable energy riders but agreed the MGE program protects ratepayers.
Valcq noted that state agencies are buying the power in an effort to meet Gov. Tony Evers' goal of eliminating carbon emissions, which she called "a perfect example of us as a state doing what we are asking others to do."
The expansion will allow for the O'Brien project and leave room for almost 20 additional megawatts of new generation, which would account for about 10% of MGE's peak demand.
Commissioners agreed there was pent-up demand to justify the expansion but said additional analysis will be needed as such programs continue to grow.
"We have to start to look at the addition of non-dispatchable resources — what does that mean for other resources," Nowak said. "Are we displacing them?"
The O'Brien project will be the utility's third-largest solar farm. MGE owns one-third of the 300-megawatt Badger Hollow solar farm under construction in Iowa County and a 50-megawatt share of the Two Creeks solar farm in northeastern Wisconsin, which is expected to begin operation later this year.
In July, MGE completed a 5-megawatt solar installation that provides power for customers in the program as well as the city of Middleton and the Middleton-Cross Plains School District. Construction is underway at the Madison airport on a 9-megawatt project to provide electricity to Dane County government buildings.