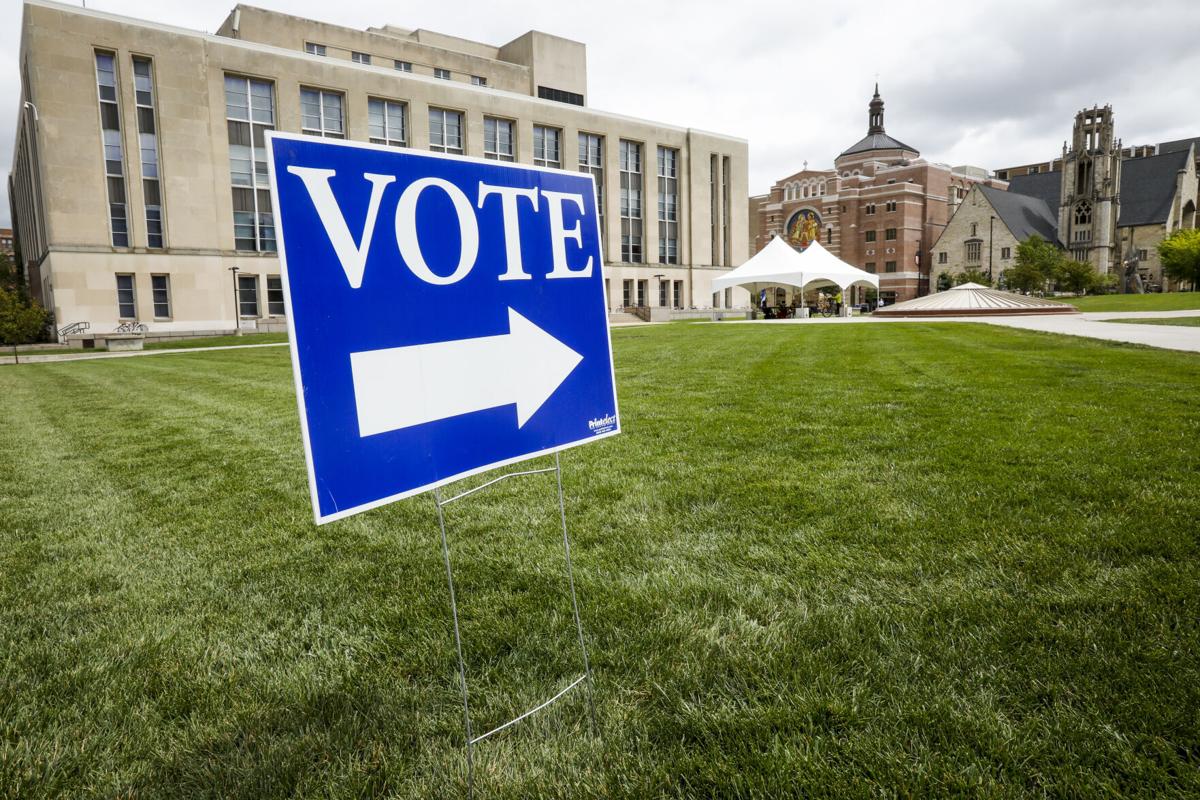 Madison's chief election official is warning residents to be on the lookout for misinformation as some voters here received texts from a Democratic outreach group informing them they may have been removed from the voter rolls. 
City Clerk Maribeth Witzel-Behl said staff had heard from at least three voters who recently received text messages erroneously implying that they were no longer eligible to cast ballots in Wisconsin. Each of those voters, she said, was able to verify their status and found they were all actively registered. 
"We are concerned because the feedback we receive from voters indicates that these voter outreach efforts, regardless of whether they were well-intentioned, end up causing confusion and anxiety for voters," she wrote in a Monday email. 
Still, the leader of the group behind the effort, Field Team 6, says he isn't planning to change his approach in this key battleground state. While executive director Jason Berlin said Monday he takes it "very seriously" that three voters were worried after receiving the group's messages, "it means to me this should not prevent us from doing the great good that we're doing." 
Recipients of the texts in recent days were told they were being contacted because "it looks like Wisconsin has taken someone by your name off the voter rolls!" according to a screenshot of one exchange between a voter and self-identified volunteer that was shared with the Cap Times. 
"Can I re-register you right now in 2 minutes and help save the world from Trump?" continued the message. 
In that case, the recipient, who was already registered to vote, replied to the sender and asked to follow up with someone from Field Team 6 about how the information was obtained. The sender replied that phone numbers are part of past registered voter information and are public. 
Berlin in an interview said the list was generated after officials had worked with a data vendor to create one based on the "current Wisconsin voter rolls" versus "rolls from past years." That was then cross-checked against consumer information, he said, to "hone the list a little better." 
While he was unable to say when exactly that information had been pulled, he stressed it "wasn't some musty old list that we had in an attic." 
But rolls in Wisconsin change regularly, as individuals update their registration status and clerks on a monthly basis review potential record matches to determine whether any in their jurisdiction align with the state's death, felon or other records, routine maintenance required by the Help America Vote Act. 
That's separate from the periodic updates the state sends to those who may have moved or distributions to those who have gone four years without voting. In both cases, officials seek to send mailings directly to voters with that information. 
Wisconsin Elections Commission spokesman Reid Magney advised voters to "look to their municipal clerks and the MyVote.wi.gov website for trusted information about their voter registration status." 
"Independent groups that are contacting voters may be working from outdated and inaccurate mailing lists," he added. 
Berlin, whose group is targeting 12 battleground states including Wisconsin this cycle to bolster Democratic registration figures, claimed his list is "about 80% accurate."
In a follow-up text message, he explained the group "contacted a wide range of people and measured responses" in Wisconsin and around 80% had confirmed they were currently not registered — because they said they had moved out of state and not updated their registration elsewhere, or they said they verified their status through the state's system. Twenty percent, he added, "were still on the registration lists but likely had the same name as someone who had been removed."
He didn't detail the process for conducting the survey or say how many people were contacted.  
While he said that he was "always open to modifying the language" sent in texts to voters, he pushed back on the idea of distributing a message simply reminding people to register. 
"The reason we're not saying something as anodyne as, 'You might want to check to see if you're registered,' is because there's a reason all these people are on these lists," he said. "They have been taken off the rolls. We're not making that up. It's real data that we're using. And while we don't want to spread any misinformation at all, and we're not, we're telling people: there's a chance you may have been taken off the voter rolls and someone by your name has been. And that is absolutely true." 
He later added: "But yeah at some point it's a question of 'do we not do any good at all, because the list is imperfect?' And we can't let perfect be the enemy of the good. What we can do is, like you said, modify our language, and just educate people as much as we can."
Outreach efforts for this specific move began in Wisconsin over the weekend, Berlin said. He noted he didn't "have solid numbers" about how many voters have been contacted yet here and didn't know offhand the total number of residents on the list who would be reached out to, simply saying there's "a lot of people to call." 
This push is the latest development from the group, which Berlin said has registered nearly 23,000 progressive voters in the dozen battleground states it's targeting, including Wisconsin. In all, Field Team 6's website says it aims to register 100,000 new Democrats. 
Witzel-Behl said she reported the incidents to the Wisconsin Elections Commission. Magney, the body's spokesman, said that staff are aware of it and looking into it. 
The city clerk said third-party voter outreach initiatives don't necessarily follow current information and can end up creating confusion for voters who have already registered or submitted an absentee ballot request. 
"These groups often have official-sounding names that imply they could be a division of the City Clerk's Office, but they are not associated with us in any way," she added. 
Oct. 14 is the last day voters can register to vote by mail and online. Voters have until Oct. 30 to register to vote at the city clerk's office.
Share your opinion on this topic by sending a letter to the editor to tctvoice@madison.com. Include your full name, hometown and phone number. Your name and town will be published. The phone number is for verification purposes only. Please keep your letter to 250 words or less.