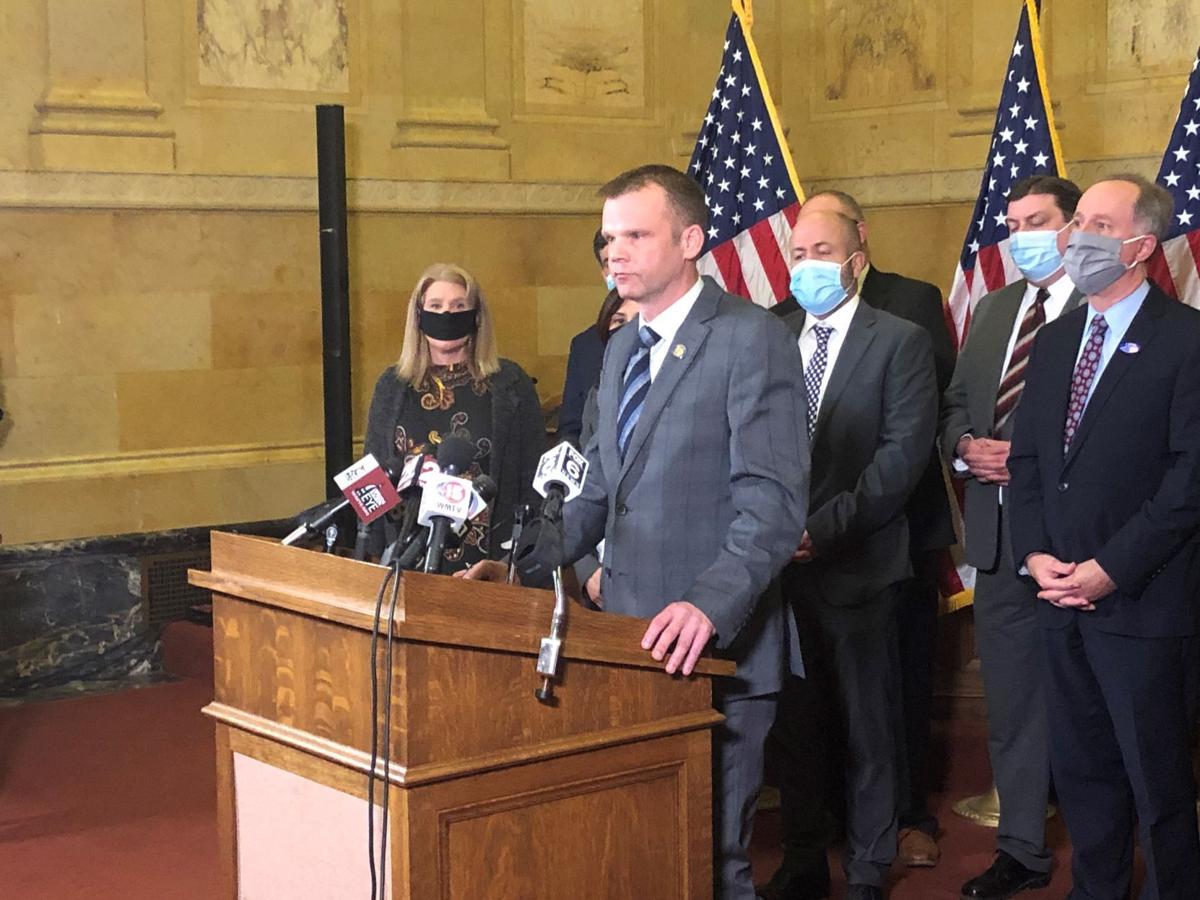 Republican lawmakers on Friday announced they would remove hundreds of items from consideration in Gov. Tony Evers' budget, including a proposed expansion of Medicaid, restoration of public employee bargaining rights and marijuana legalization.
Republicans on the state's budget committee plan to take a vote next Thursday to remove 15 pages containing hundreds of items from consideration from the budget as they craft their own version of a state budget they will send to Evers this summer for his signature. The provisions Republicans are removing include more than 190 non-fiscal policy items, a figure Republicans say is double the number Evers included in his last budget proposal two years ago and the most in at least 30 years.
"Unfortunately, Governor Evers ignored our previous request and crafted a budget that included a tremendous amount of excessive spending, pet projects, tax increases and divisive non-fiscal policy," said budget committee co-chairs Howard Marklein, R-Spring Green, and Mark Born, R-Beaver Dam.
The GOP's move isn't necessarily surprising. Republicans for weeks have expressed hostility toward many of the governor's proposals, such as marijuana legalization. The move also mirrors action budget committee Republicans took in 2019 to strip many major provisions out of Evers' budget, including Medicaid expansion, overhaul of marijuana laws and tax hikes on big manufacturers and high earners.
Still, the Evers administration knocked the GOP plan.
"More politics as usual from Republicans who'd rather gut (Evers') #BadgerBounceback agenda than take up items that an overwhelming majority of Wisconsinites support," Evers spokesperson Britt Cudaback tweeted. "Republicans should stop playing politics and do the right thing so we can bounce back from this pandemic."
Removing Medicaid expansion will result in the state turning down an extra $1.6 billion in federal funding over the next biennium, partially due to incentives provided in the latest COVID-19 stimulus package.
The collective bargaining restrictions Evers sought to remove for state and local government "front-line workers" would have given their unions the ability negotiate over benefits and workplace conditions with their employers. Those collective bargaining rights were removed by former Republican Gov. Scott Walker's Act 10 in 2011.
Republicans are also ditching Evers' attempt to eliminate Act 10's annual recertification requirement for state and local government collective bargaining units, as well as the requirement that a majority of union members, instead of a majority vote, is required to certify a union.
Additionally, Republicans are removing the governor's proposals to increase the state's minimum wage from $7.25 per hour to $10.15 by 2024; scaling back a manufacturing tax credit, which would have provided $487 million more in revenue over two years; and repealing the state's "right-to-work" law, which prohibits employers and unions from requiring the payment of monthly dues from nonunion members at unionized worksites.
Republicans are also stripping the budget of proposals to allow the University of Wisconsin System to borrow money for operational expenses. They also stripped a provision that would have expanded a tuition promise program to all of the state's universities and their branch campuses, building off a UW-Madison tuition promise, which provides free tuition to students from families making up to $60,000.
One of the more notable tax provisions Republicans aren't removing is a caregiver tax credit, which would reduce tax revenues by $100 million in the first year and $103 million in the second. The measure would create a nonrefundable individual income tax credit for qualified expenses incurred by family caregivers. The credit would be equal to 50% of qualified expenses in the taxable year.
Republicans are also keeping a proposed update to Wisconsin's tax code that would bring the state in line with the 2017 federal Tax Cuts and Jobs Act, which would provide a boost to the state's coffers of $548 million over two years.
It's unclear if Republicans will reduce the amount of the tax credit in their budget deliberations.
Additional proposals Republicans are removing from consideration include:
Department of Administration
Diversity, equity and inclusion initiatives.
Establishing the Office of Sustainability and Clean Energy.
Establishing the Office of Environmental Justice.
Establishing Juneteenth as a state holiday.
Department of Corrections
Earned release program expansion.
Alternative to revocation expansion.
Expanding the conditions under which an individual may have their criminal record expunged of a conviction.
Reduction of mandatory minimum sentences.
Changes to the state's embattled youth prison.
Elections Commission
Automatic voter registration.
General fund taxes
Expanding the earned income tax credit.
Expanding the homestead tax credit.
Department of Justice
Establish statutory procedures for processing and storing sexual assault evidence kits.
Eliminating the provision Republicans passed in 2018 that requires the attorney general to deposit all settlement funds into the general fund.
Requiring specific standards in use-of-force policies, annual training on use-of-force options and de-escalation tactics, and use-of-force reporting.
Legislature
Requiring the Legislature to take up the redistricting maps proposed by the governor's maps commission.
Department of Natural Resources
Requiring the DNR to create and enforce various environmental standards for PFAS, known as "forever chemicals."
Provisions that would force businesses that have discharged PFAS chemicals into the environment to take responsibility.
Funding for certified PFAS testing labs and hazardous substance discharge investigations.
Department of Public Instruction
Changes to the state's private school voucher program, such as caps on enrollment and requiring teachers in voucher schools to be licensed.
Prohibiting vaping on school property.
Requiring the state superintendent to include information about climate change in academic standards.
Taxes
Closing the so-called "dark store" loophole in property tax assessments, which local officials have said allows big-box stores to lower their property taxes by comparing their stores to closed stores with lower values.
Allowing counties and some cities, including Madison, the ability to impose an additional 0.5% sales tax.
Department of Workforce Development
Providing nearly $80 million to help fund a new unemployment system.
Increasing the maximum unemployment benefit weekly rate from $370 to $409.
Repealing the one-week waiting period for unemployment benefits.
Madison Forward, Part 1: Region's business community pushes ahead
The pandemic had devastating consequences for many Madison-area businesses. Some didn't make it. Others found a way to limp through. The common thread in all these success stories is resilience. Here are some of their stories.