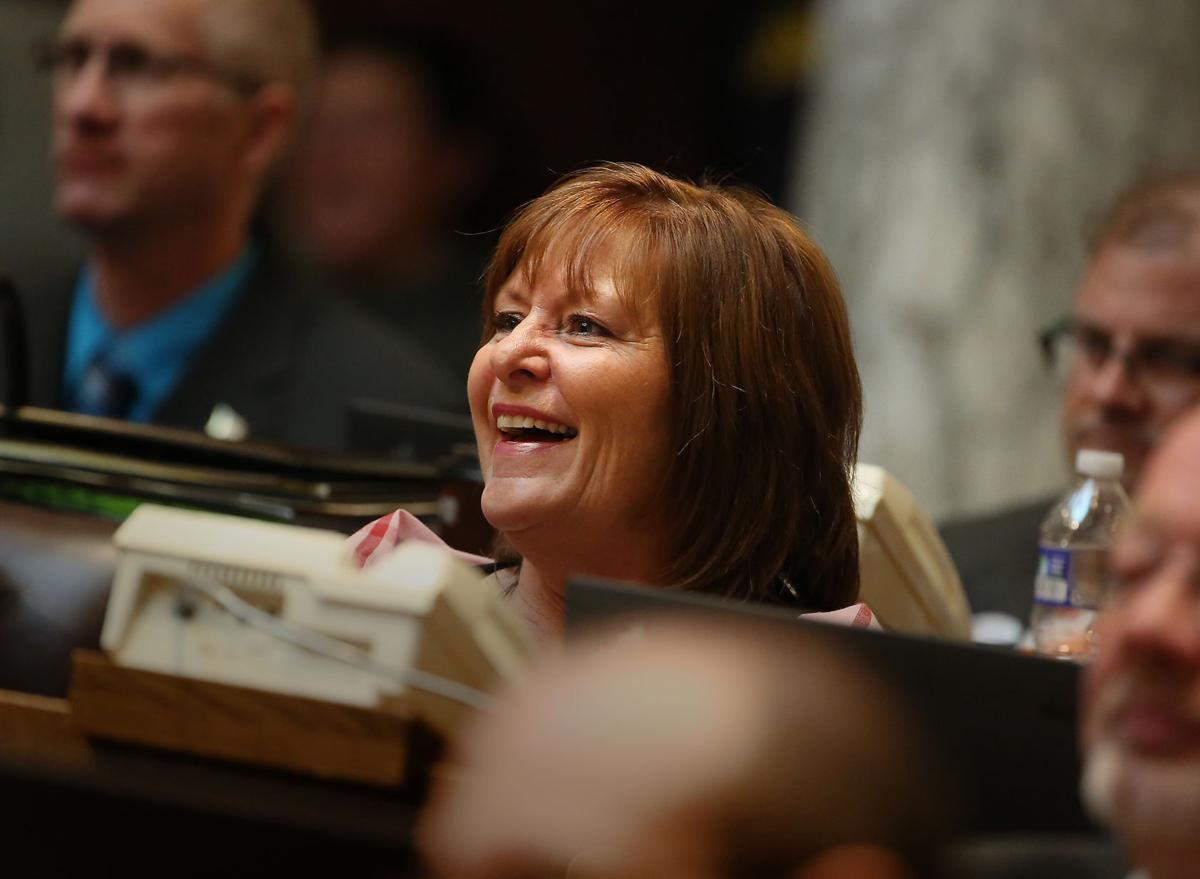 After a year of relentless disinformation about the 2020 presidential election, Sen. Kathy Bernier, R-Chippewa Falls, has had enough.
Earlier this month Bernier, who chairs the Senate's elections committee, organized an informational session to explain how Wisconsin's elections work. The hearing offered something rare in Wisconsin's hyper-partisan political environment: a crash course in Wisconsin elections administration conducted by a nonpartisan panel of state and local election officials.
Bernier at the outset barred attendees or participants from grandstanding. Several Republicans attended the hearing to ask questions, including Rep. Janel Brandtjen, R-Menomonee Falls, who has unsuccessfully tried to seize ballots and election materials from Milwaukee and Brown counties to aid in her own election investigation.
Bernier's hearing came in the wake of news that former conservative state Supreme Court Justice Michael Gableman — hired by Assembly Speaker Robin Vos, R-Rochester, to conduct a probe of the election — spent days at a conspiratorial election rally sponsored by MyPillow's chief executive and traveled to Arizona to observe its flawed election review. His investigative team includes a former Trump campaign official, The Associated Press reported last week.
Hearing accounts of election misinformation frustrated Bernier, who herself served as the clerk in Chippewa County, and prompted her to do something.
"There's just all sorts of things that people think they know because they've been told, and the person or people that told them seem to be reliable," Bernier said in an interview. "I just wanted for all of the facts about how the election is executed from the beginning to the end, where the checks and balances are in place, whether something can be hacked via the internet when something's not actually connected to the internet, and all of those sorts of accusations."
As a former clerk, Bernier has firsthand experience with the deterrents in place to prevent election fraud and said so far, the evidence shows that former President Donald Trump didn't win Wisconsin, as many people, particularly Republican voters, believe.
Bernier said she has heard a wide range of election fraud conspiracies, from people claiming it would be easy to make copies of ballots to stick into voting machines without detection, to others believing it would be to copy someone's photo ID.
"I want to make sure that the misinformation that is perpetuated out there has been addressed," Bernier said, "because it is driving me nuts to listen to people."
Bernier said she addressed some of the concerns people brought up to her during last week's informational hearing.
"The fact of the matter is we have good deterrents, we have good checks and balances, and we do have an ability to limit the chance of fraud," she said.
Concerns understandable
Even though Bernier said she's been frustrated by the proliferation of misinformation after the presidential election, she said Democrats and others are being disingenuous when they feign shock that so many Republicans believe the election was stolen.
"I want to say to (Democrats), don't be so appalled that Republicans are believing the election was stolen when in fact that is what the Democrats pounded away at for four solid years under the Trump administration," Bernier said, referencing, as she has done before, the belief by many Democrats that Trump wasn't a legitimate president due to collusion with the Russians. "So don't act so sanctimonious, as if 'oh, my gosh, it couldn't possibly have happened.' Well, in your mind, four years ago, it did."
And while Bernier expressed confidence in the measures Wisconsin election officials have put in place to deter fraud, she said she's trying to take a neutral approach, at this point, as to whether she's confident in the election results. Instead, she said she's focusing on explaining the electoral process and the measures in place to deter fraud.
So far, she said, she doesn't believe there's evidence to corroborate unfounded claims that Trump actually won Wisconsin but will wait for the completion of the nonpartisan Legislative Audit Bureau's audit to verify or discount that. Still, Bernier also said she accepts Biden's win, the proceedings of the electoral process and said it's not helpful to think that Trump could somehow be named the winner.
"That ship has sailed," she said.
Wisconsin election officials and courts, after recounts in Milwaukee and Dane counties and a number of lawsuits, have stood by the integrity of the presidential election in Wisconsin.
GOP-led audit
Last month, Bernier said Brandtjen's election probe and attempted subpoenas are unnecessary given existing investigations by the Audit Bureau and Gableman. Bernier also said she doesn't think hiring Gableman was necessary given the Audit Bureau's work but said Vos must have felt pressured to do something given the proportion of GOP voters who doubt the election results.
"That was his call," Bernier said. "I'm not questioning his call."
Bernier said she would be "shocked" if Gableman turns up results different from the Audit Bureau's work. She said she hopes that the two investigations provide some consensus that builds trust in Wisconsin election integrity.
She said it's important for Gableman and the Audit Bureau to be able to address the concerns of voters who doubt the system.
Bernier expressed some concerns about the 2020 presidential election, particularly a report from a conservative news outlet that a private group funded largely by Facebook CEO Mark Zuckerberg helped run November's presidential election in Green Bay. Green Bay officials have said the city followed state and federal laws, and that the allegations are "completely without merit."
Bernier said the Audit Bureau should look into the allegations against Green Bay, but doesn't support Brandtjen's subpoena of Brown County election materials at this point.
Bernier has opposed many of the unsuccessful GOP-sponsored election bills passed this year by the Legislature but said she would support a bill to better clarify for voters whether they qualify as indefinitely confined.
Bernier also said she wants to see stricter enforcement of voter fraud by district attorneys in order to set an example.
Election background
For Bernier, educating people on elections comes naturally.
Bernier got her start as an elections inspector in the town of Anson, in Chippewa County, in the 1980s, a time when voter registration wasn't required for municipalities with a population below 5,000 and, as Bernier described it, "you walked up, you stated your name, stated your address, they wrote your name in a book, they gave you a ballot and you were done."
Bernier was later Chippewa County clerk, where she said she had the foresight to implement countywide electronic voting systems before the 2000 presidential election, the results of which had been clouded in part by Florida's use of punch-card ballots.
Bernier's experience as county clerk also included implementing a countywide voter registration list. In the Assembly, Bernier served as chair of the Assembly's elections committee. Now in the state Senate, she is a member of the U.S. Elections Assistance Commission Board of Advisors.
"I was involved in elections from the time that all they did was write your name and address in a book, all the way through a countywide voter registration system to a statewide voter registration system, from paper ballot to punch-card to electronic voting systems," Bernier said. "So I know where the problems were, I know how we corrected them, and I also can see where we can do just a tad bit better."