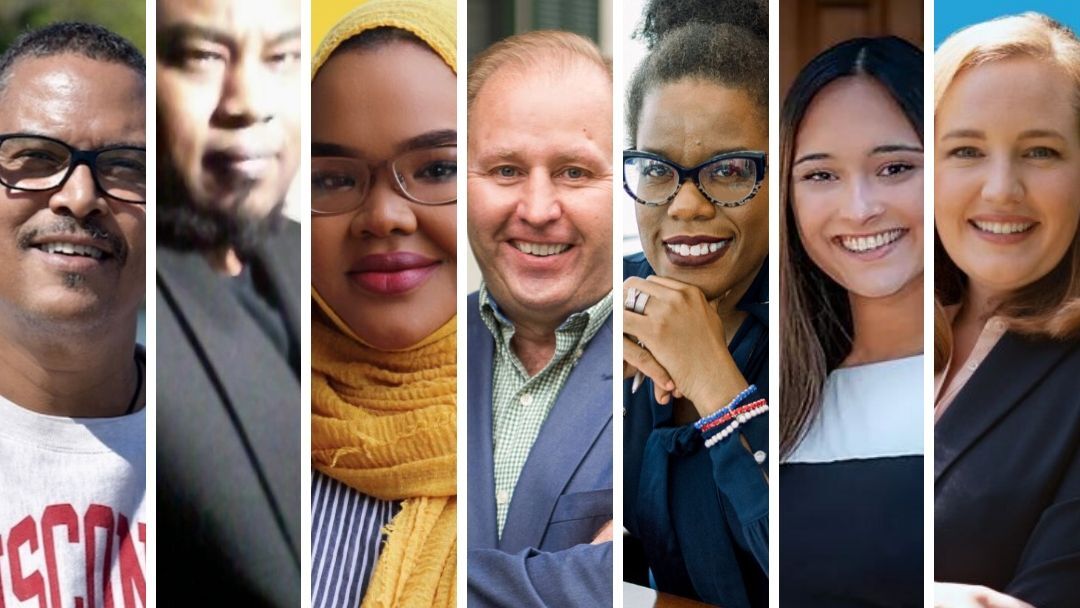 Democratic candidates for Wisconsin's 26th Senate District, which covers Madison's downtown and west side, are predictably in agreement on a lot of major issues, but have differences on how to operate in a Legislature dominated by Republicans.
In a Wednesday debate hosted on Zoom by the Cap Times, one of the seven candidates, Amani Latimer Burris, decried the polarizing political climate, claiming that "80% of the time, people are in agreement."
Nada Elmikashfi took more of a hard line, saying that Democrats have to step up their opposition to Republican lawmakers.
"We're finding over and over again that the crazed right-wing hate machine will do anything to stem progress," she said, "and they refuse to share power even when they lose elections."
The candidates are vying to replace state Sen. Fred Risser, who announced his retirement last March. Risser, the longest-serving state legislator in American history, has held the seat since 1963.
The video debate was moderated by Cap Times political reporter Briana Reilly. Whoever wins the Aug. 11 primary will go on to represent the solidly Democratic district, for which Republicans have not fielded a candidate.
Brian Benford, who served on the Madison City Council from 2003 to 2007, representing the north side. Long active in community work, he's worked with struggling families through several local nonprofits over the years and is currently a success coach for the UW-Madison Odyssey Project, which helps economically challenged adults get a college education. He earned a master's degree in social work from UW-Madison this year.
William Davis III, a Democratic write-in candidate for lieutenant governor in 2018, is a recovering alcoholic who suffers from PTSD, agoraphobia and depression. He has focused on free health care, people with disabilities, homelessness, and marijuana legalization.
Elmikashfi, a native of Sudan and recent UW graduate in legal studies, has been a member of Gov. Tony Evers' gubernatorial appointments team and an organizer with NextGen, supporting elections for Evers and Supreme Court Justice Rebecca Dallet. She also worked for state Sen. Jennifer Shilling and was recently a member of the Sustainable Madison Committee.
John Imes, director of the Wisconsin Environmental Initiative, is a village of Shorewood Hills trustee who made an unsuccessful bid for state Assembly in 2018.
Latimer Burris, the daughter of recently deceased community leader Milele Chikasa Anana, is a small business owner who lists retail, real estate and online interests as her focus. She has served as a field organizer for the state Democratic Party.
Aisha Moe is a recent UW-Madison graduate who worked as a Democratic field organizer in 2018 for Evers and U.S. Sen. Tammy Baldwin.
Kelda Roys, who ran unsuccessfully for governor in 2018, is an entrepreneur, attorney and business owner who served in the state Assembly from 2009 to 2013. She ran unsuccessfully for the U.S. House in 2012.
The debate showcased style as much as substance, as candidates tried to make the case that they were the one who could best push a progressive agenda in state government. The group as a whole pushed for eliminating homelessness, criminal justice reform, eradicating racists policies, addressing climate change and taking federal dollars for Medicaid expansion, especially at a time when state government is strapped because of the COVID-19 pandemic.
There were some novel suggestions. Davis took Medicaid expansion a step further and proposed a government-run health program for pets.
"As part of our Medicaid program, I'm going to fight for Petcaid," he said.
An outlier in some respects, Davis also vowed to fight for the Second Amendment and to support police.
Roys said she has a record of advancing a progressive agenda despite political headwinds. For example, she said that as director of NARAL Pro-Choice Wisconsin prior to her election to the Assembly, she built a coalition to "pass the first pro-choice law in a generation through an anti-choice, GOP-controlled Assembly."
"We have wonderful candidates with great ideas, and all of us bring different qualities," she said. "But I have a demonstrated record of again and again being able to pass progressive legislation in very difficult circumstances."
Imes pointed to his experience years ago working for Quad Graphics in Waukesha County, his experience as a small business owner, as an elected official and as the director of a green nonprofit group connecting builders and environmental advocates.
"I think just because of my background and diversity of experiences, that's going to allow me to be a much more effective, much more engaging legislator and bring folks from the other side and make the economic case for these issues, like the Green New Deal," he said.
Several candidates pointed to the insight gained by their personal experiences.
Latimer Burris, a mother of two teenagers, said she used to own $4.2 million in property, then the Great Recession hit.
"I lost it all and ended up living in Super 8," she said.
"As a wife who's married to a public defender, and as a sister to a brother who has been in and out of the system for 40 years, at times unnecessarily, I get that the criminal justice system needs reform," she said.
Moe said she was inspired to get into politics by the 2016 election.
"My youngest brother, who was 9 years old at the time, came home crying from school because someone had told him that if Donald Trump got elected we would get deported because we were Muslim," she said. "It was in that moment that I realized that even a candidate for elected office has the power to change the way that we view ourselves and how we view others in our community."
Benford pointed to his experience raising five children in Madison and his years of advocating for at-risk youth and families.
"I'm not some career politician," he said. "During this campaign, I'm still working long days and I'm fighting for those in need. Families that need access to health care, students that need access to quality education, small businesses that are on the brink of bankruptcy and need our help. I'm fighting for our kids and our communities, which have been ignored for far too long by those in power."
Get Government & Politics updates in your inbox!
Stay up-to-date on the latest in local and national government and political topics with our newsletter.