Former Lt. Gov. Rebecca Kleefisch tested positive for COVID-19 on Friday, forcing the Republican gubernatorial candidate to cancel all upcoming campaign events just days after launching her bid for governor.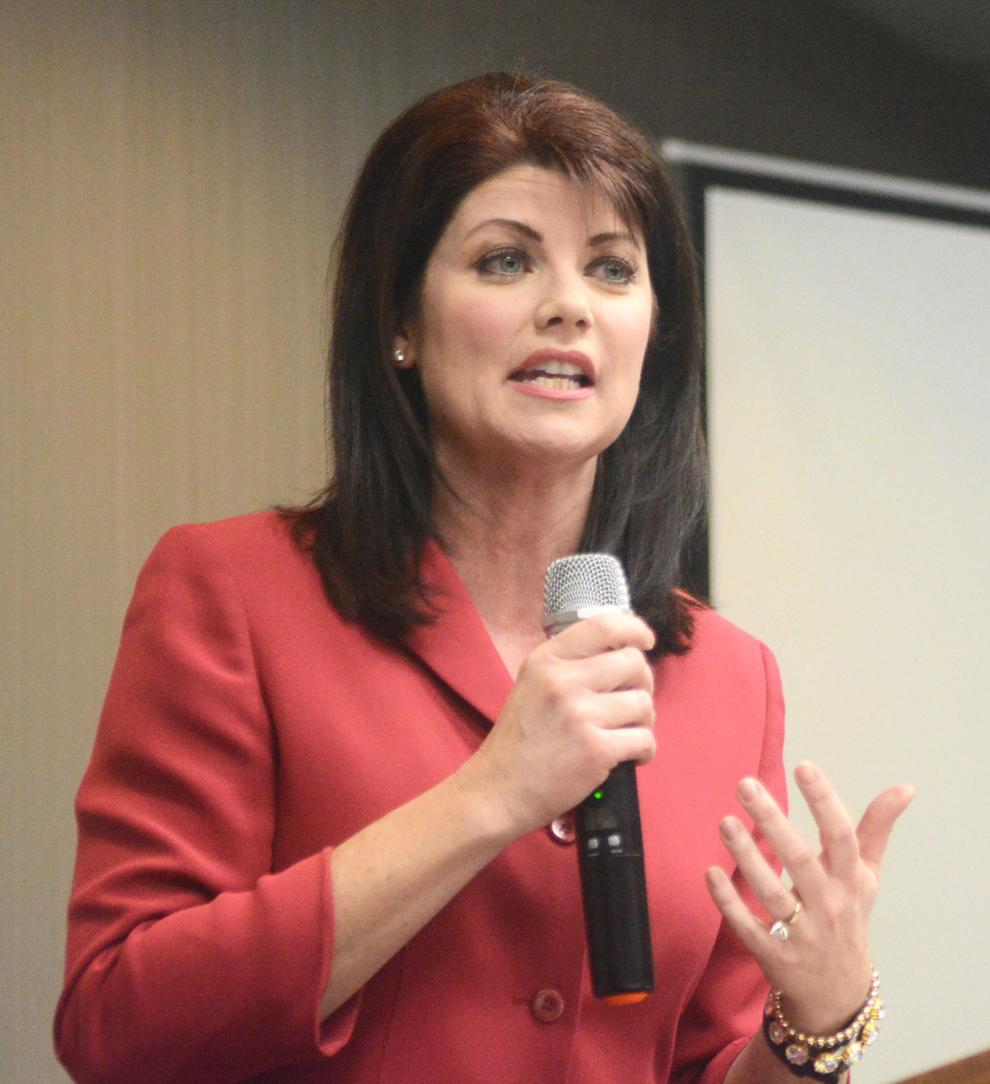 Kleefisch's spokesperson Alec Zimmerman confirmed in an email that Kleefisch, a colon cancer survivor, was exposed to the coronavirus while at church on Sept. 12, three days after formally declaring her candidacy. Kleefisch, who is vaccinated, was informed of her exposure last Thursday and tested positive the next day.
"She is feeling fine," Zimmerman said. "We have canceled all upcoming events and are notifying recent close contacts. Rebecca received the vaccine last spring."
Zimmerman said additional details would not be available Monday but said the campaign has canceled all in-person events for the remainder of the week. Virtual events, such as radio interviews, are expected to continue, he added.
In a video tweeted Monday, Kleefisch said she was feeling well and was quarantining from members of her family, who tested negative for COVID-19.
"We're following all of the COVID protocols and things are just fine," Kleefisch said in the video.
Kleefisch launched her campaign earlier this month with the goal of unseating incumbent Democratic Gov. Tony Evers, who is seeking a second term.
After declaring her candidacy in Butler on Sept. 9, Kleefisch made several campaign stops across the state, including in Hudson, Rice Lake and Eau Claire, according to a tweet posted Sept. 13. Many photos from the events show both Kleefisch, and many in the crowds, without face masks.
Kleefisch's positive test was first reported by the Milwaukee Journal Sentinel.
So far, the former lieutenant governor remains the most prominent Republican in the gubernatorial race. Kleefisch announced last Monday she had raised about $1.2 million in individual donations in the first few days of her candidacy.
Evers' campaign spokesperson Sam Roecker said the governor's campaign wished Kleefisch "a quick and full recovery from this virus."
"We are glad to hear she is on the mend and strongly urge all Wisconsinites to get vaccinated and follow public health recommendations," he said in a statement.
Small business owner and entrepreneur Jonathan Wichmann also is running as a Republican. Other potential GOP candidates include Adam Fischer, James Kellen and Leonard Larson Jr., who also have filed paperwork to run.
Other Republicans considering a gubernatorial run include former businessman and four-term state Rep. John Macco, R-Ledgeview, who has filed paperwork likely setting the stage for a 2022 campaign, and former Marine Kevin Nicholson, who ran unsuccessfully for U.S. Senate in 2018.
COVID-19 cases have been surging since July, due in part to the highly contagious delta variant. The seven-day average of new cases was 2,741 on Sunday, the highest in the state since January, according to the state Department of Health Services.
DHS data updated last week found a confirmed and probable COVID-19 case rate of 440 out of 100,000 for fully vaccinated residents, compared with a rate of almost 1,268 among unvaccinated people.
Wisconsin residents not fully vaccinated against COVID-19 were 3.9 times more likely to test positive for the disease in August than those fully vaccinated, 8.6 times more likely to be hospitalized for it and 10.6 times more likely to die from it, according to DHS.
This story has been corrected to reflect updated DHS data regarding COVID-19 infection rates among unvaccinated individuals.
---
Year in review: The top Madison-area stories of 2020
It started out well enough. The Badgers were making a late-in-coming run at the Final Four. Hometown insurance behemoth American Family announced it was boosting its starting minimum wage to $20 an hour. Madison East Siders welcomed a new Pinney branch library.
The first two and a half months of the year feel like a different era, when news of a strange new virus infecting people in China was safely tucked away in the back pages of the newspaper and the heart-breaking images of a white Minneapolis police officer kneeling on the neck of a 46-year-old Black man had yet to go viral.
Then came March and successive waves of closures, cancellations, lockdowns, furloughs, layoffs, infections and deaths. If the subsequent uprisings over the killing of George Floyd weren't enough to remind America that it has plenty of work to do to overcome racism, the shooting of Jacob Blake in Kenosha tragically emphasized the point. And a divisive presidential election carried the tone of the year at the end.
While it may not be a year to look back on with particular fondness, 2020 no doubt is one to remember. Here's a look back at some of the top stories in the Madison area as they occurred.