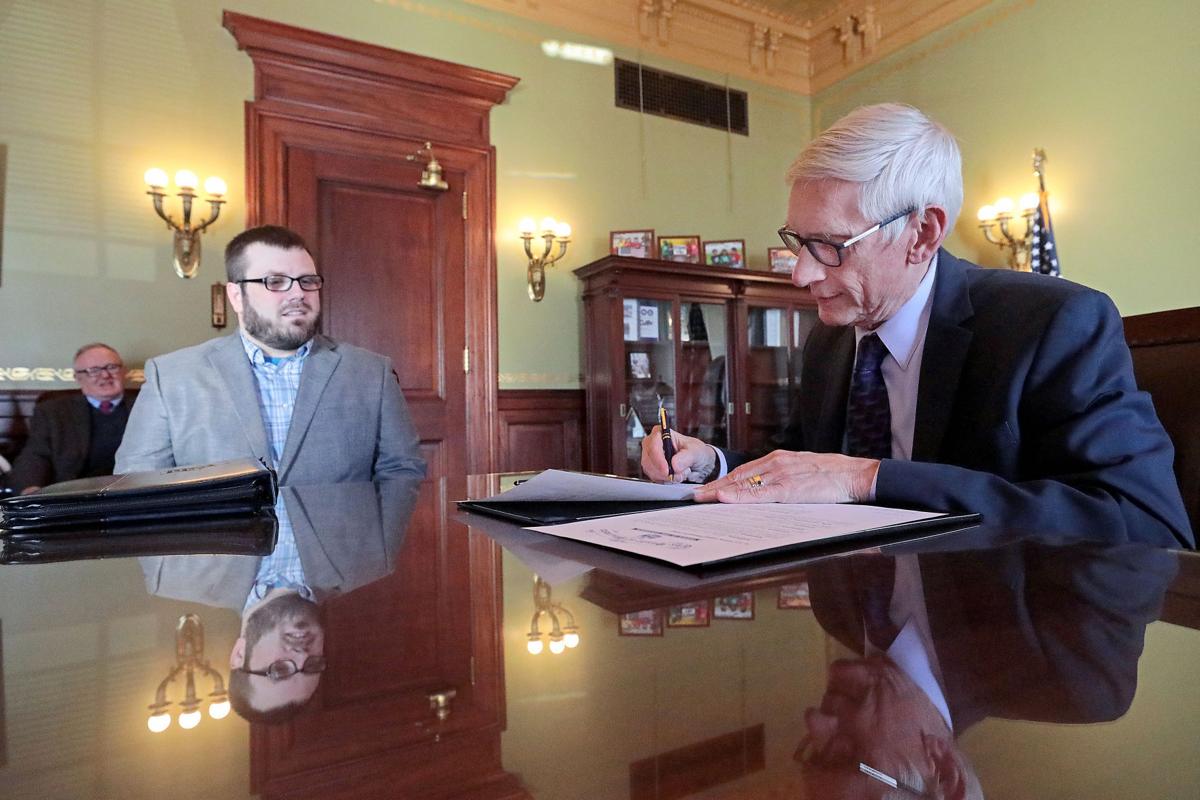 With an additional 71 pardons granted over the summer and new rules that will speed up and expand the application process, Gov. Tony Evers is on track to pardon more people in his first term than any governor in recent history.
Evers signed an executive order Tuesday that expedites the pardon process by allowing those who have committed nonviolent offenses a long time ago to have their applications sent directly to the governor without needing a hearing with the Pardon Advisory Board. The board chairperson will determine which applications can be sent straight to Evers' desk.
The change will "streamline" the pardon process, Evers said, and pave the way for him to grant clemency to even more applicants. So far, he has issued a total of 263 pardons — likely a record-breaking sum for a governor's first two years and eight months in office.
A spokesperson for Evers' office said he will likely pardon more people than any governor since the 1970s. Former Wisconsin Democratic Gov. Jim Doyle granted more than 300 pardons during his eight years in office, and former Republican Gov. Tommy Thompson issued 238 pardons.
Evers' predecessor, Republican Gov. Scott Walker, did not issue any pardons during his eight years in office. Evers changed that course in October 2019, issuing the first four pardons in nine years.
"Hearing from any one of our pardon recipients you'll hear stories of redemption, service to others, and hope for the future," Evers said in a statement. "As I said when I reinstated the pardon board, I believe in forgiveness and the power of redemption, and I believe the people of Wisconsin do, too."
Also Tuesday, Evers announced a new application that allows people to get a pardon for multiple felony offenses, instead of just one. Previously, applicants could only be pardoned for their most recent felony offense, meaning older cases were ineligible.
Evers said the updated eligibility guidelines make "a correction" to a process "that was preventing folks from receiving pardons not because their crimes were more serious or because they posed a greater risk to the community, but due to the timing of their convictions and sentencing."
A pardon doesn't clear a conviction from someone's record, but it is an official grant of forgiveness that restores certain rights, such as the ability to own a gun, serve on a jury, hold public office and hold certain professional licenses or positions.
Pardons are issued to those who have completed their sentences for a felony conviction at least five years ago and taken significant steps to make amends and contribute to their communities. Those who have committed misdemeanors are not eligible, unless the misdemeanor is associated with a felony charge.
Most of the 71 people who were pardoned over the summer were convicted of burglary, drug possession, drug dealing, theft, forgery or fraud. A few were convicted of failing to pay child support, driving a vehicle without permission or possessing a firearm. One of the most serious offenses, committed by just two pardon recipients, was armed robbery.
The most serious offense was a stabbing. Patricia Ryan was 17 when she stabbed an abusive partner who was trying to take her child from her. She has since earned her associate degree and is working toward her bachelor's degree so she can become a bilingual teacher.
Those pardoned have now started families, earned degrees, volunteer or work in their communities. Many of their crimes were 10 to 20 years ago, and a few were more than 40 years ago.
"After nine years of the board sitting dormant, there are a lot of people out there looking and hoping for their second chance," Evers said.
Fave 5: Reporter Emily Hamer picks the stories she most enjoyed writing in 2019
We are sharing Wisconsin State Journal staffers' favorite work from 2019. From reporter Emily Hamer: I didn't realize until after I picked my five favorite stories from this year what they all had in common. For each one, I really connected with the emotion I saw in the people I was covering. Their stories made me feel.