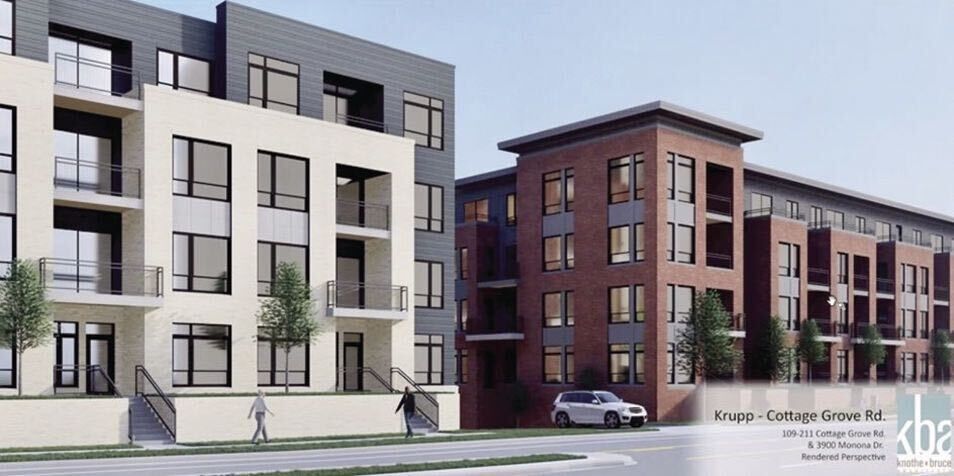 Developer Joe Krupp is weighing how to move forward with his proposal for a four-story, 188-unit apartment complex on the city's east side after the Plan Commission denied his application on Monday night. 
The commission cited a lack of commercial space in his proposed $40 million renovation of an old strip mall on Cottage Grove Road. Krupp was seeking a demolition permit to tear down the vacant Lakeside Shopping Center at 109-209 Cottage Grove Road and two buildings at 3900 Monona Drive. 
One resident opposed to the development as proposed was more blunt: "It's not really going to be a neighborhood," said resident Gila Shoshany. "It's just going to be bedrooms with cars. And that is the slums of tomorrow."
Krupp's plan to build the apartment complex included 2,500 square feet of commercial space and underground parking. 
"I'm intending to ask for reconsideration and find some common ground to do this project with potentially a little more commercial," Krupp said. "But I don't want to mislead anyone because I know there isn't a lot of demand for retail."
Affordable housing is a key priority in the Madison area. Mayor Satya Rhodes Conway's proposed 2021 budget included a million dollar increase in funds annually for affordable housing. At the same time, the COVID-19 pandemic has devastated some local businesses.
On Monday, city staffer Tim Parks said staff recommended approval of the project and that the project could have even been built to greater height. 
The commission voted 5-3 to place the proposal on file without prejudice, which means that Krupp and his team could reapply anytime in the future. 
The district's alder, Grant Foster, was the most vocal opponent of the proposal. Foster told the commission that while he is in favor of more housing, he believes the lack of commercial space hinders the walkability of the neighborhood. 
The Cottage Grove Road plan — developed in 2017 and 2018 before the pandemic — says area residents "want a walkable, bike friendly, interesting neighborhood with appropriate development." 
Krupp said circumstances even before the pandemic pointed toward commercial space not being successful in that area. He balked at the idea that residents will greatly utilize major retail attached to housing at this time. 
"The Royster space has 16,000 square feet of vacant commercial space," Krupp said. "I just don't see how more commercial is important to the future of that neighborhood considering the trends even before COVID-19."
Royster Commons is at 521-523 Grand Oak Trail and offers one- and two-bedroom unit combinations. It also has 16,600 square feet of commercial space, which Krupp said was a big enough investment in commercial for that area. 
"The city has already made a significant commitment to a site less than a quarter mile away that already had retail," he said.
"How do you address the housing crisis by sacrificing density for vacant retail space?" Krupp asked. "It just doesn't make any sense."
Get Government & Politics updates in your inbox!
Stay up-to-date on the latest in local and national government and political topics with our newsletter.