MOUNT PLEASANT — President Donald Trump declared a Foxconn Technology Group campus in Racine County "the 8th Wonder of the World" during a ceremony in which he and Gov. Scott Walker praised each other for bringing the Taiwanese manufacturer to America.
The event came as Foxconn confirmed its initial facility in what will be known as "Wisconn Valley" will be smaller than originally announced. The company and state officials maintained the investment will still reach $10 billion and create 13,000 jobs once completed in four to five years.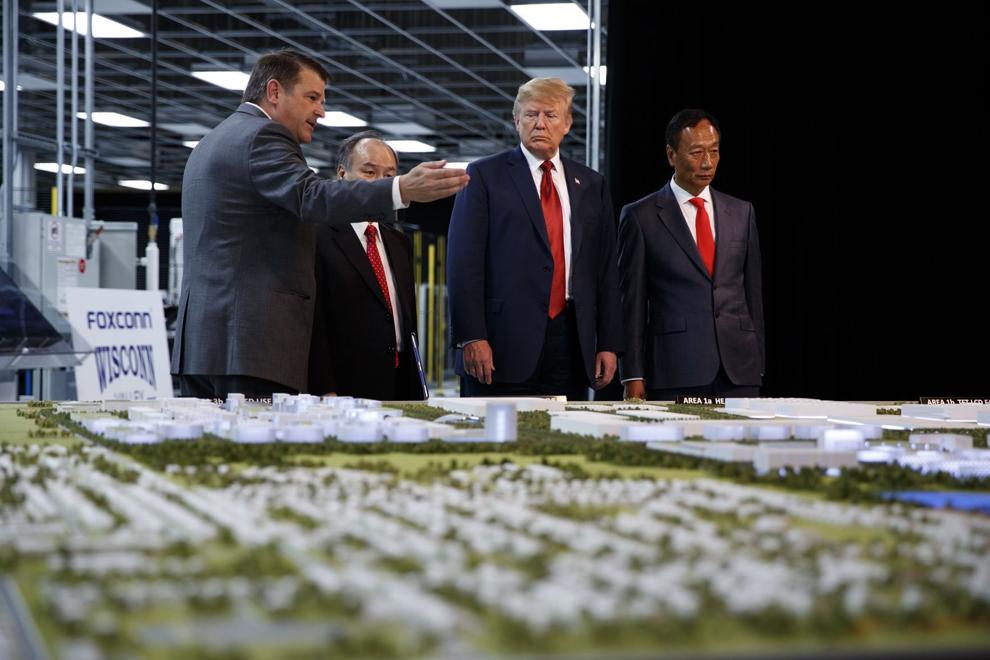 "This is just the beginning," Trump said Thursday. "We have a lot of these things going in the United States, but to me this will always be the special one."
Trump called Walker "a special talent and a special person." Walker credited Trump with bringing Foxconn to Wisconsin. And the president also urged Harley-Davidson to reconsider its decision to build some of its motorcycles in Europe because of his tariffs on trade.
"Don't get cute with us," Trump said. "Build them in the USA. Your customers won't be happy if you don't."
Watch the video and follow the latest news and reaction from President Trump's visit and the Foxconn groundbreaking in Wisconsin.
Trump also defended his tariffs on aluminum and steel imports and he lauded companies locating plants in the U.S., saying his tax cuts are "at the center of America's economic resurgence."
He also rhapsodized about how his campaign slogan "Make America Great Again" is "the greatest phrase ever used in politics" and how he'll use green "Keep America Great!" hats in his 2020 campaign — "green representing cash." Also at one point he claimed he was the first Republican to win Wisconsin since Dwight Eisenhower in 1952. In fact, he was the first since Ronald Reagan in 1984.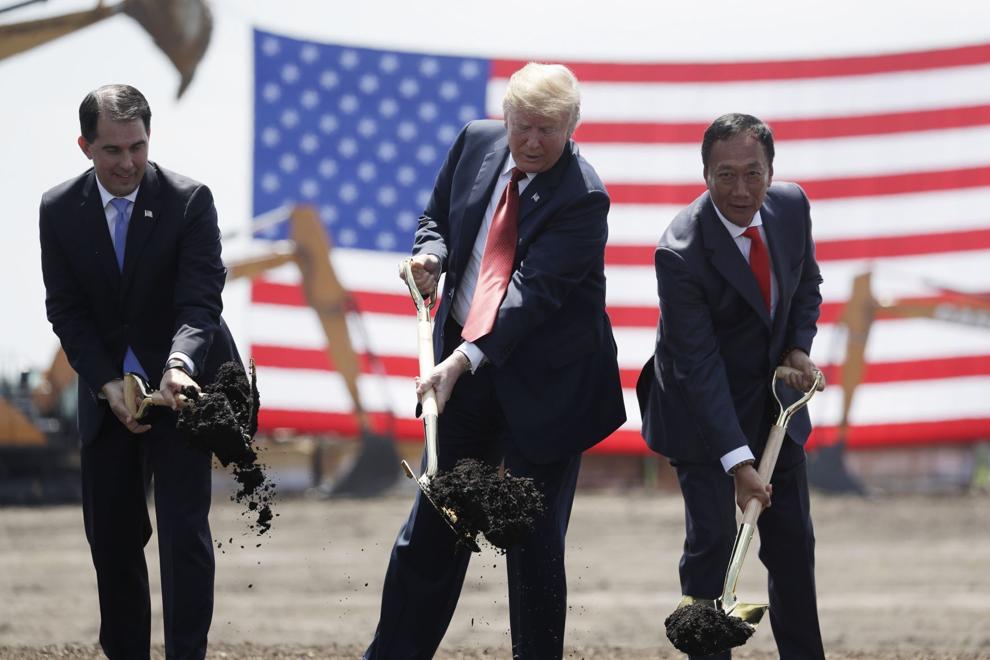 Prior to the indoor event touting the Foxconn plant, Trump and Walker grabbed a pair of golden shovels outdoors to ceremoniously mark the beginning of work on the plant, as dozens of state and local elected officials and other dignitaries applauded.
"This will make us a brain gain state, not a brain drain state," Walker said, predicting that it will transform Wisconsin as Microsoft did Washington state.
Foxconn plant to be smaller
Foxconn's investment is expected to create as many as 13,000 direct jobs, 22,000 indirect jobs and 10,000 construction jobs, though it comes with nearly $4.5 billion in state and local taxpayer incentives and initially won't produce the kind of large-screen display panels originally envisioned.
Last month an Asian trade publication reported the liquid crystal display (LCD) manufacturing facility would produce small- to mid-size screens, rather than large-size screens.
The company originally denied that report, but a Foxconn executive confirmed to the Milwaukee Biz Times last week that it would be building a Gen 6 plant rather than a Gen 10.5 plant (the difference being the size of the glass sheets used to produce the screens). The newspaper reported that means a $1 billion glass plant employing up to 400 workers would not need to be built on the campus and that the facility would use smaller sheets of very thin glass.
But Foxconn and Walker have maintained that the company is still committed to building a $10 billion campus with up to 13,000 jobs.
"Our plans for our Wisconn Valley Science and Technology Park, including the size of our Wisconsin facility, remain unchanged and they are linked to our commitment to this significant investment and to meeting all contractual obligations with the relevant government agencies," the company said in a statement.
Wisconsin Economic Development Corp. spokesman Mark Maley said the state is "trusting Foxconn to make the business decisions for what will produce the most successful campus."
"We trust in Foxconn," Maley said. "How they get there is really up to the company."
Rep. Dana Wachs, D-Eau Claire, a member of the WEDC board, said the state should review the Foxconn contract to ensure the change in the facility doesn't constitute a breach of the agreement. He said if there is a breach the state should take legal action.
"It's incumbent on the governor to make sure the interests of the taxpayers are represented," Wachs said.
GOP dismisses criticism
Republican officials at the ceremonial groundbreaking discounted concerns of critics, saying they are confident the Taiwanese company will be a major employer in southeastern Wisconsin.
Assembly Speaker Robin Vos, R-Rochester, said Democratic opponents of Foxconn are focused on scoring political points against Trump and Walker.
"There are people who are against any development whatsoever," said U.S. Rep. Glenn Grothman, R-Glenbeulah.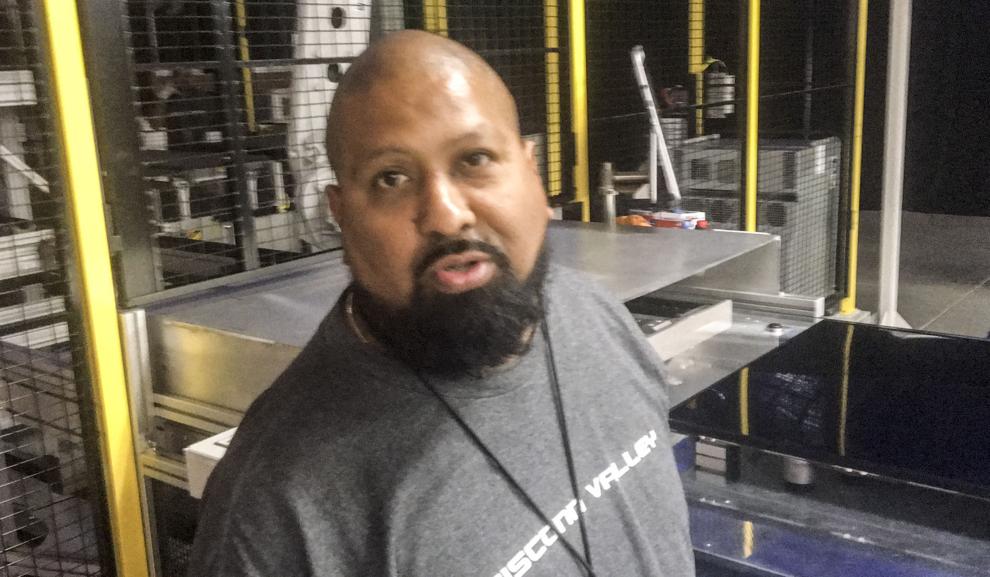 Gilbert Rodriguez, 44, of Racine, an assembly line worker at the Foxconn training facility in Mount Pleasant who said workers are making between $14 an hour up to more than $50,000 a year for salaried employees, called the Foxconn development "the beginning of something big."
"It's exciting to know that this is coming to our community," Rodriguez said.
Steve Anderson, 63, a substitute teacher who lives near the planned campus, said he's trying to keep an open mind. Anderson attended a rally Thursday in Mount Pleasant that attracted about 300 opponents of the project.
The project "definitely would be a major boost economically," Anderson said. But he says his top concern is potential air pollution.
Foxconn recently announced it would use a new technology to cut the campus water consumption in half and return virtually no wastewater to Lake Michigan.
A skeptical public
A recent Marquette Law School Poll found 46 percent of voters don't think the Foxconn incentives were a good deal, compared with 40 percent who do. And 61 percent said it won't benefit their community, compared with 29 percent who say it will.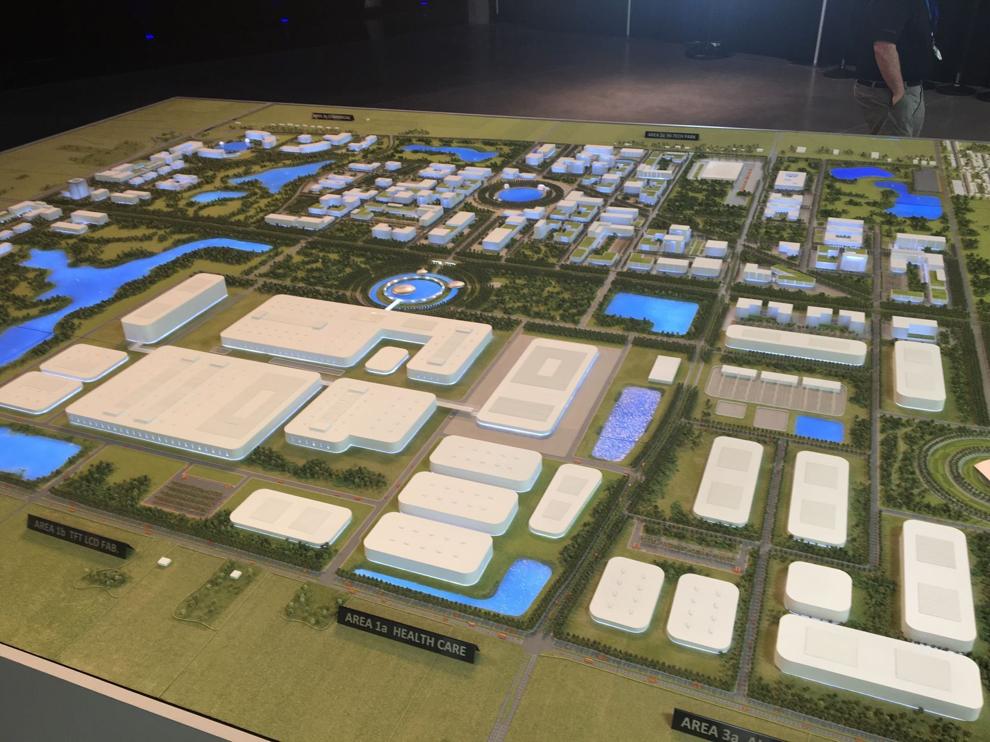 Walker has recently traveled to Wisconsin communities to highlight companies that have already received contracts to work on Wisconn Valley, including a concrete piping company in Marathon County.
The 22 million-square-foot flat-screen manufacturing facility is expected to be completed in four to five years. Once the plant is fully operational, it is expected to make $4.26 billion in supplier purchases each year, about one-third of which will come from Wisconsin, have at least a $7 billion annual economic impact on the state and generate between $116 million and $157 million in state tax revenues a year, according to Walker's office.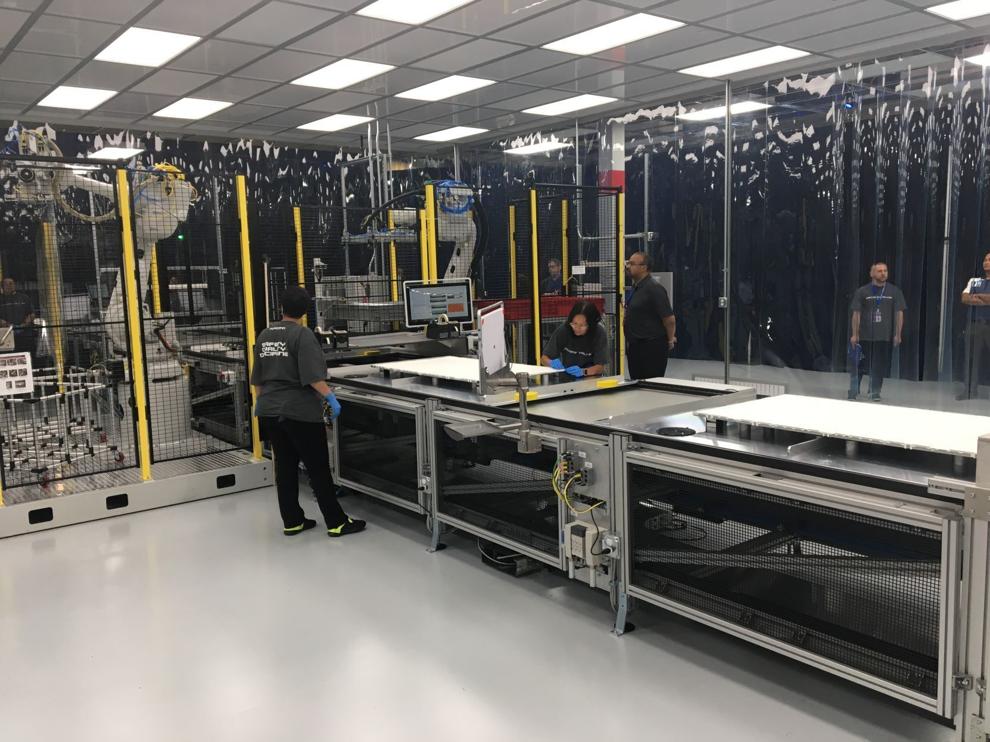 Trump also attended a pair of fundraising events in Milwaukee benefiting the Republican Party and his re-election campaign. Walker, House Speaker Paul Ryan, R-Janesville, and Republican National Committee Chairwoman Ronna McDaniel attended the events, which were closed to news media coverage.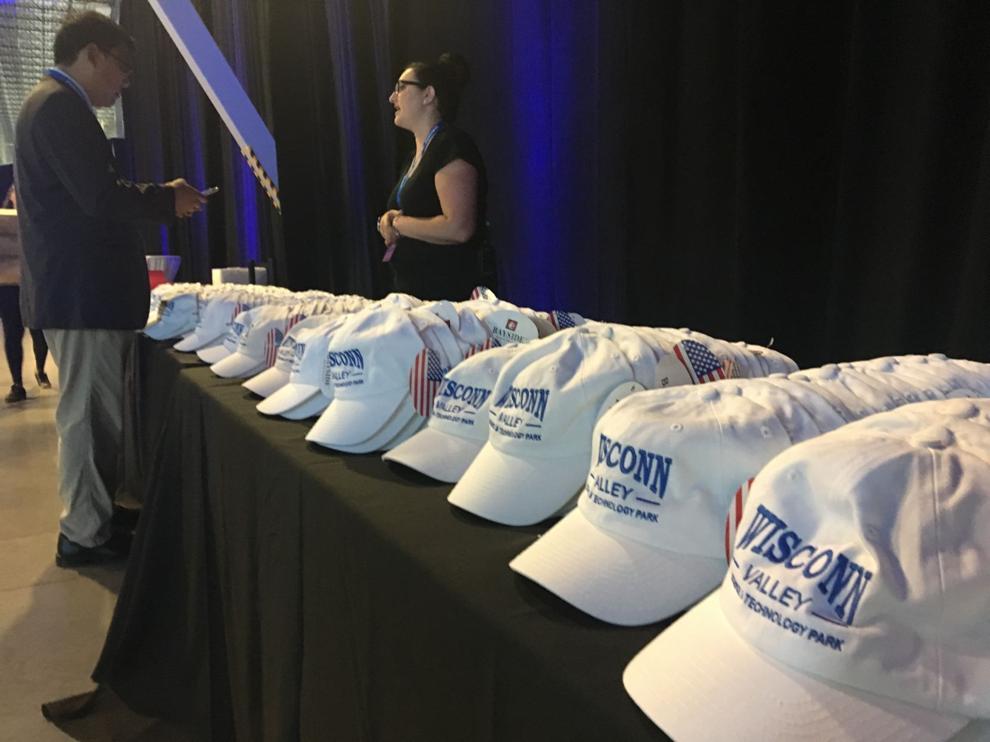 The events were held at the Pfister Hotel in downtown Milwaukee, where Trump spent a rare weeknight away from the White House.
The Associated Press contributed to this report.