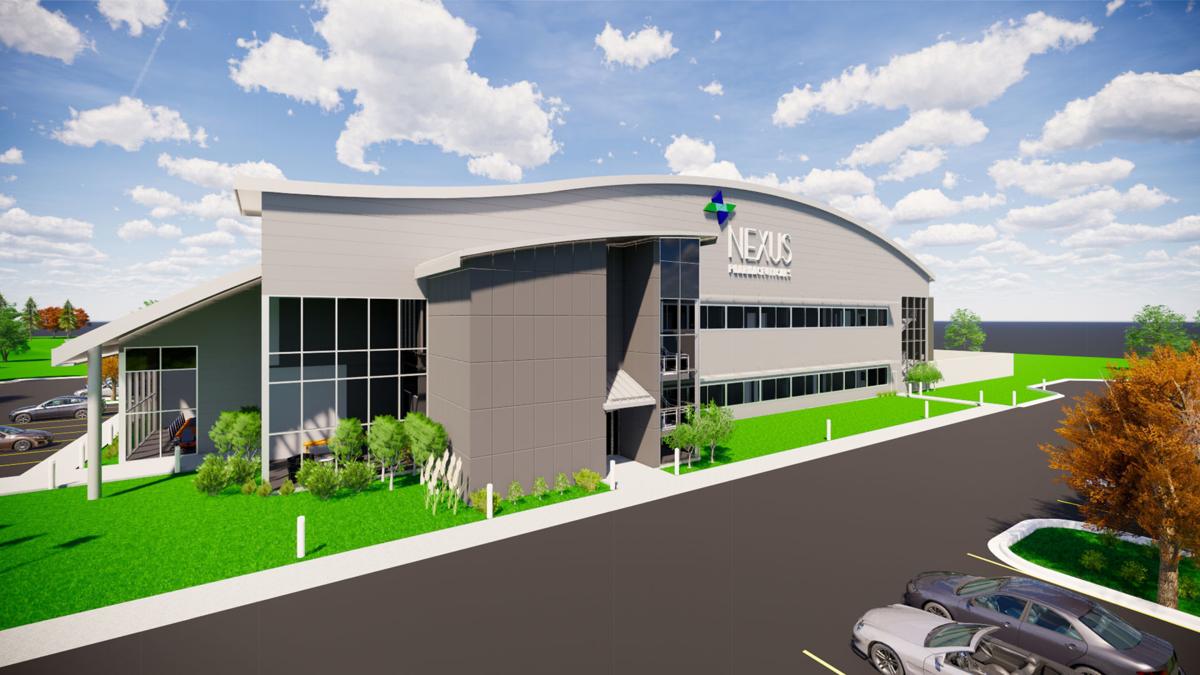 PLEASANT PRAIRIE — The Pleasant Prairie Plan Commission has approved the final site and operation plans for Nexus Pharmaceuticals' 82,580-square-foot manufacturing facility in the Prairie Highlands Corporate Park west of Interstate 94.
The company, which is building the three-story facility on 16 acres at 10300 128th Ave., has already completed foundation work, mass grading, footing and preparation for underground utilities.
In November, plans for the building shell were approved. The final approval on Monday night will allow Nexus to complete remaining site improvements and the interior building plans.
John Cook, Nexus' vice president of manufacturing operations, told the commission that steel framing is expected to begin Wednesday.
"Looking forward to that building going up," said Plan Commission Chairman Michael Serpe.
In its first phase, the company will hire 70 full-time and five part-time employees working in three shifts. In the beginning, two shifts will operate five days a week, with a skeleton crew on third shift to oversee equipment running overnight.
In July, Nexus entered into an agreement with the village to purchase the land in the corporate park for $3.2 million from the village.
Nexus' three-phase project is expected to be completed over a 10-year period. The project's first phase is planned for completion this year, and operations are expected to begin next year.
Injectable products
Once operational, the Pleasant Prairie facility will manufacture aseptic liquid and freeze-dried products as well as terminally sterilized liquid products.
The local facility will manufacture sterile injectable pharmaceutical products, which will be used in various medical applications, such as cardiology and oncology.
According to Jean Werbie-Harris, the village's community development director, the products will be produced and filled in a liquid state. Some products will undergo freeze-drying to provide a long-term stable application.
"Overall annual production volumes are projected to be in the range of 10 million vials per year for the first-phase facility depending on business needs. However, plant capacity can be increased with adjustments to the operating plan," she said.
The first floor will have warehousing and be used for inspection, labeling, packaging, utilities. It will also have maintenance areas, office space, locker areas and a lunchroom.
The second floor is designated for manufacturing, with formulation, equipment and component preparation, filling, freeze-drying and capping activities. The second floor will also house the microbiology laboratory and an "in-process" chemistry laboratory.
The building's third level will contain heating, ventilating and air conditioning equipment control cabinets.
"This project represents the first of several planned future expansions on the site," said Werbie-Harris.
"Upon obtaining approval of the U.S. Food and Drug Administration for the facility and related processes, Nexus expects to begin commercial production operations in 2022," she said.
Founded in 2003, Nexus had its beginnings as a virtual company, according to staff documents. Later, growth enabled it to relocate headquarters and laboratories in 2018 to a newly renovated facility in Lincolnshire, Ill., where product development, quality control, quality assurance, regulatory functions and some business functions currently take place.
Be the first to know
Get local news delivered to your inbox!