Clubs, loge boxes shown in Camp Randall Stadium renovation renderings
The University of Wisconsin athletic department released renderings of upcoming renovations to Camp Randall Stadium.
Camp Randall covered loge box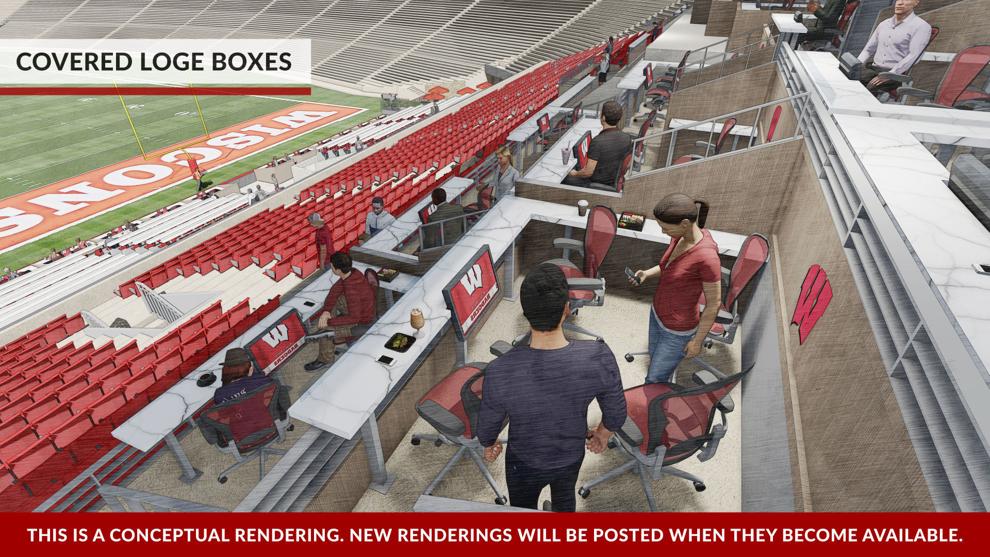 Camp Randall rendering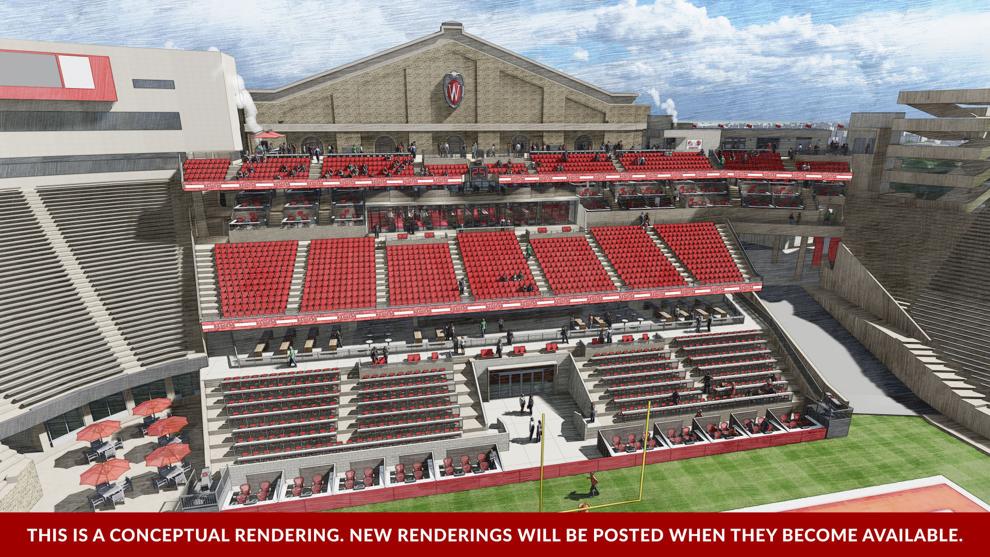 Camp Randall field level club
Camp Randall field loge boxes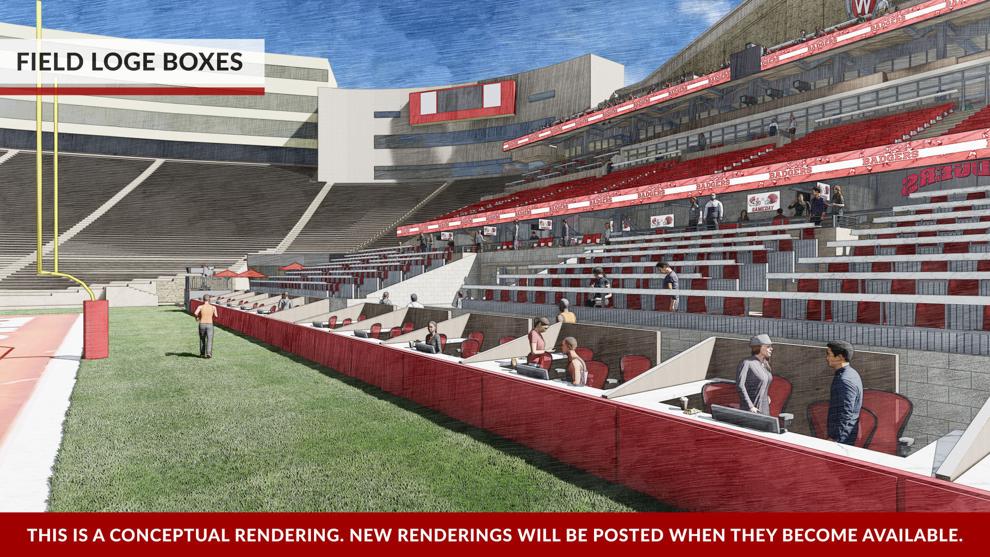 Camp Randall premium club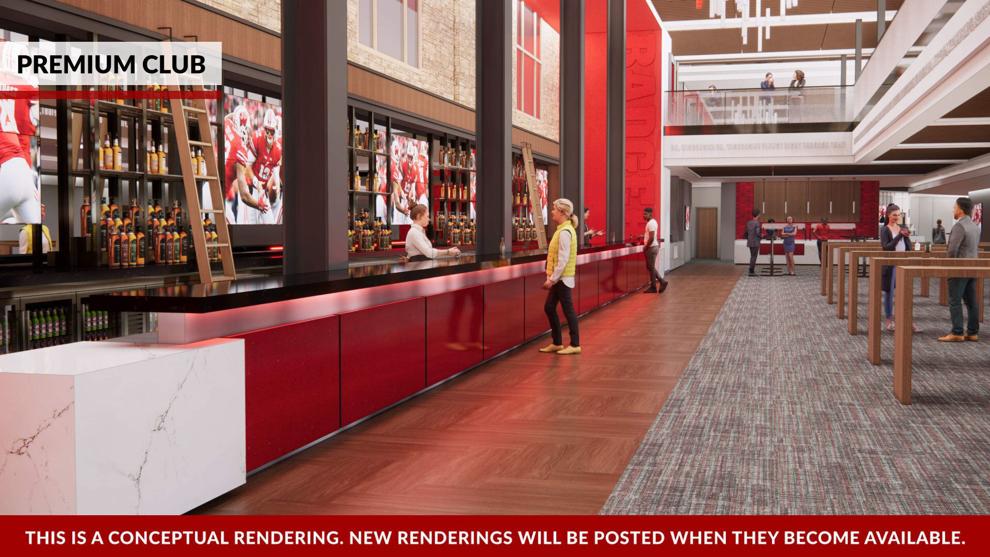 Camp Randall premium club seats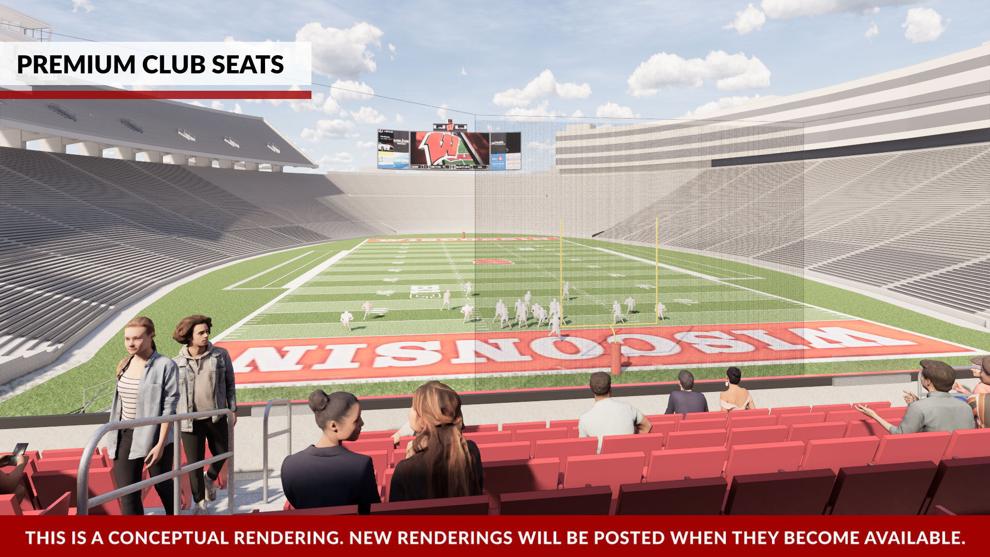 Camp Randall terrace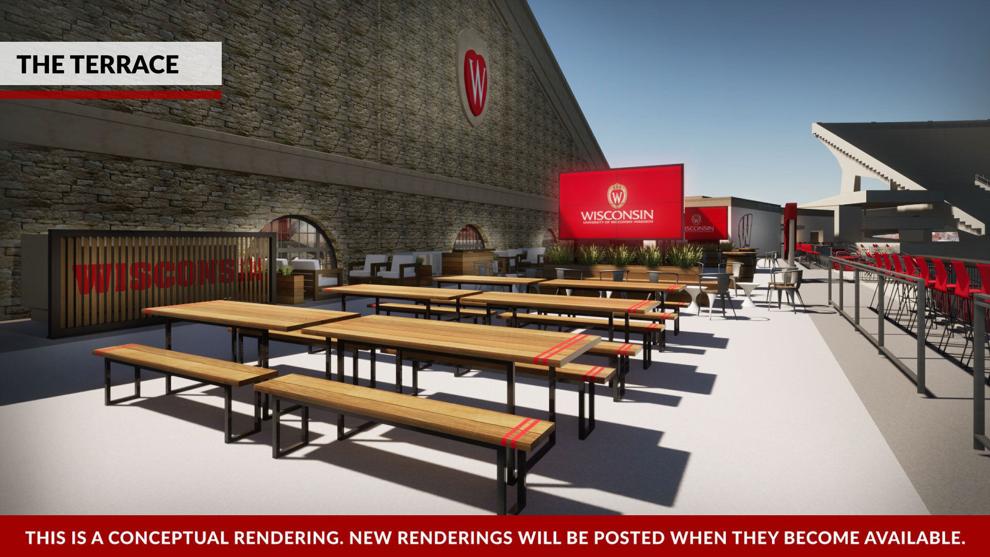 Related to this collection
The project to transform rows of bleacher seating into indoor club spaces, small loge boxes and rows of chairback seating is expected to be ready for the 2022 season.
The Badgers' non-conference schedule is full through the 2027 season with the exception of one opening in 2026.
Kickoff times are set against Penn State, Eastern Michigan, Notre Dame, Illinois and Iowa.
A look at who's coming to Madison next weekend, how Badgers' coach Paul Chryst talks about NIL with players and a top recruit moving to the backfield. 
In each of the past two cycles, Khalif has helped UW post their highest-ranked recruiting classes in the internet era. 
The 5-foot-11, 200-pound Mellusi gives UW an experienced option to pair with redshirt freshman Jalen Berger in the backfield.
So what happens now? Let's take a look at what these moves mean for the Badgers.
The matchup, originally scheduled for last season, had to be moved due to the COVID-19 pandemic. 
The contracts of the top two assistant coaches are extended through 2023. 
JT Seagreaves has averaged more than 20 yards per catch each of the past two seasons for the Cheesemakers. 
Cade Yacamelli came to UW's camp on June 3 and earned a scholarship offer after working through three positions.
Three-star cornerback A'Khoury Lyde announced he committed to the University of Wisconsin's 2022 class after narrowing his list to UW, Duke and Pittsburgh.
UW's "Forward" uniforms will make their debut when the Badgers play Notre Dame on Sept. 25 at Soldier Field.
The 6-foot-5, 200-pounder has long strides and shields defenders well at the point of the catch. 
With his size and strength, Neal likely fits best as a nose tackle in the Badgers' 3-4 scheme.
The 5-foot-11, 180-pound defensive back was previously committed to Oklahoma State, but retracted that commitment in late May.
Mertz will be a test case for how Badgers athletes can profit from NIL sponsorships and endorsements when they're allowed later this week.
What really is name, image and likeness? How will the University of Wisconsin handle it? Those answers and more here.
Offensive tackle Joe Brunner is the top-ranked player in Wisconsin and among the top 10 nationally at his position. 
Another pass-catcher made his oral commitment to the University of Wisconsin football team Wednesday, adding to a busy month of recruiting for the program.
State Journal beat reporter Colten Bartholomew and columnist Jim Polzin welcome on Marquette sports law professor Matt Mitten to discuss the changes in college sports related to name, image and likeness.
The Badgers chancellor will serve a two-year term as the chair of the conference's top decision-making body. 
Khalif received a pay raise of nearly 50% when he left the University of Wisconsin football program to join Michigan State's.
UW athletic director Chris McIntosh says Badgers athletes will be educated on name, image and likeness opportunities, but they must stay informed on rules and stay within them. 
Brown, a defensive back from Johnston City, Illinois, picked Wisconsin over Illinois and Northwestern.
State Journal beat reporters Colten Bartholomew, Todd Milewski and Abby Schnable get together on Zoom to talk about former Badger Cole Caufield in the Stanley Cup Finals, name, image and likeness rules, current Badger basketball player Jonathan Davis in the FIBA U19 World Cup and more.
After Whitefish Bay's Joe Brunner committed to UW, the Badgers have landed the top players in the state for the past six recruiting cycles. 
The Lake Mills quarterback showed both his arm strength and rushing prowess in a loss at the WFCA All-Star Game. 
The game will feature the top team from each conference to not make the NCAA Division III playoffs. 
Coach Paul Chryst and three players are scheduled to address conference media members on Friday. 
A new year brings new questions for the conference, both in terms of procedures off the field and what could happen on it.
UW was the overwhelming choice to win its division in Cleveland.com's preseason poll. 
Jack Sanborn's preseason award list continued to grow Thursday as he was named a Big Ten Conference's preseason honoree.
Alvarez will work with the league on football matters including possible expansion of the league and the College Football Playoff. 
The conference is staying quiet on COVID protocols until collecting member schools' policies in August. 
UW coach Paul Chryst broke down the team's approach to vaccination this offseason on Friday at Big Ten football media days. 
Badgers players want chance to redeem themselves at Lucas Oil Stadium. 
State Journal beat reporter Colten Bartholomew and columnist Jim Polzin give you their takeaways from Big Ten Media Days last week and then examine what the Badgers football team has at the quarterback, running back and fullback positions.
Mertz announced an exclusive deal with Panini America to sell signed memorabilia.
UW opens training camp Friday, ready to leave behind the struggles of last season.
Fans will get their first chance in over a year and a half to see the University of Wisconsin football and volleyball teams in person at a crossover event on campus later this month.
Toler played in two games last season and recorded an interception against Illinois. 
State Journal beat reporter Colten Bartholomew and columnist Jim Polzin get together over Zoom to discuss the four players they're most excited to see when Badgers football training camp opens and the break down the wide receiver and tight end positions.
The Wisconsin coach said it's "absolutely worth looking into" a larger college football playoff field, but there are some things he thinks decision-makers should keep in mind before making choice. 
The center improved chemistry with quarterback Graham Mertz while rehabbing from a knee injury.
The University of Wisconsin football team knows better than most the effects COVID-19 can have on a group of people.
News on the running back room, the punt returner spot, injuries and more. 
Limits on fully-padded practices and full-contact sessions draw mixed feelings from Wisconsin football. 
Dive into key metrics from Pro Football Focus that UW needs to improve this season. 
Barring an injury, there's not going to be a quarterback competition this season for the University of Wisconsin football team.
State Journal beat reporter Colten Bartholomew and columnist Jim Polzin get together to talk Paul Chryst's confidence in the Badgers, some thoughts on training camp, Top 25 polls, and break down UW's offensive and defensive lines.
The former four-star recruit who played for powerhouse Clemson has stood out at running back during the first week of Wisconsin football's training camp.
Janesville product Keeanu Benton's role on the Badgers' defensive line is expanding as his play stands out in camp.
Badgers' veteran receivers stand out in practice and other observations from football training camp.
The Badgers offense line took some body blows Saturday, the first day of the UW football team practiced in full pads this fall.
Enthusiastic redshirt freshman Devin Chandler is making strides as a receiver and return specialist. 
The Badgers have been ranked in the preseason edition of the poll 30 times, the highest being No. 4 in 2018.
John Torchio's play between spring practices and fall training camp has earned him a new nickname with one of his fellow Badgers safeties.
Fans will need to have masks on in certain areas at Badgers football games. 
Stiff competition for snaps during training camp should lead to a bounce-back fall for the Wisconsin outside linebackers.
The offense lands some counterpunches on the defense after a slow start to fall camp. 
UW had three games canceled due to the virus last season, including two stemming from a breakout in the program.
State Journal beat reporter Colten Bartholomew and columnist Jim Polzin get together over Zoom to discuss training camp's ups and downs for the Badgers' offense, some trends we've noticed and then break down the inside and outside linebackers.
The former Division III player has his eyes set on deeper punts and more consistency. 
Senior wide receiver Danny Davis didn't practice with the University of Wisconsin football team Friday after suffering a head injury earlier this week.
"I think the rest of that group feeds off him," defensive coordinator Jim Leonhard said of Henningsen.
Defensive backs making plays on the ball, a veteran defensive lineman adding to his repertoire and more notable items from Wisconsin's football practice.
Fans were allowed inside Camp Randall Stadium on Saturday for the first time in almost two years.
Whitefish Bay senior Joe Brunner showed why he's a coveted Wisconsin Badgers football recruit.
Replacing two starters and altering the way they approached the game were focal points for the Wisconsin D-line throughout training camp. 
The Big Ten joins the rest of the Power Five conferences in instituting a forfeit policy regarding COVID-19 this season.
Junior Alexander Smith and sophomore Dean Engram have gone back and forth getting the most reps at No. 3 cornerback.
No. 12 UW wraps up training camp and turns focus to season opener against Penn State with a couple questions still lingering.
Former Wisconsin Badgers athletic director Barry Alvarez was mentioned as a resource for all three leagues by Big Ten commissioner Kevin Warren.
Quicker play-call system should give the offense a big advantage this football season.
State Journal beat reporter Colten Bartholomew and columnist Jim Polzin discuss the Big Ten, ACC and Pac-12's alliance and what it means for the Badgers, break down the cornerbacks, safeties and specialists, and Big Ten picks are back!
Under first-year director Shaun Snee, UW players reached new heights in weight room and in speed drills. 
Chez Mellusi brings two seasons of experience at Clemson to the starting running back job at Wisconsin.
An injury likely helped Collin Larsh remain the Badgers' kicker.
Allen, a four-star recruit from Fond du Lac, likely will see more snaps on special teams than on offense as he learns more about the tailback position. 
How UW top two corners are preparing for Penn State's dynamic duo of receivers.
After struggling to generate chunk plays last season, new and returning skill players want to change that identity.