OCEAN COUNTY, New Jersey — A New Jersey woman has survived two World Wars, three husbands, two cardiologists and now two pandemics.
Lucia DeClerck, a 105-year-old devout Catholic, just celebrated her birthday on Jan. 25 in Little Egg Harbor, New Jersey. It's the same day she was diagnosed with COVID-19. 
"I'm feeling wonderful," she said.
When asked how she's lived this long, DeClerck replied: "Hard knocks, hard knocks, baby." She also credits gin-soaked raisins.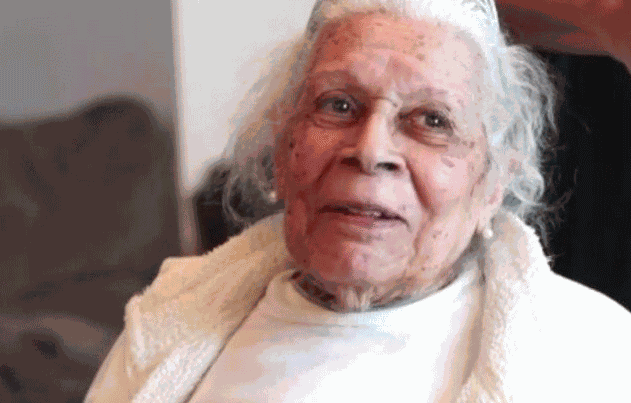 New Jersey Gov. Phil Murphy surprised the centenarian with a personal phone call Monday morning.
DeClerck has not only survived COVID-19, she was 2 years old when she lived through the 1918 Spanish flu pandemic.
"She's just been open with everything in life and I think that has really helped her because she hasn't hesitated to do whatever she's wanted to do," her son, Henty Laws III, said.
Living in Mystic Meadows Rehab and Nursing Center in Little Egg Harbor, she experienced no symptoms while sick with the coronavirus, said administrator Michael Neiman. Employees at the facility spoke highly of DeClerck, describing her as a lovely person.
"She's just the sweetest," Neiman said.
DeClerck credits much of her longevity to her faith.
"Pray a lot and (put) one step in front of the other," she said. "And pray and pray and pray."
She had a priest come to the senior facility in Manahawkin, N.J., on a weekly basis for Mass. When she moved to Mystic Meadows, she had the staff establish a chapel for her there.
DeClerck has always been active and only slowed down within the last year. She walked a mile every day until she was 101 years old, outlived all three of her husbands (two of which were named Henry) and has kept all of her original teeth.
She's received both doses of the COVID-19 vaccine — the first time she has received a vaccine.
The family is postponing a birthday celebration until the pandemic is over, Laws said.
"I'm very happy to be here," DeClerck told NJ Advance Media. "Thank you Jesus."
Photos: In one year, half a million lives lost
Just one year ago, America had no idea. Life in February 2020 still felt normal. Precisely a year later, America is at a horrifying milestone of 500,000 deaths from COVID-19.