While experts say the virus can survive for a time on cardboard and plastic containers, it remains unclear how serious a risk that poses. Like so many issues surrounding the pandemic, the matter has swiftly become politicized.
This week China said it detected the coronavirus on packages of frozen food and banned some imports as a result.
But your plastic containers of leftover turkey are probably low risk, even if handled by someone who later gets a positive virus test.
Experts say they generally don't consider the presence of the virus on packaging to be a significant health risk.
A look at the issue and some of the conclusions so far:
How packaging became an issue
Packaging first became a major issue with outbreaks in China linked to wholesale food markets, including one in June on the outskirts of Beijing. That prompted the removal of smoked salmon from supermarket shelves and has snowballed into multiple cases nationwide involving chicken, beef and seafood from nearly two dozen countries. At some supermarkets, imported meat now comes with a sticker declaring it to be virus-free.
Infections among freight handlers have also placed suspicion on packaging. Person-to-person transmission hasn't been ruled out, however, and China has yet to release evidence that packaging was indeed the route of infection.
In a statement to The Associated Press, the World Health Organization said cases of live viruses being found on packaging appear to be "rare and isolated." While the virus can "survive a long time under cold storage conditions," there is no evidence of people contracting COVID-19 from consuming food, it said.
Virus likes cold, dry surfaces
The virus SARS-CoV-2 that causes COVID-19 is overwhelmingly transmitted through respiratory droplets and smaller sized particles passed through the air, underscoring the importance of mask-wearing.
Yet the virus can also be present on surfaces, and public health officials have urged people to wash their hands carefully and avoid physical contact with others. In general, the colder and dryer that conditions are, the longer the virus can survive on surfaces.
Wiping down countertops, handrails and other surfaces is a common way to ensure safety. Some people have also gone to the extreme of disinfecting packages brought into their homes, both by themselves or by delivery services.
Data shows low risk overall
Virus traces found on packaging can be infectious or non-infectious. The extremely sensitive tests being used can detect both active viruses and their remnants, without being able to distinguish between them, said Timothy Newsome, a virologist at the University of Sydney.
"It is possible and may represent some risk, but it's certainly at the lower end of risk for transmission," he said. "We know low temperatures do stabilize the virus. Nonetheless, I think things which have been transported and surface transmission — there's a low risk of it."
A positive test "doesn't indicate infectious virus, just that some signal from the virus is present on that surface," said Andrew Pekosz of Johns Hopkins University's Bloomberg School of Public Health.
"I've seen no convincing data that SARS-CoV-2 on food packaging poses a significant risk for infection," he said.
Associated Press health and science writer Victoria Milko contributed to this report.
Get answers to 26 coronavirus questions
Who will be the first to get COVID-19 vaccines?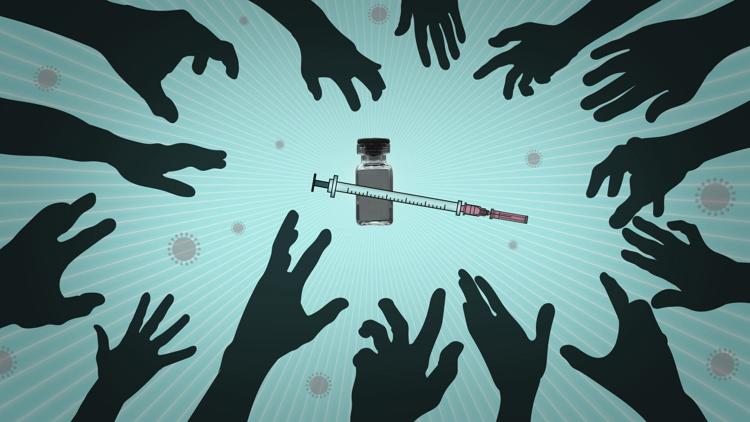 No decision has been made, but the consensus among many experts in the U.S. and globally is that health care workers should be first, said Sema Sgaier of the Surgo Foundation, a nonprofit group working on vaccine allocation issues.
An expert panel advising the U.S. Centers for Disease Control and Prevention is also considering giving high priority to workers in essential industries, people with certain medical conditions and people age 65 and older.
Once a vaccine gets a green light from the Food and Drug Administration, the panel will look at clinical trial data on side effects and how people of various ages, ethnicities and health statuses responded. That will determine the panel's recommendations to the CDC on how to prioritize shots.
State officials are expected to follow the CDC's guidance as they distribute the first vaccines.
Vaccine supplies will be limited at first. There won't be enough to protect everyone, yet getting the shots to the right people could change the course of the pandemic.
Many other questions about distribution remain unanswered, Sgaier noted, such as whether to distribute shots equally across the country, or to focus on areas that are hot spots.
What does COVID-19 vaccine effectiveness mean?
What does COVID-19 vaccine effectiveness mean? It refers to the likelihood that a coronavirus shot will work in people.
Two vaccine makers have said that preliminary results from their late-stage studies suggest their experimental vaccines are strongly protective. Moderna this week said its vaccine appears nearly 95% effective. This comes on the heels of Pfizer's announcement that its shot appeared similarly effective.
Those numbers raised hopes around the world that vaccines could help put an end to the pandemic sometime next year if they continue to show that they prevent disease and are safe.
Effectiveness numbers will change as the vaccine studies continue since the early calculations were based on fewer than 100 COVID-19 cases in each study. But early results provide strong signals that the vaccine could prevent a majority of disease when large groups of people are vaccinated.
U.S. health officials said a coronavirus vaccine would need to be at least 50% effective before they would consider approving it for use. There was concern that coronavirus vaccines might be only as effective as flu vaccines, which have ranged from 20% to 60% effective in recent years.
The broad, early effectiveness figures don't tell the whole story. Scientists also need to understand how well the vaccine protects people in different age groups and demographic categories.
For both vaccines, the interim results were based on people who had COVID-19 symptoms that prompted a virus test. That means we don't know yet whether someone who's vaccinated might still get infected -- even if they show no symptoms -- and spread the virus.
Also unknown is whether the shots will give lasting protection, or whether boosters will be required.
How do COVID-19 symptoms differ from flu symptoms?
Is COVID-19 dangerous for young people?
Is COVID-19 more dangerous for men?
Are smokers more at risk for COVID-19?
How do asymptomatic people spread COVID-19?
How long does COVID-19 survive on different surfaces?
Can dogs and other pets get COVID-19?
How can I naturally boost my immune system?
Is it safe to take ibuprofen?
Which over-the-counter medicines can safely alleviate symptoms?
What cleaning products will kill the virus?
Will wearing gloves protect you?
Why is handwashing so important?
Why do I need to wear a mask when I leave the house?
How can I stay safe while grocery shopping?
How can I safely order take-out?
How can I stay safe while getting gas?
How can I protect myself while doing laundry?
How can I protect my elderly parents?
How can I support my local health care workers?
How can I help postal workers and delivery drivers?
Should I go to a more rural location to wait this out?
When should I go to the hospital if I think I have COVID-19?
Can people contract the virus more than once?
When will life return to normal?