The environment outside the Fiserv didn't bear much resemblance to what had gone on outside the Bradley Center, now a shell of its former self just a few feet south of the Fiserv. Even when the Bucks made it to the playoffs during the Bradley's lifespan (1988-2018), there wasn't too much going on in the surrounding block. Spots like Major Goolsby's, which opened in 1972, still drew a sports bar crowd, but the outdoor space wasn't particularly utilized.
It isn't hard to find a big-game atmosphere without spending a nickel in Milwaukee.
Basketball revival
"It's going to be an all-day party," David Dupee, a co-founder of Good City Brewing, said Wednesday afternoon.
Good City, located just outside the Fiserv, had a nearly inexhaustible queue of people outside ordering beer throughout the game.
Many of them carried their drinks into the main plaza. Those same patrons raised their glasses in a deafening cheer when Hall of Famers Shaquille O'Neal and Charles Barkley walked onto the outdoor stage to present the pregame analysis for TNT.
Deer District — the name for the area surrounding the arena — has been a long-planned dream come true for the Bucks organization and a gift for Milwaukee-area fans. Even before the Fiserv got its name, there were plans for open-air restaurants, a central plaza, bars, shopping, apartments — a primo nexus of energetic nightlife.
The centerpiece of the Deer District is the Bucks' Live Block (also known as the Fiserv Forum Entertainment Center), which is headlined by five venues:
Good City Brewing, a Milwaukee-based craft brewer with another location farther north;
Punch Bowl Social, essentially a hipster sports fan's Dave & Buster's;
Drink Wisconsinbly Pub, a well-established brand based upon Wisconsin love;
MECCA Sports Bar and Grill, which opened earlier this month; and
The Beer Garden, an open-air biergarten.
At least 750 people sat and stood for over two hours, transfixed by the 28-foot-wide TV screen at the open-air Beer Garden as the game went on.
"This is really a catalyst for Downtown Milwaukee, so being a part of it was a no-brainer," Dupee said. "The Fiserv is the draw. It was a blank canvas. There was really nothing in that part of Downtown for so long. The Fiserv is the magnet, and the Bucks' vision is to use businesses like ours to give folks a total experience."
Balmy evening
During the opening months of the NBA season, which tips off in October, The Beer Garden will likely face weather issues.
But on Wednesday night, it was a balmy 60 degrees, and there was nary a shiver among the championship-hungry supporters who watched superstar Giannis "Greek Freak" Antetokounmpo battle Raptors star Kawhi Leonard. While watching pregame coverage, the outdoor fans roared whenever Antetokounmpo was shown. Leonard was always met with a flurry of "boos."
And Punch Bowl Social — with its 30 TVs, bowling lanes, shuffleboard and cornhole game— stayed busy too.
"It's really incredible," Katherine Foley, who works for Punch Bowl Social, said of Deer District's atmosphere. "It's a living room for Milwaukee; we wanted to be a part of that."
If Deer District stays this busy, it will likely be heralded as a masterpiece of urban planning. However, critics have been raising their hands since day one because of the taxpayer contributions to the project. For the $524 million stadium alone, taxpayers accounted for about $250 million.
Basketball fans haven't seemed too bothered throughout the season.
The Bucks have been the winningest team in the NBA in 2018-19. They've been repaid with top-notch attendance, averaging 101.5% capacity over 41 home games, good enough for second in the league.
Tom Markowski, a high school teacher in Milwaukee, said that Game 1 was the first home game of the season he didn't watch from inside the stadium. Markowski has season tickets but gave Wednesday's to a friend so he could enjoy the outdoor atmosphere. He found a patio within view of The Beer Garden's screen and didn't plan to move for the entire game.
"This year has always been about the experience for me," Markowski said. "And I never got to experience a game outside."
Nicole Khail, who grew up in Raymond but now lives in Madison, had no idea about the nightlife around the stadium until her husband told her about it before going to a game. They got dinner at Punch Bowl and wandered over to Good City for a drink before heading into the game.
Natalie Hayden's daughter is a huge Antetokounmpo fan, but Hayden had work to do Wednesday night. So, Hayden brought her daughter and her laptop to the plaza. She worked on her laptop while her daughter watched the game.
"We're here to be in celebration with the city," Hayden said. "Our city is being so amazing right now. And being outside is better than being inside."
MILWAUKEE — It's about a 6-hour drive from the Cleveland area to Racine, and it's a trip Kareeda Chones-Aguam knows well.
All good in the neighborhood
Despite the newfound competition from fresh restaurants, the advent of the Fiserv has been good for established businesses such as Major Goolsby's, about two blocks south of the Fiserv, which is still reaping the harvest.
"We're in such a great spot," said Marty Petricca, who has worked at Goolsby's for nearly 20 years. "Even if they are bringing in more restaurants, that's more people that are going to be in the area. … If they have 15,000 inside the arena and another couple thousand outside, they'll spread around that couple-block radius. And obviously we're within that."
After the party
Even after the basketball season ends, regardless of whether the Bucks win their first rings since '71, the Forum will be far from empty. It has already hosted concerts for the likes of Metallica and the Eagles, and Carrie Underwood and Elton John are planning stops there later this year. There will be around 50 concerts and other special events in the Fiserv in 2019, twice that of even the busiest of the Bradley Center's seasons.
In July 2020, the Democratic National Convention will fill the Fiserv, another example of the arena's versatility, not to mention the fresh marketability it brings to southeastern Wisconsin.
And then there are also nonbasketball-related events too, like free fitness classes and outdoor movie nights that started being held there earlier this month. There's also the Bloody Mary Festival scheduled for this June, an art fair in August, Oktoberfest in the fall, the pre-holiday celebration Christkindlmarket in winter and "The Bachelorette" watch parties throughout the summer.
Matt Troha, a Kenoshan with season tickets known for wearing Mardi Gras-inspired masks and a shimmering red wig, wandered around the district before the game, passing out green bead necklaces to kids and spreading Bucks love.
"This," Troha said as other fans elbowed past, "is a lot of people."
Let us in!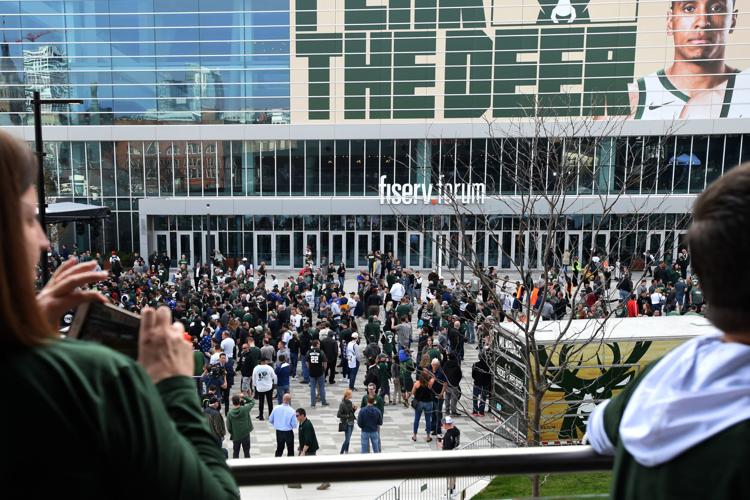 Three ball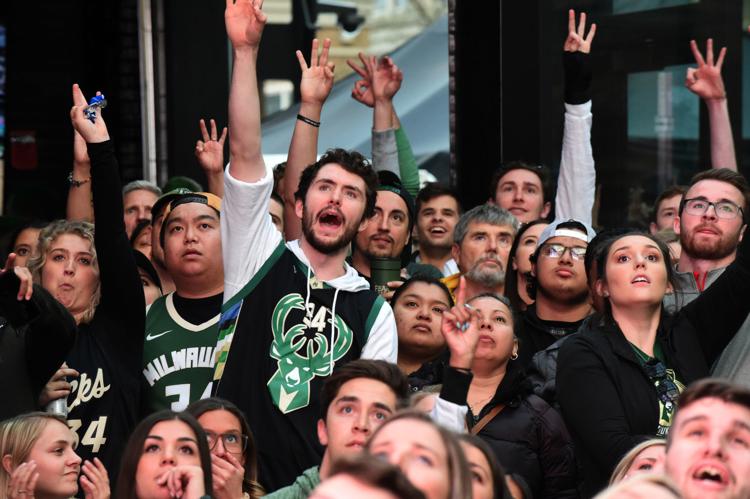 Looking up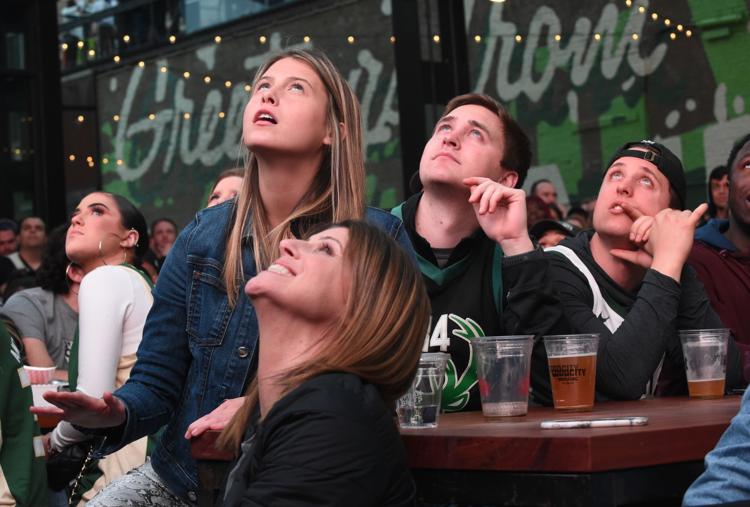 Smiling at the Fiserv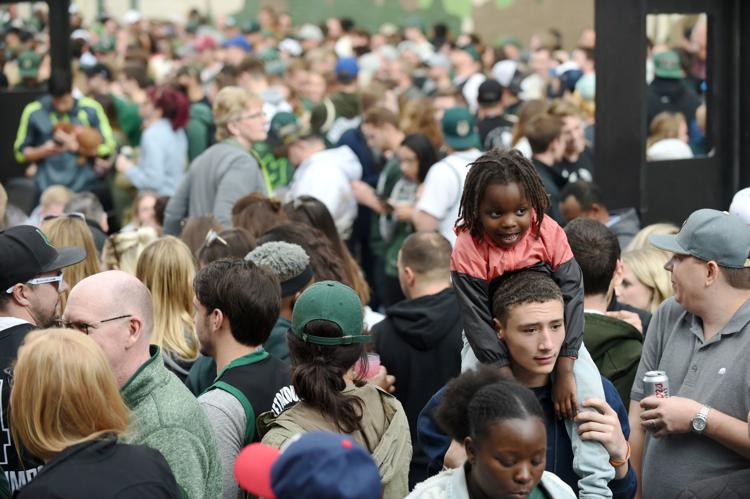 Don't blink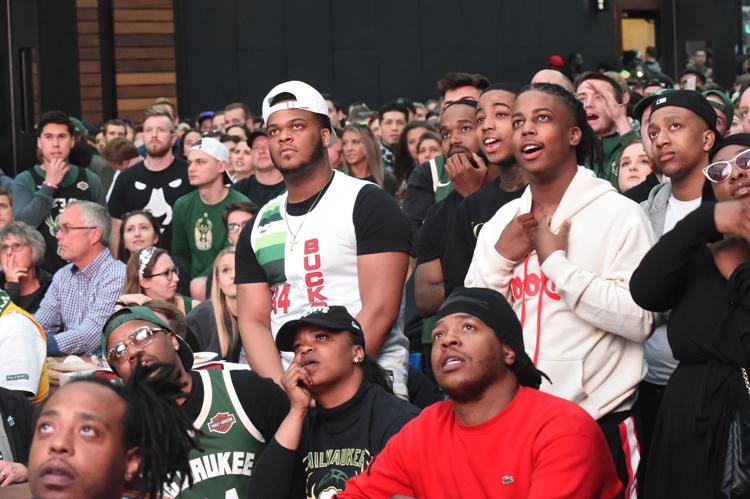 Fiserv Forum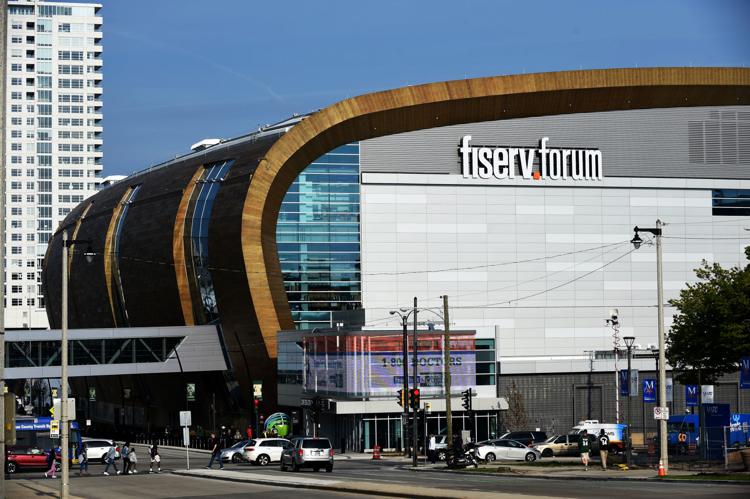 The Trohas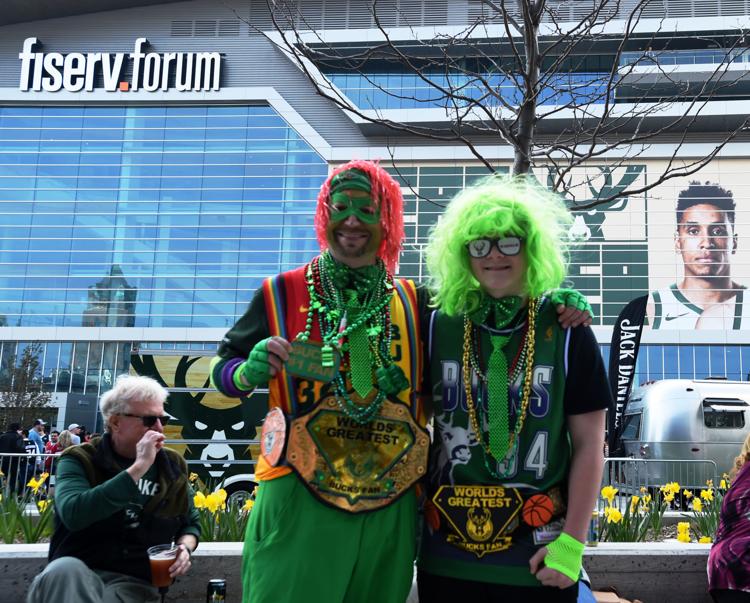 Look at that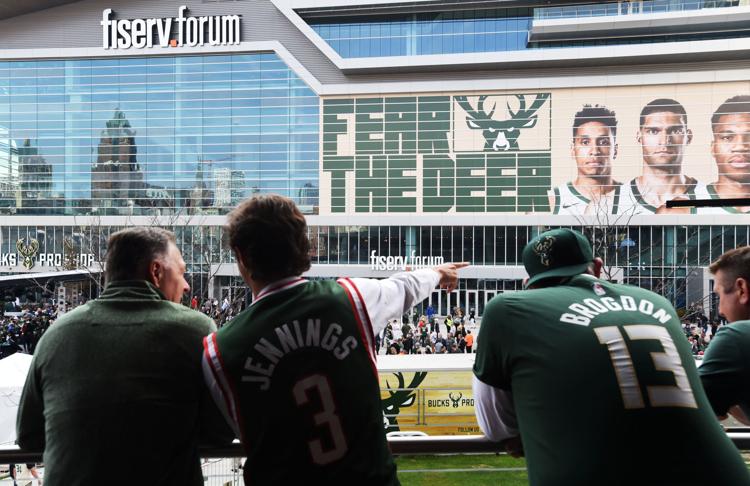 THAT'S where the name comes from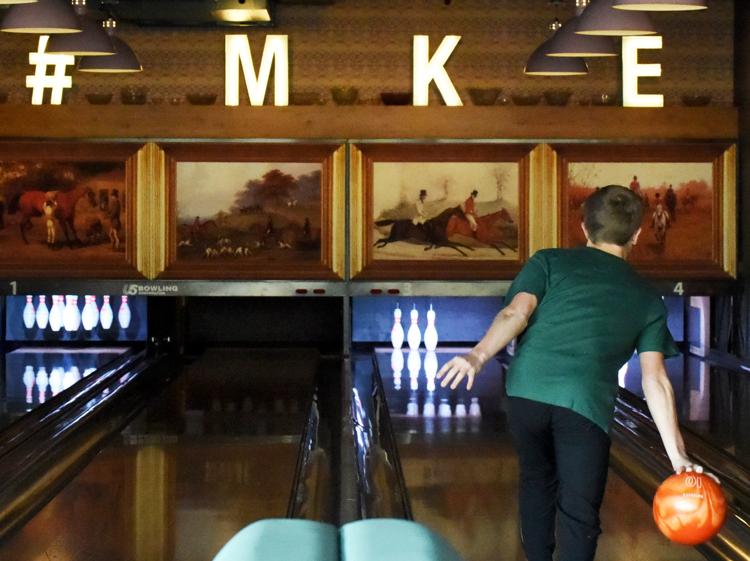 Rolling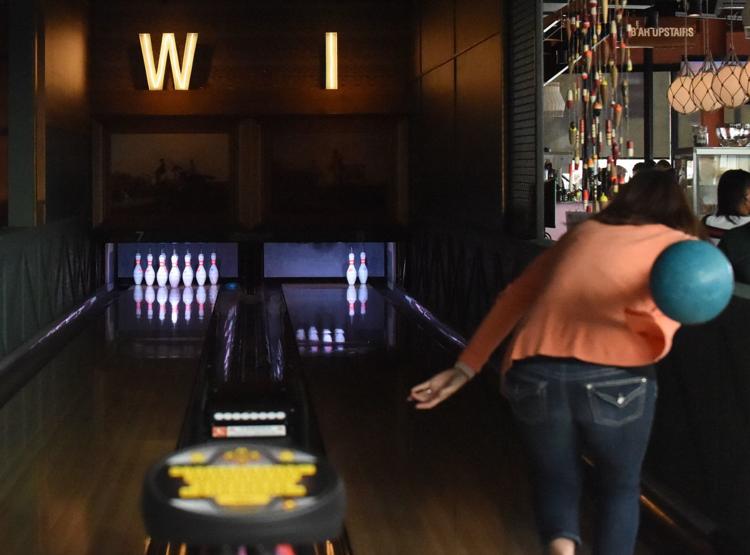 Biergarten? Beer garden?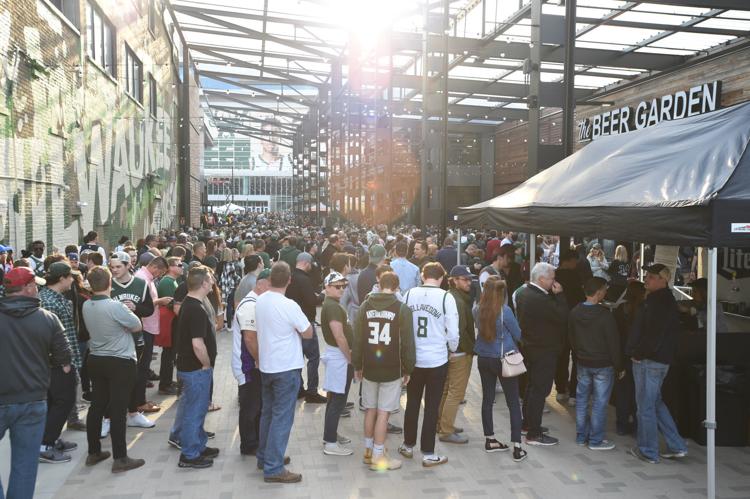 Waiting for tipoff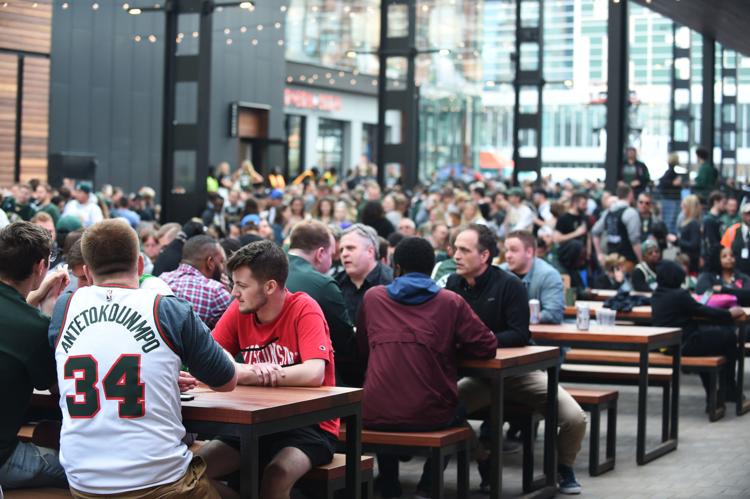 The MECCA is back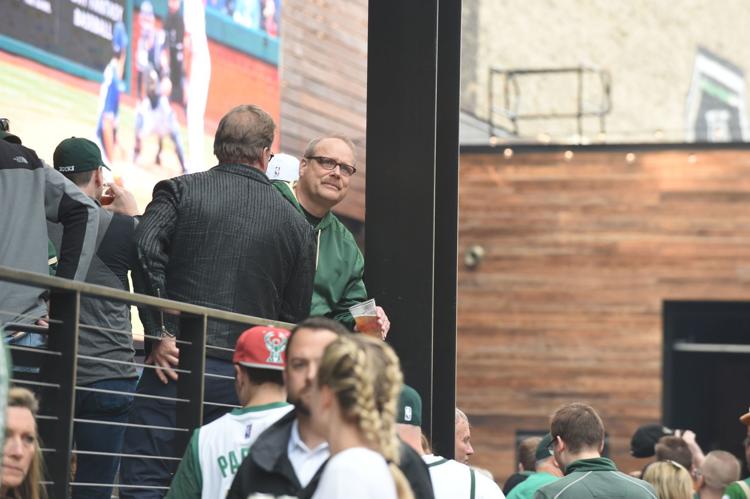 A good view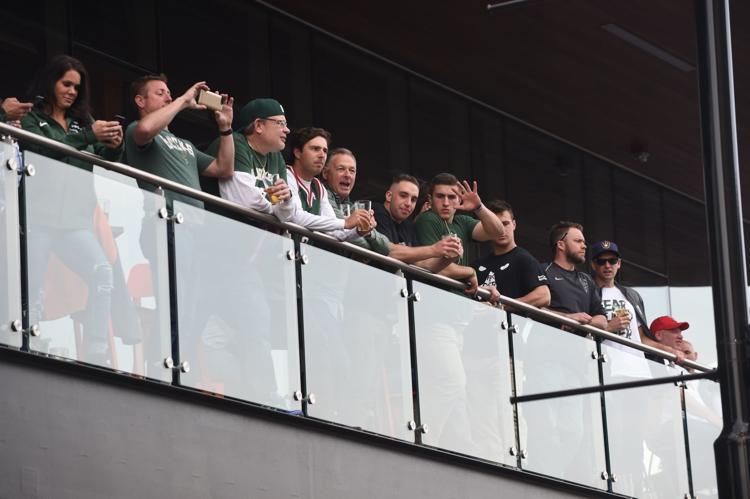 Bucks Beats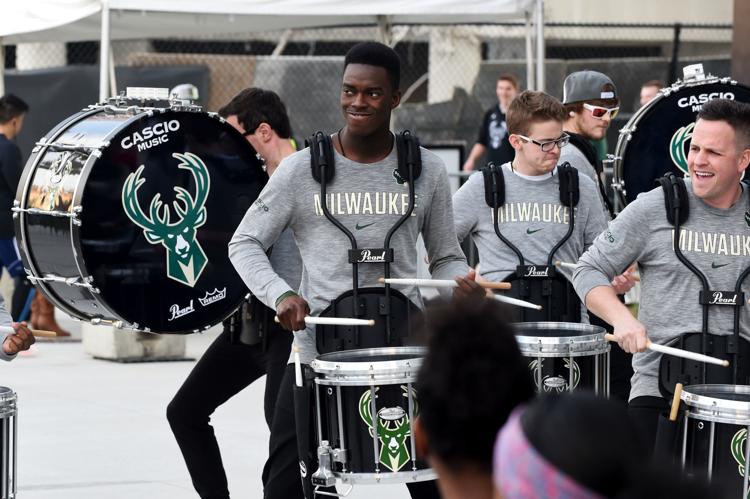 Punch Bowl Social balcony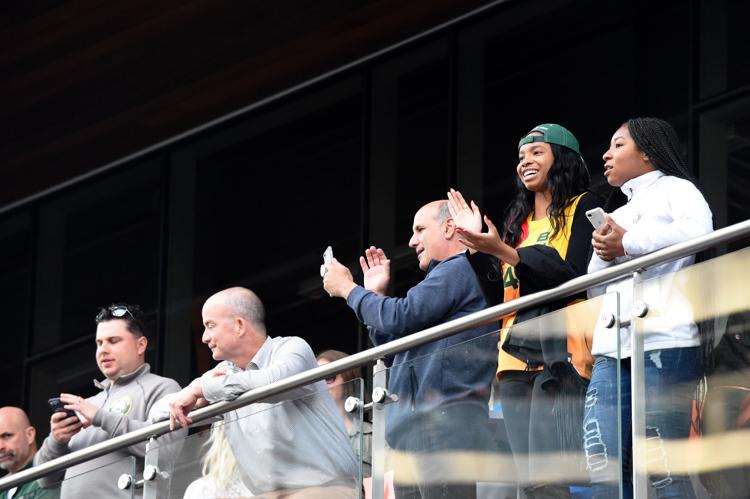 A better angle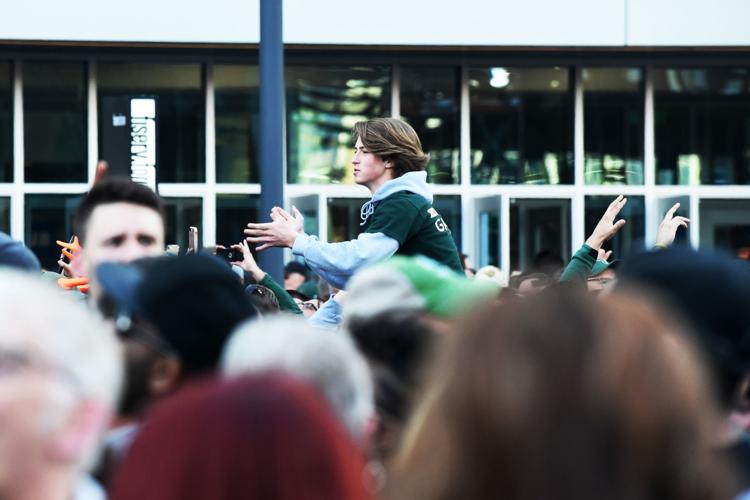 Snapping a pic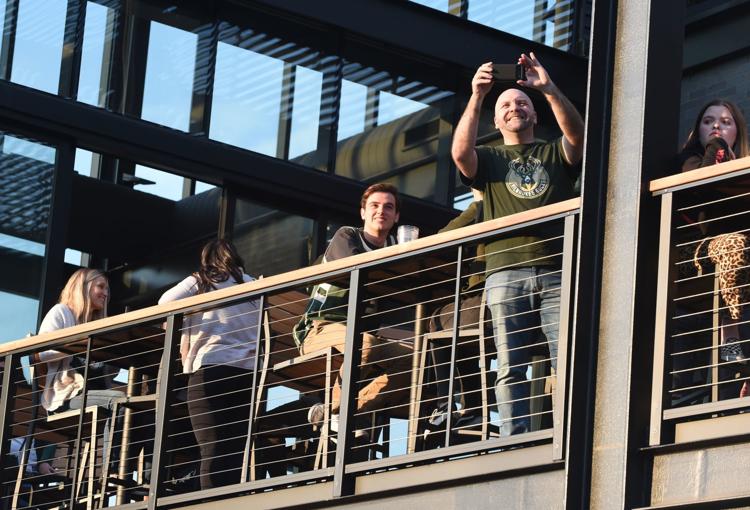 Get it in there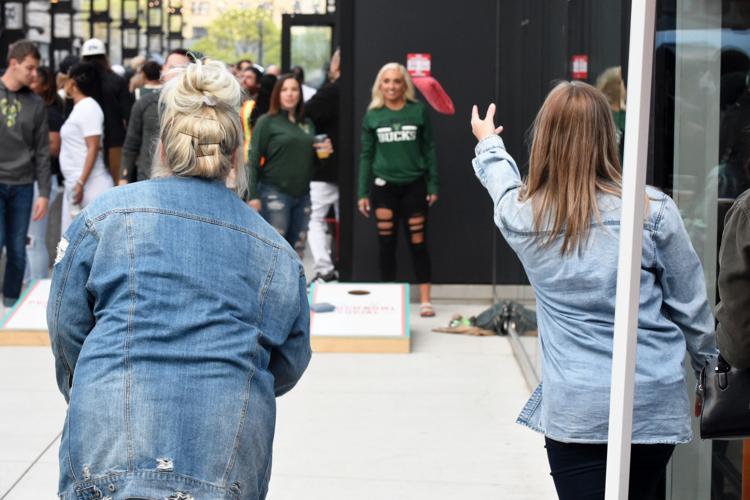 All eyes...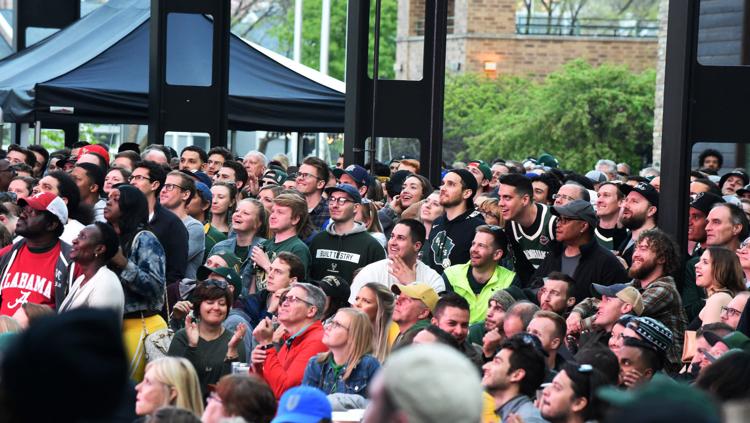 Keep your eyes on the ball game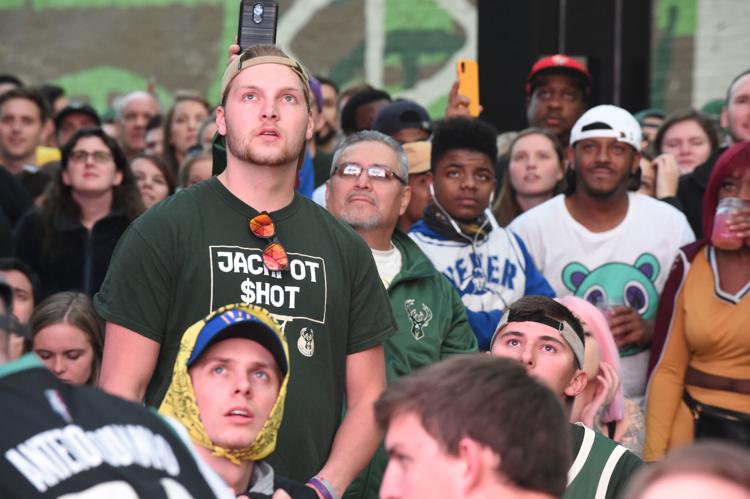 Shaq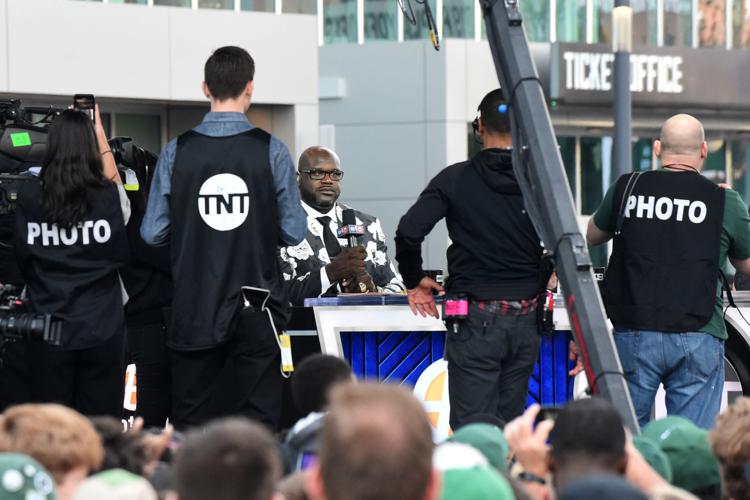 Sir Charles promotes peace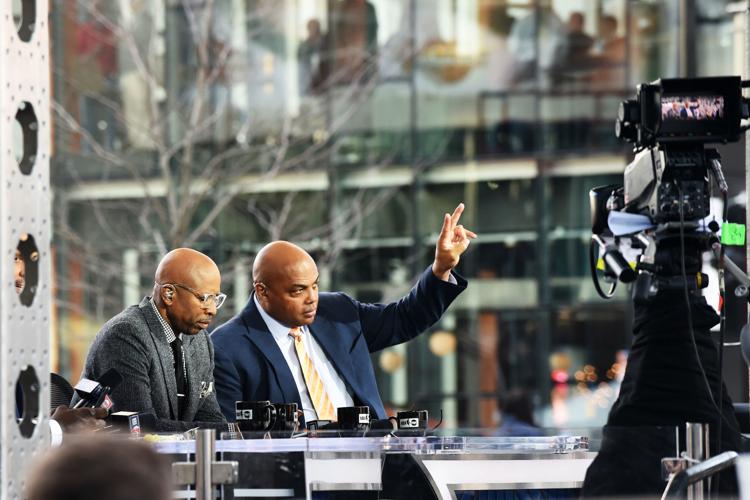 Of horses and German cuisine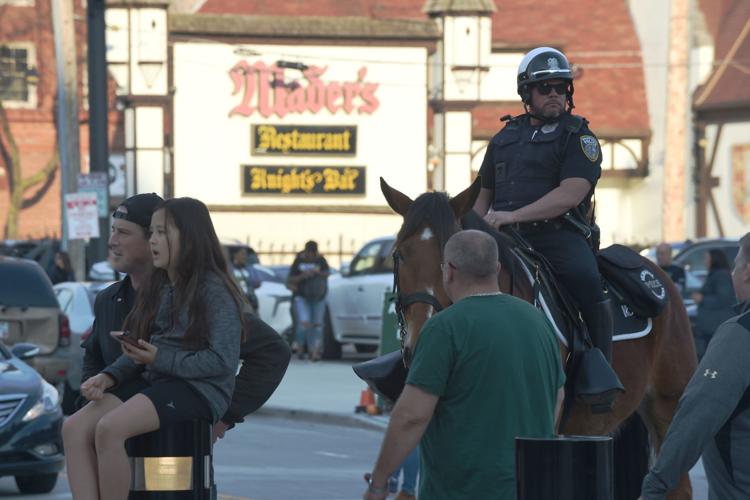 Carrying the little guy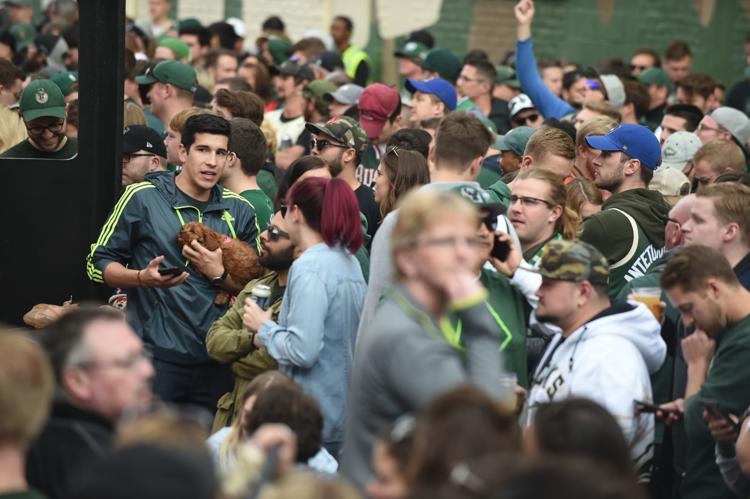 A little fan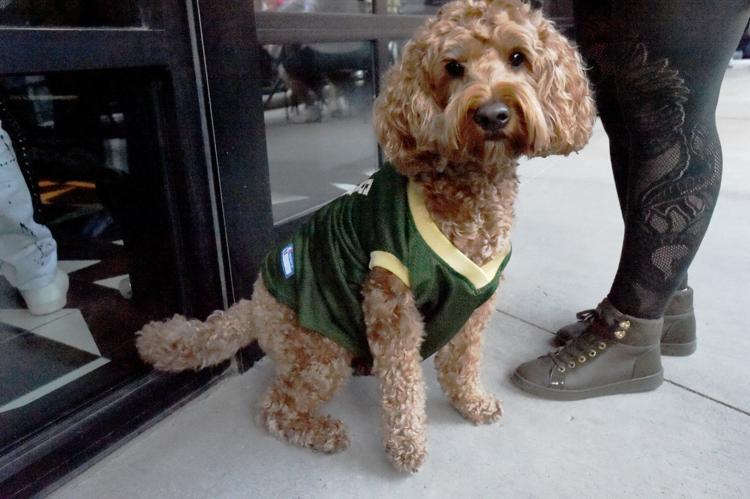 Play ball?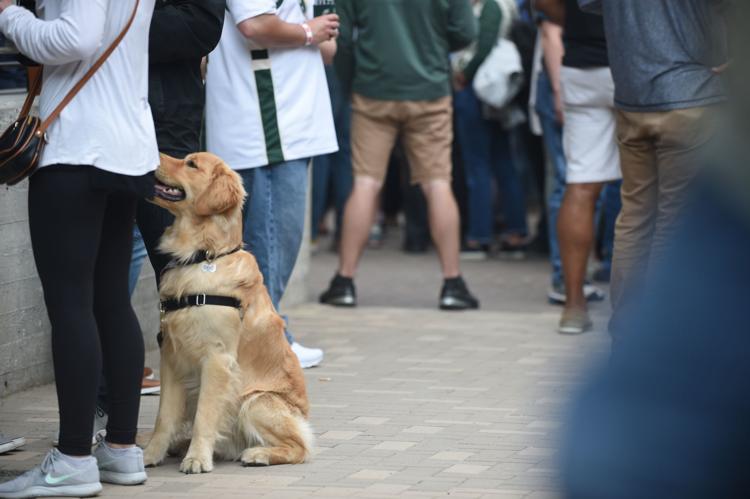 All smiles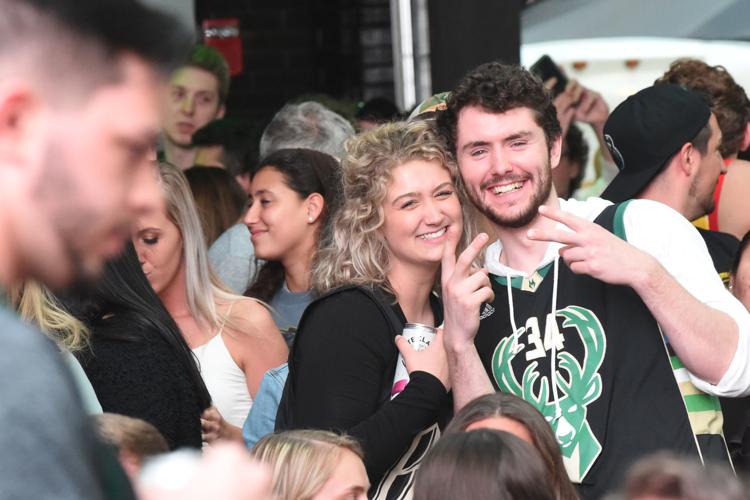 Hi there!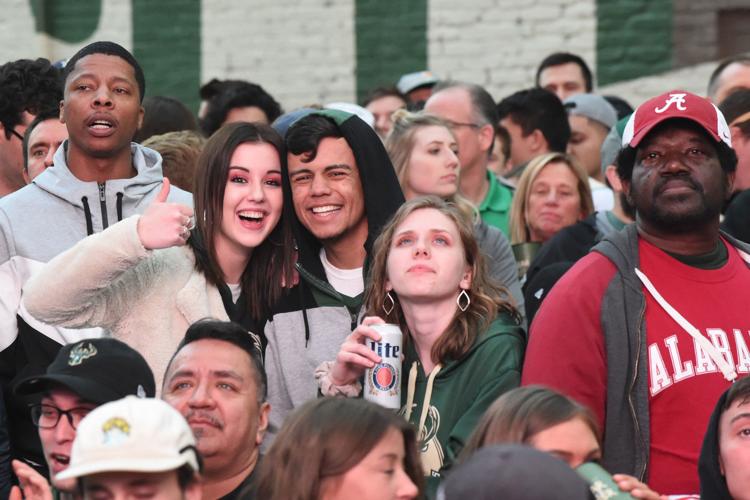 We see you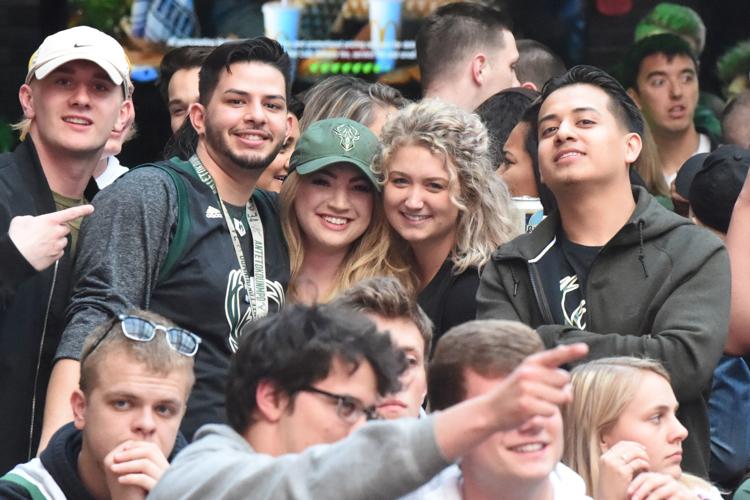 Bye bye Bradley