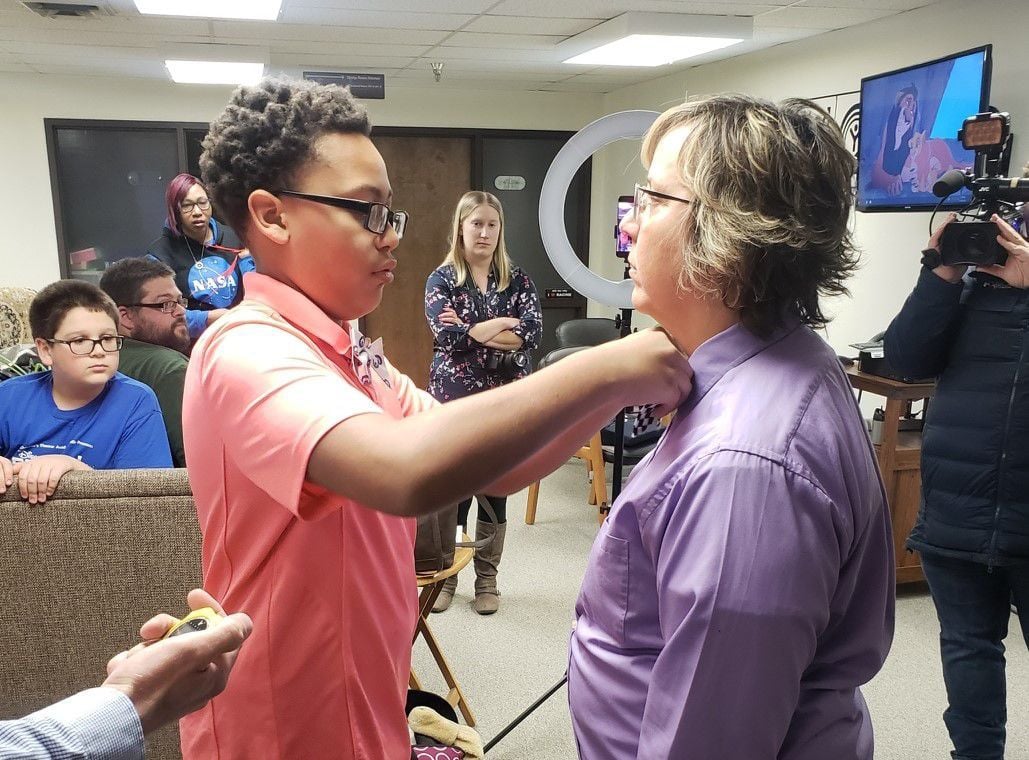 RACINE — When Alex Hart-Upendo started his own bow-tie business at 9, he had a stutter, had been bullied and had experienced mental health issues. Now Hart-Upendo is 13, recently broke a Guinness World Record for fastest bow tying, regularly speaks in public and has been offered a full-ride scholarship for life to Cardinal Stritch University in Milwaukee.
Hart-Upendo and his mother, Karee Upendo, have always been competitive, so when Hart-Upendo learned that the Guinness World Record for the fastest tying of a bow tie was 12 seconds, he knew he could beat it. On Nov. 14 — Guinness World Record Day — at United Way of Racine County, Hart-Upendo tied a bow tie in 8.09 seconds. Looking on were two time keepers and four Guinness-World-Record-approved spectators.
"That was pretty awesome for me," Hart-Upendo said. "It was one of the most scary, panic moments of my life. I could literally hear my heartbeat just going through my body."
Hart-Upendo said he was so nervous, his hands were shaky and fumbling. His personal record is even faster, at 4.8 seconds. He has not yet received official certification from Guinness that he is the record-holder as that takes around 12 weeks.
"It feels pretty good," Hart-Upendo said. "I also wanted to break the world record to let people know that autism is not a disability. It's a special ability."
Hart-Upendo, a student at Gifford K-8 School in Caledonia, learned how to make a bow tie when he was 5 years old and started his Build-A-Bow business four years later. The business, based in his home, offers custom bow-ties using a plethora of colorful fabric options. He also does special events at which he leads kids through making their own ties and uses his platform to bring awareness to issues like bullying.
Just two days after his world record attempt, Hart-Upendo learned that a documentary he's featured in, "You're Not Alone" won a regional Emmy. The documentary, produced by Milwaukee PBS in conjunction with the Milwaukee Journal Sentinel and the USA Today Network, features the stories of four young people who have dealt with mental health struggles, and urges watchers to get help if they need it.
Hart-Upendo decided to share his story to bring awareness to bullying and how it affected his mental health. At one point he even contemplated suicide. Upendo initially did not want her son to be featured in the film, because she did not want him to be bullied when people found out that she was a teen mother and that they had been homeless.
But Hart-Upendo convinced his mother to let him share his story, in the hopes that it might help others going through similar struggles.
You have free articles remaining.
"Through this company, he's just blossomed into a complete different person," Upendo said. "He's able to talk and public speak and have friends all over the world."
Those wishing to view the video can stream it on pbs.org/show/kids-crisis-youre-not-alone. Institutions and schools can request a screening. Hart-Upendo hosted his own screening of the film at Gateway Technical College's Racine campus on Aug. 10.
"It makes me feel good, it makes me feel like a role model," Hart-Upendo said of sharing his story in the documentary. "Because I am helping others share their stories as well and to let other people know that they're not alone and healing is possible."
Plans for the future
Currently Hart-Upendo is working to make Build-A-Bow into a franchise, called "business in a box." This will allow other young entrepreneurs to sell their own bows. He and his parents are also working to build an entrepreneurship school called Hustle and Heart Academy to cultivate young leaders and to teach financial literacy.
Upendo said she's thankful that she passed on her tenacity and willpower to her son.
"I'm happy that his journey has been a journey that is not only successful but is tied to other people and contributing to the success of other people," Upendo said.
Upendo said she doesn't care how financially successful her son is or how many degrees he obtains. At the end of the day, she just wants him to be kind.
While the initial end-goal for Build-A-Bow was for Hart-Upendo to save money for college, around eight months ago Cardinal Stritch University in Fox Point offered him a full-ride scholarship for life. At this point, he plans to seek a degree in biochemistry and to become a pediatrician.
"That was pretty awesome for me. It was one of the most scary, panic moments of my life. I could literally hear my heartbeat just going through my body."

Alex Hart-Upendo, bow-tie tying world record holder