RACINE — You've probably seen him set up almost every day from May through September at the corner of Dr. Martin Luther King Jr. Drive and State Street, doing some tricks with his sign and doing some dances as he excitedly delivers water, snacks and soda to customers stopped at the traffic lights.
But who exactly is that guy?
Edward Johnson, 37, has been selling his wares on the cheap at the corner since 2013 and has since become a community fixture. But the road there was bumpy.
Johnson grew up in foster care on the south side of Chicago. He worked throughout his youth as an actor, singer and dancer in various prestigious Chicago theaters, but things took a turn for the worse when he made some mistakes and went to prison for what he calls "something stupid." After getting out in 2012, Johnson wanted to turn things around and be in the lives of his twin sons, Jacob and Judah, who are now 9.
"So what can I do to change the stigma about me?" Johnson said. "Because I'm not this person that society might label me out to be, because once you're a convicted felon, that's all you ever going to be known as — the convicted felon."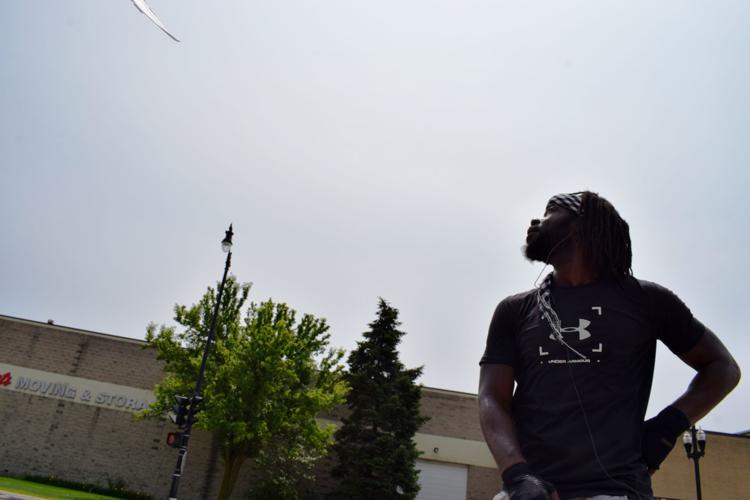 He moved to Racine from Chicago and started working as an advertisement placard carrier for Petland and Liberty Taxes, trying to carve out a better life and serve as a good example for his sons.
"When I was locked away from my kids, that hurt me, and I can only imagine what it was doing to them," Johnson said.
Frustrated by bad hours and low pay at those jobs, Johnson quit in 2013 and used his last paycheck to buy a cooler, a wagon and some beverages, and register his business, Refreshing Entertainment. He bounced around a few locations in the city before landing at the intersection of MLK Drive and State Street.
Over the course of an hour Monday afternoon, dozens of customers stopped, many of them regulars.
"He sells the best water in town! Ice cold!" one man yelled out of his car window before driving through the intersection.
Johnson smiled and laughed, saying, "Tell them again!"
Kids assist



You have free articles remaining.
You're out of free articles
Sign in or create a FREE account to keep reading.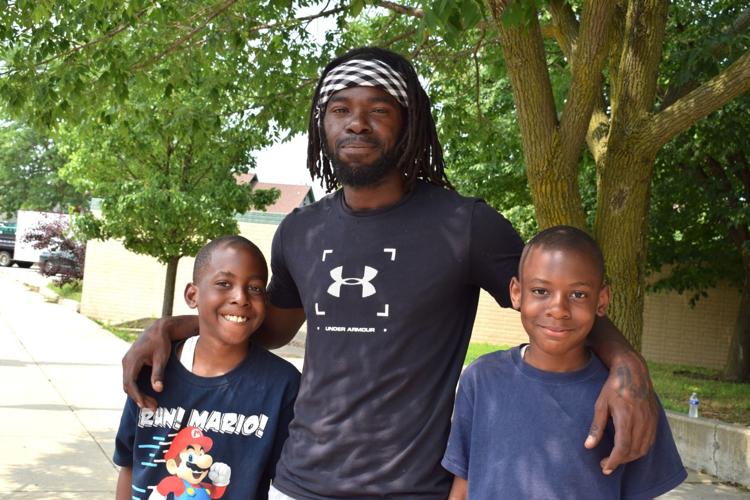 Jacob and Judah regularly help their dad out, darting from coolers to car windows to sell refreshments. Johnson said he has worked with his ex-wife, the boys' mother, to set up a college fund into which he deposits half of the stand's profits.
"Nobody ever really taught me the right way," Johnson said. "I kind of grew up without my father in my life, and so with that, I made bad decisions myself. The only thing I can do is learn from my own mistakes and do my best to make sure they don't (make them)."
Johnson said his sons have told him they want to be their own bosses, just like their father, but he insists that they can become whatever they want to.
"It's not just about selling water and ice," Johnson said. "I'm always telling them things to do, like you could write a book, you could be a public author, even at the age that you are. I'm trying to encourage them, whatever it is you want to do, let Daddy know, so that I can support that and put money behind it, because we making money, why not put money behind that?"
Friendly neighborhood water man
Johnson has cultivated his friendly image to serve as an example for his kids and also to help out around the neighborhood. He said he lets area kids hang out with him while he works and sometimes gives them some free goodies or takes them on outings on his days off.
"The same thing I do for my kids, I'm going to do for any kid that's out here in this neighborhood, and that's the truth," Johnson said.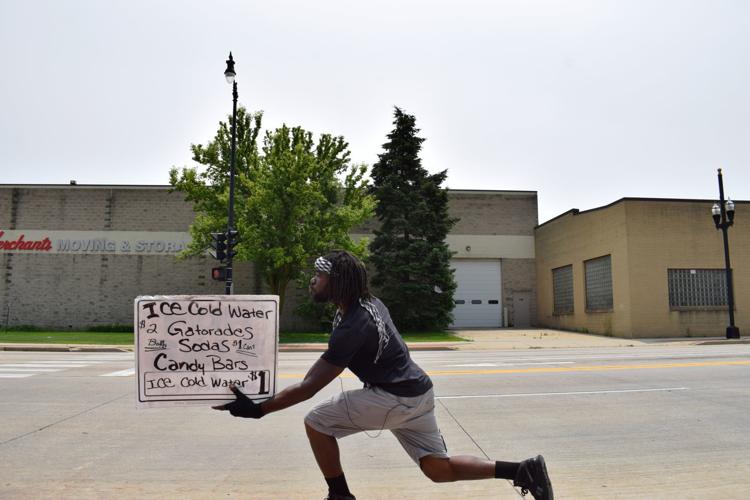 Referencing the recent fatal officer-involved shooting of Ty' Rese West, Johnson said he feels he has an obligation to help area kids stay out of trouble and right any wrong paths they may be on.
"I keep on saying to myself, 'is he one of the kids that I used to have coming out here?' " Johnson said. "I feel affected any time something happens to one of these kids out here, because I'm like, my kids are going to be that age someday, or my kids might be playing with these kids."
Johnson also hopes to later this year start a nonprofit organization called Fatherhood to get inner-city fathers involved in their kids' lives and to help support them.
"There are fathers in the 'hood," he said. "We in the 'hood, we made some mistakes, but we're out here and we're trying to redeem that time in our kids' lives. I feel like if we're not dead, locked up or in jail, we should be involved in our community, I mean really active in our community."
"We made some mistakes, but we're out here and we're trying to redeem that time in our kids' lives. I feel like if we're not dead, locked up or in jail, we should be involved in our community, I mean really active in our community." Edward Johnson, the sign guy