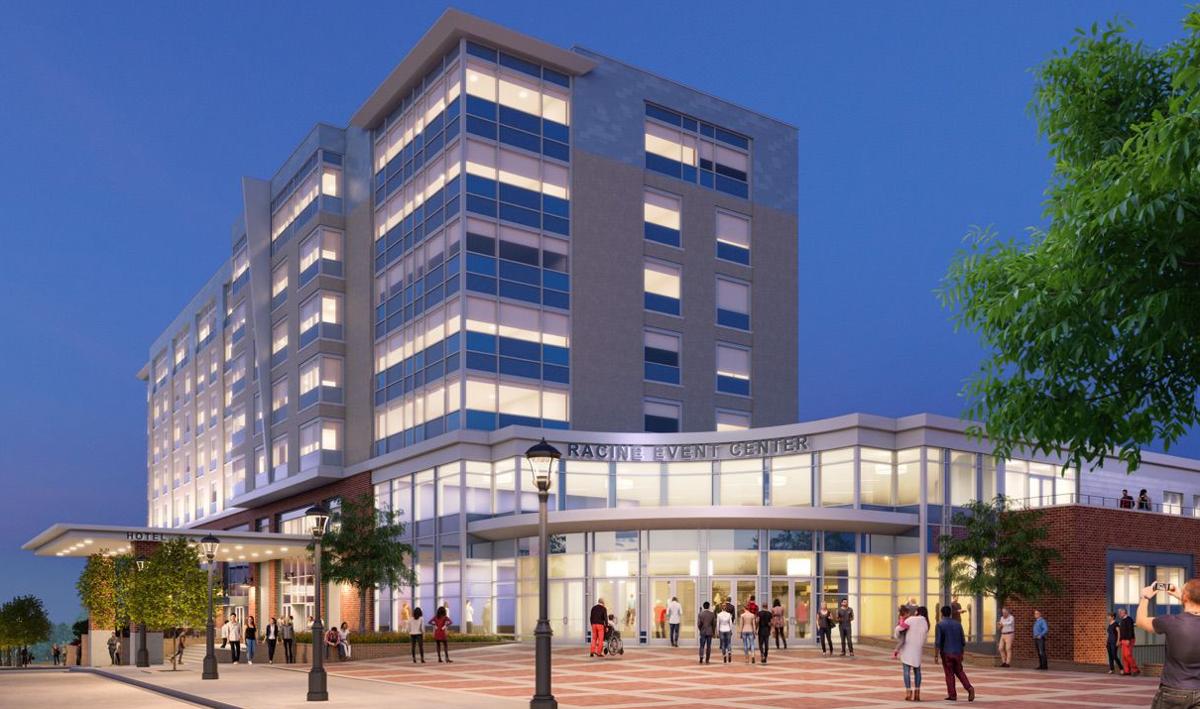 RACINE — Despite statements made in the recent mayor's race, the future of the city's proposed hotel and arena project remains promising, outgoing Mayor Dennis Wiser told a room full of local business leaders Thursday.
Both state Rep. Cory Mason, and his opponent, 6th District Alderman Sandy Weidner, expressed opposition to the project during the campaign, with mayor-elect Mason saying he would veto any City Council vote to move forward to the construction phase of the project.
Speaking Thursday to members of the Ad-Hoc Mayor's Advisory Group convened by the City Council as part of the arena review process, Wiser seemed unfettered by the situation.
"First of all, it is not at a place where it can be vetoed, because the council has not voted to move forward on this, only to study it, and right now, there are sufficient votes supporting the event center that could overcome a veto," Wiser said.
"As far as I am concerned the project is still moving forward, and it still has legs and wings and whatever other appendages you need to move forward," he said. "We are looking forward to a bright future with this."
The comments come just a few weeks before Mason, who won Tuesday's special mayoral election, is slated to take office.
The City Council is slated to vote on the city's proposed 2018 budget that day, as well as a 10-year capital improvement plan that calls for earmarking $55 million for the center.
Approving the plan does not expressly authorize the spending of those funds on the project — a separate vote would be required for that — but it does represent a spending plan.
Outside funding
Giving members of the committee an update on construction funding sources, which include borrowing $39.5 million over 30 years, Wiser talked about how the city planned to make the annual payments on the debt, which are estimated to run from $2.7 million annually for the first 16 years to $1.9 million for the last year 14 years.
You have free articles remaining.
Ticking off the revenue streams, such as hotel room taxes, a modest ticket surcharge, $90,000 annually from a partnership with USA Hockey and possible naming rights revenue, Wiser said the city was hoping it would not have to rely on two of the identified sources: $365,000 annually from the property tax levy and $365,000 annually from another governmental or private entity.
Although city staff and aldermen have emphasized the need to draw as little as possible on property taxes to help fund the project, securing $365,000 annually in outside investment was one of 10 milestones that the City Council said it would like staff to achieve before moving ahead to the construction phase.
"We aren't even talking about it at this point," Wiser said Thursday of the outside funding. "We want to see how the rest of the funding comes together before we start asking friends and neighbors."
After the meeting, Wiser said that "in a best case scenario" the need for $365,000 in taxpayer dollars and $365,000 from an outside source "would go away."
Conservative estimates
When Jenny Trick, executive director of Racine County Economic Development Corp., asked how the city has planned for contingencies, like revenue shortfalls, Wiser said all of the revenue amounts presented Thursday were based on very conservative estimates.
The $90,000 annually from the hockey league as well as the ticket surcharge revenue, for instance, does not include any money that would come from other events held at the arena, noted City Development Director Amy Connolly.
Wiser also noted that none of the estimates factor in any boost that might come from the Foxconn development.
"We're not throwing those numbers in because they are projections for the future. We're planning this as conservatively as possible. If I were to take the numbers I have heard from various people, it would be an extra $800,000 to $900,000 income per year."
Although Thursday's meeting was billed as the ad-hoc committee's last gathering, Wiser said he anticipates that the group will continue to meet.
The next meeting is tentatively set for Nov. 16, Wiser said.
That meeting is expected to address what it will cost to operate the arena.
"As far as I am concerned the project is still moving forward, and it still has legs and wings and whatever other appendages you need to move forward ... We are looking forward to a bright future with this."

Dennis Wiser, interim Racine mayor