Wisconsin's unemployment backlog, which started piling up in March with an unprecedented number of layoffs, became the fallout of the COVID-19 pandemic amid government-ordered lockdowns. The backlog could be cleared as soon as Jan. 1, according to Gov. Tony Evers; a "cleared" backlog in this case meaning that the number of people still waiting for their unemployment claims are at or below the totals seen prior to the pandemic.
As of Dec. 19, 96.89% of the 8.61 million claims filed since March 15 had been resolved (with more than $4.62 billion being paid out) with 266,433 weekly claims from nearly 27,000 people still "in process," according to the Department of Workforce Development.
But there still remain wide-ranging issues that advocates, attorneys and those stuck in unemployment limbo want fixed; some of these issues have been known to state leaders for years, but are only now making headlines as they have been exacerbated by the pandemic.
Three Racine County residents The Journal Times spoke with this month detailed issues they're facing.
An educational assistant furloughed in September still hasn't heard back about her unemployment claim and was told by the state that she never returned a phone call, which she says she never received, landing her case in the purgatory of adjudication.
A Racine woman said she would be homeless right now if it weren't for her boyfriend, since her unemployment insurance ran out and she still hasn't been able to get disability/social security benefits.
A 27-year-old Waterford man, who asked that his name not be used for fear of losing his temporary job, was told by the state his benefits were "exhausted" despite having only received $370, and then was ordered to pay $38 of it back, because he left his last full-time job voluntarily in fall 2019 due to unrelated health issues.
All three say they have never applied for unemployment before the pandemic. This was a new problem for each of them.
Federal help only to make a dent
Meanwhile, Racine's jobless rate seems to be rising as 2020 nears its end. According to reporting from the Milwaukee Business Journal, "the jobless rate in the Racine statistical area increased to 6% in October, up from 5.5% in the previous month, while the rate in the city of Racine jumped almost a full percentage point to 8%."
Stacey Karnowski poses with her dog, Stella. Karnowski is an RUSD educational assistant laid off in August still waiting to hear back from the…
No help in three months
"I'm watching my savings dwindle," said Stacey Karnowski, who moved to the Racine area more than 40 years ago and has worked as a Racine Unified educational assistant for 20 years.
She said she has seen "not one penny" in unemployment since being furloughed at the end of August despite having filed for it soon after being placed on leave.
Her coworkers in the same situation have almost all gotten paid, she said. The reason she thinks her case is taking so long is that DWD thinks she failed to provide information.
Karnowski was told in a letter that DWD called her on Sept. 1 and left a message, saying she had until Sept. 3 to provide certain information. Since she never returned that call, DWD claims Karnowski "refused to give information," landing her case in adjudication.
Except Karnowski attests she never received that voicemail and has the phone records to prove it.
She waited six weeks for a hearing to be scheduled, when "all of a sudden the letter showed up; the letter said my hearing had been denied." She appealed that decision, and was told her case has "been denied until 2022," although she is expecting a call from DWD this week to address the issue.
"I'm going to continue to pursue getting (unemployment insurance). Everyone that I've worked with has received all their money. I will try to get what I deserve," she said.
When Karnowski has gotten through to DWD on the phone, staff members have asked her if she's at risk of losing her home. Since she isn't — she owns her Mount Pleasant home and has been able to keep paying her mortgage by digging into her savings — and so her case isn't being prioritized.
"I've explained to them how frustrating it is that I would have to lose my house first before they'd do something," she said. "Watching your savings dwindle is scary."
Complicated process, fewer applicants
Victor Forberger, one of Wisconsin's top labor attorneys, is among those who have argued that Wisconsin's process for applying for unemployment is excessively complicated and cumbersome. The effect of that is that people are discouraged from getting unemployment insurance and give up on the process altogether, and thus fall into poverty or end up underemployed in a low-paying job — which keeps Wisconsin's unemployment percentage low without improving the quality of life for low-earning Wisconsinites.
By 2019, only 129,888 people claimed unemployment insurance in Wisconsin.
These problems have been worsened in recent months as the unemployment call center is filled with quickly trained emergency workers who were transferred from other departments or hired from elsewhere.
"There's just tons of mistakes happening now because there are people who are inexperienced with what's happening," Forberger said. "They're all staffed by new people."
Forberger explained that one of his clients had his claim denied, but it was approved by a judge after a hearing. However, in filling out the paperwork, Forberger said that the judge forgot to check the box stating she was overturning DWD's determination that the claimant shouldn't receive UI.
"Before the pandemic, that error used to happen, and it was easy to correct … It'd be fixed within a couple hours," Forberger said. Now, weeks after that hearing, his client is "still waiting."
Forberger places the blame for the crisis both on Republicans and Democrats.
"Unemployment has become a campaign issue … Unfortunately it's being used like that," he said.
"The Republicans say 'Oh this is horrible' but don't want to get this fixed," he said. Simultaneously, "the Evers administration hasn't realized that this is a departmental-wide program" and has only been fixing "one thing here or one thing there."
Several legislative Democrats have been quicker to point fingers on Republican leadership over the past decade for not addressing the issue, rather than having been part of the solution now or joining in on pressuring the Evers administration to fix the actual problems within DWD, Forberger said.
"You've got to revamp this system," Forberger said. "We're supposed to approve claims, not deny them."
Out of benefits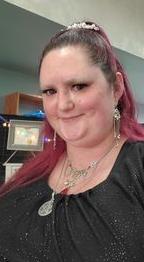 Siddah Pinabella, who moved to the City of Racine in 2010, tested positive for COVID-19 in September and was sick for more than a month.
"I couldn't work or do anything. I had to separate (from my boyfriend) was pretty much out of commission for anything until pretty much the middle of October," she said; regardless, she hasn't been able to find a job before or since recovering from the novel coronavirus.
Pinabella applied for unemployment insurance soon after she was allowed to.
Pinabella's payments stopped earlier this month.
"The problem is now I have run out (of unemployment insurance)," she said. "I was given only the min amount which is $163 a week. That was supposed to last me every week to do whatever with. Then I was only given 39 weeks of it. So I just ended my total unemployment two weeks ago. So I'm totally screwed now…
"Right now I am on Food Stamps to provide me with some food," she continued. "I'm pretty much just living under the roof of my boyfriend. Without that, I'd be homeless right now."
During the pandemic, she applied for Social Security Disability Insurance, but she said she isn't expecting to hear back on that until January at the earliest.
"I can't work a normal job," Pinabella said, saying she has bipolar disorder, back problems and knee problems.
12 Wisconsinites share stories online (in May 2020): Waiting for weeks without receiving unemployment checks
This is really ridiculous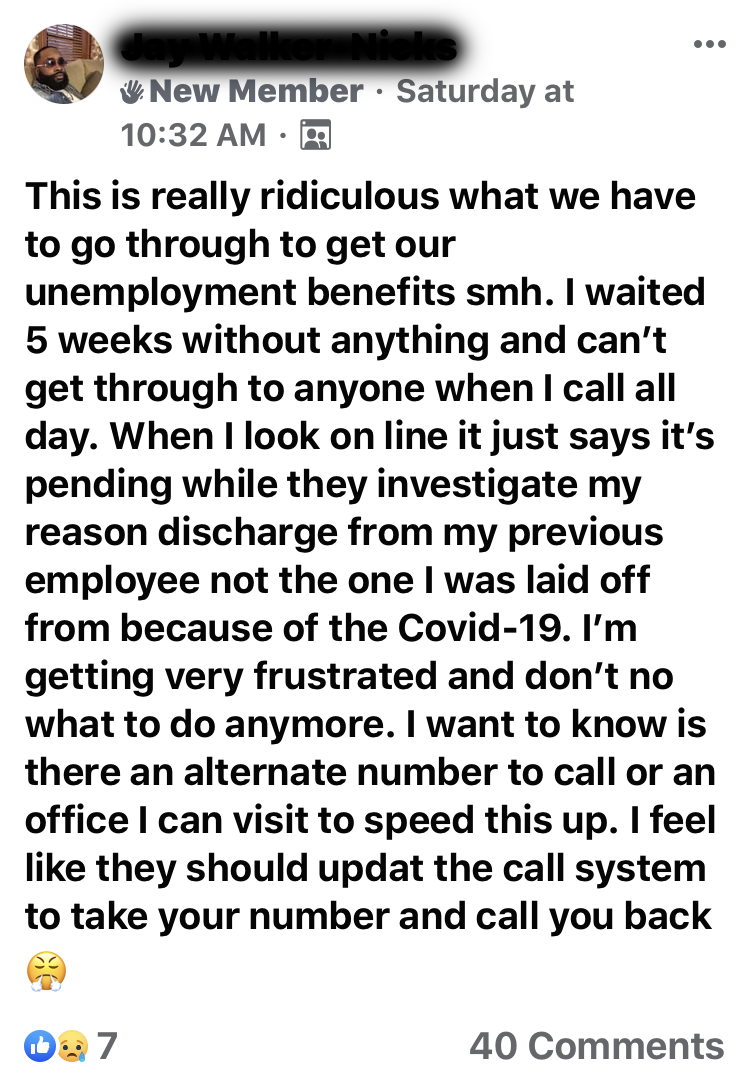 I've been calling and calling and have gotten nowhere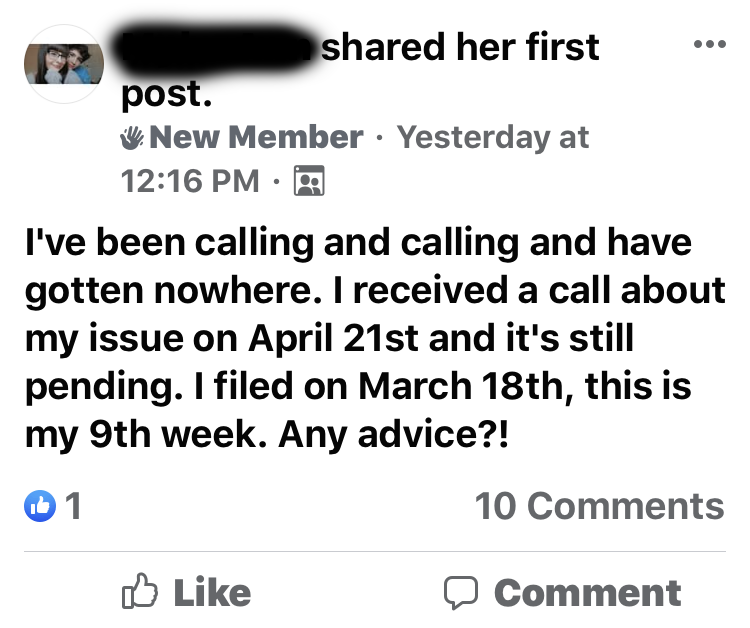 I want to sit and cry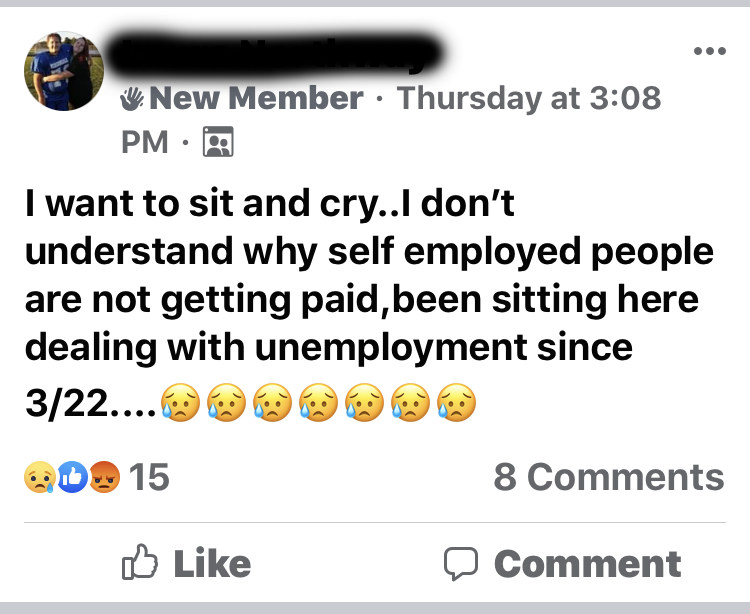 I'm so frustrated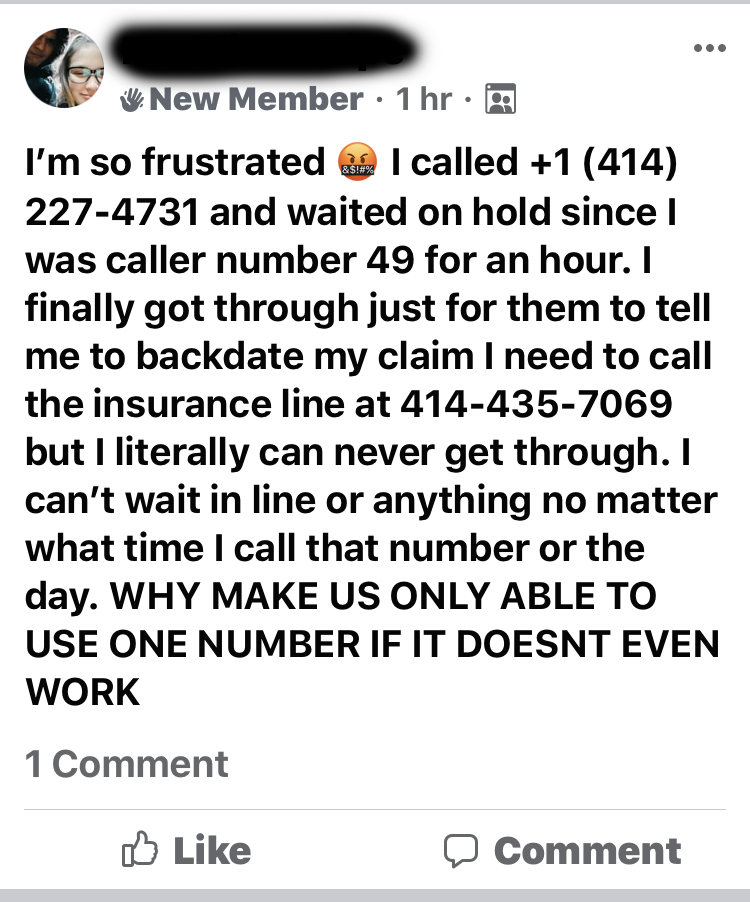 It's been 13 weeks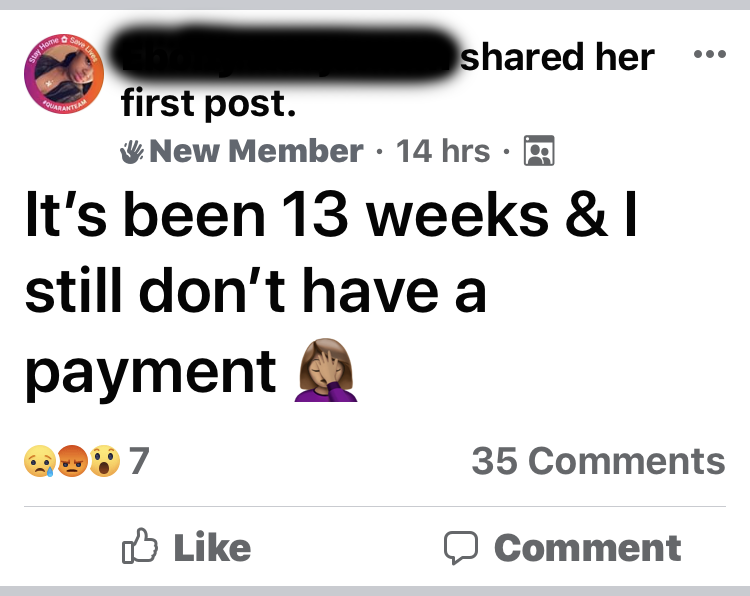 Contemplating a lawsuit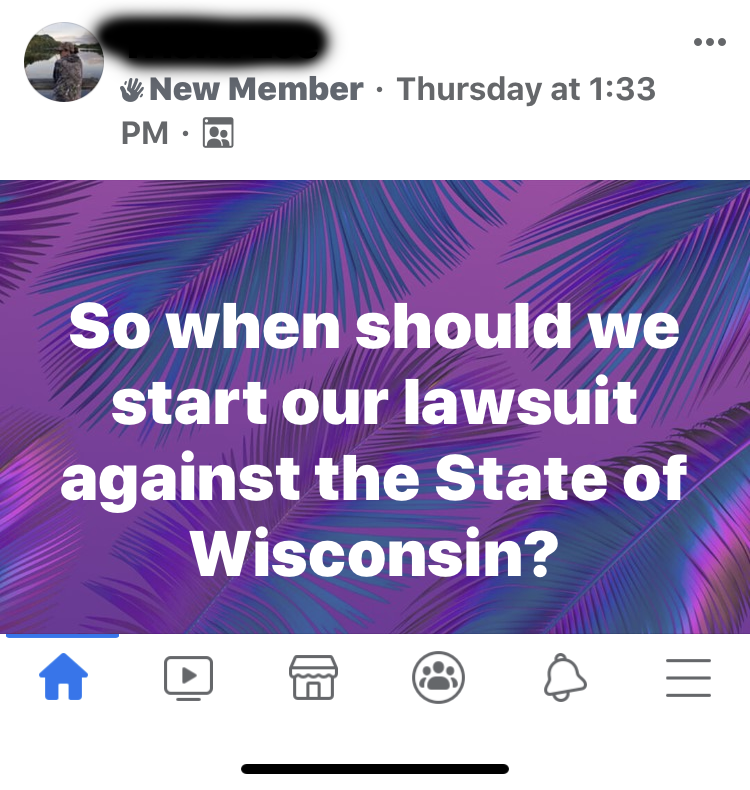 Her bank account has $60 in it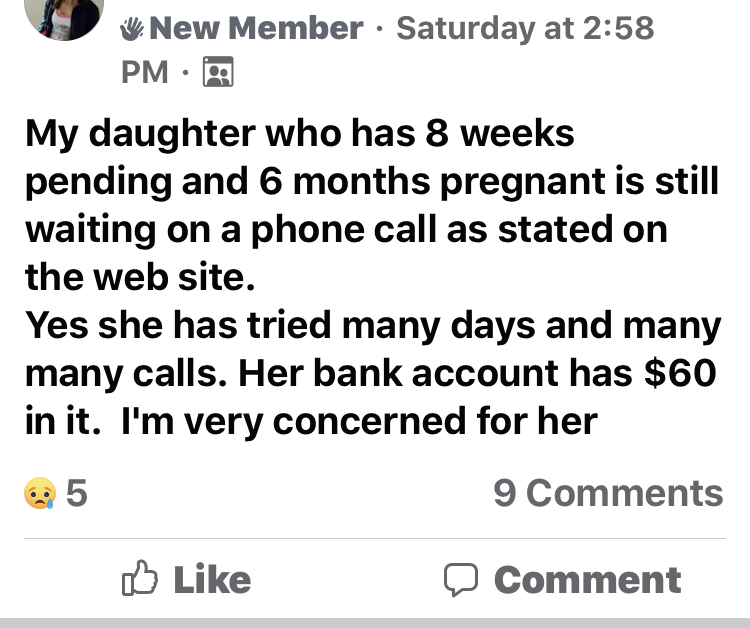 Finally got a call back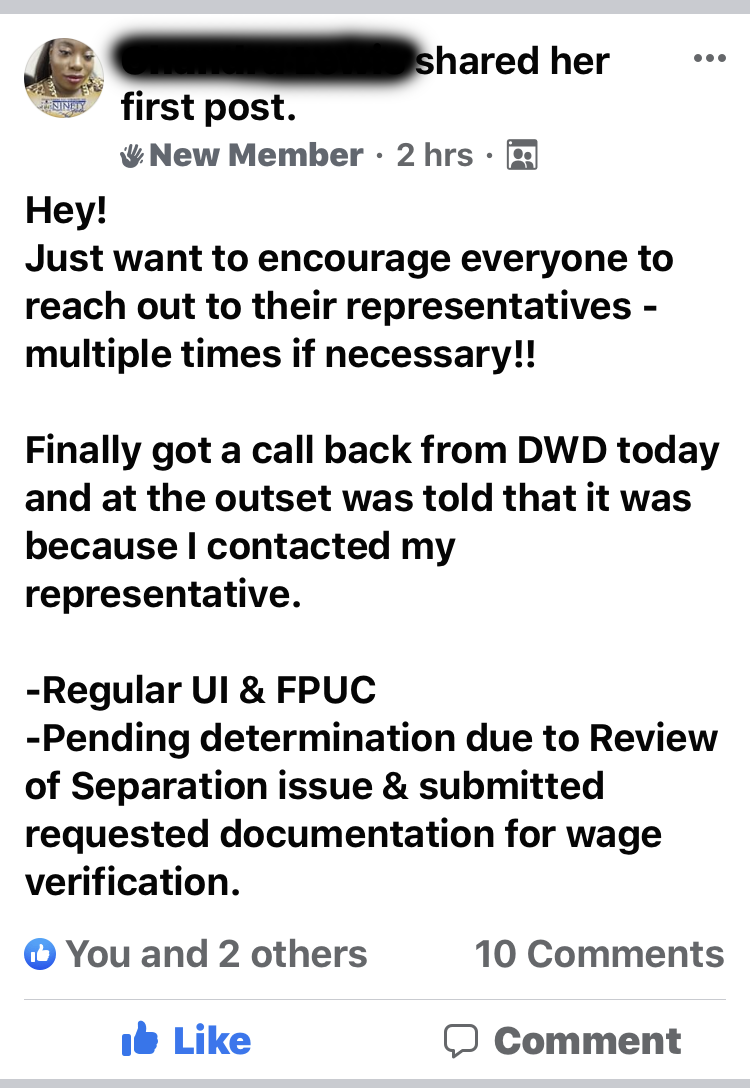 I got through by some miracle
I give up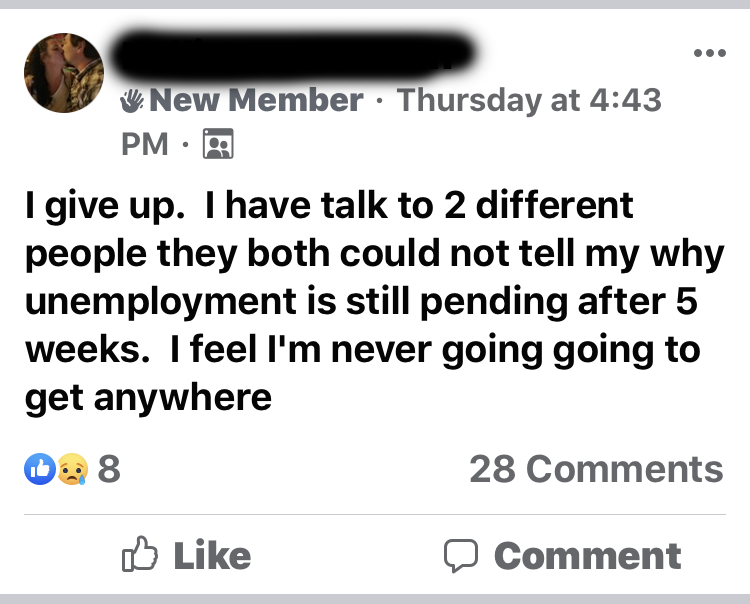 I'm at a loss of what to do anymore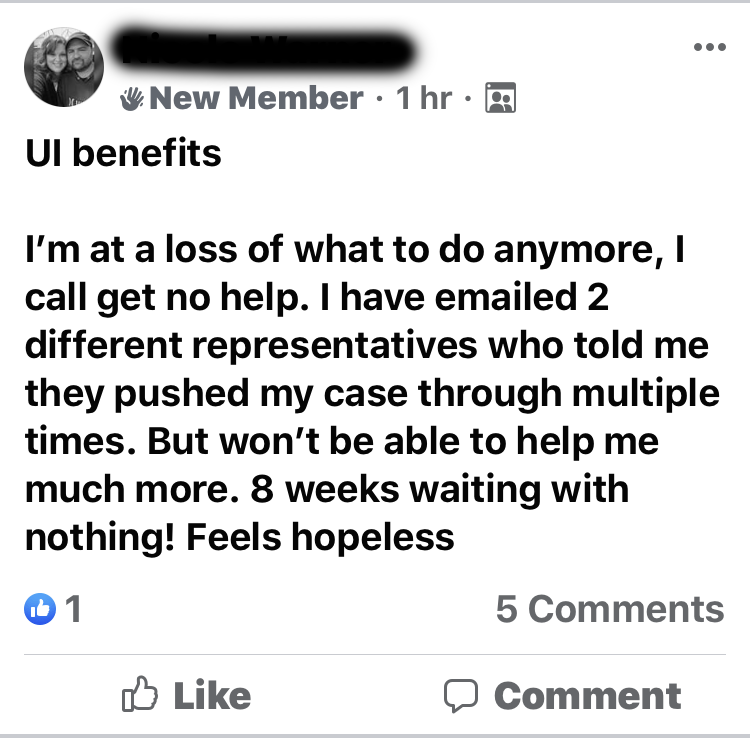 Wisconsin has dropped the ball on this whole situation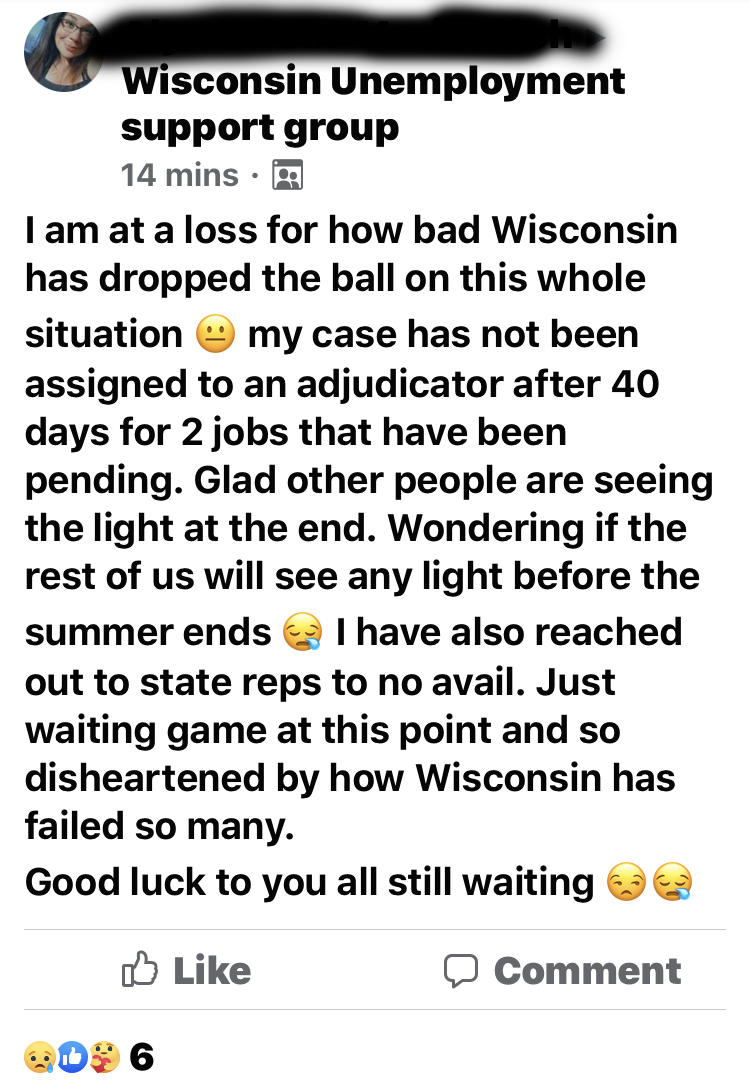 "I've explained to them how frustrating it is that I would have to lose my house first before they'd do something. Watching your savings dwindle is scary."

Stacey Karnowski