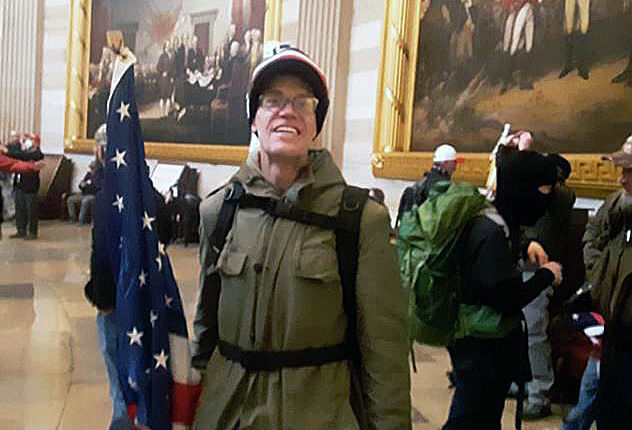 A Wisconsin man was arrested Tuesday in Eau Claire for being part of the mob that breached the U.S. Capitol last week as Congress was certifying Electoral College votes giving Joe Biden the presidency.
Kevin Daniel Loftus was set to make an initial appearance in U.S. District Court for the Western District of Wisconsin at 3 p.m. today, according to a spokeswoman with the U.S. Attorney's Office. An arrest warrant filed for him Tuesday is for knowingly entering and remaining in a restricted building or grounds without lawful authority, and violent entry and disorderly conduct on the Capitol grounds.
Loftus, 52, has no criminal record in Wisconsin, according to online court records. His address as of an October 2019 divorce filing was in Chippewa Falls.
According to the criminal complaint in the federal case, Loftus was identified through a photo taken of him in the Capitol and ones posted to his Facebook account. A witness also positively identified him. The complaint also says he posted a link to a New York Post story about the riot at the Capitol, along with the admission "i am wanted by the FBI for illegal entry," to his Facebook page.
His page also includes another admission that he is in the FBI photo line-up of people wanted for the Capitol incursion, plus an "lol."
The complaint says the FBI interviewed Loftus on Saturday in Eau Claire and that he admitted "to walking inside the U.S. Capitol on January 6, 2021.
"LOFTUS also admitted to walking on what he thought was the top floor of the U.S. Capitol where LOFTUS took several photos while he was inside the building walking around," the complaint says.
A photo posted to Loftus' Facebook account on Monday shows him wearing a red "Make America Great Again" hoodie along with others at what appears to be the U.S. Capitol grounds.
A post from Sept. 25 shows him in a red "Keep America Great" cap holding a "Veterans for Trump" sign.