Seemingly the moment the pandemic arrived, liquor stores got busier.
"Ever since COVID hit, alcohol sales have been up really high," said Kaesy Smetana, manager at Aman's Beer + Wine, 26210 W. Loomis Road, Wind Lake. "It hit pretty fast with our alcohol sales."
To compensate, Aman's doubled its staff from four to eight. And it isn't the only business that's seen such a change.
If you think you've been drinking more alcohol during the COVID-19 pandemic, the State of Wisconsin has the tax receipts to prove it.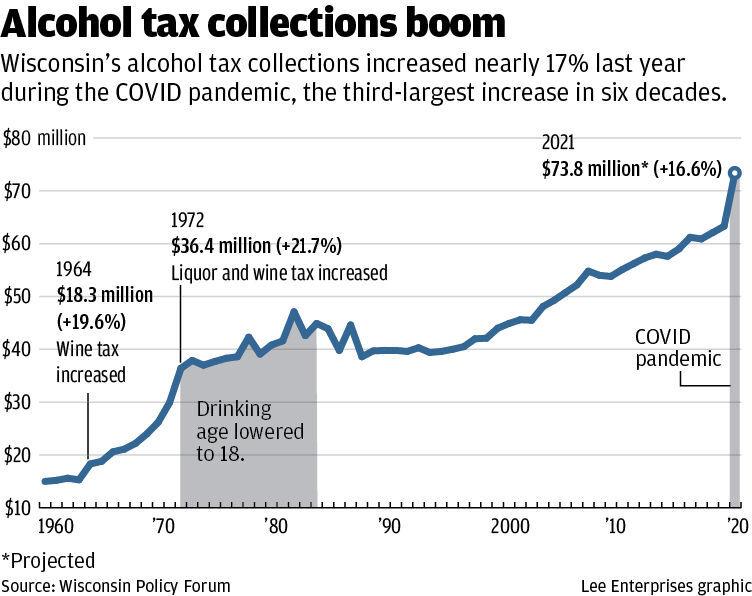 Alcohol taxes collected in Wisconsin jumped nearly 17% in the fiscal year that ended June 30, according to state tax revenue data analyzed by the nonpartisan Wisconsin Policy Forum.
That's the largest jump since 1972, when the drinking age was lowered to 18, before being raised to 21 in 1984.
It comes in spite of supply chain issues that have plagued seemingly every brick-and-mortar business in the country.
"There's certain products we can't get — glass shortage, can shortage, factories shutting down because of COVID," Smetana said.
By the numbers
Data from the state Department of Administration and Legislative Fiscal Bureau show Wisconsin's excise tax revenue on alcoholic beverage sales are projected to reach about $73.8 million, a 16.6% increase from the $63.3 million collected in the previous fiscal year.
The Forum reports that the only other comparable jumps in state alcohol tax revenues over the last 60 years came in 1972, after the state increased the liquor and wine tax and lowered the legal drinking age, and in 1964, when it also increased the wine tax.
The largest annual increase between 2009 and 2020 was only 2.4%.
Alcohol taxes in Wisconsin are based on the volume of beverage sold, with beer taxed at about 6.5 cents per gallon and hard liquor taxed at $3.25 per gallon. Wine is taxed at 25 cents per gallon if the alcohol content is 14% or less by volume and 45 cents per gallon for wines with a higher alcohol content. Hard cider is taxed at 6 cents per gallon if the alcohol content is less than 7%, and if higher it is taxed the same as wine.
The Forum did not include in the report the state's general 5% sales tax collected by alcohol retailers.
Substance abuse likely increased during pandemic
While it's difficult to fully evaluate COVID-19's impact on state alcohol sales, the Policy Forum reports it's likely that restrictions on gatherings and social events, paired with the mental and emotional toll of the ongoing pandemic, may have resulted in increased drinking habits in a state that already ranks high in alcohol consumption.
"For individuals, this period also may have generated increased stress about personal health and the health of loved ones, lost or reduced employment, fewer work or leisure activities, and challenges with school and child care," according to the report. "During such a period, it is perhaps unsurprising that alcohol sales increased in Wisconsin."
That's something Smetana worried about too: that increased isolation due to COVID could lead to excess drinking. "When people get depressed, they drink," she noted.
While Jason Meekma, a Racine alderman and executive director of the substance abuse prevention nonprofit Focus on Community, said that getting people together again can help curb excessive substance use by replacing isolation with community, he said that anxiety linked to fears of the novel coronavirus could have an adverse effect.
"That sort of anxiety-inducing situation is one of the triggers for substance use and alcohol consumption," Meekma said.
Still, the true cost of the pandemic on a substance use basis remains to be seen. Federal data show U.S. overdose deaths reached an estimated record high in 2020: 93,331 deaths, more than 20,000 more than the record set in 2019. Despite hundreds of thousands of COVID-19 related deaths, the percentage of U.S. deaths being attributed to an overdose still managed to grow from 1.9% to 2.8% in 2020.
Preliminary data from the Wisconsin Department of Transportation shows that there were 183 traffic fatalities and 170 in 2020, but that only five months into 2021 there were already 166 — on pace to far surpass prior years, according to reporting from Eau Claire-based WEAU. Alcohol is a factor in more than a fourth of all traffic-related deaths in the U.S.
"I think a lot of it is still to be determined. We are looking at more than just substance abuse but also just an unprecedented time with the pandemic," Meekma said. "In the substance abuse prevention arena, we are ... thinking about the long-term impact of this, not just the adults partaking in this but the youth in these environments with increased use taking place."
Meekma also noted that child abuse likely became more common during the pandemic. "It's not just life and death. It's long-term mental trauma."
Public health costs may outweigh financial boon
The UW-Madison Population Health Institute reported in 2019 that binge drinking in Wisconsin costs almost $4 billion a year, or about $700 per state resident.
Wisconsin has the nation's 48th-lowest beer tax rate, according to the Tax Foundation, a national tax policy think tank. The state ranks 43rd-lowest for wine tax rates and 41st-lowest for liquor.
"One consequence of this is that — despite the historic magnitude of this year's revenue increase — its impact to state finances overall will be marginal," according to the report. "However, the public health implications of increased alcohol consumption may be a greater concern."
In 2019, Wisconsin ranked third in the nation in terms of the percentage of adults — 64.4% — who drink alcohol, higher than the neighboring states of Iowa, Minnesota, Illinois and Michigan, according to the state Department of Health Services. Wisconsin adults who drink consume an average of 2.6 drinks per drinking occasion, higher than adults in other states.
A Forum report released last December found that alcohol-related crash fatalities had risen significantly despite there being fewer drivers on the road because of the pandemic. Full-year data wasn't available, according to the report, but preliminary data showed that total vehicle miles were down in the state by about 25% in the second quarter of 2020 compared to 2019.
The report found that the number of alcohol-involved crash fatalities increased from 52 to 78 during the study period in 2020 compared with 2019.
In August 2019, the Forum reported that total deaths in Wisconsin related to drug and alcohol use had more than tripled since 1999. Such deaths include deaths in which alcohol is the primary cause, such as liver disease or alcohol poisoning, as well as fatal accidents in which the deceased person was intoxicated.
"In light of these and other considerations," the report said, "it will be important to monitor alcohol sales closely to determine if the marked increase in sales and presumably consumption observed in fiscal year 2021 is a one-time byproduct of the pandemic or the beginning of a longer-term and possibly harmful trend."
Year in review: The top Madison-area stories of 2020
It started out well enough. The Badgers were making a late-in-coming run at the Final Four. Hometown insurance behemoth American Family announced it was boosting its starting minimum wage to $20 an hour. Madison East Siders welcomed a new Pinney branch library.
The first two and a half months of the year feel like a different era, when news of a strange new virus infecting people in China was safely tucked away in the back pages of the newspaper and the heart-breaking images of a white Minneapolis police officer kneeling on the neck of a 46-year-old Black man had yet to go viral.
Then came March and successive waves of closures, cancellations, lockdowns, furloughs, layoffs, infections and deaths. If the subsequent uprisings over the killing of George Floyd weren't enough to remind America that it has plenty of work to do to overcome racism, the shooting of Jacob Blake in Kenosha tragically emphasized the point. And a divisive presidential election carried the tone of the year at the end.
While it may not be a year to look back on with particular fondness, 2020 no doubt is one to remember. Here's a look back at some of the top stories in the Madison area as they occurred.