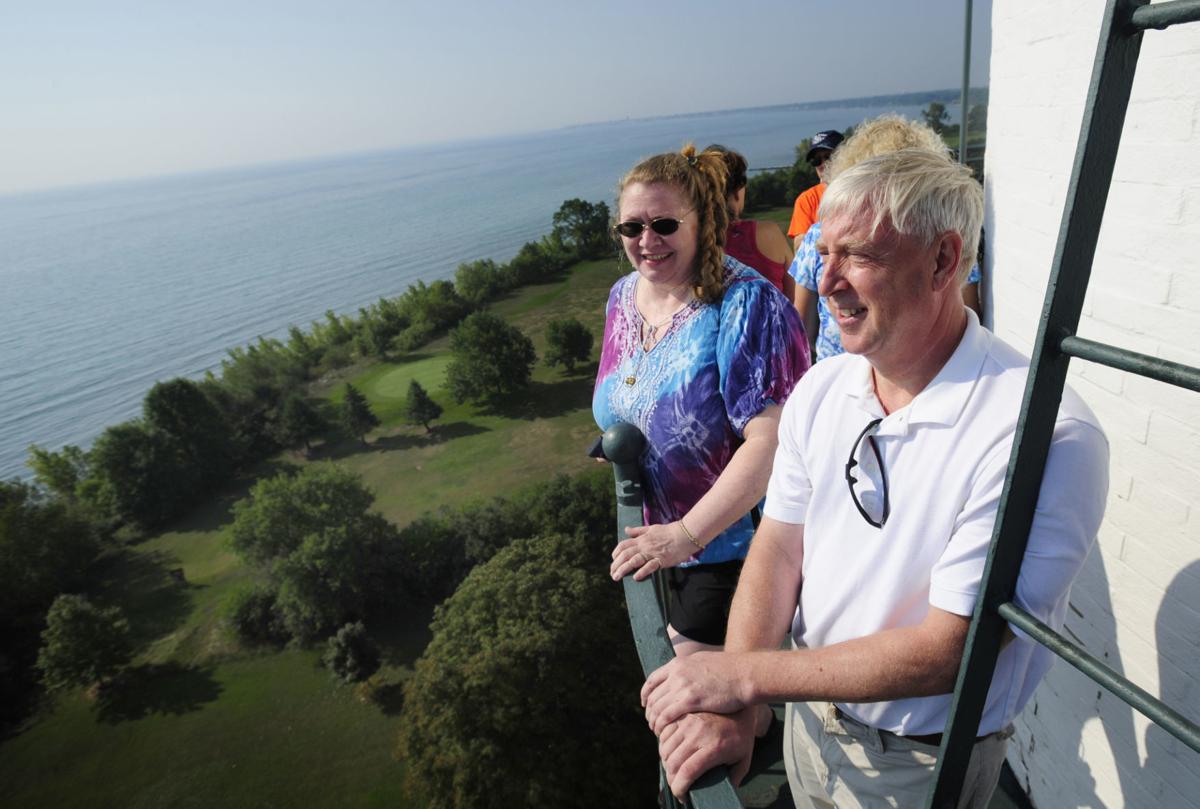 WIND POINT — The Wind Point Lighthouse is a perennially popular Racine County attraction, but public tours have been canceled this year due to the COVID-19 pandemic.
However, private tours for people living in the same household will still be offered. Decisions to that effect were made at the Wind Point Recreation, Facilities & Lighthouse Committee meeting Tuesday and are effective immediately.
The village has gone with recommendations made by the City of Racine Public Health Department, which provides health services and consultations for the village, regarding private rentals and gatherings.
Village Administrator, Clerk and Treasurer Casey Griffiths said the issue will be revisited toward the end of the summer, based on COVID-19 case numbers at that time. Village officials could review the situation as soon as August.
Lighthouse tower tours
Those wishing to take a private Lighthouse tour with members of their household may contact the lighthouse keepers to schedule an appointment. To arrange for a private tour, call 262-639-3777 or email lhkeeper@windpoint.org. There is a minimum charge of $80 for a household to cover the extra cleaning expenses since the entire rail needs to be wiped down after a tour.
"It's difficult to socially distance in the towers and there's no good ventilation," Griffiths said.
Joseph Huser, the lighthouse keeper, emphasized the need for extra precautions saying when people are climbing the lighthouse there can be a lot of "huffing and puffing."
"We don't want to spread COVID," Huser said.
Village Green, beer gardens
Also, the village will not be renting out the Village Green pavilion this year. People may still use the pavilion on a first-come, first-served basis, but they will not be able to reserve the space in advance.
People will still be able to rent out the south lawn of the lighthouse, but for groups of 15 maximum.
Racine Brewing Co. had scheduled pop-up beer gardens during the summer for Village Green Park on Four Mile Road. But after receiving recommendations from the Racine Public Health Department, beer gardens have been canceled for now.
At the meeting Tuesday, there was discussion about potentially holding the beer gardens in September and October, with extra safety measures.
Griffiths said the decision of whether to hold beer gardens later in the season could take place as early as late August. The number of cases in the Racine area at that time will be a key factor in making that determination. If there are fewer cases, the beer garden may be able to open, but with precautions in place.
"We're taking it on a slow basis," said Griffiths.
Concerned about COVID-19?
Sign up now to get the most recent coronavirus headlines and other important local and national news sent to your email inbox daily.