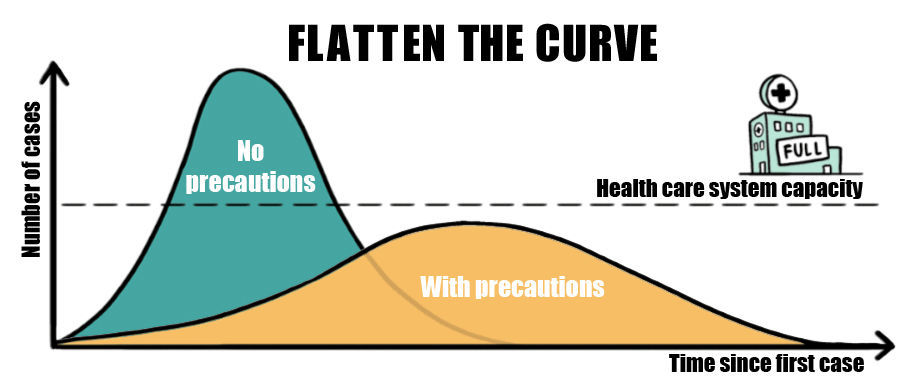 MADISON — Gov. Tony Evers has ordered the Department of Health Services to ban gatherings of 50 or more statewide, with the exception of "Critical infrastructure and services such as grocery stores, food pantries, childcare centers, pharmacies, and hospitals."
The Central Racine County Health Department and City of Racine Health Department both recommended a similar moratorium on such gatherings.
On Monday afternoon, the White House advised the public to avoid groups of more than 10 for at least 15 days, and to avoid restaurants and bars for that time. President Donald Trump said that coronavirus restrictions could last until August, and possibly longer.
"This isn't a decision I made lightly and we understand this will have an impact on Wisconsin workers, families, businesses and communities, but keeping folks safe and healthy has to be our highest priority," Evers said Monday in a tweet.
When asked about Trump's request to limit gatherings to 10 people, Evers replied: "I'd say avoid people, period. Our mandate is around 50 and that's where it will be until such time we need to change it. We believe it's reasonable."
This is part of the ongoing effort to "flatten the curve" of the spread of COVID-19, which has been confirmed to have infected at least 48 people in Wisconsin as of Monday afternoon. At least one of those 48 have already recovered.
Only one case is confirmed in Racine County.
Kenosha County confirmed its first case Monday afternoon, according to Jen Freiheit, director of the county's Division of Health.
Ban on mass gatherings
CRCHD said that "a mass gathering is defined as any event or convening that brings together or is likely to bring together 50 or more people in a single room or single confined or enclosed space at the same time," and recommends the closing of auditoriums, stadiums, arenas, conference rooms, meeting halls, theaters, museums and places of worship.
CRCHD's and the Racine Health Department's recommendations are expected to remain in effect for at least eight weeks, or until May 11. The announcement noted: "These recommendations can change at any time and become more restrictive."
The federal Centers for Disease Control and Prevention gave a similar directive Sunday evening.
The local directive further said that "any other place where people are present and they are within arm's length of one another for more than 10 minutes" should be closed and avoided. "Events of any size should only be continued if they can be carried out with adherence to guidelines for protecting vulnerable populations, hand hygiene, and social distancing. This recommendation does not apply to the day-to-day operation of organizations such as schools, institutes of higher learning, or businesses."
"These recommendations will reduce the likelihood that many people will be exposed to COVID-19 at a single event and will thereby slow the spread of COVID-19 within Racine County. By reducing the spread of COVID-19, this Order will help preserve critical and limited health care capacity," CRCHD said.
The latest order amends the state's recommendation last week of canceling all gatherings of more than 250 people and comes one day after Dane County public health officials ordered the immediate closure of all schools, limited restaurants to no more than half their capacity and banned gatherings of 50 or more people.
Wisconsinites return safely from cruise
Twenty-nine Wisconsin residents who were aboard the Grand Princess cruise ship that docked at the Port of Oakland in California last week were safely transported back to Wisconsin late Sunday night, according to a release from the governor's office.
More than 3,500 people were on board the Grand Princess, which had 21 total cases of COVID-19 confirmed.
According to the release:
The 29 passengers from Wisconsin who had been aboard the Grand Princess cruise ship were safely returned to their homes before 5 a.m. Monday.
Soldiers and airmen from the Wisconsin National Guard transported them in vans for self-quarantine.
Two passengers chose to remain in quarantine in Texas under the custody of the U.S. Department of Health and Human Services (HSS), citing personal reasons.
State officials continue to work with HHS to return home the seven Wisconsin passengers who remain in HHS custody in California, the state said.
As of Monday morning, none of the returning Wisconsin citizens had tested positive for COVID-19 and all were asymptomatic, but the residents will follow Center for Disease Control and Wisconsin Department of Health Services protocols and continue to self-quarantine for the requisite 14-day period.
The Soldiers and airmen involved are expected to self-monitor for 14 days upon the conclusion of their mission.
"These individuals have gone through a harrowing experience full of uncertainty and fear over the past several weeks," Evers stated. "But as I've said repeatedly, here in Wisconsin, we take care of one another."
Hospital visit restrictions
Advocate Aurora Health announced a new "No visitors, with a few exceptions" policy that went into effect on Monday, due to COVID-19. The medical system operates hospitals in Burlington, Kenosha and Elkhorn.
The exceptions include a maximum of two pediatric caregivers, one caregiver "necessary for the emotional well-being of the patient," two midwives for a laboring mother, case-by-case exceptions for end-of-life situations, among other selective medical exceptions.
Visitor limitations have already been put in place at Ascension All Saints Hospital, and the rest of the Ascension Health system, including nearby Ascension Southeast Wisconsin Hospital-Franklin on 27th Street.
As of Thursday, a maximum of two visitors per Ascension patient has been in effect. People who recently visited a "high-risk area" for COVID-19 or who are bringing along children are also recommended not to visit patients in the hospital.
Potawatomi to close
Potawatomi Hotel and Casino in Milwaukee announced Monday that they will suspend operations indefinitely beginning at 5 p.m. Tuesday, according to a release from the business.
"At this time, the health and safety of our guests and the 2,700 team members at Potawatomi Hotel & Casino is the top priority," Rodney Ferguson, CEO and general manager of the property, stated.
Potawatomi employees will be paid during the closure.
Constituent offices of U.S. Rep. Bryan Steil will remain open for the time being, according to an announcement from the congressman's office Monday afternoon. However, walk-in meetings will now require an appointment ahead of time.
"As we all continue to work to deal with the coronavirus pandemic, my staff and I remain available to help local residents," Steil stated.
For more info or to set up an appointment, visit steil.house.gov or call 608-752-4050.
Steil's Racine County Office is located in the Racine County Courthouse, 730 Wisconsin Ave. His Kenosha County office is located in the Somers Municipal Building.
DMV promotes online services
The Department of Motor Vehicles also issued a release on Monday, reminding customers to utilize their website to renew license plates, change addresses, title new vehicles and order a duplicate driver licenses or IDs.
For those who are required to visit their local DMV, they said they are "taking steps to reduce of the spread of the virus."
United Way
The United Way of Racine County announced Monday that its office will be closed for the time being. Employees will be working remotely.
"These recommendations can change at any time and become more restrictive." Joint statement from county and city health departments
Michael Burke, Alyssa Mauk, Adam Rogan and Stephanie Jones of The Journal Times, Mitchell Schmidt of Lee Newspapers and Scott Bauer of Associated Press contributed to this report. said that
"These recommendations can change at any time and become more restrictive."

Joint statement from county and city health departments
Concerned about COVID-19?
Sign up now to get the most recent coronavirus headlines and other important local and national news sent to your email inbox daily.