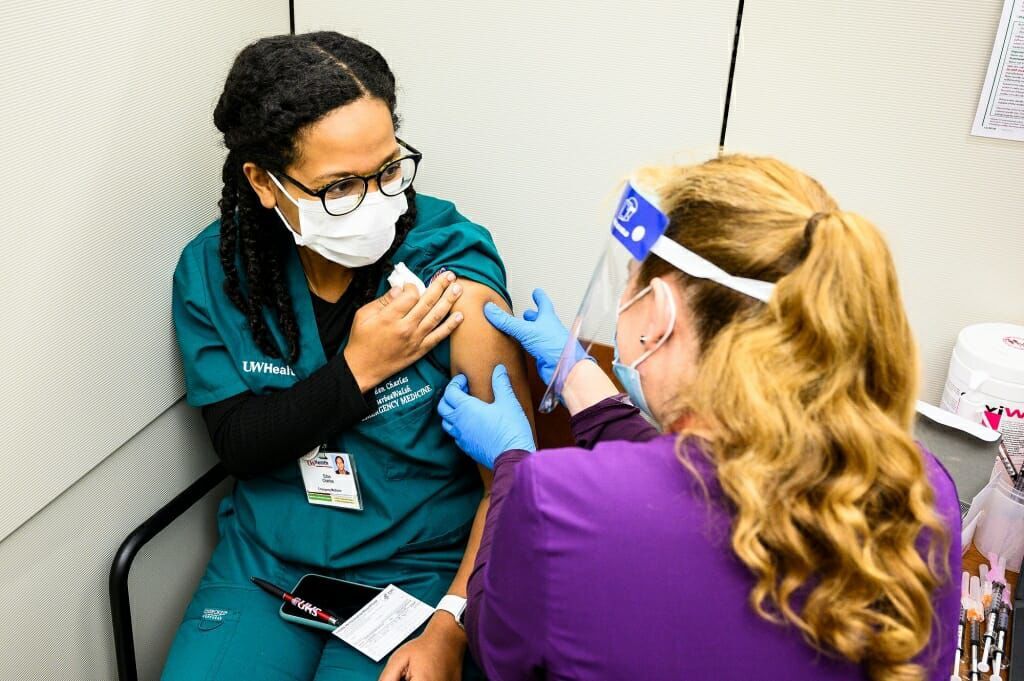 While Wisconsin's health leaders maintain that the vaccine rollout here is going according to plan, the speed of distribution still has some concerned.
At the beginning of the week, Wisconsin's vaccine rollout was behind the pace of 9 out of 12 Midwest states, according to federal data. But by Friday, according to data tracking from NBC News, Wisconsin's ratio of vaccinations per capita had surpassed that of Minnesota, Michigan, Illinois, Michigan, Missouri and Ohio; states with lower populations — namely the Dakotas, Iowa and Nebraska — had been able to hold onto their vaccination leads over Wisconsin.
Regardless, Wisconsin is still in Phase 1A of its vaccine rollout, with vaccines only available to those living in long-term skilled nursing facilities and frontline health care workers. Racine County firefighter/EMTs are expected to start being vaccinated in the next two weeks; vaccinations for Kenosha Fire Department paramedics and firefighters began in the final days of December.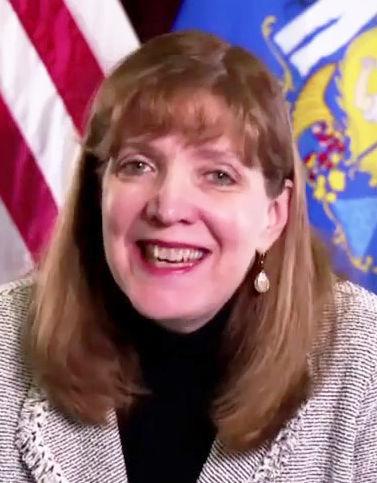 "Incredible progress has been made," Wisconsin Department of Health Services Deputy Secretary Julie Willems Van Dijk said during a virtual press briefing Thursday. "Many of you are frustrated, and feel that vaccine rollout is taking too long. We hear you. And we want to reassure you that anyone in Wisconsin who wants to get a vaccine will be able to get a vaccine. But it will take some time."
One of the issues that has been raised has been how scant the details publicly known about future phases has been.
Wisconsin has no such plan; or if there is a plan, it hasn't been announced.
It might be coming soon, however, as Willems Van Dijk said that it is likely vaccination will shift to phase 1B before the end of January. According to a state committee, that will likely include people 75 and older, first responders, K-12 teachers and corrections workers. It may include other groups, such as college instructors, inmates, group home residents and grocery store and public transit workers.
The vaccination of residents at assisted-living facilities in Wisconsin could start as soon as Jan. 25, according to DHS.
"Our system is working," Willems Van Dijk said Thursday. The slowness was blamed on the trickle of supply coming from the federal government; once more vaccines become available, Wisconsin's health systems can "open the gates much wider."
Presidential transition
Although some states have been able to make vaccines more widely available faster than Wisconsin, it hasn't been without hiccups.
Florida's first-come, first-served plan led to long waits for the elderly. And in Houston, residents of a reportedly "swanky, high-rise" condominium complex were vaccinated before many health care workers; this happened, reportedly, even though the complex wasn't on Texas' public vaccine distribution list, despite some elderly people living there.
Wisconsin's portion of 1 million shots a day would be 18,000 a day (or 126,000 a week), Willems Van Dijk said.
Six thousand doses of COVID-19 vaccine were administered Monday, 8,000 doses Tuesday and 11,600 doses Wednesday, according to Wisconsin DHS. Nearly 5,000 people have received their second doses of the Pfizer or Moderna vaccines, so the 110,201 doses delivered statewide as of Thursday represent about 105,000 people, Willems Van Dijk added.
But when?
Assembly Speaker Robin Vos, R-Rochester, has been among those critical of Wisconsin's progress so far.
Local governments are unsure of exactly what's coming next, although conceptual plans have been laid out.
As of Tuesday, Wisconsin's Advisory Committee on Immunization Practices and the Wisconsin State Disaster Medical Advisory Committee were "working to identify those in Phase 1B and how/when to move from Phase 1A to Phase 1B. This has not yet been finalized," Racine County Communications Director Mark Schaaf said in an email. "It is expected that DHS, health care, pharmacies and local public health will all provide for vaccine coordination and distribution throughout the vaccination campaign."
Meanwhile, one local health-care official said Wisconsin's vaccine rollout isn't that far behind the ball.
"To date, our vaccine logistical program and distribution processes at our hospital campuses have run smoothly and consistently," Ascension Wisconsin Senior Public Relations Specialist Victoria Schmidt said in an email. "We have a great team of associates with assigned roles for our vaccine clinics and this has helped expedite our vaccine distribution."
On Thursday, Schmidt said that more than 10,000 health care professionals had received their first shots and that "an additional 4,500 individuals will be vaccinated by the end of the weekend." Ascension Wisconsin reportedly employs about 22,000 providers and associates.
WITH PHOTOS AND VIDEO: Frontline nurses and doctors with Ascension get first vaccines in Franklin
Ascension Wisconsin begins COVID-19 vaccine rollout on Wednesday, Dec. 16, at Ascension SE Wisconsin Hospital - Franklin Campus
Lisa Wendt, ED RN, gets vaccinated at Ascension Franklin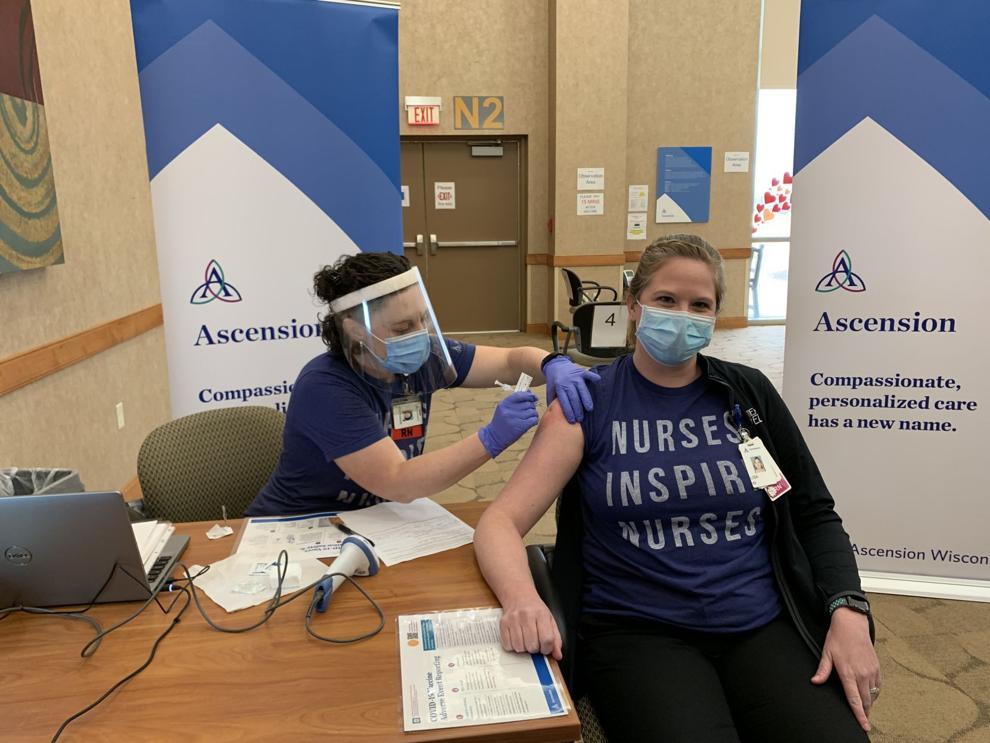 Lori George, an RN in the ICU, at Ascension Franklin gets vaccinated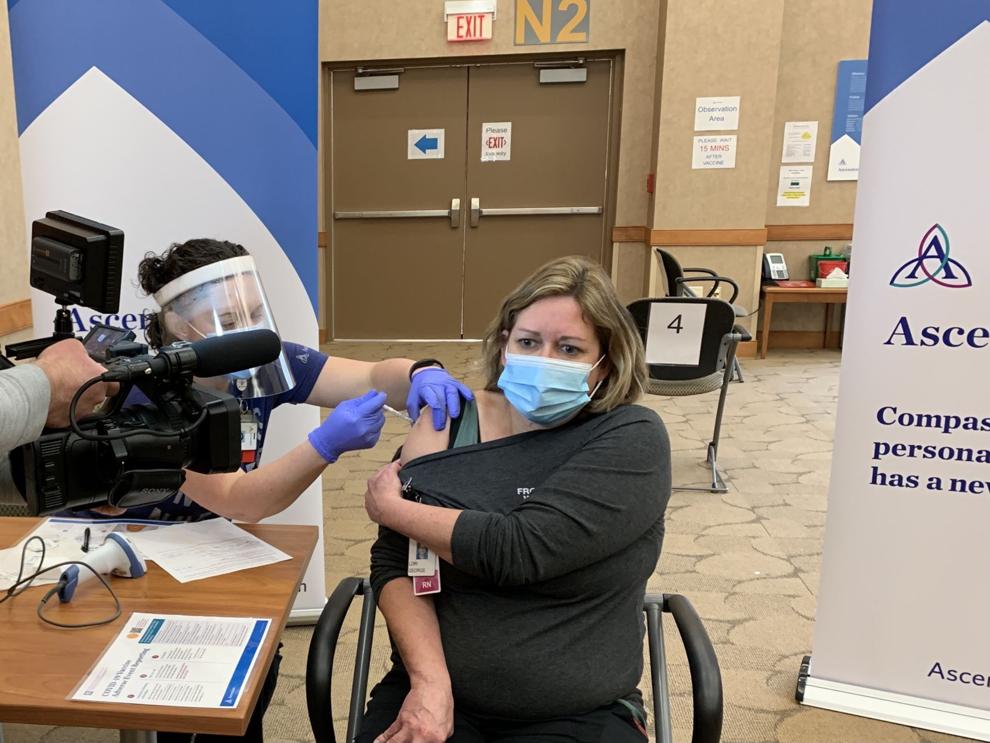 James Gruenewald, an RN in the ICU, at Ascension Franklin gets vaccinated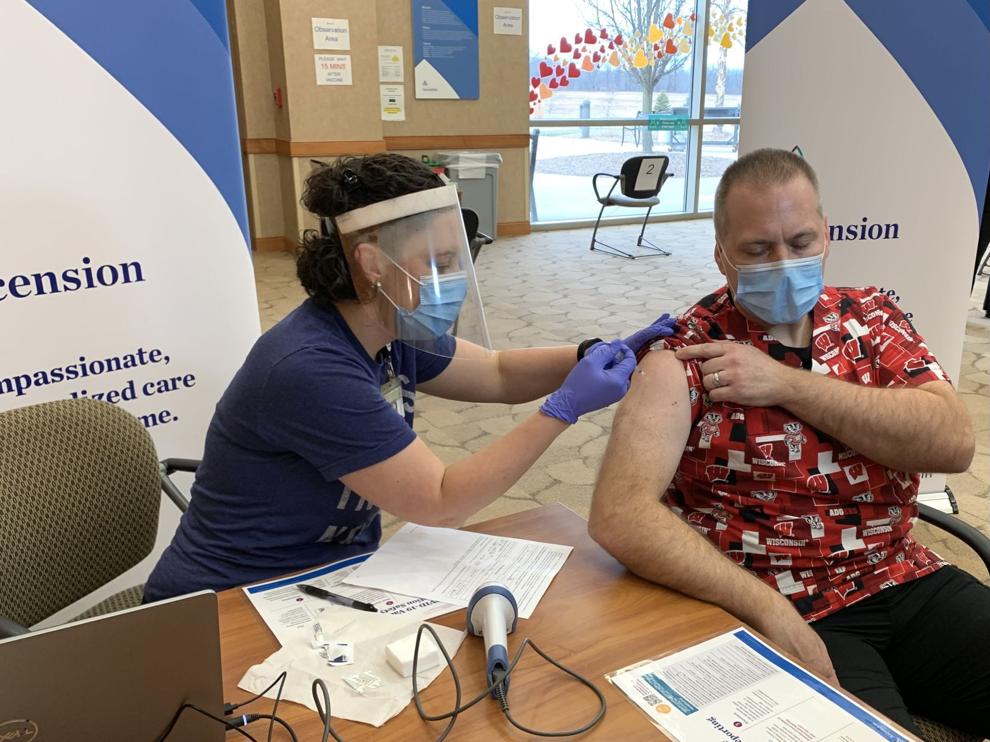 First Ascension Wisconsin COVID vaccine recipient was Dr. Joseph Weber, a pulmonologist at Ascension Franklin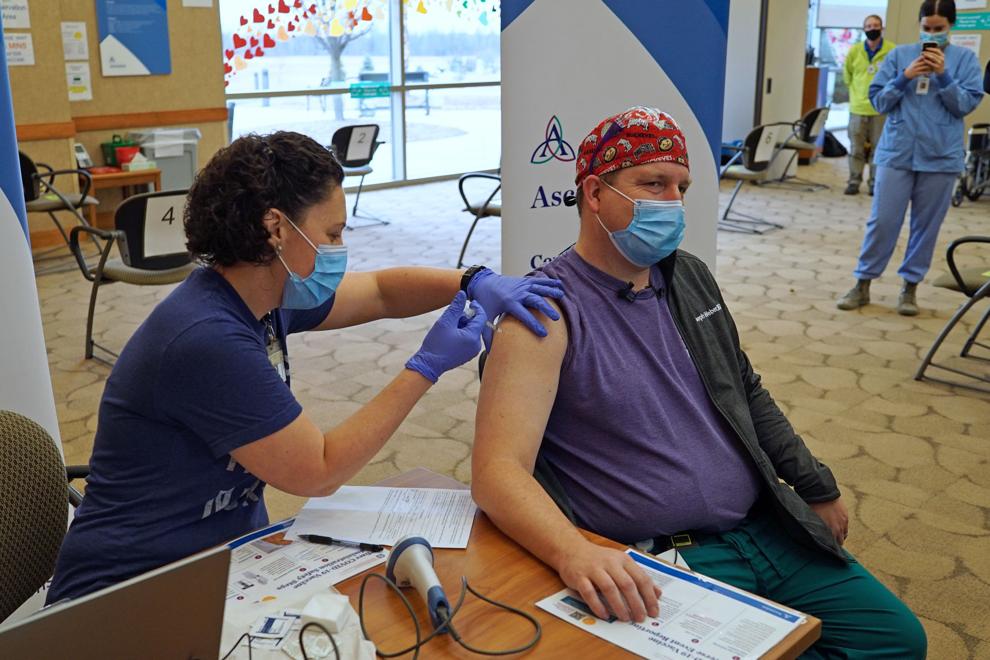 Mike Gillard, pharmacist at Ascension Franklin, prepares a COVID-19 vaccination Wednesday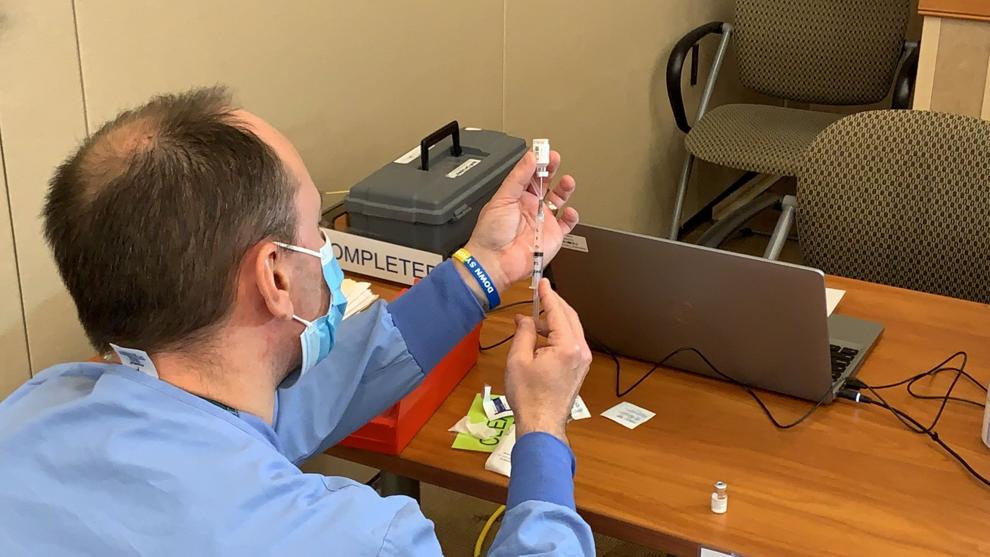 Mark Gustafson, an RT with Ascension Franklin, gets vaccinated Wednesday