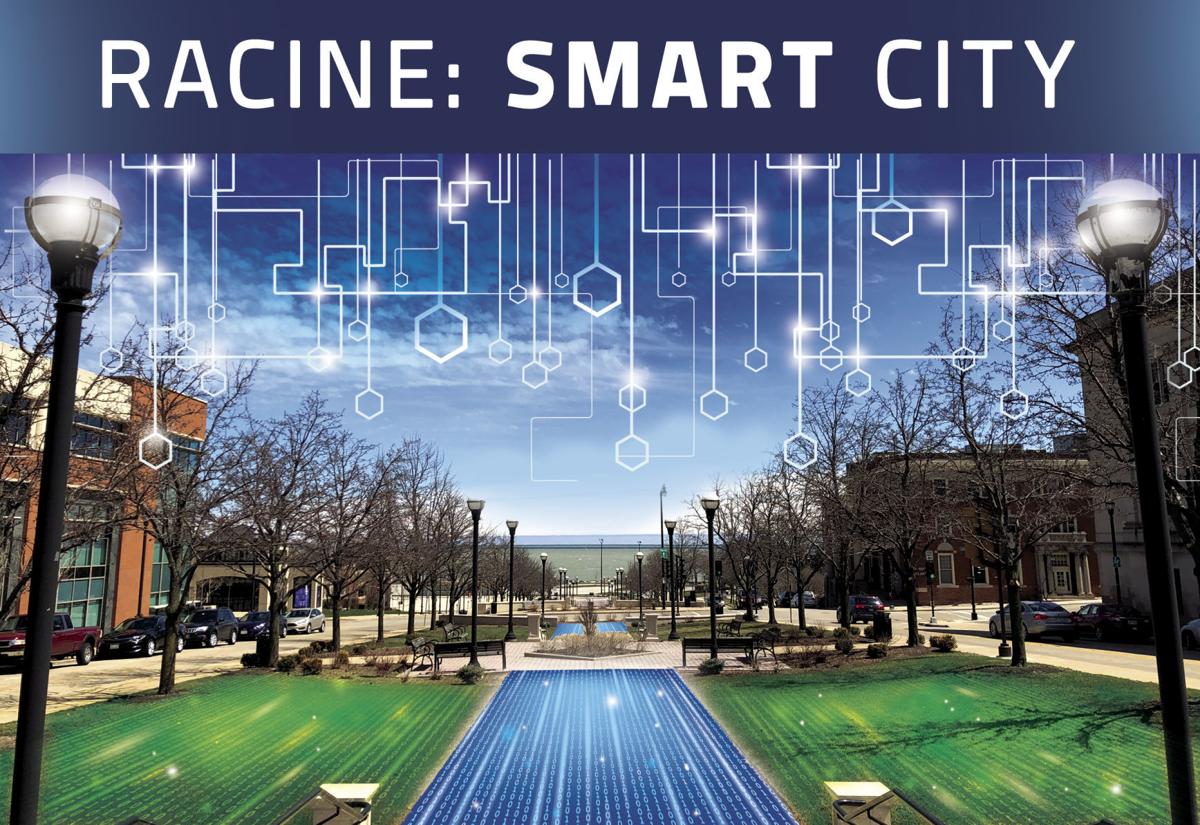 RACINE — The City of Racine is moving forward with an initiative to become a "Smart City" with the help of the Smart Cities Council, but what does that mean? What exactly is a "Smart City"?
Peggy James, University of Wisconsin-Parkside's dean of social science and professional studies, said what may confuse people is that the term is fairly recent, but some of the technology is already incorporated into city infrastructures.
"It's always very tempting to talk about smart cities 300 years from now, with flying vehicles, but some things are already here," said James. "They're smart but it's not futuristic."
One example she gave is LED street lights, which are more energy-efficient. Another program, being rolled out in Chicago, is sensors placed in trash bins that notify the city when a rat family has taken residence in a Dumpster so that city workers know to dispose of them.
"It's not really futuristic, it's just being smart," said James. "It's using information to be responsive."
Racine County Executive Jonathan Delagrave gave the example of a smart park, which collects data on what equipment is used and what people do while they are at a park.
"If a certain type of swing is popular, you take that data and put that into other parks," said Delagrave.
Delagrave said that what's key for county or city to become "smart" is investing in infrastructure so that more data are collected and processed to make government services more efficient.
"Ultimately, what it's really about is how can we better gather data, to be able to share that data and derive better outcomes from that data?" said Delagrave.
Jeff Robshaw, Gateway Technical College's chief information officer, said those outcomes not only include efficiency but improving quality of life, particularly for the most vulnerable.
Many municipalities use smart technology to improve transportation, so that low-income residents or people with mobility issues can have access to the same opportunities and resources as everyone else. Another example Robshaw gave is using sensors to notify emergency services if an elderly person cannot get out of bed or has fallen down.
"Smart cities are about enhancing quality of life for everyone," Robshaw said.
Everything is connected
Delagrave and other county officials were involved in the City of Racine's application process for the Smart Cities Council's readiness challenge, and attended a conference in San Diego where the challenge winners were announced. He said the county plans to continue being involved as the city plans and prioritizes smart city projects.
At the county level, Delagrave has his own ideas for how to incorporate technology into government services. For example, he said he is aggressively pursing using artificial intelligence to deliver better county services.
In health and human services, if someone comes in with a childcare issue, AI could help their case worker find other resources and programs that apply to their situation in other departments, such as mental health care or job training, he said.
"I thought we did a good job of not being so siloed, but what I've taken back (from the conference in San Diego) is we can do a lot more," he said.
Another project Delagrave would like to see is countywide 5G wireless internet, which would allow people from all walks of life and varying levels of income to have access.
"As aggressively as we can, so the rural part of our county, as well as suburban and urban, they will have that infrastructure they can take advantage of," he said.
Delagrave said that at the end of the month, the county plans to hold a meeting with stakeholders to learn what they would like to see the county implement so they can form short- and long-term plans. Also, as early as the county's 2020 budget, Delagrave said he wants to develop a performance and analysis division for collecting, processing and analyzing data.
You have free articles remaining.
Future careers and questions
Robshaw was unable to attend the conference, but said he's familiar with smart technology and where those technologies could be used in the future.
Gateway has developed four programs with a smarter future in mind: data analytics, advanced manufacturing, supply chain management and cybersecurity.
"In order to complement the smart city initiative, we want to train our work forces," said Robshaw. "Most of the educational effort is to create a trained workforce that can use these new technologies in the work place."
Last year, UW-Parkside had an "Introduction to Smart Cities" class that was open to the general public, which James said university officials plan to continue in the 2019-20 school year.
Parkside also is offering a graduate certificate program in Smart City Policy and Management, which approaches smart cities from a policy angle rather than technical.
"There are a couple significant differences between running a traditional city and a future, or post-traditional, city," said James. "The main interest of my college's program is not necessarily the technology, but how to make the tech work for people."
James said that smart infrastructure and decisions need to be collaborative, not competitive, and decisions need to be made with ripple effects in mind.
For example, a city could decide to implement a system in which traffic lights are synced with emergency response vehicles to divert traffic so that police, fire and ambulance services don't get stuck in traffic. But each solution to a problem has the potential to create other problems that need to be considered.
"What that might also do is they might divert traffic to other areas and cause issues in other areas that don't have a lot of traffic, and that might be a risk for pedestrians," said James. "Being interconnected, you're looking at things in a more complicated manner."
Some possible uses for smart technology would be in law enforcement. Delagrave gave an example of using drone technology, and Robshaw gave an example of squad cars having access to data repositories or security cameras inside a facility to get a better understanding of a potentially dangerous situation. Which could make law enforcement safer for the officers, but also raises questions about privacy.
James said the key to addressing those concerns is transparency.
"People absolutely have to know what's being collected and how it's being used," said James. "If it's not (disclosed), people get suspicious and they get nervous."
Which is something, James said, to which governments and law enforcement have to adapt.
"I don't think people (in public service) are used to making decisions that people can look at all the time," she said. "Part of smart city networks is citizens knowing what's being done with the data and how it's being used."
Testing ground
Racine is the first city to work with the Smart Cities Council in Wisconsin. It's also the first city the Smart Cities Council has chosen with a population of fewer than 100,000 people.
Most of the experiments in smart technology, and integrating them into public services, have been in major metropolises, but a sizable majority of Americans live in municipalities such as Racine — municipalities with limited budgets and resources.
James sees this as a huge opportunity to test how these innovations could spread across the country. She also thinks being an early adopter will give the region a leg up for attracting the businesses and innovations of the future.
"It's going to happen; this isn't just the newest flavor of the year," said James. "This is going to happen so doing it right now will be absolutely excellent for southeastern Wisconsin."
"It's going to happen; this isn't just the newest flavor of the year. This is going to happen so doing it right now will be absolutely excellent for southeastern Wisconsin." Peggy James, UW-Parkside dean of social science and professional studies, speaking about the Smart Cities concept
"It's going to happen; this isn't just the newest flavor of the year. This is going to happen so doing it right now will be absolutely excellent for southeastern Wisconsin."

Peggy James, UW-Parkside dean of social science and professional studies, speaking about the Smart Cities concept