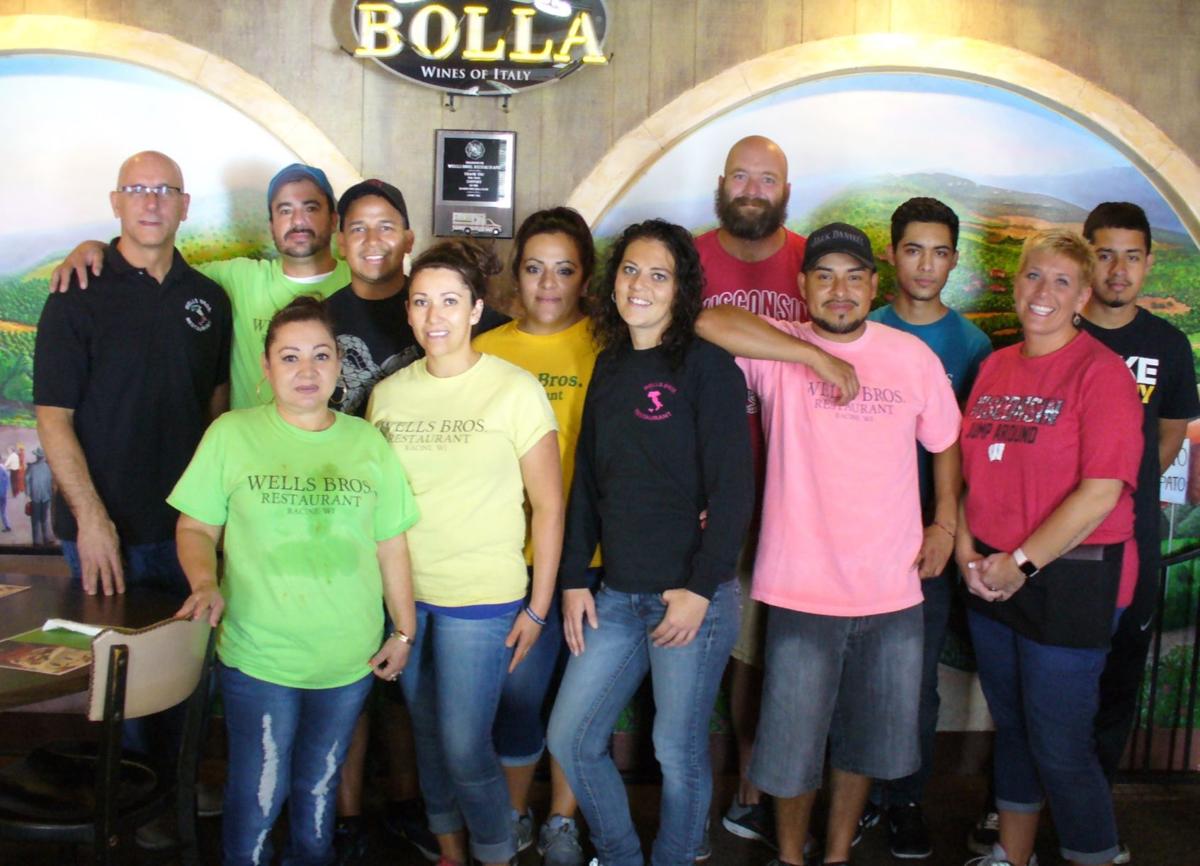 RACINE — Imagine a local restaurant that's still going strong, and still run by the same family, after 96 years. Imagine it's been voted Best Italian Restaurant in the Best of Racine County contest. And imagine that its fans have also given it the Best Pizza title for a decade.
We've just described Wells Brothers Restaurant.
Wells Brothers was started in 1921 by James and Dominic Wells. It began as a tavern and pool hall at 2148 Mead St. and has never moved from that corner spot.
But it has evolved. Several years later after opening their bar, James and Dominic added a small grocery store. In 1929 the ambitious pair built a store on the northeast corner of the same intersection, moved their grocery business there and their brother Tony took that over.
Then they started serving burgers, bombers and spaghetti.
A key element of that early business was cashing paychecks for workers from the nearby J.I. Case Co. tractor plant, called the Clausen Works. In the late 1920s to early 1930s, the Great Depression years. "For 25 cents, you could get a beer and a plate of spaghetti," said current Wells Brothers owner Bill Rivers.
"That's kind of how they built the business, with all the guys from Case coming in," he said. Workers from companies such as Case, Johnson's Wax (now SC Johnson), Modine Manufacturing remained good customers for Wells Brothers down through the decades.
"And we still get a good lunch crowd from different businesses around the area too, which is nice — it's continued for all these years," Rivers said.
Second, third generations
James Wells' sons Guy and Tony took over Wells Brothers in the 1940s — Guy, the oldest, took over the restaurant at age 18, straight out of high school. Tony joined him after a stint in the U.S. Army — and then they switched while Guy wore an Army uniform for a few years and Tony ran the restaurant.
In 1999 Rivers — son of Florence Wells, Guy's and Tony's sister — closed a successful home-improvement business to join the family business with his cousin Paula Wells-Huck, Guy's daughter. In May 2016 Rivers went solo.
Wells has steered its menu toward what patrons want. "Lately, fish and Italian dishes are really flying out of here," Rivers said.
But Wells pizza remains such a mouth-watering Wells Brothers fan favorite. "I just don't think there's anything that tastes like our sauce and dough," Rivers said.
And the secret to that ever-so-thin crust is the pizza roller that squeezes the dough between two rollers — a device that spans numerous decades of Wells Brothers history.
Rivers makes the sausage himself — and now he's teaching his daughters how to do that, for when they very likely take Wells Brothers into a fourth generation.
"I'd like to thank Racine customers for all the years they've been coming here, the loyalty they've shown the place, the great customers that we have," Rivers said. "We always try to put out a great product for everybody, but people have just taken us in, and it's fun coming to work some days when you know there are so many people out there who enjoy what you do.
"It just makes you feel good inside."