RACINE — "John, your watch has ended," a dispatcher broadcast over the area police scanner Wednesday afternoon. "We will take it from here. Godspeed."
That last call was sent out as family, friends, colleagues, members of the public and community leaders gathered to lay slain Racine Police Officer John Hetland to rest.
Hetland, a 24-year Racine Police Department veteran, was shot and killed the night of June 17 at Teezers Bar & Grill, 1936 Lathrop Ave., while trying to stop an armed robbery. Although he was off duty, his death is considered a line-of-duty fatality because he was performing actions consistent with his police duties. He was the first Racine Police officer killed in the line of duty in more than four decades.
The funeral was closed to the media, but members of the media were permitted to briefly broadcast and livestream outside of A.F. Siebert Chapel at Carthage College in Kenosha, where Wednesday's funeral service was held.
As bagpipers played a moving rendition of "Amazing Grace," hundreds of officers from various agencies throughout the state and region and members of the public were lined up along the lakefront outside the chapel. A group of six Racine Police officers carried Hetland's casket, draped in an American flag, out as other officers stoically saluted.
All present stood in silence for about five minutes until a line of seven riflemen gave Hetland a 21-gun salute and a bugler performed "Taps," a piece traditionally played at military and law enforcement funerals.
After officers folded a flag and presented it to Hetland's family, they put his casket into a hearse, and a Flight for Life helicopter performed a flyover. Police then performed a last call for the officer, broadcast over the area police radio channels.
Procession
Following the service, a procession transported Hetland from Carthage to the officer's final resting place at West Lawn Memorial Park, 9000 Washington Ave., Mount Pleasant.
The procession, which left ahead of schedule, traveled through Downtown Racine and took Washington Avenue (Highway 20) past the Racine Police Department, through West Racine and out to the cemetery. Just after passing by City Hall, the procession passed under a large American flag held up by two fire truck ladders over Washington Avenue.
Hetland's death sent a shock wave through the community. Following the shooting, the Racine Police Department received an outpouring of local and statewide support. Outside the Police Department, countless flowers and signs carrying messages of remembrance and respect have been placed at a memorial that incorporates the squad car that Hetland used.
Gov. Tony Evers last week ordered flags throughout the state to fly at half staff in honor of Hetland until his burial, and the governor was scheduled to attend the funeral. Racine's City Hall was also closed until 3:30 p.m. Wednesday so city employees could attend Hetland's funeral. The New York Yankees even got involved by sending a flower bouquet for the service.
Onlookers grateful for his service
Along the procession route, area residents came to pay their respects.
"John was Superman," said Liz Koechell, who watched the procession pass through West Racine.
Koechell, who said she comes from a family with strong ties to law enforcement and the military, said she appreciated the reverence that the public, officials and members of other law enforcement agencies have shown Hetland.
Rachael Adams, who was a bartender at the former Ricky's Place bar in Downtown Racine, said she got to know Hetland when he came to the bar. She described him as a considerate, caring customer who would even make sure she got safely to her car after closing time.
"Super, super sweet guy," she said of Hetland. "He'd always come in with a big smile and a big hug, would ask how everybody's doing and make sure that everybody was doing OK. He was just one of the most wonderful people you could ever meet."
That Hetland tried to stop the robbery was unsurprising to Adams because "he would always put everybody before himself," she said.
"It doesn't even matter whether he was on duty," said Michelle Mills, a U.S. Navy veteran who was sitting at Wilson's Coffee and Tea after the procession passed through West Racine. "They've taken that oath to serve and protect, and that's what he did."
You have free articles remaining.
You're out of free articles
Sign in or create a FREE account to keep reading.
Pamela Gibson, who lives Downtown, watched the procession at Monument Square to honor Hetland.
"This city has taken a huge loss of a good man," Gibson said.
She said she used to see Hetland frequently around the Downtown area.
"I remember him working down here," she said as she wiped tears from her eyes. "He always waved every time he drove by me on Main Street, because I walked my dog all the time."
John Kowbel, a retired church custodian, said it made him feel proud as a Racine resident to have had Hetland as an officer in the community.
At the cemetery
Outside West Lawn Memorial Park, spectators lined both sides of 90th Street to honor Hetland.
Nathan Grzyb brought his 4-year-old daughter, Kinleigh, to witness the hearse arriving at the cemetery.
"She's got family that are police officers, and I wanted her to pay her respects," Grzyb said. "I just want her to know that he sacrificed himself to potentially save others."
Grzyb said he understands that Kinleigh won't fully understand why they came to the cemetery until she is older, but he still wanted her there.
"It's just sad," Grzyb said with a single tear rolling down his face. "It's the least I can do. I didn't know him personally, but it's the least I can do."
Also at the cemetery were Jessica Maldonado, of Racine, Tina Callow, of Kenosha and Samantha England, of Genoa City, who work at a nearby healthcare facility and stopped to watch the procession during a break.
"We wanted to pay our respects while we had the time," Maldonado said. "I think the amount of people that are out to witness (the procession), I think that means he was a very well-respected person."
With police officers in her family, England said she wanted to show her support.
Callow watched the mass of squad cars from different departments throughout the state.
"You can tell they're definitely family," Callow said.
Authorities and local businesses on Monday increased the reward to $78,500 for any tips that lead to the arrest and conviction of Hetland's killer. Anyone with information in the case is asked to call Crime Stoppers at 262-656-7333.
Funeral procession for Officer Hetland passes through Racine
Racine Police Officer John Hetland died while trying to stop an armed robbery on June 17. His procession leading to his final resting place was held on June 26. 
Hetland Procession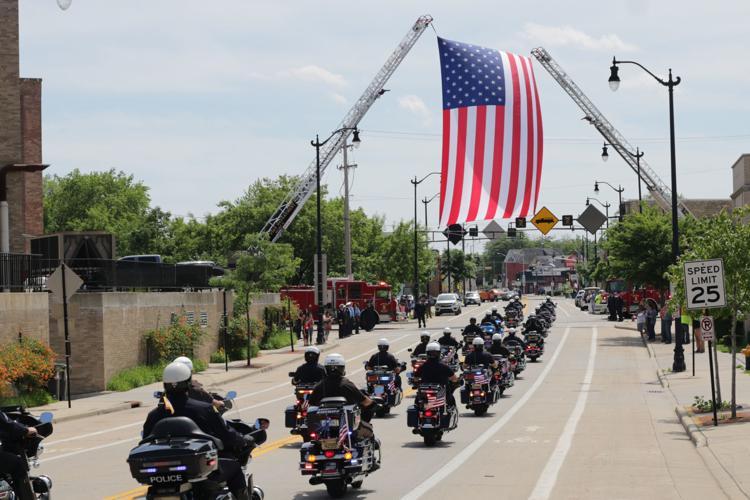 One more pass by the station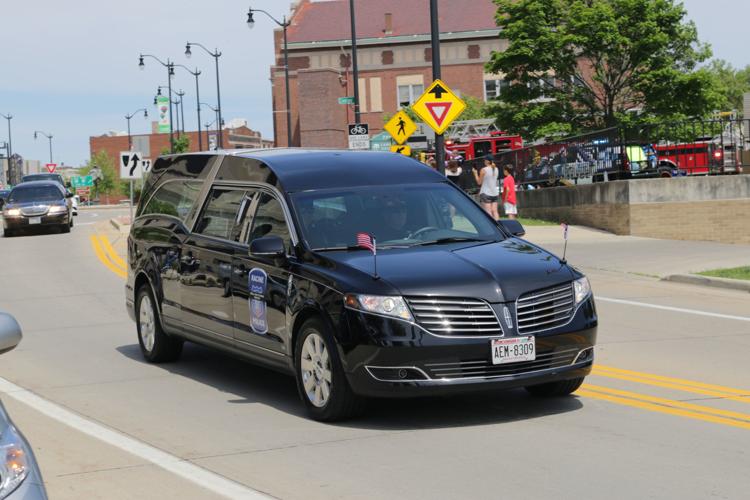 A show of support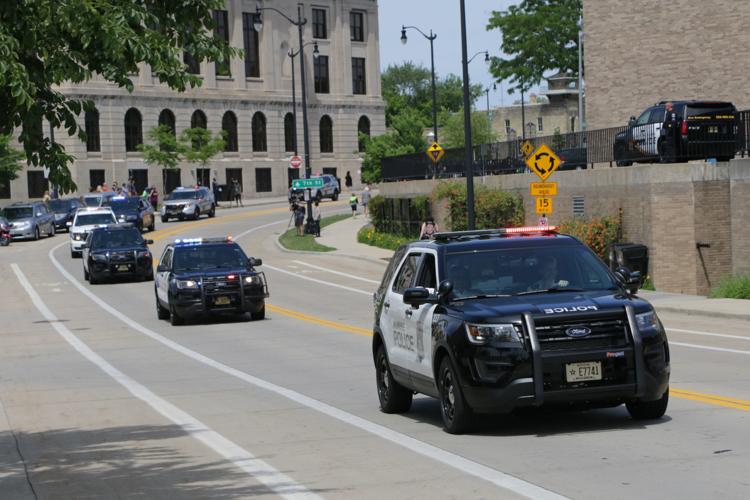 Hetland Procession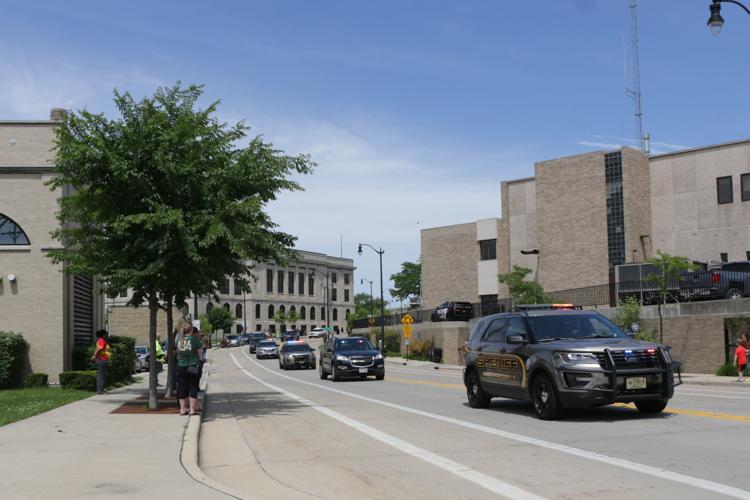 Hetland Procession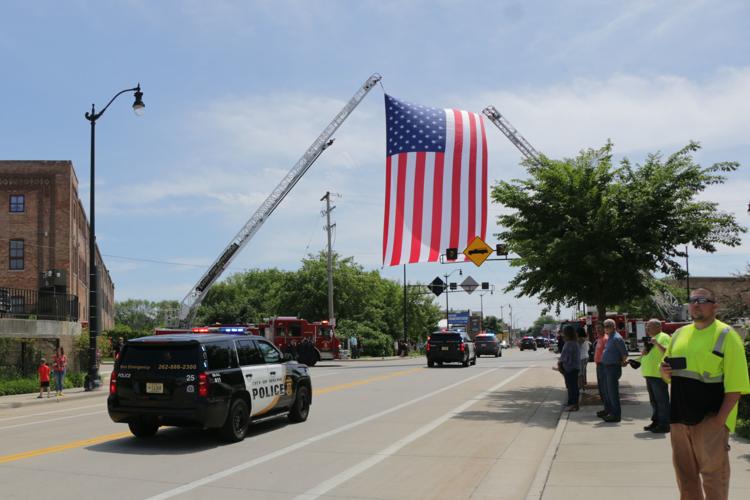 Hetland Procession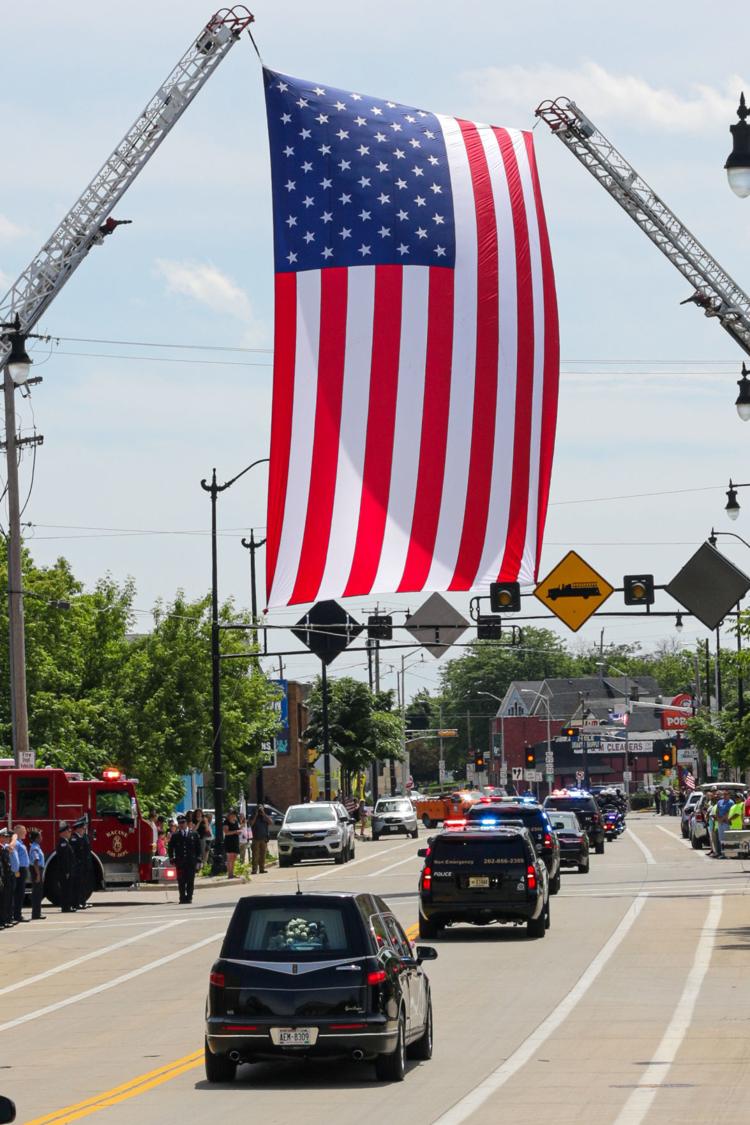 Hetland procession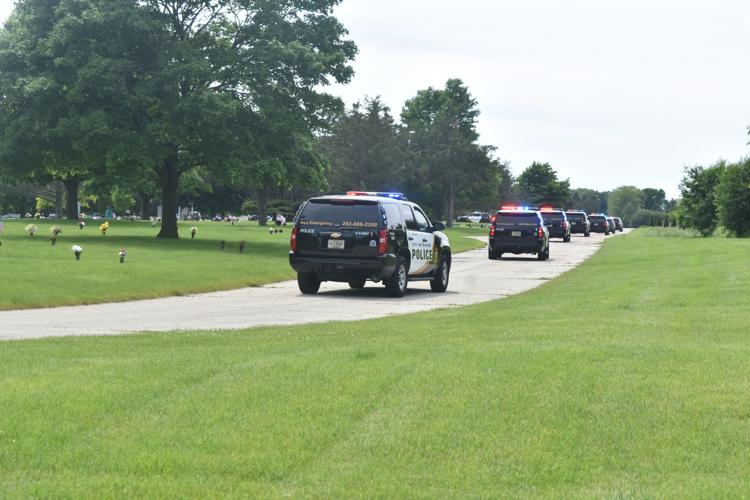 Patriotism and honor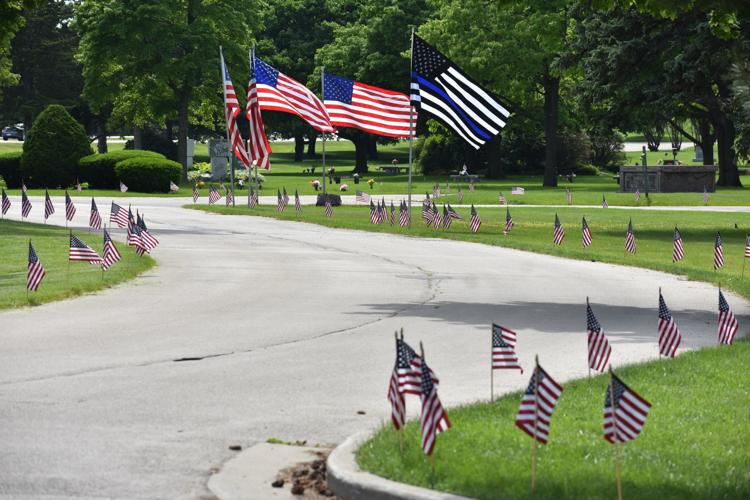 Hetland Procession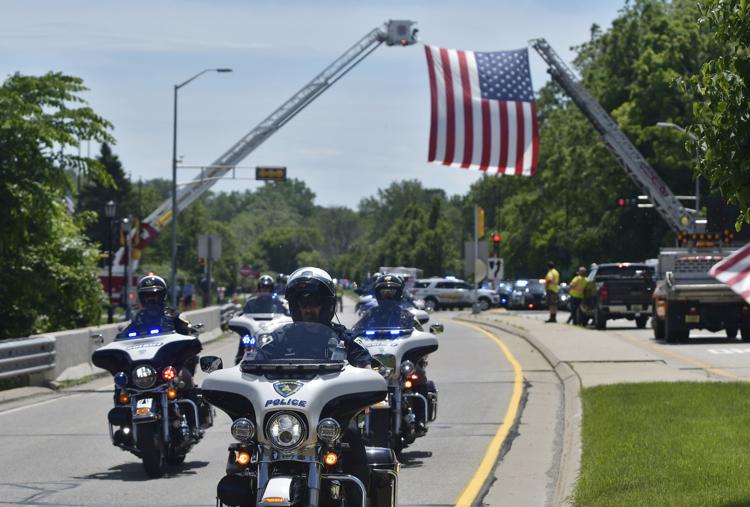 Paying their respects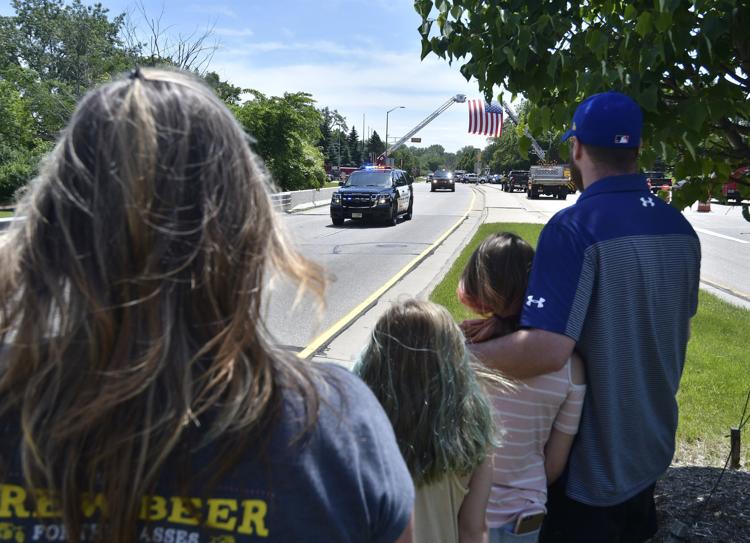 Hetland Procession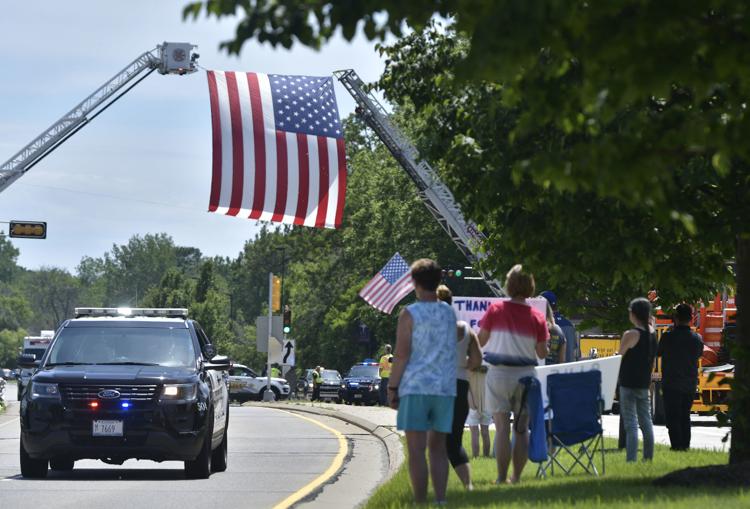 Hetland Procession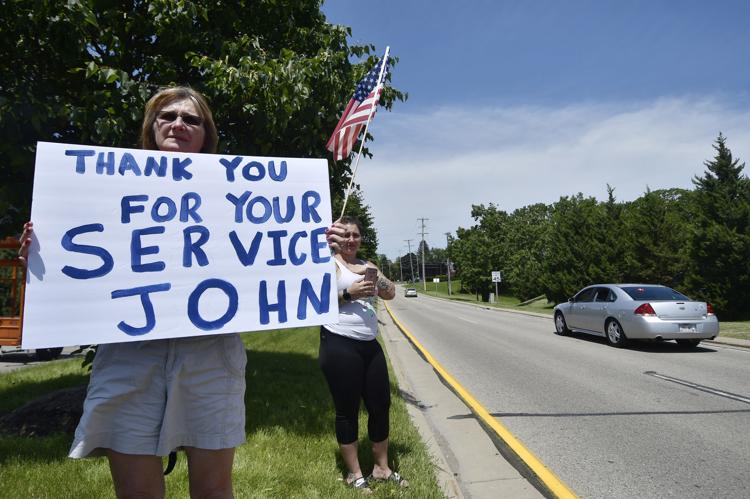 "John, your watch has ended. We will take it from here. Godspeed." Racine Police Officer John Hetland's final call, broadcast over area police radio channels